Ommegang Three Philosophers Review: Quad With Perfection
Ommegang Three Philosophers is best described as a perfect example of the beer style, but even the style is unique and uncommon. It is a Belgian-style Quadrupel Ale that offers a complex flavor and aroma, surprising you with every sip you take.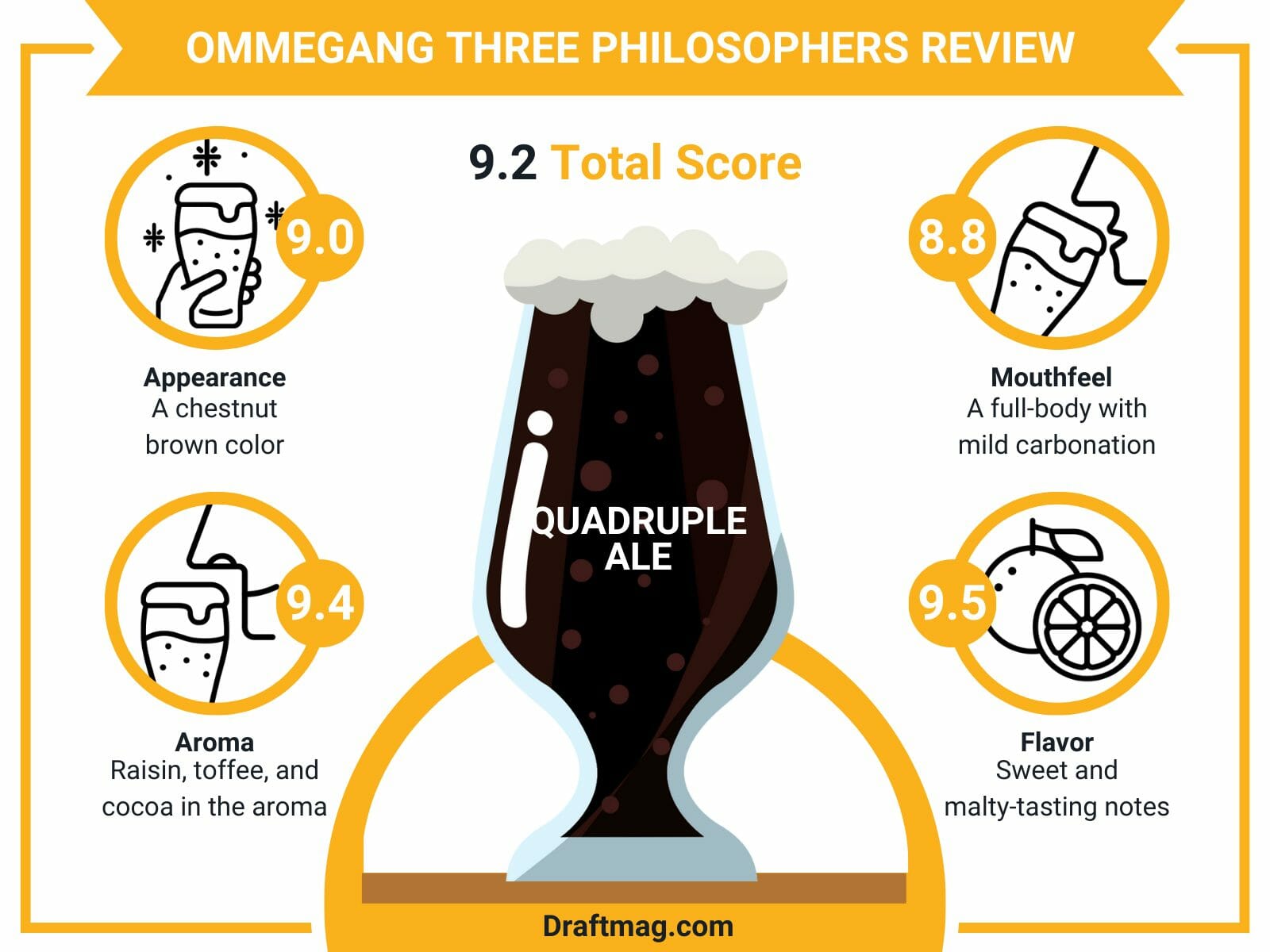 Described as a beer for quiet contemplation, you can enjoy this Quad ale best when you leisurely sip it. If you're wondering whether you should drink this beer, you should read our detailed review to know more. 
Ommegang Three Philosophers Stats
| | |
| --- | --- |
| Country  | United States |
| Brand | Brewery Ommegang |
| Style | Quadruple Ale  |
| Taste  | Roasted malts, dark fruits |
| Body | Full Body |
| ABV | 9.7 percent |
| Flavors & Aromas | Roasted malts, dark fruits, brown sugar, molasses, chocolate, raisins |
| Serving Temperature | 50 – 55 degrees Fahrenheit |
Tasting Notes
Ommegang Three Philosophers Tasting Profile
Ommegang Three Philosophers Review 
Three Philosophers is a Belgian style blend of quadruple ale and authentic Belgian kriek made by Brewery Ommegang. The ale features an alcohol content of 9.7 percent, and the taste basically balances roasted malts with dark fruits and a lot of sparkling carbonation. It's a great representation of the style, but the high ABV requires you to sip on it. 
The beer pours an attractive chestnut brown color into your glass and has a full body. There are aromas and flavors of roasted malts, brown sugar, dark fruits, molasses, raisins, and chocolates, typical of a quad ale. The beer is complex and heavy, with bright flavors from start to finish.
Serve the quad ale into a snifter, chalice, or goblet. These glasses feature a short stem and a bulbous bowl that allows you to swirl the beer to enhance the aroma by holding the stem. The ideal serving temperature is from 50 to 55 degrees Fahrenheit. You can garnish the beer with some dark fruits and pair it with dried fruit and hard-aged cheeses. 
– Appearance 
The ale has a chestnut brown color, and there are slight streaks of a light reddish hue when you place the beer in the light. It also features a hazy appearance that you can barely see through due to the alcoholic legs.
On top of the beer is the reddish tan head up to two fingers high. The tan head has pretty good retention and leaves decent lacing against the edges of the glass. 
– Aroma 
On the nose, the quad is quite complex, with different layers of aromas hitting you as you go. It features a strong aroma too, although it doesn't overshadow the taste. The beer offers a bit of raisin, toffee, and cocoa in the aroma.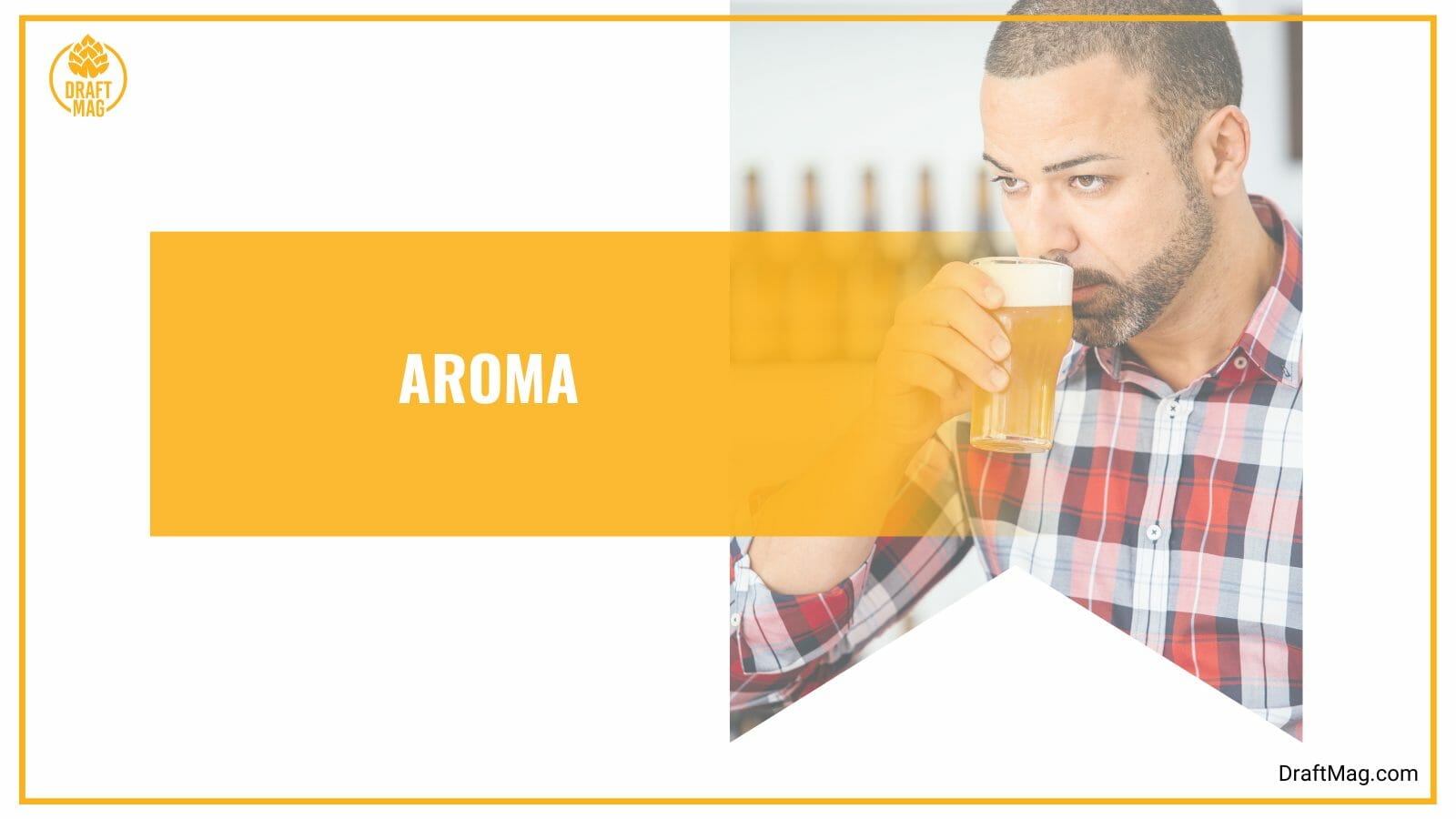 You will also notice hints of wood and burnt sugar, with some earthy hops at the back of the aroma. It smells light with some dark fruits. 
– Mouthfeel 
As for the mouthfeel, the beer feels full on your palate. It is full-bodied, and the carbonation is only mild, with slight bubbles and fizziness that tickle your throat. It feels strong on your tongue, and there is a lot of alcohol warming that brings the flavor to life.
As the beer warms up, you feel more fermentation funk in the beer and some malty sweetness. There is some bitterness in the finish, along with the active carbonation. 
– Flavor 
The flavor of the beer is as complex as the aroma and will hit you with sweet and malty-tasting notes with every swallow. It is more intense and bigger than the aroma, with lingering sweet bitterness. The first thing that you taste when you drink the beer is heavy burnt brown sugar, but towards the mid-palate, you will taste some toffee and brandied raisins as well. 
Towards the end, you will taste a bit of allspice and some faint cherry. You won't taste the alcohol content when you drink the beer, except for the alcohol warming. The taste is well balanced, and in the finish, you get a sweet taste of a dry, candied plum. The dark fruits and cherry flavors are in the front and middle of the taste. 
– Food Pairings
When having this quadruple-style beer, you should pair it with smoked foods and game meat. The beer pairs well with game meat like venison, duck, or elk or your normal meats like beef, chicken, turkey, and pork. You can enjoy the beer with smoked and grilled meat.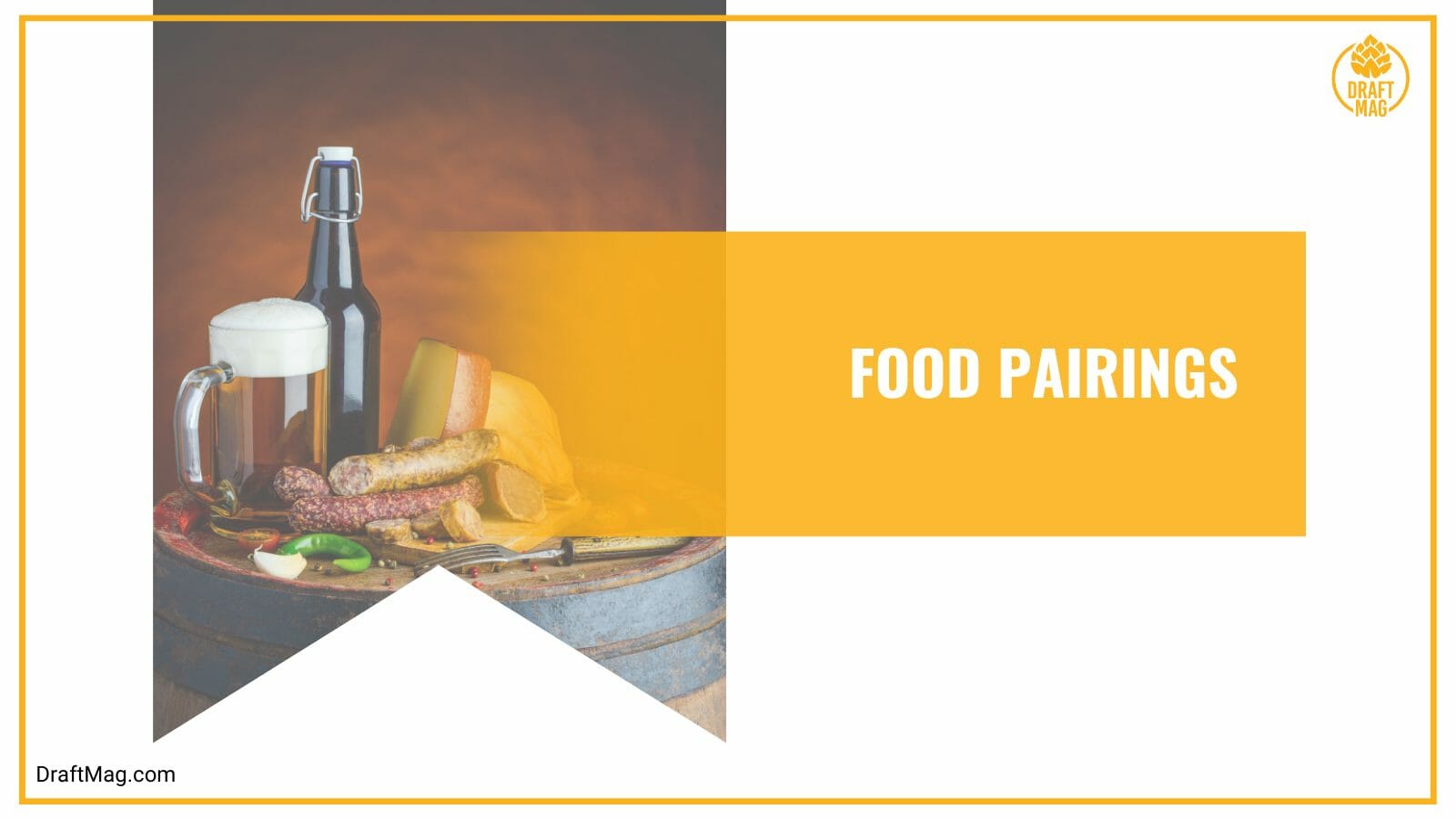 Another good pairing with the beer is buttery style cheeses, so consider having Swiss, Gouda, Brie, or Havarti cheese with it. You can also enjoy it with sharp cheeses like cheddar or blue cheese. 
To fully enjoy this beer, you need a rich dessert that will balance out the strong flavors of the beer. Enjoy the beer with a bread pudding that has raisins, as this complements the caramel undertones of the beer. You can also enjoy a chocolatey dessert or some beer cheese. 
Ingredients 
The complex flavor of this beer is obtained from the wide range of ingredients used to make the beer. The fermentable malts used to make the beer include two-row malts, caramel malts, amber malts, Dingemans Aromatic malt, Munich 20 malt, Cara 20 malt, extra special malt, and Liefmans Cuvee Brut.
As for the hops, the beer is made with Styrian Golding and Spalter Select hops. The yeast is the Ommegang house yeast. It's important to note that the brewers blended 2 percent of Liefmans kriek into a brew bottle. All of this came together to give the brew a unique flavor.
Nutrition Facts
In the Three Philosophers quad ale, you get an alcohol content of 9.7 percent, which is a pretty high level. The alcohol content is well present and will remind you of bourbon when you drink. There is also some alcohol warming. It features an IBU of 21, as there is barely any bitterness or hops in the flavor.
The beer features 294 calories in every 12 ounces, which is a pretty high level. It is important to calculate your daily dietary requirements based on these facts. There are no carbs, fat, sugar, protein, or fiber in the beer, so it is ideal for those on a keto diet. 
History 
The Three Philosophers quad was made by Brewery Ommegang and was first released in 2011. It is one of the most popular Belgian-inspired beers made by the brewery, combining a quadruple ale with a kriek.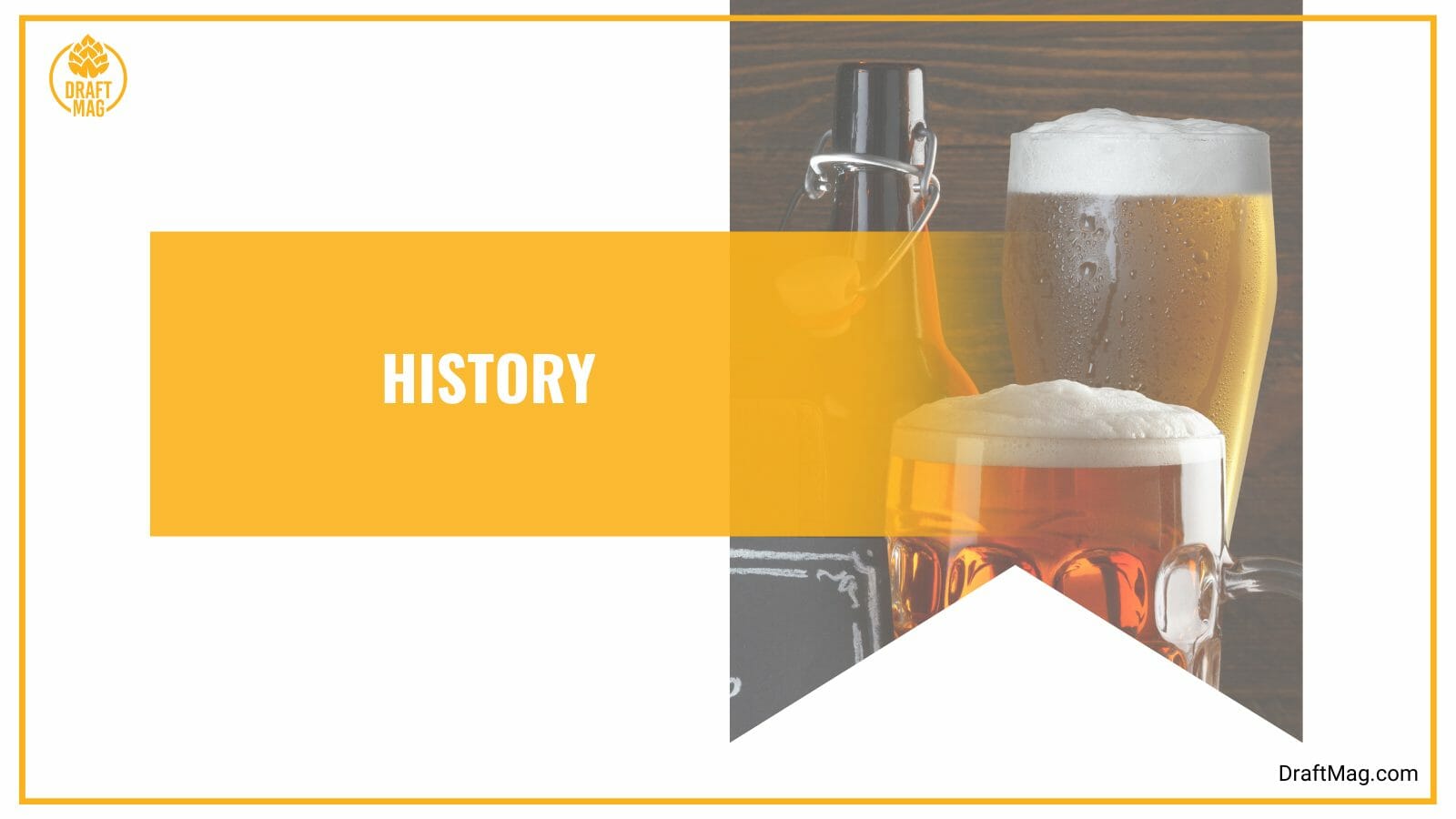 The brewery was first founded in 1997 by Don Feinberg and Wendy Littlefield. It first started as a Belgian beer collaboration between their import business before they started to brew world-class Belgian-style ales. A similar beer to this one is the Abbey Ale, which is a Dubbel from Ommegang with licorice, orange peel, and spices. 
Conclusion
This quad ale is the perfect choice for beer lovers that have been looking to try something new, and it pairs perfectly with cheese. Here's a rundown of our beer review:
Three Philosophers is a Belgian-style quadruple ale and kriek made by Ommegang, with a 9.7 percent alcohol content.
The beer has flavors and aromas of roasted malts, dark fruits, brown sugar, molasses, chocolate, and raisins.
It is made with a wide range of fermentable malts, Styrian Golding and Spalter Select hops, and the house yeast.
Serve it in a chalice, snifter, or goblet at 50 degrees Fahrenheit.
It pairs well with smoked food, game meats, buttery-style cheeses, bread pudding, and sweet desserts.
If you're curious about this beer, check it out at different stores near you, or order it online.