Guinness Nitro IPA Review: A Detailed Guide to This Guinness Delight
When it comes to clicking around the Guinness beer forums, it doesn't take long to find the Guinness Nitro IPA as one of the high-profile releases.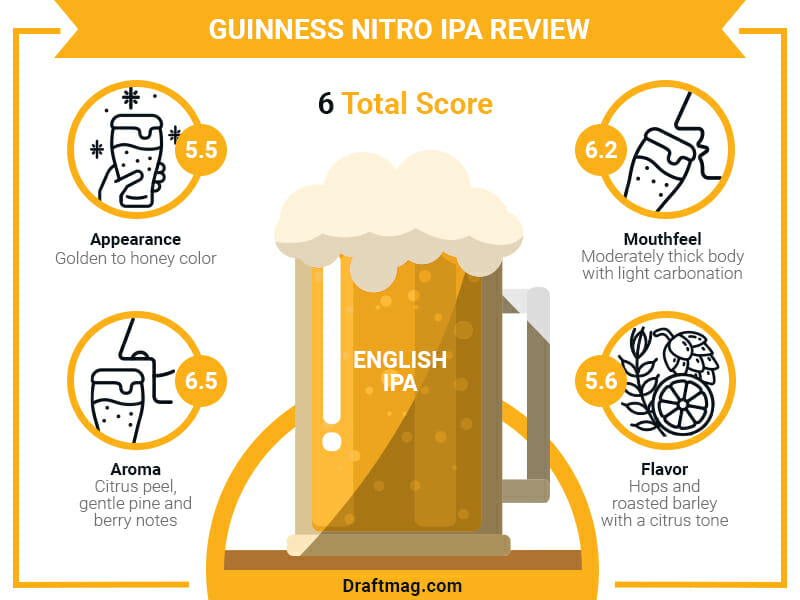 Learn more about the best dark beers in the market right now.
This English IPA-style beer comprises everything you'd want from an IPA as it reveals a smooth, creamy texture with all the subtleness of a chipped stone hitting the skull.
Thus, this properly mixed brew is fast becoming everyone's favorite. Continue reading this Guinness IPA review as our experts spell out everything you need to know.
Guinness Nitro IPA Stats
| | |
| --- | --- |
| Country | Ireland |
| Brand | Guinness Ltd. |
| Style | English Style India Pale Ale |
| Taste | Smooth, creamy, lightly spicy with faint bittering linger |
| Body | Light-bodied |
| ABV | 5.8 percent |
| Flavors & Aromas | Refreshing, sweet flavor and aroma with notes of citrus, malt, and berry |
| Serving Temperature | 35 to 40 degrees Fahrenheit |
Tasting Notes
Guinness Nitro IPA Tasting Profile
Guinness Nitro IPA Review
You should trust Guinness to deliver a distinct approach to a well-crafted IPA. Indeed, this Dublin-brewed Nitro IPA is a fascinating innovation infused with nitrogen. This gives the pale ale a rich, creamy, soothing body that makes it a true crowd pleaser. Let's take a closer look at its features.
Appearance
Compared to many other beers in its class, Guinness Nitro IPA is clear. It appears as a golden to honey color best seen in a pint glass, mainly due to the roasted Irish barley content. The nitrogen content causes a signature surge while the nitrogen bubbles slide down the glass.
More so, it pours with a dense, creamy foam that disappears slowly. As such, this beer begs comparison in appearance to the Guinness IPA Blonde.
Aroma
While opening this beer, the tangy citrus peel aroma hits you first on the nose, like Guinness Open Gate IPA. Even so, you will notice the distinct aromatics emerging from varieties of hops along with gentle pine and berry notes.
Mouthfeel
Guinness ensures a careful brewing process to produce a delicious and free-flowing brew with an abundance of purity. The Guinness Nitro IPA is no exception as it packs a moderately thick body with light carbonation. It displays a creamy yet faint spicy feel on the tongue that combines well with your favorite dishes.
Flavor
This beer features a hop-forward profile, while it also uses a unique fusion of carbon dioxide and nitrogen to balance out the profusion of the hop flavor. This gives Nitro IPA a balanced blend of hops and roasted barley with a citrus tone. Moreover, you'll discover a subtle bitterness and spiciness that lingers into the aftertaste to give a pleasant, clean finish.
Food Pairings
Guinness Nitro IPA combines perfectly with practically any meal. Being a specially flavored brew, you can try several combinations that most beer lovers settle on. It is fantastic with beef stew, baked salmon, shepherd's pie, oysters, soda bread, short ribs and kidney pie.
This nitro beer is best served chilled and should be consumed fast because it gets flat within half an hour. Besides, nitrogen is insoluble in liquid, so you need to keep it cold before consuming it. This ensures that the beer's nitrogen content is well dispersed to give it a cool mist.
Ingredients
Guinness takes pride in perfecting the production of nitrogenated beer. As such, the Nitro IPA is fitting addition that has revamped the conception of IPAs through its unique brewing process and ingredients. Check out the ingredients below:
Bittering Hop: Admiral
Aroma Hops: Cascade and Challenger, Celeia and Topaz
Irish Barley Malt
Guinness Yeast Strains
Nitrogen and Carbon dioxide
Aside from this, the fruity aromatics infused into this beer adds the right notes and flavors to give a pleasant finish.
Nutrition Facts
Guinness Nitro IPA alcohol content stands at 5.8 percent. Therefore, you can take a couple of cans without getting intoxicated. Even so, intoxication levels vary depending on the person's weight, age, diet, and how regularly they drink.
Furthermore, this brew comes with just 154 calories per 11.2-ounce serving, but note that these calories come from the beer's sugar content, not fat. The same 11.2-ounce contains 11g of carbs, making it more keto-friendly compared to other IPAs.
It has a modest IBU rating of 44, which justifies its relatively soft bitter finish. The nitrogen content balances the starting bitter taste on the tongue to generate a smoother and creamy feel. Above all, always remember to drink in moderation.
History
Guinness is well known for its widespread nitrogenated beers. Arthur Guinness started the brewing company in 1759 and pioneered beer nitrogenation in the 1950s. The company perfected the technique of adding nitro to beer almost 60 years ago, and the invention of this high-quality IPA is yet another attestation to that. Besides, their award-winning widget provides a popular smooth, velvety texture that makes it enjoyable.
Brewed at St. James's Gate in Dublin, the Guinness Nitro IPA was released late in 2015. More specifically, a team labeled the Brewers Project comprised a group of Dublin brewers tasked with developing a brand-new IPA.
This group, led by Luis Ortega, developed the Nitro IPA recipe. It caused an immediate buzz as it uses the same surge and settle effect as their can of Guinness Draught Stout with its technology.
Related Dark Beer Articles
Learn more about the best dark beers in the market right now and everything related to dark beers.
Conclusion
We discussed different features and qualities of the Guinness Nitro IPA in this beer review to enlighten you on what to expect before you try this nitrogenated brew. Here are the essential points we mentioned:
Guinness Nitro IPA is an innovative offering infused with nitrogen to give a visually appealing golden to honey color.
The beer has a tangy citrus aroma with a perfectly blended hop flavor that delivers a subtle bitter aftertaste.
It combines well with a wide variety of cuisines, mainly beef stew, salmon, chicken pie, and oysters.
The ingredients for making this beer include bittering and aroma hops, Irish barley malt, Guinness yeast, and nitrogen.
Guinness IPA ABV is 5.8 percent and has 44 IBU. Its 11.2-ounce per serving contains 154 calories, making it relatively keto-friendly.
Grab a chilled Guinness Nitro IPA to savor its refreshing, impeccably blended flavor that will give you an exciting experience. Cheers!