Saint Archer Tropical IPA is a remarkable beer that infuses tropical flavors and hops to create a distinctive taste. This West Coast American-style IPA uses real mango, passion fruit, and specialty hops for the mix.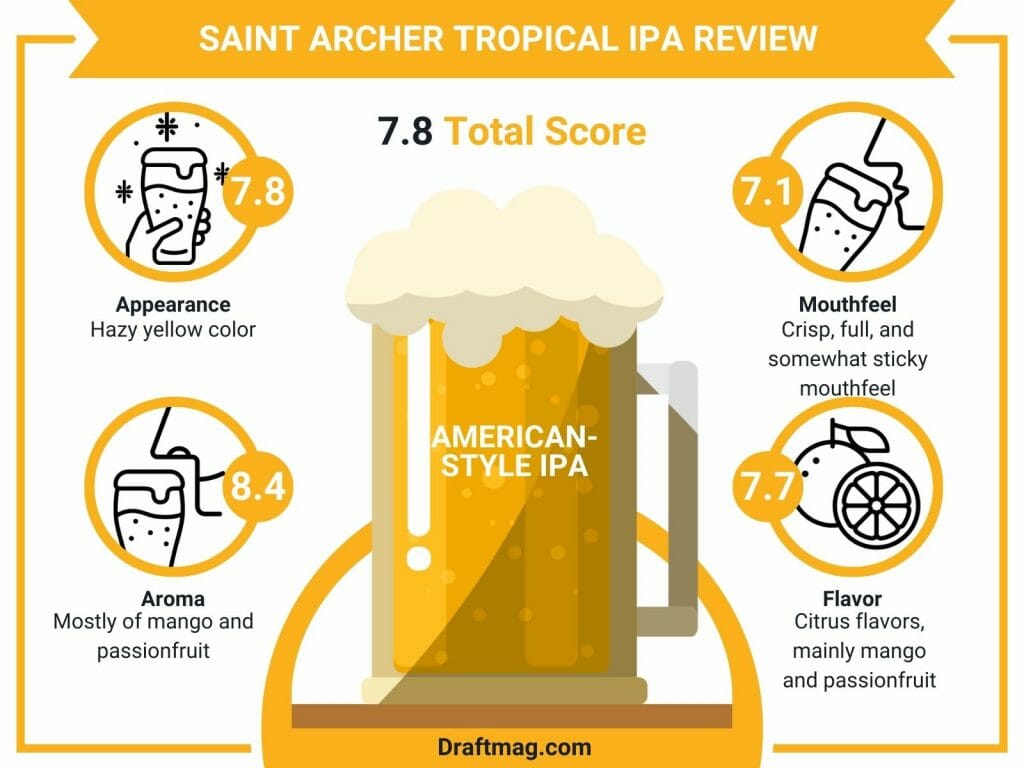 The result is a balanced, easy-drinking beer most beer lovers have come to appreciate. If you are about to try this beer for the first time, our expert review is just what you need to know more about it.
Saint Archer Tropical IPA Stats
| | |
| --- | --- |
| Country | United States (California) |
| Brand | Saint Archer Brewing Company |
| Style | American-style IPA |
| Taste | It tastes mainly of mango and passionfruit, which brings about a juicy pleasantness. There's also a lingering bitterness that showcases the true IPA of this beer. |
| Body | It is medium-bodied and has active carbonation as well as a crisp, smooth mouthfeel. There's a lingering bitterness that is well-balanced alongside its citrus flavor. |
| ABV | Seven Percent |
| Flavor and Aroma | The aroma and flavors are of citrus notes, with the most obvious being mango and passionfruit. There's also a piney, herbal note and subdued malt profile. |
| Serving Temperature | 43 to 50 degrees Fahrenheit |
Tasting Notes
Saint Archer Tropical IPA Tasting Profile
Saint Archer Tropical IPA Review
If you are anxious to try out this beer and need help with what to expect, we've got you covered. This review has been compiled based on the following categories by beer connoisseurs who have sampled this tropical IPA:
– Appearance
It pours a bright, hazy yellow color that appears slightly amber or golden. It comes with a beautiful crown of the white fluffy foam head. The foam head lingers before disappearing, leaving a thin lacing that sticks to the glass. The IPA has high carbonation as the beer appears fizzy, and bubbles can be seen through the glass.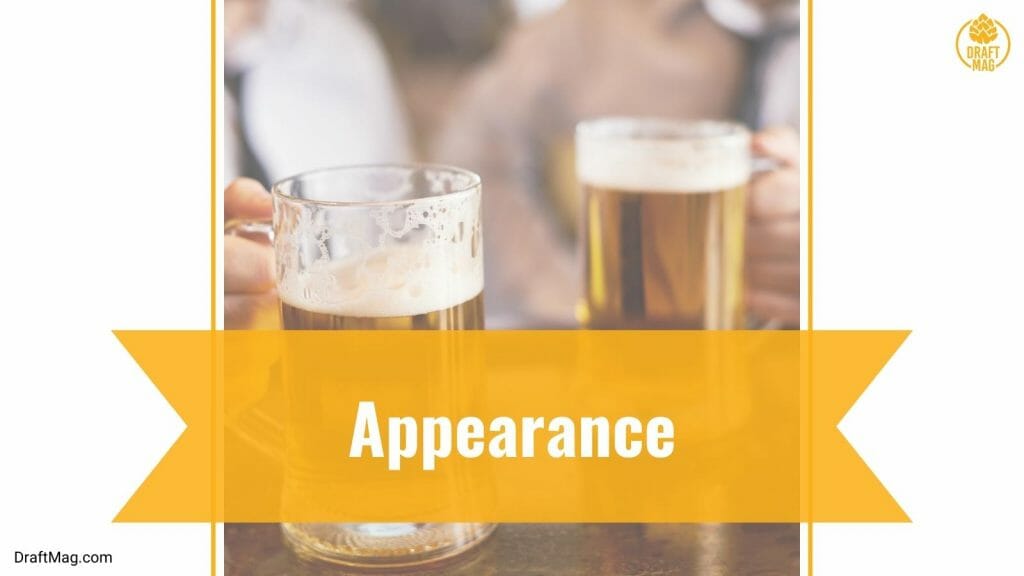 – Aroma
The aroma of this beer is mostly of mango and passionfruit, which is expected considering it is a tropical IPA beer. Upon closer inspection, you can also make out herbal, slightly earthy notes that remind you of grass or pine.
It is nearly impossible to miss the hop presence as it is quite strong. There's also a yeast-like, doughy scent that brings bread to mind, alongside a muted malt character that is nonetheless detectable.
We like that the citrus notes in this beer are balanced without being overwhelming, so you can easily tell that this is a hop-forward IPA despite its fruity essence.
– Mouthfeel
This beer appears to have a medium to full body. It has a crisp, full, and somewhat sticky mouthfeel owing to its active carbonation. It is smooth and pleasant, and you can taste its fruitiness.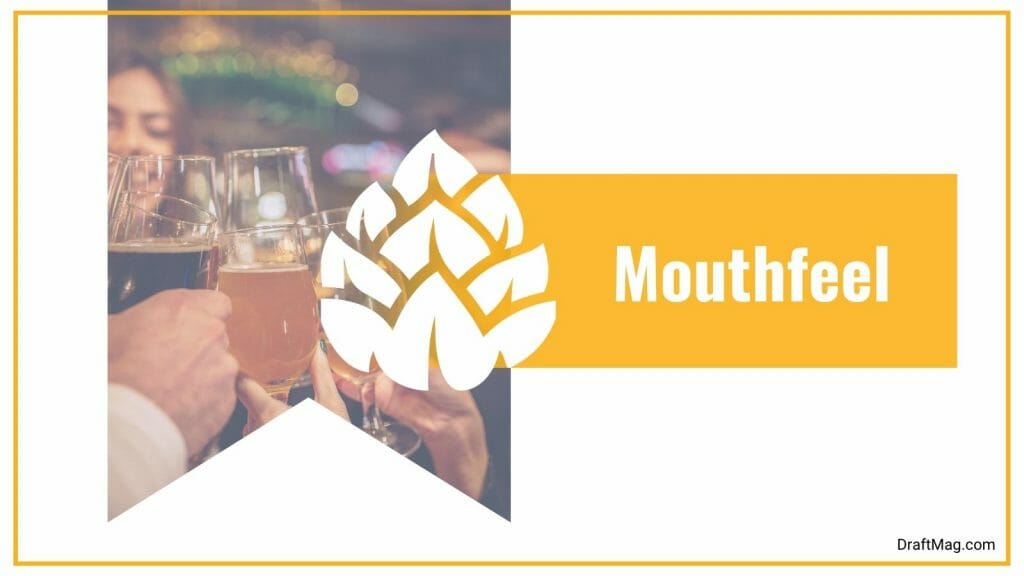 The hop character comes in at the finish, although it isn't overly assertive. However, this light bitterness sticks to the tongue for quite a while, even minutes after you must have emptied the can. For an IPA with seven percent alcohol, it is well-balanced as there is little to no indication of a high ABV.
– Flavor
It has the same flavors as the scent. As expected of a tropical IPA, it has citrus flavors, mainly mango and passionfruit. However, there's also an indication of other citrusy flavors: lime, lemon, grapefruit, peach, and even orange. There's a subdued piney note as well as a maltiness that isn't over the top.
The hoppiness of this beer shines through its bitterness, and there's a faint hint of a cracker-like flavor. In all, these burst flavors are refreshing, especially as none is astringent or over the top.
– Food Pairings
Although a unique American IPA, this IPA is no different from others and can be paired with the same meals. This hop-forward brew is best with spicy meals to balance and complement its fruit and hop profile.
You can pair it with dishes like grilled lemon skewers, grilled chicken, grilled or smoked salmon, buffalo wings, grilled mushroom burgers, and even steak. You can also pair it with pizza, goat cheese, pineapple salsa, and lamb.
Ingredients
It is brewed with traditional beer ingredients that are present in almost every beer. The IPA contains water, yeast, malt, and specialty hops, including Simcoe, Citra, and Mosaic. It also contains a fruity mix of real mango and passionfruit, although there might be additional citrus peels.
Nutrition Facts
This hop-forward IPA contains 206 calories, 14.7 grams of carbs, 2.4 grams of protein, and zero grams of fat. In addition, it contains about 15 milligrams of fat in a 12 oz can.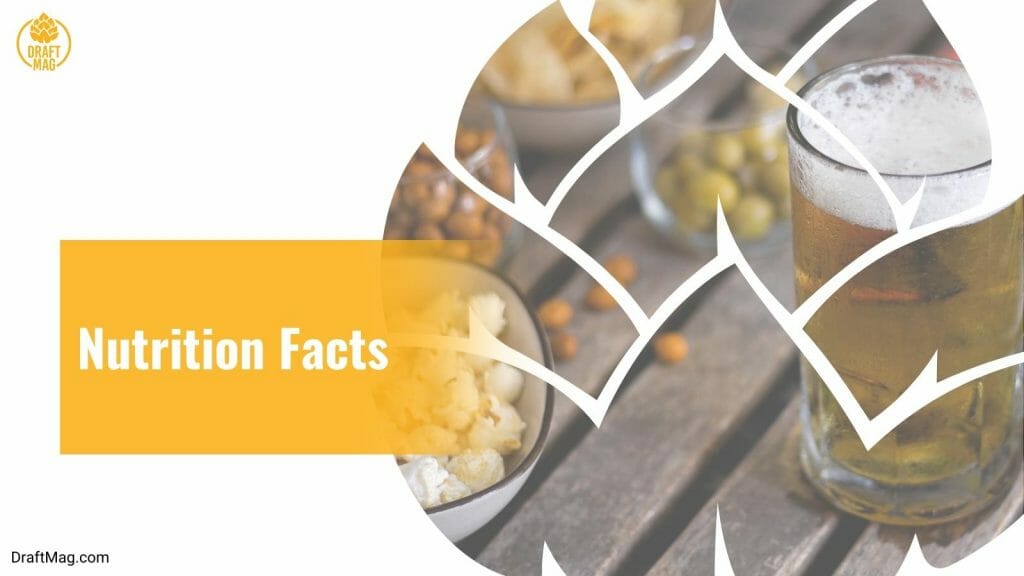 It also has an IBU of 70 and an alcohol volume of seven percent. It is vegan-friendly, although it may not be suitable for people actively trying to lose weight due to its high amount of carbs. It may also contain gluten unless stated otherwise.
History
Molson Coors bought the brewery in 2015, and this IPA first appeared on the beer scene around 2019. It was produced by the now-defunct Saint Archer Brewing Co. It is a West Coast American-style IPA that won the heart of tropical beer lovers. It is currently produced under the Tenth & Blake Group ever since its manufacturer was sold to Molson Coors in 2015.
However, in January 2022, Molson Coors announced that they would sell the brewery to King's & Convicts Brewing. Hence, this beer is currently being distributed by Kings & Convicts Brewing.
Conclusion
This is a nice, smooth IPA to have at any time of the day. Here's a summary of the points discussed in this review:
Saint Archer Tropical IPA is a product of the defunct Saint Archer Brewing Company and is a hop-forward American IPA with a 7 percent ABV.
It has an enticing bright yellow color, a medium to full body, and a refreshing, smooth, and crisp mouthfeel.
The beer has an aroma and flavor that is largely made of mango, passionfruit, and other citrus notes. There's also a balanced hop and a malty character that helps the beer easily stand out.
It tastes nice and fruity, although there's a muted maltiness as well as light bitterness that creeps in at the end of every gulp.
You can pair the IPA with pizza, burgers, grilled dishes, and even spicy intercontinental cuisines.
Even though its manufacturer doesn't produce beer anymore, there's no denying that it did tremendously well with the Tropical IPA. Nonetheless, if you need a perfect beer for a breezy day by the beach, be sure to grab a can of this beer.

Latest posts by Draft Mag
(see all)