Estrella Jalisco Chamoy Michelada Review: A Spicy Mexican Beer
If you're curious about Mexican beers, you should check out our Estrella Jalisco Chamoy Michelada Review. This delicious beer is blended with Clamato, chamoy, and pineapple juice to give you bright Mexican flavors.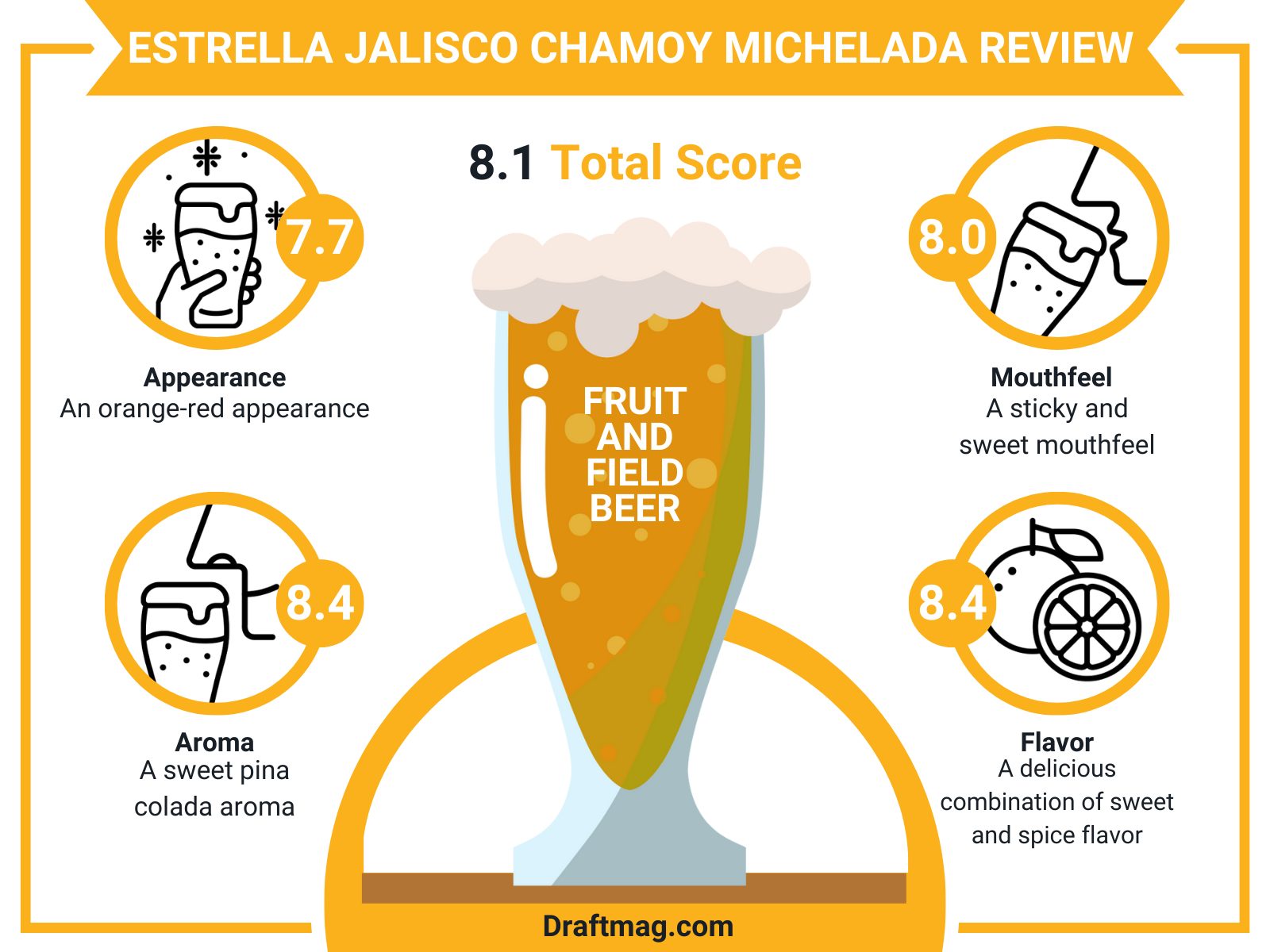 The traditional lager is described as a classic michelada with a tropical twist. To know more about the Chamoy Michelada, continue reading our detailed review below.
Estrella Jalisco Chamoy Michelada Stats
| | |
| --- | --- |
| Country  | Mexico |
| Brand | Grupo Modelo S.A. de C.V. |
| Style | Fruit and Field Beer |
| Taste  | Spicy, fruity |
| Body | Medium body |
| ABV | 3.5 percent |
| Flavors & Aromas | Pina colada, hot sauce, pineapple |
| Serving Temperature | 45 – 50 degrees Fahrenheit |
Tasting Notes
Estrella Jalisco Chamoy Michelada Tasting Profile
Estrella Jalisco Chamoy Michelada Review
The Chamoy Michelada is a fruit and field beer made by Estrella Jalisco with a 3.5 percent alcohol content. The traditional lager offers you flavors of sweet and tart pineapple juice and the full flavors of chamoy and Clamato. It will remind you of a pina colada with a spicy and fruity character.
It's best to serve the fruity beer in a lambic glass with a wider opening and a thin bottom. This enhances the aroma of the beer. You should garnish it with a citrus slice and serve it cold. It's an all-season beer with a low ABV, so you can enjoy it anytime without getting drunk quickly.
The Estrella Jalisco Tropical Chamoy Michelada beer offers high drinkability and is a very session-able beer. It is also pretty smooth and complex.
– Appearance
The Chamoy Michelada beer has an orange-red appearance when you pour it into your glass. It appears opaque and hazy, with large floating particles evident in the beer. It has a small white head that disperses quickly and barely leaves any lacing against your glass. With the mild carbonation, the beer quickly fizzles and has bubbles rising to the top.
– Aroma
On the nose, the Chamoy Michelada has an aroma that will remind you of sweet pina colada. It also includes aromas of Clamato and hot sauce, which is smooth and allures you to drinking the beer. There are also hints of musty tropical fruits in the aroma.
– Mouthfeel
On the palate, the Estrella Jalisco Tropical Chamoy Michelada feels sticky and sweet, with a mouthfeel that will remind you of rich tomato. The beer finishes with a taste of hot sauce and a lingering heat on your tongue. It is smooth, and the flavors don't overshadow each other.
– Flavor
The flavor of the Chamoy Michelada beer follows the aroma, with a delicious combination of sweet and spice. The sweetness is provided by the fruity pineapple flavor, while the spice is added by the chamoy, Clamato, and hot sauce. After swallowing the beer, you will feel a slight heat that lingers into the aftertaste.
It has a complex balance of spicy and sweet and will remind you of Mexican flavors. You will also notice hints of tomato and a sweet and rich flavor that is best for the winter months. In general, the flavor starts sweet, and then you can strongly taste the beer in the middle before the heat sizzle comes in the aftertaste.
– Food Pairings
The Estrella Jalisco Chamoy Michelada is best paired with a wide range of tart and spicy foods. Acting as a palate cleanser, the beer will go well with all sorts of spicy foods, including Mexican and Indian cuisine. You can get the Mexican flavor when you have it with Mexican food.
It goes well with duck and pork dishes that are very sweet, pickled dishes, fruity desserts like orange sorbet and fresh berries, and salads with fruity dressings. Also, foods rich in herbs and spices are the ideal choice for the Chamoy Michelada. Light white meat, chicken, and fish, also pair well with this beer.
As for cheese, the Chamoy Michelada will go well with Mascarpone cheese, blue cheese, and feta cheese. The beer adds a bright contrast to salads, toasted nuts, and foods with acidic dressings.
Ingredients
The Chamoy Michelada is a refreshing lager made with Clamato, chamoy flavor, and pineapple juice. These natural flavors are what will give it a sweet and spicy taste.
Chamoy Michelada is also brewed with the basic ingredients: wheat, hops, water, and malts. The specific malts and hops used to make this beer are unclear. The ingredients come together to give you a refreshing and unique beer.
Nutrition Facts
The Chamoy Michelada features an ABV of 3.5 percent in every 25-ounce can. It also has 166 calories per 12-ounce serving and 22 grams of carbs. There are also 2 grams of protein in the beer.
The high-fat content makes this beer unsuitable for those on a keto diet. It is also unfitting for those who cannot consume gluten due to the ingredients. You should check the ingredients before drinking the beer if you have any allergies.
History
The Tropical Chamoy Michelada is a fruit and field Mexican beer made by the Estrella Jalisco brand under the Grupo Modelo S.A. de C.V. The brand is handled by the brewery's craft beer division known for offering classic and unique Mexican beers.
The main beer at Estrella Jalisco is of the same name, a Mexican pilsner with a 4.5 percent ABV. It is an established brand in Mexico and is distributed across different countries. Since it was brewed in 1910, Estrella Jalisco has been a local favorite in Mexico, and the different beers offered by the brand have been distributed throughout the state and outside.
Conclusion
The Estrella Jalisco Chamoy Michelada is a stylish Mexican beer with unique flavors, ideal for anyone trying something new. Here is a summary of what we covered in our review:
The Chamoy Michelada is a fruit and field beer with a 3.5 percent ABV, brewed by Estrella Jalisco.
The beer has flavors and aromas of Pina Colada, hot sauce, and pineapple, with a spicy finish.
It is brewed with Clamato, chamoy flavor, and pineapple juice.
The beer is best served in a lambic glass while cold and with citrus garnishing.
It goes well with spicy foods, Mexican cuisine, fruity desserts, salads, and Mascarpone cheese.
If you want to try out the Chamoy Michelada, you can purchase it online from different stores or look for nearby liquor stores.