Abraxas Beer Review: A Complex Craft Beer With Unique Ingredients
Abraxas beer is a delicious American imperial stout with sweet and creamy flavors and a high ABV evident in the taste. The complex beer is brewed in Missouri.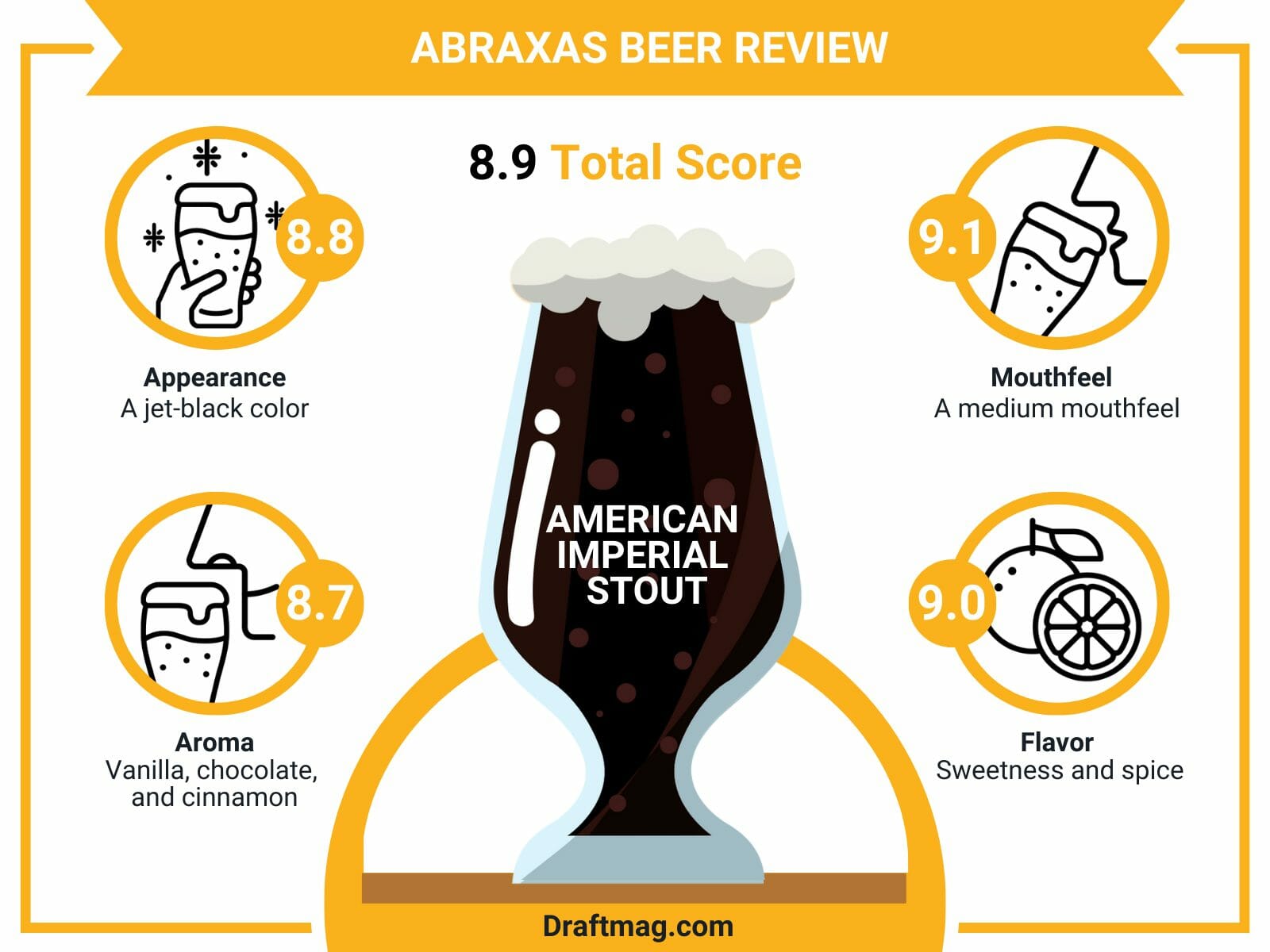 With this beer, you get lingering roastiness, chocolate, and peppers, and it can be enjoyed right away or allowed to age in a bottle before drinking. Our review covers all you need to know about the Abraxas stout.
Abraxas Beer Stats
| | |
| --- | --- |
| Country  | United States |
| Brand | Perennial Artisan Ales |
| Style | American Imperial Stout |
| Taste  | Vanilla, cinnamon |
| Body | Medium Body |
| ABV | 11.5 percent |
| Flavors & Aromas | Vanilla, chocolate, cinnamon, spicy, sweet |
| Serving Temperature | 45 – 50 degrees Fahrenheit |
Tasting Notes
Abraxas Beer Tasting Profile
Abraxas Beer Review
Abraxas is an American imperial stout with an 11.5 percent alcohol content from Perennial Artisan Ales. The pitch-black beer has a brown and thick head, a roast body, and flavors and aromas of vanilla, cinnamon, chocolate, and peppery spice. The beer is made with unique ingredients to give it a sweet and spicy character in a medium body.
The imperial stout is best poured in a snifter, chalice, or goblet, which allows the thick head to form nicely and showcases its dark color. You should serve it at temperatures from 45 to 50 degrees Fahrenheit, and it can be garnished with a citrus wedge.
With its creamy and sweet flavor, the beer goes great with hearty meals and chocolatey desserts. You can have it during winter months with the warming alcohol flavor.
– Appearance
The Abraxas imperial stout pours a jet-black color, and you can barely see anything else except for the brown, foamy head that sits on top of it. The tan head has good retention but fades after a while into a thin cap and minimal lacing against the glass.
– Aroma
On the nose, drinkers can enjoy a sweet aroma that balances vanilla, chocolate, and cinnamon. This combines well with some peppery spice in the aroma. You might pick up the aromas of roast coffee, spicy whisky, and some raisins, all coming together to give you a sweet and spicy aroma.
– Mouthfeel
The Abraxas stout has a medium mouthfeel that combines with its gentle carbonation to give you a silky and smooth beer. It goes down easy and finishes mostly dry, with a little sweetness that follows into the aftertaste.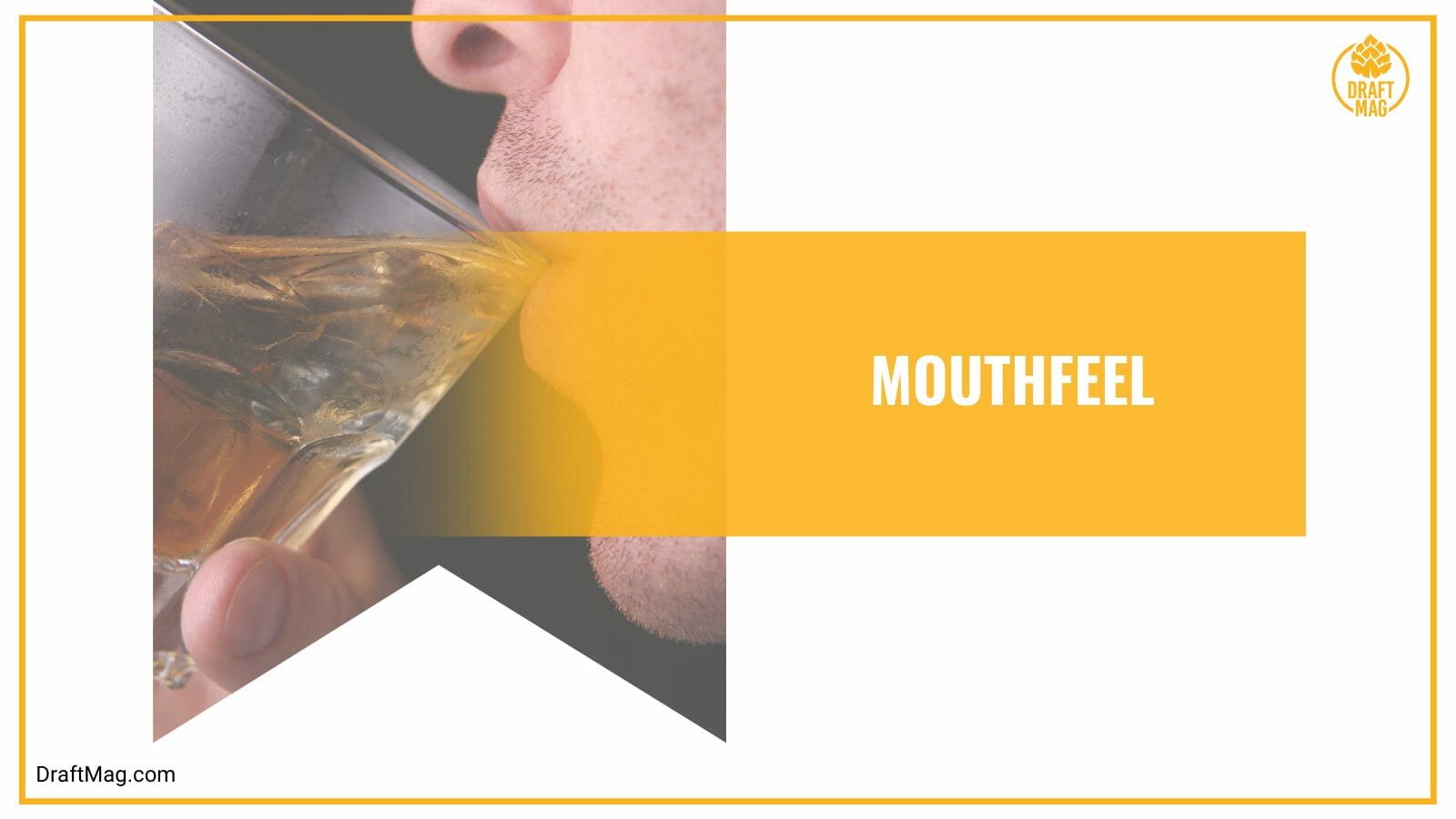 The beer is thick and creamy too, and there is barely any alcohol in the flavor and aroma.
– Flavor
The balance of sweetness and spice in the aroma follows into flavor, but the pepper adds a nice and firm spice to the taste. When you first take the beer, you will taste flavors of milk chocolate, sweet coffee, cocoa powder, vanilla, dates, and chili pepper.
On the swallow, the cinnamon becomes more pronounced, with hints of spicy whisky, oak, and roast coffee. There's a lot of maltiness that ties all the flavors together, and the alcohol in the flavor comes after all the flavors and before the finish without being hidden. The flavors balance well together, with no one flavor overpowering the other.
– Food Pairings
When pairing the Abraxas imperial stout with food, your best options are fatty, meaty, and fried foods. For a typical American meal, you can pair the beer with a full-fat burger that was grilled with some blue cheese and bacon.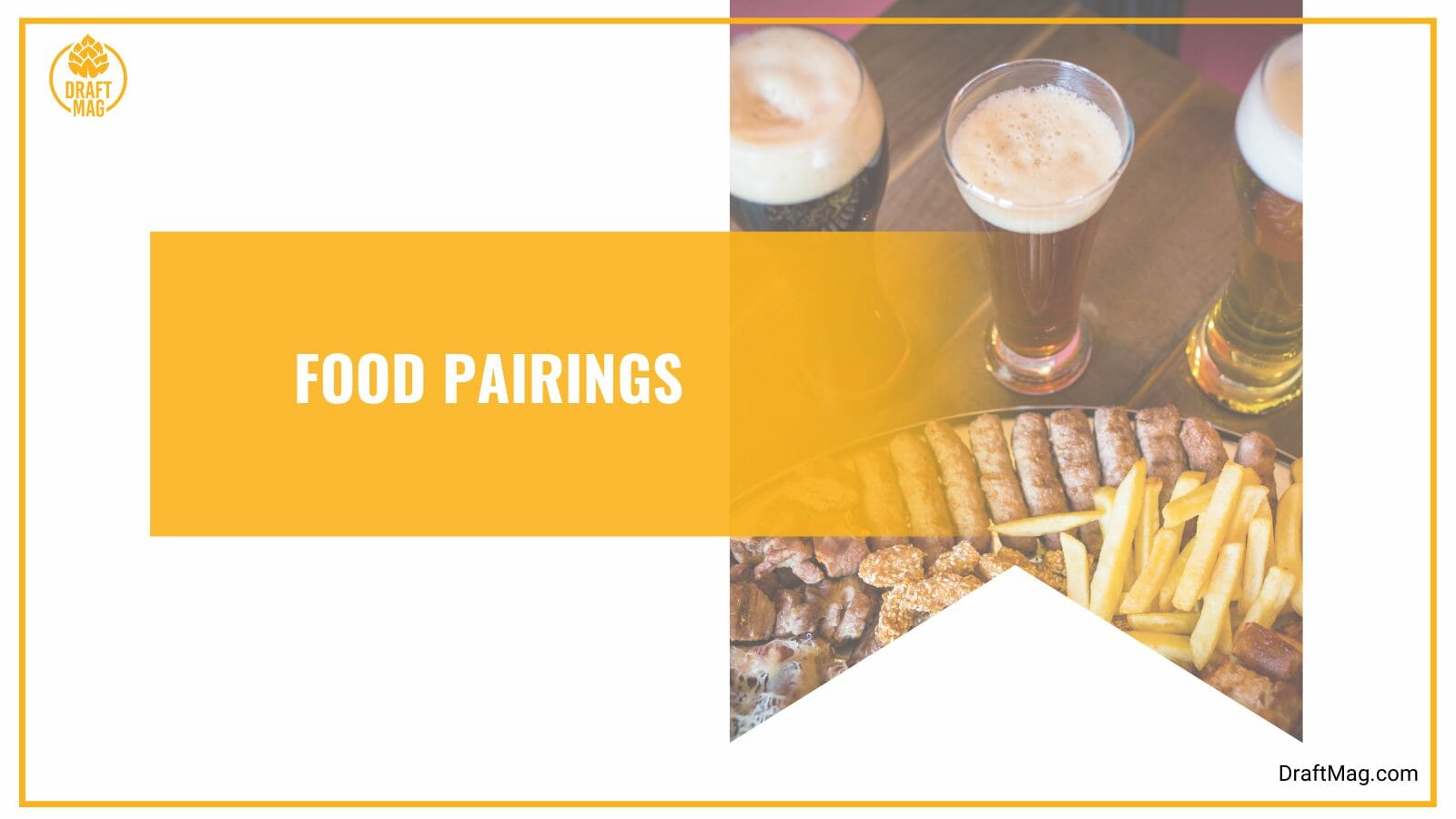 The delicious beer pairs great with roasted, smoked, grilled, and barbecued foods, salty and fatty foods, braised dishes, oysters, and rich stews. Bread-based foods like pizza, sandwiches, toast, and pancakes also go well with this beer.
If you have meat with the Abraxas, look out for steak, a rack of lamb, prime rib, and barbecue ribs. Try out a shawarma-spiced braised leg of lamb. A wide range of desserts goes with Abraxas, especially anything with a lot of chocolate. Try out gingerbread brownies, flourless chocolate cake, and a chocolate lava cake.
Ingredients
The Abraxas stout is made with unique ingredients and normal beer ingredients. It is brewed with water, malts, hops, and yeast. The malts will give you a chocolatey character through their aroma and flavor. Other ingredients in the beer include ancho chili peppers, cinnamon sticks, cacao nibs, and vanilla beans.
The cinnamon sticks offer you delicious cinnamon flavors, while the ancho chili peppers offer you a spicy, peppery taste. You can also taste a lot of chocolate and vanilla from the cacao nibs and vanilla beans. The Abraxas stout contains lactose, which is not ideal for those that are lactose intolerant.
Nutrition Facts
The Abraxas stout features an 11.5 percent alcohol content in every 12 ounces, which is expected for the imperial style. You can expect some alcohol to burn in the backbone of the beer.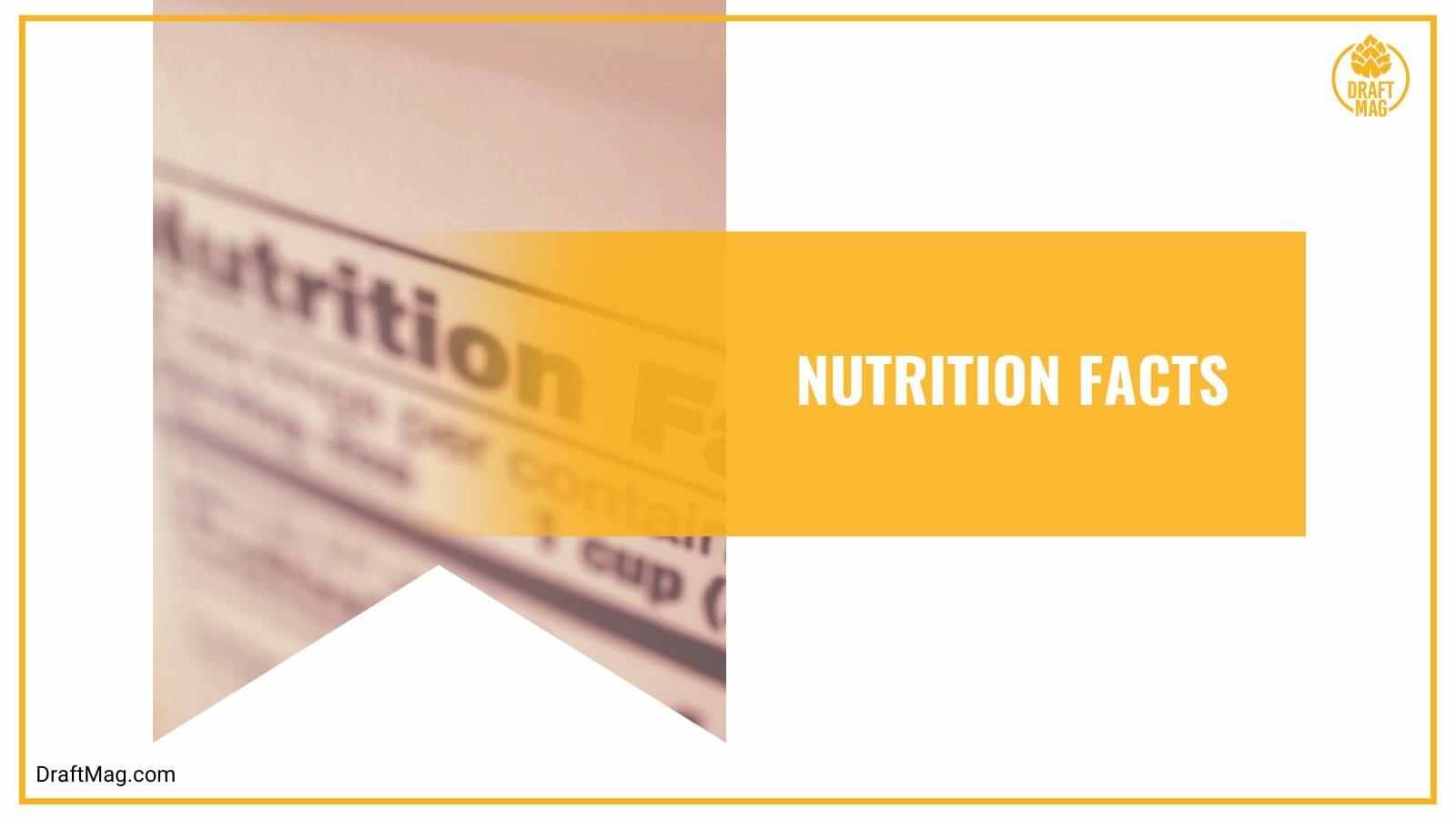 There are 345 estimated calories in the stout, which is a pretty high level. You need to consider this when calculating your daily dietary intake.
History
The Abraxas imperial stout is brewed by Perennial Artisan Ales, a Missouri-based brewery. It was released in 2011 and has remained one of the most popular beers from the brewery. The Abraxas is a seasonal beer that is only released during the fall and winter months. The beer is hand-crafted and made in small batches.
The brewery also been running since 2011, and Abraxas is one of the oldest beers. It is a small-batch brewery that provides a tasting room, craft beers, and different meals in a warehouse setting. The brewers focus on adventurous beers that appeal to a wide range of brewers.
Conclusion
Abraxas is a fantastic beer made for those who enjoy stouts, sweet beers, and creamy, chocolatey brews. Here's a summary of what we covered in our review:
Abraxas is an imperial stout with an 11.5 percent alcohol content, and it is made by Perennial Artisan Ales.
The beer has flavors and aromas of cinnamon, chocolate, vanilla, and spicy peppers, with a medium body and creamy feel.
It is made with ancho chili peppers, cinnamon sticks, cacao nibs, and vanilla beans, aside from normal beer ingredients.
You can serve this beer in a snifter or chalice.
The beer pairs best with meaty foods, fatty meats, hearty stews, chocolate desserts, and blue cheeses.
You can check this beer out at stores near you or visit the brewery to get it right from the tap.