512 Pecan Porter Review: Detailed Guide of One of Austin's Best Beers
512 Pecan Porter is for you If you want to venture onto the dark side and are looking for an introduction to dark beers. In addition, to help you satisfy your curiosity, this review will reveal the beer's organoleptic characters and ingredients.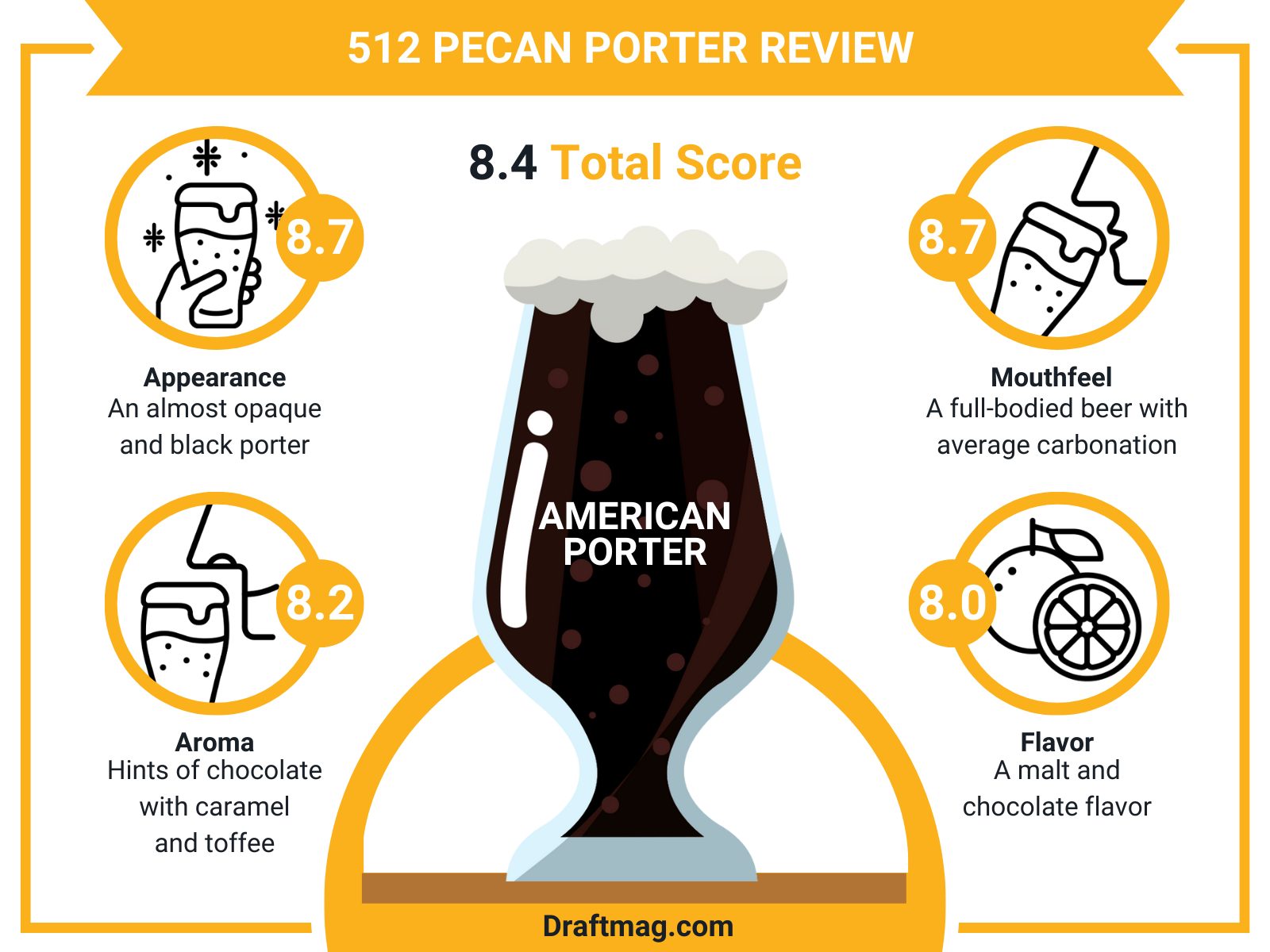 It doesn't end there since you will also get to know its history and the kind of foods you can pair with the beer, so keep reading this beer review.
512 Pecan Porter Stats
| | |
| --- | --- |
| Country | United States |
| Brand | (512) Brewing Company |
| Style | American Porter |
| Taste | Sweet malty chocolate, earthy |
| Body | Full |
| ABV | 6.2 percent |
| Flavors & Aromas | Malt sweetness with dark chocolate |
| Serving Temperature | 45 to 55 degrees Fahrenheit |
Tasting Notes
512 Pecan Porter Tasting Profile
512 Pecan Porter Review
512 Pecan Porter is a craft beer with the characteristics of a typical American porter. Below you will find the beer's attributes and food pairings.
– Appearance
In a beer glass, it appears almost opaque and black with moderate carbonation. This is followed by a light brown foamy head with average density and retention and leaves a few lacings.
– Aroma
The aroma of this beer is a mix of malty sweetness with hints attributable to chocolate. In addition, it also includes a blend of hops and subtle Texas-grown pecan hints with caramel and toffee.
– Mouthfeel
It is a full-bodied beer with average carbonation which means it is easy to drink. On the palate, it begins with a blend of sweet roasted malts with chocolate and mild pecan notes. This is followed by caramel, molasses, and brown bread attributes and finishes dry with a lingering bitterness.
– Flavor
Remember that the flavor is the one that follows the aroma, which means that you will perceive a malt and chocolate flavor in it, thanks to its rich malt bill. This is often enriched by a reference to pecan, caramel, and molasses. Also, it includes secondary hints reminiscent of roasted coffee. The toasted malt contributes to a bitter chocolate complexity.
– Food Pairings
While many may be filled after drinking a typical Porter beer, 512 Pecan Porter is a wonderful digestive and a perfect drink to accompany many dishes and desserts. This beer offers an explosion of flavors, toasted, grilled, chocolate, and caramel, that go particularly well with grilled meats. These blends will travel with similar aromas and play on the resonance of flavors. Also, adding aromatic herbs during cooking will create a rich and intense flavor bouquet in the mouth.
If you prefer to play with contrasting flavors, we recommend pairing this beer with shellfish like crab, oysters, lobsters, and shrimp. Surprisingly the iodized side of crustaceans mixed with the chocolate notes present in this beer allows the palate to play between sweet and salty.
On the other hand, buffalo wings and Mexican cuisine are not excluded, because this beer pairs perfectly with blue cheeses like Roquefort. Keep in mind that the beer's strength and intensity balance the flavors this cheese releases in the mouth.
Also, if you want to continue playing on resonance, this beer is welcome at dessert time. Given this, combining with a dessert based on chocolate, coffee or nuts makes sense. Examples include tiramisu, chocolate fondant, or an almond cake. Also, the toasted notes of the beer travel well with dark chocolate and help to form an intense resonant chord.
On the contrary, if you want to complement the flavor, you can focus on light desserts based on red fruit and strawberries. This beer will sublimate the taste of fresh strawberries or a strawberry charlotte cake.
Ingredients
512 brewery combines rich malt varieties and other elements to brew this dark beer. They include Baird's chocolate malt, American 2-row, Texan grown pecans, crystal malt, English black malt, ale yeast, glacier hops, and of course, water.
Nutrition Facts
The 512 Pecan Porter calories are high at 204. This beer also contains 2g of proteins and 31g of carbohydrates. There are also a few amounts of sodium and fibers. The carbs and calories are the reason for your fullness after drinking this beer. Also, this beer is not for someone who wants to maintain a balanced calorie intake.
For its alcohol content, 512 Pecan Porter ABV is 6.2 percent which is typical for a porter beer. With the beer's average ABV and the fullness that comes after drinking, you may not be able to do multiple bottles. It also 512 Pecan Porter IBU is 30, obtained from the restrained hops used in brewing. This is why you perceive bitter notes in the beer, although the malt sweetness balances it.
History
512 Pecan Porter is a dark beer produced by 512 brewing company in Austin, Texas. The founder, Kevin Brand, started making beers as a hobby in the 90s. Later in the 2000s, he decided to go into the beer industry as there were only a few local beers in Austin-based bars.
Also, during the period, Austin lacked hoppy beers. Kevin began by introducing hoppy Indian Pale Ales (IPAs) to fill this need in the city. After that, he progressed into brewing pale ales and Belgian-style wheat beers. However, Kevin knew some people might need to have dark beers; thus, he decided to do seasonals.
Then, he combined local ingredients, including the Texas pecans, to brew a dark beer. This innovation gave birth to the 512 Pecan Porter, released in 2008. However, this beer got multiple good reviews, and as a result, the company decided to make it available throughout the whole year. Today, however, the beer is available in 12 fl. oz bottles in singles and packs of four.
Conclusion
Do you want to fill your taste buds with something different? Then it would be best if you considered a dark beer like the Pecan Porter. The flavor will undoubtedly keep you reminiscing about sweet chocolates and coffee. Here are key points to note from this review:
512 Pecan Porter is an American porter with 6.2 percent ABV.
The flavor will undoubtedly keep you reminiscing about sweet chocolates and coffee.
It appears almost opaque and dark with a light brown head with decent retention.
The flavor mixes malt sweetness and chocolate with Texas pecan notes.
The pairing of this beer doesn't seem simple due to its intense flavor. However, you can pair it by contrasting or complementing its flavors.
Remember we shared some foods you can pair with this beer in this review. However, for a pleasant experience, ensure you follow the serving temperature strictly to retain the beer's organoleptic properties.