Kentucky Bourbon Barrel Stout Review: The Dark, Rich, and Robust
Kentucky Bourbon Barrel Stout is a high ABV Imperial Stout brewed with bourbon, coffee, vanilla, and roasted malts. The beer has a rich dark brown to black pour, a medium body, and a slightly round mouthfeel.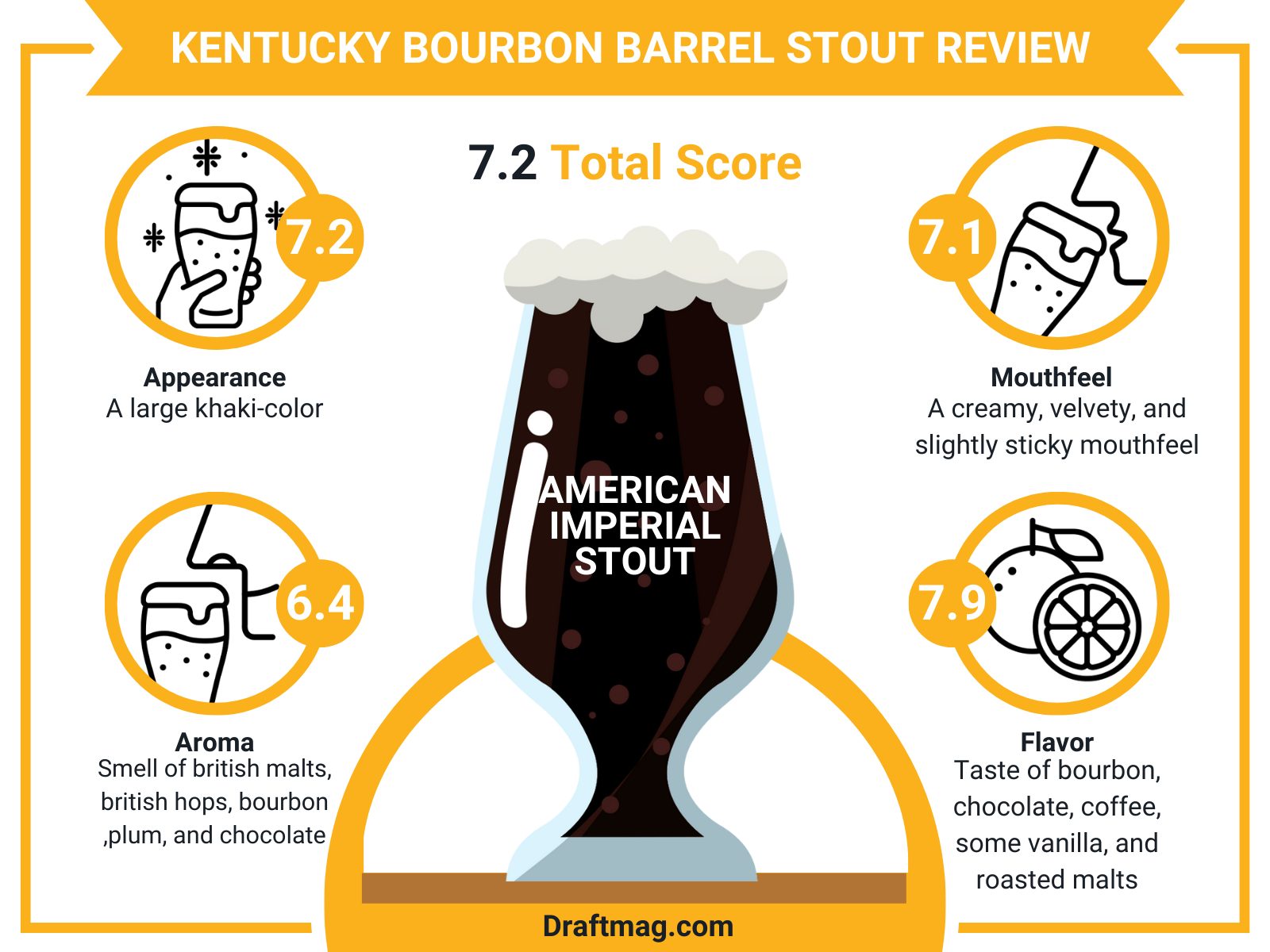 Lexington Brewing Co. is known for aging its beers in bourbon barrels to bring a woody, toasty finish. Read on to know more about this delicious brew.
Kentucky Barrel Stout Stats
| | |
| --- | --- |
| Country | the United States |
| Brand | Alltech's Lexington Distilling & Brewing Company |
| Style | American Imperial Stout |
| Taste | Bourbon notes, roasted malts, alcohol presence |
| Body | Medium bodied, heavy carbonation, thin mouthfeel |
| ABV | 8.0 percent |
| Flavors and Aromas | Mild Bourbon, malty, roasted, faint coffee |
| Serving Temperature | 55 to 60 degrees Fahrenheit |
Tasting Notes
Kentucky Barrel Stout Tasting Profile
Kentucky Bourbon Barrel Stout Review
Indulge in the richness of coffee, vanilla, roasted malts and dusky bourbon alongside a musty wooden barrel-aged brewing process. If you are a fan of robust, thick, and creamy beers, this one's for you. Here is everything you need to know about the Kentucky Bourbon Barrel review.
– Appearance
This Stout pours a pitch black color with a large khaki-colored tan-white head. The color of the beer speaks for the richness and the robust nature of a classic Imperial Stout. The tan-white head is almost two fingers high and lasts longer than expected.
The foam retention is excellent, it is deliciously creamy and layered, and forms an appealing lacing around the corners of the glass. Bubbles can be seen coming up at different times. Overall the appearance of the beer is very appealing and mouth-watering.
– Aroma
On the nose, this robust beer smells of British malts, British hops, bourbon, plum, dark roasted malts, purple grape, and chocolate. There is a light vanilla presence felt at the back and is mostly hidden beneath the much louder roasted malt aromas.
There is some presence of caramel malt and toasted oak. The beer also has a faint smell of burnt wood, which only adds to the complexity of the aromas. There is a slight bit of coffee aroma, but that goes away soon. Overall, the beer is rich in malty aroma, thick chocolatey feel, and vanilla sweetness.
– Mouthfeel
This is a full-body Stout, just like every other Stout beer. The beer's texture is super creamy, velvety, and slightly sticky on the tongue. The beer is also high in carbonation which adds to the fullness of mouthfeel. The beer also has a warming sensation at the back of the throat.
The finish of the beer is a bit tangy and slightly bitter and is well balanced with flavors of vanilla and malt finish. The beer comes off slightly thin at first, coming up with a fuller mouthfeel as you sip more. It is lower in alcohol content but high in complex flavors and mouthfeel. These flavors are obtained from roasted malts, barley, and oats or flaked oats.
– Flavor
The taste profile of this beer consists of bourbon, chocolate, coffee, some vanilla, and a handful of roasted malts. The beer shows some sweet and toasty notes with a pinch of caramel sweetness and mild coffee bitterness towards the end.
This Stout beer is a rich, creamy, dark, robust, and mildly bitter beer made by the top fermentation method.
There is a mild alcohol presence that makes up for an excellent Stout character. The beer has a warm finish and is perfect for cold winter nights. The flavors also call for the festive season, thanks to the dark fruit and coffee notes, followed by a tangy finish. The beer also finishes dry, making you want more.
– Food Pairings
A classic Stout stands well when paired with pungent, earthy, and salty flavors. The beer is well roasted, which pairs well with the earthiness of the cheese. The caramel and vanilla sweetness add complexity to the beer, making it pair well with lighter french desserts.
Savory and salty foods like crisps, garlic butter, truffle fries, umami, and char stand out against the roasted maltiness of this Stout.
Ingredients
This stout is brewed with coffee grinds followed by an aging process in coffee beans. The coffee beans are sourced from Alltech's Haitian Coffee Project. This ingredient leads to a classic yet robust chocolate stout aroma that blankets the roasted bitterness.
This beer is then finished in bourbon barrels, which is responsible for the original stout flavors with a light caramel finish. The beer also uses Pale-two row, crystal, oats, and roasted barley alongside house yeast to bring in all the malty characters in the beer.
Nutrition Facts
This delicious Stout is vegan-friendly. None of the ingredients that go into the making of this beer are derived from animals or animal products. This stout is not lactose based either.
It is key to keep in mind that in one bottle's serving, 12 ounces, there are 190 calories, as per the amount of carbohydrates, it has 16.4 grams, and two grams of proteins.
History
Lexington Brewery started in the late 1890s with the ideology of keeping beer brewing traditions intact with bold imagination to produce well-crafted beers. In 2006, they filled decanted bourbon barrels with the classic one-of-a-kind Kentucky Bourbon Barrel Ale.
This has now become one of the most popular beers across the country. Their brewing style of using bourbon barrels for craft brewing became their trademark.
This is a family-owned brewery and distillery that runs on a purpose-driven mission and aims to celebrate the craft of beer making and distilling. Some other famous beers from this brewery are Kentucky Maple Barrel Stout and their Ale.
FAQ
– What Are The Most Famous Stouts?
Bourbon County Stout by Goose Island, Dragon Milk Beer by Dragon's milk brewery, and Founders Kentucky Bourbon Stout are some of the most famous Stouts.
Conclusion
This is a strong beer with complex malt flavors that include chocolate, coffee, vanilla, caramel, espresso, molasses, and plenty of dark fruits. This beer is rich, robust, and has medium to strong hop flavor and a rich dependable malt base.
Lexington Brewing Co. is wildly popular for the bourbon-barrel brewing and fermenting technique.
When it comes to glassware, a snifter or a tulip glass are perfect to serve this beer as they have a curved rim and a wide bowl shape.
This beer is perfectly paired with garlicy-buttery foods, as it is great with savory foods.
This beer is vegan-friendly, which means it is perfect for someone on a vegan diet.
So what are you waiting for? Grab one from the nearest store and sip on its deliciousness as you welcome the festive season.