Echigo Beer Review: A Likeable Rice Lager With Flavor Depth
Echigo Beer is a premium lager that originates from Japan, offering a unique flavor of rice and barley. The Japanese lager is made from Koshihikari, a short-grain rice that translates to a classic lager.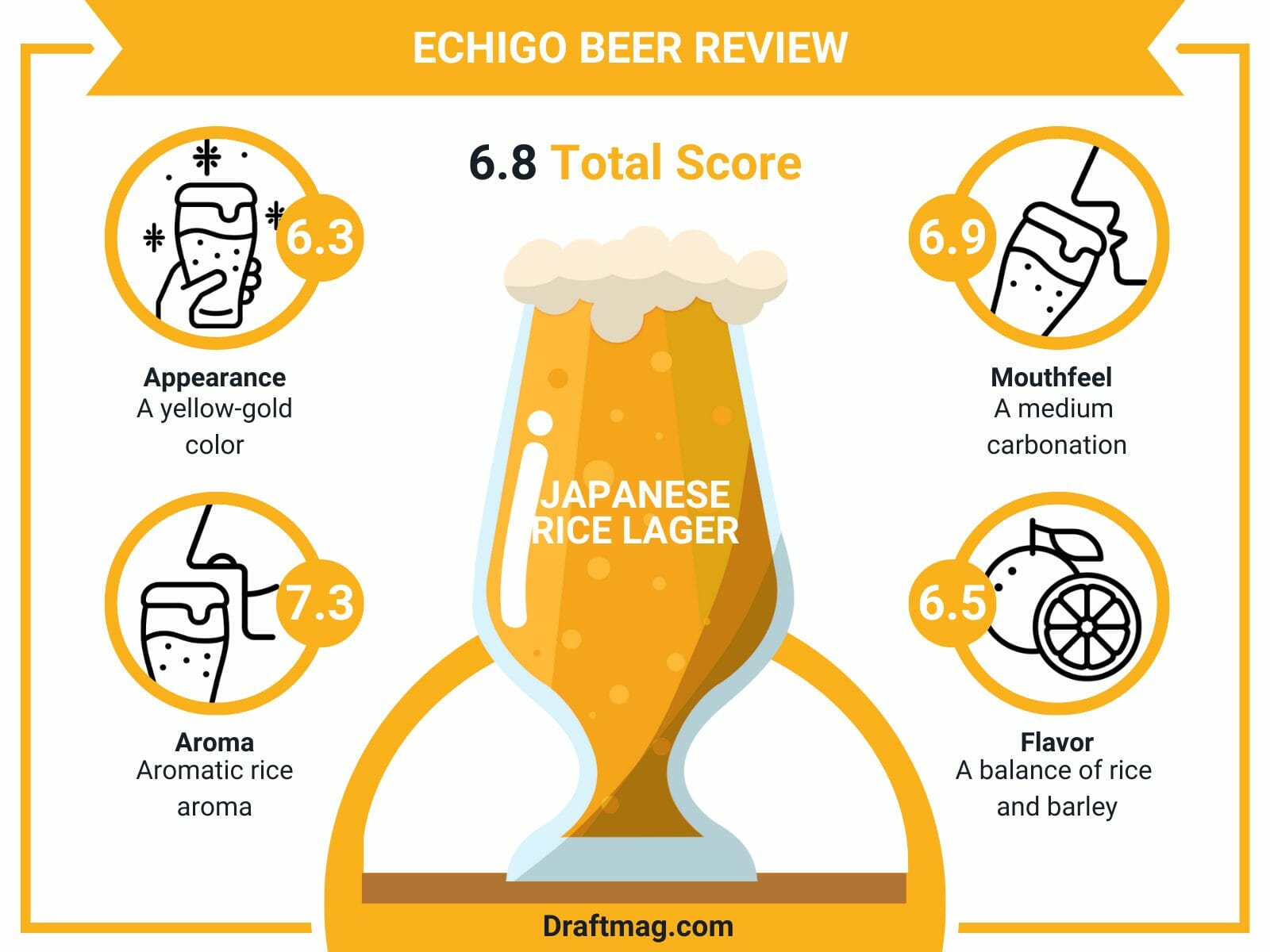 The beer offers a lot of interesting depth of flavor without the crispness that you would expect from a lager. If you're curious about the Echigo lager, here's a complete review below.
Echigo Beer Stats
| | |
| --- | --- |
| Country  | Japan |
| Brand | Uehara Shuzou Co Ltd |
| Style | Japanese Rice Lager |
| Taste  | Rice, barley |
| Body | Light Body |
| ABV | 5 percent |
| Flavors & Aromas | Rice, barley, hops, fruits, cereal |
| Serving Temperature | 40 – 45 degrees Fahrenheit |
Tasting Notes
Echigo Beer Tasting Profile
Echigo Beer Review
Koshihikari Echigo beer is a Japanese lager with 5 percent alcohol content, made by Uehara Shuzou Co. Using premium short-grain rice that is known to be the best in Japan, the aromatic beer is a likable lager with a lot of flavors that will surprise you. The beer pours a pale yellow-gold and has a light, fine body.
Offering a lot of depth instead of the carbonation snap, the Echigo lager has aromas and flavors of rice, barley, floral hops, cereal, and some fruitiness in the form of lemon and yeast. Serve the beer in a pint glass, which is designed with a wide opening and narrow ending.
The ideal serving temperature is 40 to 45 degrees Fahrenheit, which keeps the beer cool. You can garnish it with a lemon wedge placed on the rim of your glass.
– Appearance
The beer pours a light yellow-gold color into your glass, with a sudsy white foam up to two inches. You might see some hues of orange when you get some light into your glass, and it has a clean, clear body that you can see through. The white head fades quickly and leaves some sticky lacing behind.
– Aroma
On the nose, the Echigo lager smells of aromatic rice and will pull you in quickly. You might also notice aromas of light barley and some sweet scents from cereal. As it warms up, there are hints of floral hops and fruitiness.
– Mouthfeel
The lager is light-bodied and offers medium carbonation that sweeps on your tongue smoothly.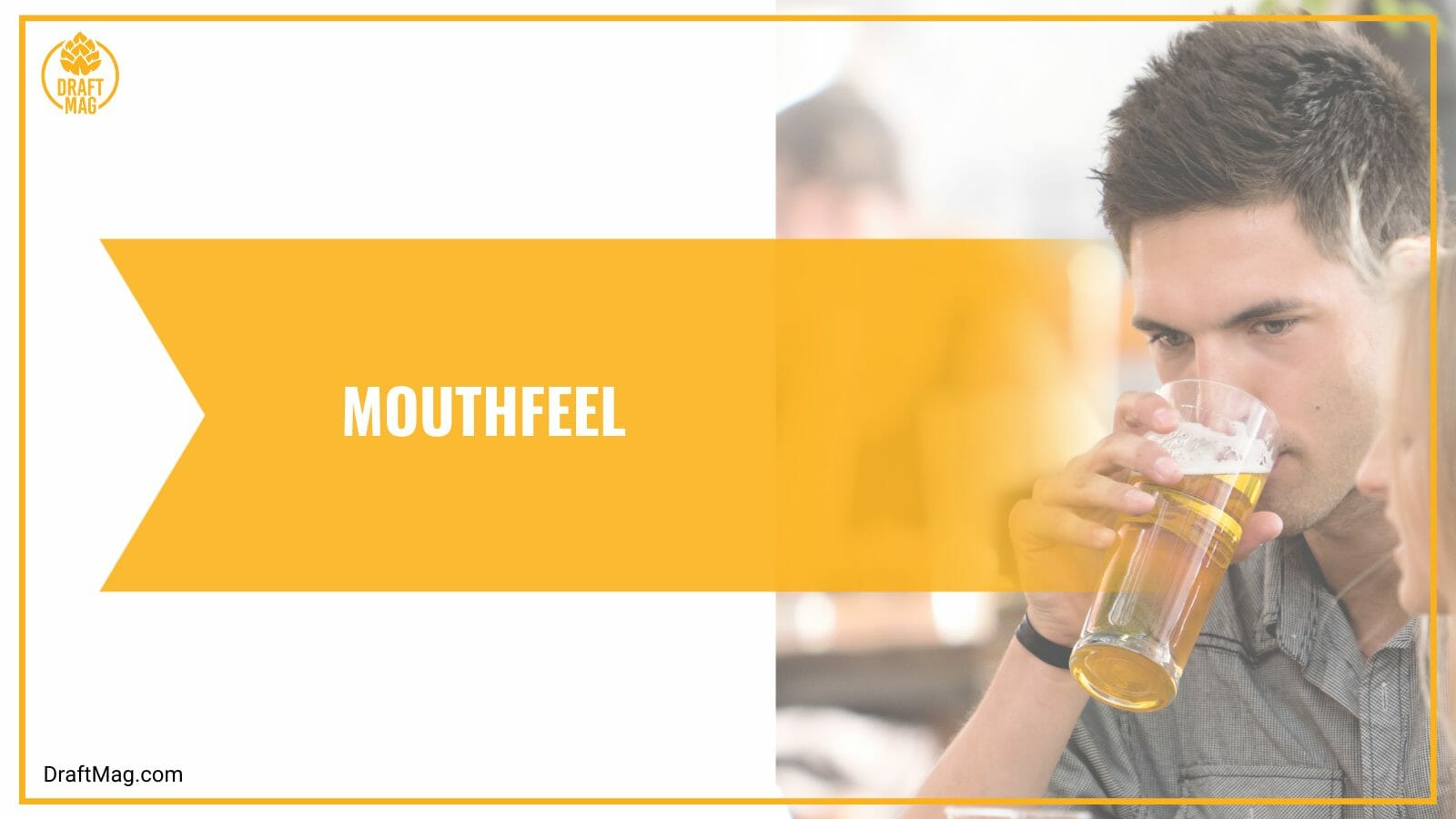 It is not exactly crisp, but refreshing and clean. The carbonation offers a slight tingly feeling on your tongue, with a bit of dryness to it.
– Flavor
As for the flavor of the Echigo Koshihikari, you can enjoy a balance of rice and barley with a slight squeeze of lemon. The rice in the beer is forward, as per the style, and offers a kiss of initial sweetness when you first drink it. As you reach the finish, the beer becomes drier with an average level of bitterness.
The malts, grains, and hops are well-blended, with a hint of dry sweetness on the side. You might notice some cracker malts and some floral hops in the flavor, although light. The lager yeast offers some fruitiness that balances out the bready malts and toasted rice. It finishes dry and slightly bitter.
– Food Pairings
The best food pairing you can have with the Koshihikari rice lager is sushi, as the light raw fish complements the depth of flavor you enjoy. You can also try out other seafood like crab legs, salmon, mussels, shrimp, lobster, scallops, and more. They provide a sweet contrast with the rice flavor.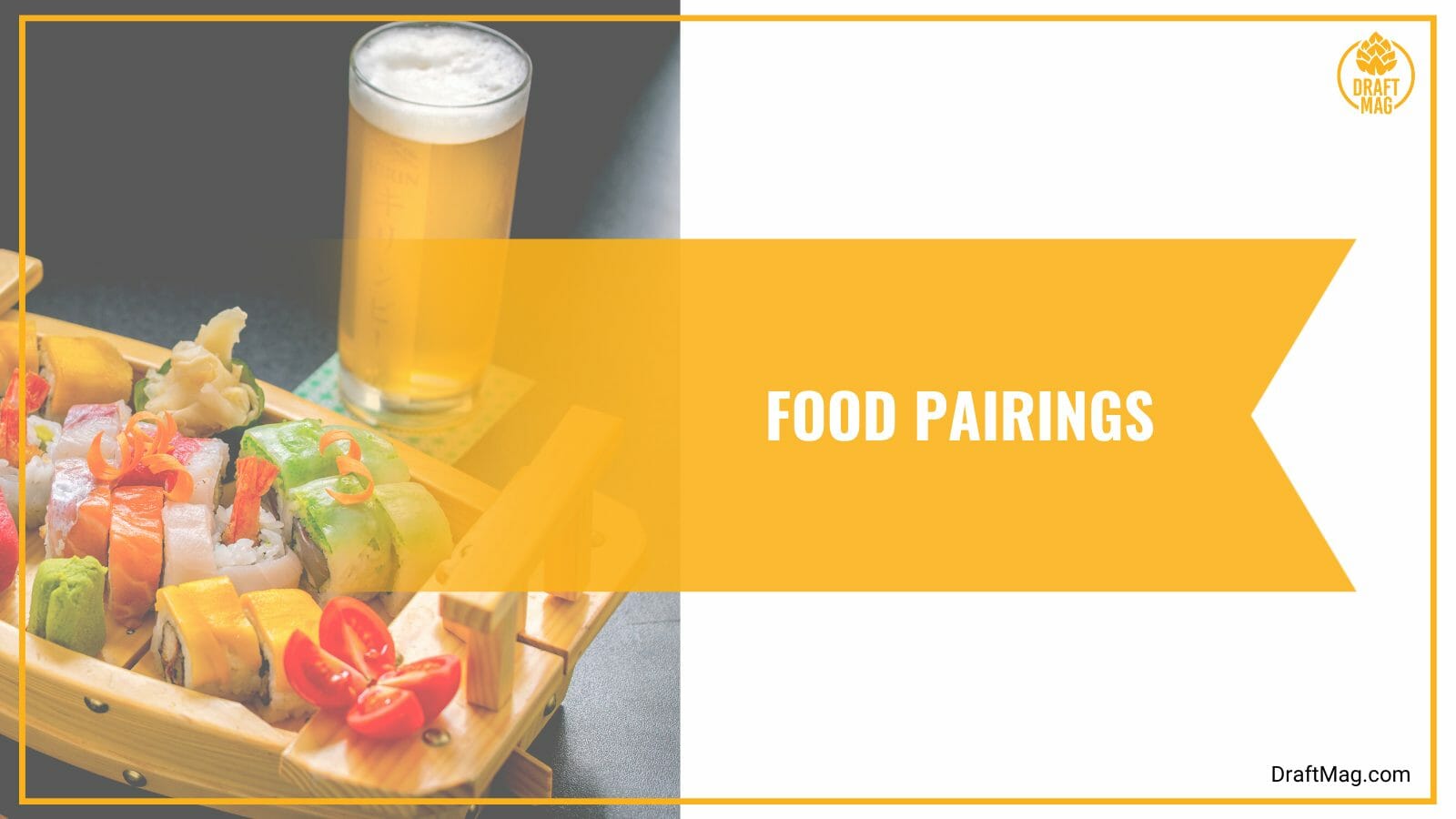 The beer also goes well with everyday Japanese food, so you can try out sashimi, Yakitori (bite-sized grilled chicken skewers), Sashimi, and Wagyu steak. Pair it with spicy foods, burgers, and crisp salads with lemon-based dressings.
When having dessert with your lager, it's best to go for those that are lemon-based, as this will highlight the slight citrus notes. Go for a panna cotta with lemon or a lemon cheesecake. Other desserts like creamy rice pudding or rice pudding muffins will pair well. As for cheese, pair it with mild cheeses like Havarti or light Cheddar.
Ingredients
The highlight of the Echigo lager is the rice used to make it. This is Koshihikari grown in Niigata, a premium short-grain rice known to be the best in Japan. This offers the unique flavor of aromatic rice in the beer. Other ingredients include Japanese malts and hops and water made by Japanese craftsmen.
Nutrition Facts
In this lager, you get an ABV of 5 percent, which you won't taste in the flavor. The alcohol is completely masked and won't get you drunk quickly, offering a drinkable beer. As for the IBU, it is 16, as there is mostly sweetness and dryness in the flavor. The bitterness is moderate.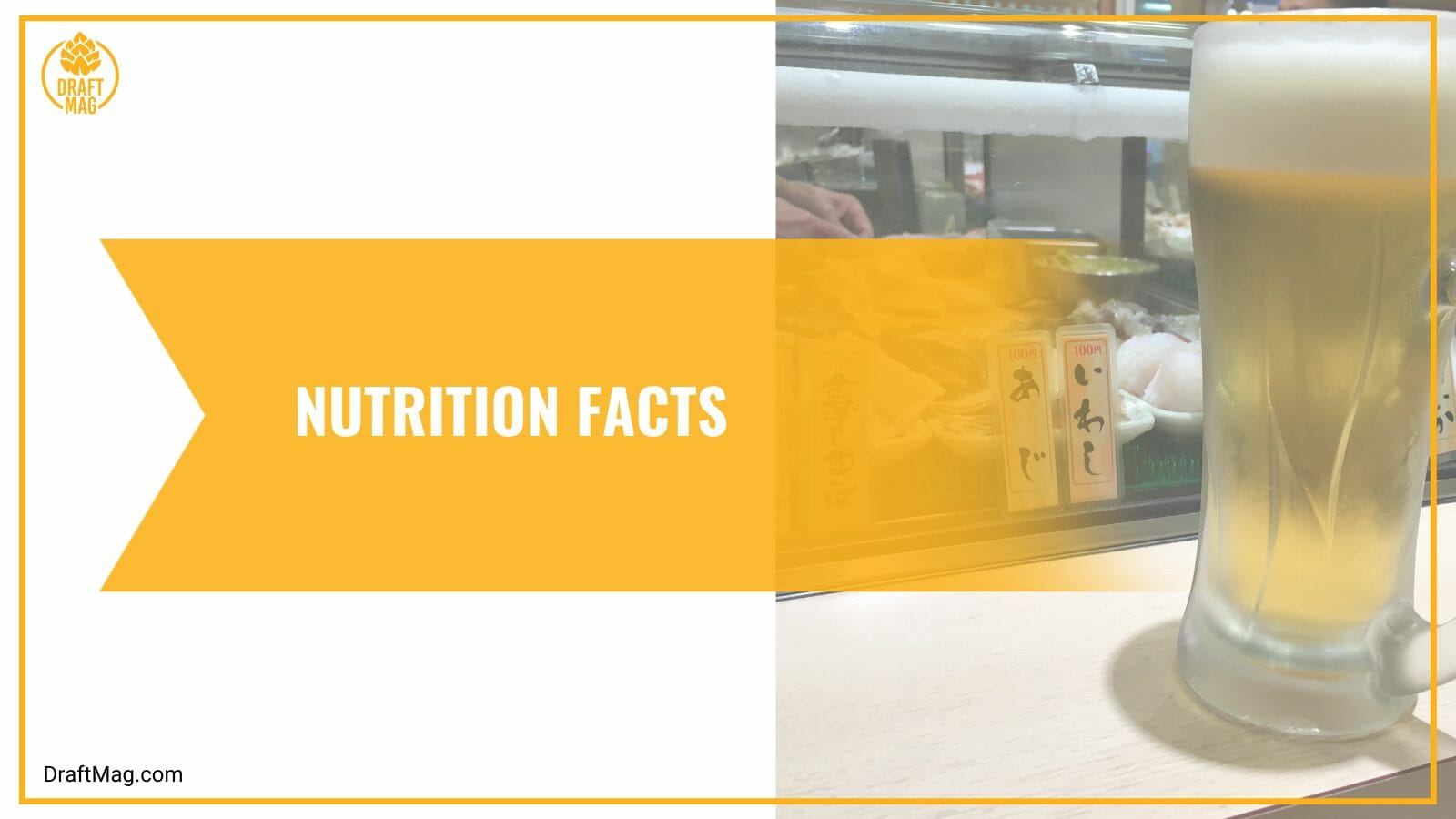 The beer has 142 calories in every 12 ounces, which is a pretty decent level. Drinkers on a diet should keep this in mind when calculating their daily dietary requirements. There are also 35 grams of carbs and 2 grams of protein in the beer. It is not suitable for those on a keto diet due to the high carbs content. The beer contains gluten.
History
Echigo lager is made by Uehara Shuzou Co and Echigo Brewery. The beer was released in 1994, which is the same year the brewery was founded. The brewery started as a brewpub in 1994 and is located in Niigata Prefecture.
Echigo Beer Company is the first in Japan to produce craft beer. With its location in Niigata, which is a rice-growing region, it is able to produce quality Japanese lagers. Another popular option from the brewery is the Echigo Premium Red Ale.
Conclusion
Echigo lager is the ideal start to any meal, with its light body and depth of flavors that will appeal to any beer lover. Here's a summary of our beer review:
Koshihikari Echigo beer is a Japanese lager with a 5 percent alcohol content.
The beer has flavors and aromas of bready malts, toasted rice, floral hops, fruity yeast, and lemon, with a light body.
It is made with Koshihikari rice, Japanese malts and hops, and water made by Japanese craftsmen.
Serve the beer in a pint glass at 40 degrees Fahrenheit with a lemon wedge.
The beer is best enjoyed with sushi and other seafood, Japanese food, spicy foods, light cheeses, citrus desserts, and rice pudding.
It's quite difficult to get this lager, but you can try purchasing it at your favorite online liquor store.