Voodoo Ranger Higher Plane Review: An Awesome Beer For IPA Lover
Voodoo Ranger Higher Plane beer is the one you should try if you are a fan of hazy IPA with a perfect balance of malty and hoppy flavor. It is a well-balanced IPA with excellent pricing for the fans. The hazy IPA has an accessible drinking facility with a clean and crisp mouthfeel.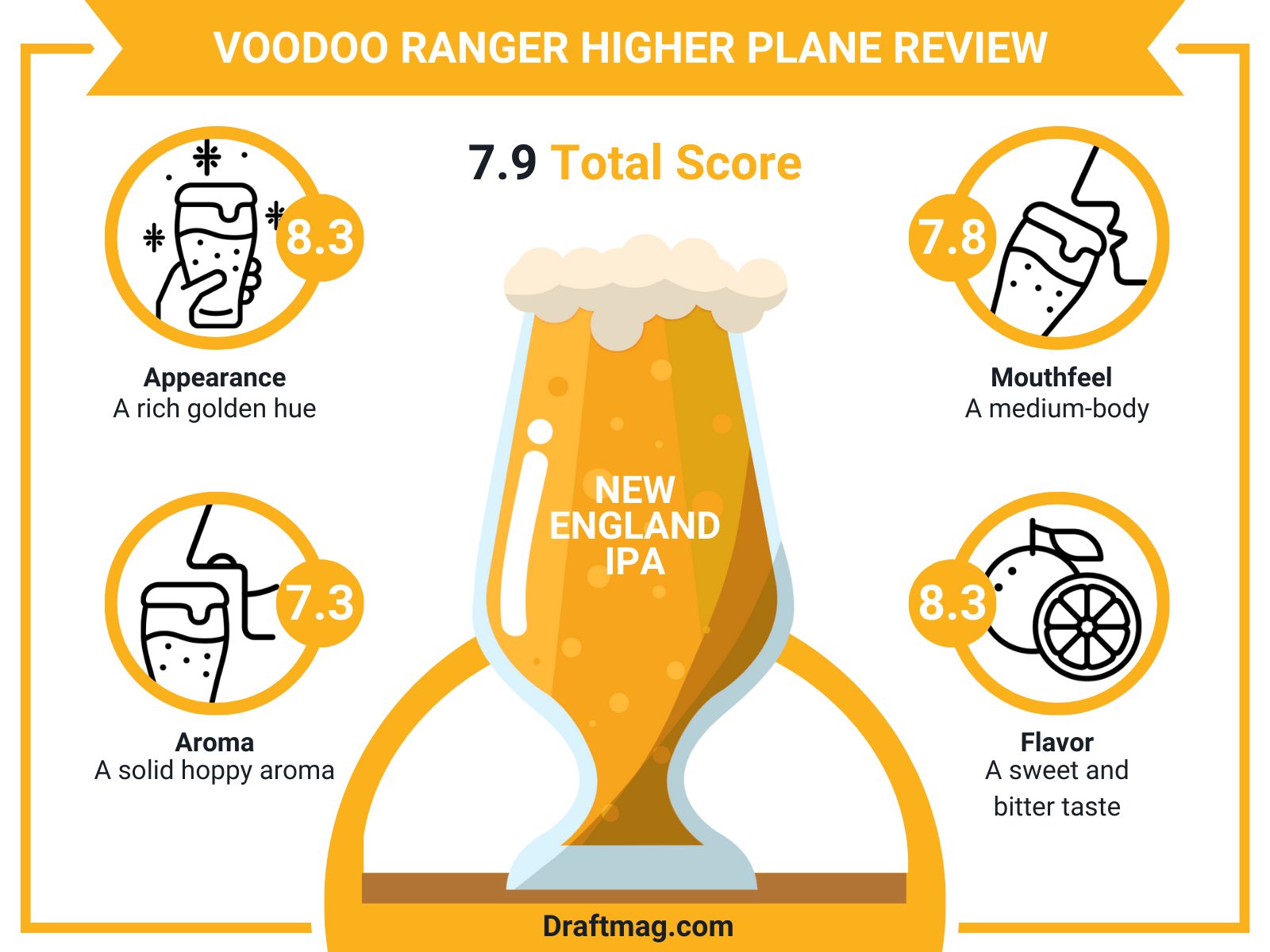 Its delicacy and spicy aroma will meet your inner haziness and take you to a dreamy world. This beer review article will give you all the necessary details one must know.
Voodoo Ranger Higher Plane Stats
| | |
| --- | --- |
| Country | United States |
| Brand | New Belgium Brewing Company |
| Style | New England IPA |
| Taste | Balanced, transparent, and highly aromatic |
| Body | Medium-bodied |
| ABV | 8.5 percent alcohol content |
| Flavors & Aromas | Moderate sweetness, slight bitterness, and spicy |
| Serving Temperature | 46 to 48 degrees Fahrenheit |
Tasting Notes
Voodoo Ranger Higher Plane Tasting Profile
Voodoo Ranger Higher Plane Review
This double IPA beer is excellent for tasting floral hops with tropical fruits and a bit of spice. With nearly nine percent alcohol, this beer retains its easy drinkability superbly. Also, you will find its delicate balancing between bitterness and sweetness highly suitable for your taste buds.
– Appearance
Voodoo Ranger Higher Plane has a rich golden hue. When you pour this beer into a glass, it appears bright crystal with a golden hue. Slowly, thick white foam develops on the top, and it keeps lingering. As you sip, the foamy top stays inside the glass. It doesn't go away like many weaker IPAs.
Voodoo ranger orange can is also awesome looking. You can enjoy it in a pilsner or imperial pint glass. The golden hue will genuinely amaze you.
– Aroma
The aroma is strong and flavorful. As you sip the beer, it gives you a solid hoppy aroma at first. Then, you will find notes of different tropical fruits. It includes pineapple, grapefruit, mango, and a tint of passion fruit. Finally, a toasty, bready note will hit your nose as an invitation to indulge in this higher plane IPA for an extraordinary moment.
– Mouthfeel
The initial mouthfeel is smooth. It is medium-body and has a slight coating. You will be hit by a citrusy zest when you first sip the drink. Then, alcoholic warmth will be on your throat. Your tongue will experience a malty sweetness as you continue sipping the glass. Finally, your tongue will grace a malty sweetness from the carbonation.
The carbonation also energizes your throat. The spices leave a slight numb feeling, but it won't last for too long to make the drink highly easygoing and smooth. Also, it is not as bitter as the pale ale as many drinkers initially perceive.
– Flavor
The flavor of this voodoo ranger imperial IPA perfectly blends sweetness and bitterness with perfection. At first, you will get a slightly bitter taste. Then, the malty sweetness hits the nostril. After that, the hoppy bitterness lingers for a short period. Also, the moderate spicy flavor will be an excellent one to give you great indulgence.
– Food Pairings
You will enjoy this beer with any Thai cuisine and Asian curries. Many tasters have said it goes brilliantly with any shellfish preparation following Thai cuisine. You may also enjoy its smoothness with various kinds of cheese such as peppery cheeses such as Pepper Jack and Monetary, or even a sharp cheese such as cheddar. In addition, pungent cheeses too, like gorgonzola and Limburger.
The cheesy, salty feel will feel your mouth with wonderful taste. Blending the sweetness, bitterness, and salty cheese will be a fantastic experience. You can pair the IPA with trout or lobster if you wish to get a different taste.
In fact, many reviewers recommend pairing the beer with large yet tender superbly. Finally, Americans say every beer goes well with spicy crabs. You can try it out with snow carb or the famous Alaskan King crab.
Ingredients
The Belgium voodoo beer is a carefully crafted recipe with many hops and tropical fruits. Initially, it includes different hops, water, malt, and yeast. The distinctive aroma mainly comes from the inclusion of the following hops: Amarillo, Cascade, Mosaic, Chinook, HBC 522, Strata, and lastly, Citra hops.
Therefore, this hazy IPA is rich in many exotic hops. It is unique and intensifies your drinking enjoyment and fun. The brewer has chosen the hops from various local and international producers. It ensures that you get the best hoppy flavor without any impurities.
Nutritional Facts
The voodoo higher plane IPA is enriched with high calories and low carbs. Each serving of 12oz can contain approximately 240 grams of calories. You will also get carbs worth 16 grams. It doesn't have any extra saturated fats and cholesterol. So, it won't hurt your diet routine even if you consume a few cans of beer.
The beer has 16g of carbohydrates, 2g of dietary fiber, 2g of sugar, and 2.7g of protein, in addition, it has 250mg of potassium and 29mg of calcium.
History
Although most people perceive voodoo ranger as a single beer, it is not. It is a collection of multiple popular beers from the New Belgium Brewing Company. Apart from the higher plane variety, you will also find voodoo ranger juice force, American haze, and accumulation beers under the same brand.
Kim Jordan and Jeff Lebesch, the two founders of the brewing company, went on a long trip to Belgium in 1988. During the tour, they were highly impressed and influenced by the Belgium beers. Once they returned to America, they launched their brewing company in 1991 with a vision to introduce the Belgium IPA style in the USA.
Their first beer was Flat Tire. They launched the Ranger IPA a few years later. In 2017, they rebranded the beer with the new name, "voodoo ranger," as another flagship IPA.
Conclusion
Although many American IPAs promise to bring delicate and aromatic taste, nothing beats the flavorful voodoo ranger higher plane IPA. It will tingle your taste buds thoroughly. On top of it, its competitive pricing is pocket-friendly too.
The American-style IPA combines a juicy tropical boldness with a citrusy and hoppy flavor. It uses multiple trendsetting hops for a modern feel.
Its malt varieties mainly include pilsner and honey for a sweetish mouthfeel. Also, you will love its wonderful smoothness.
The Voodoo ranger mascot has become a cult image in the past few years. It is widely prevalent among netizens these days.
For the best taste, you should pair the beer with seafood such as shellfish, lobster, or crabs.
Voodoo ranger higher plane IPA is a perfect balance for a sweet, good and fun time. Now, you know all about this flavorful beer, when are you going to try it?