30 Beer Names for Dogs: Show Off Your Love for Both Beers and Dogs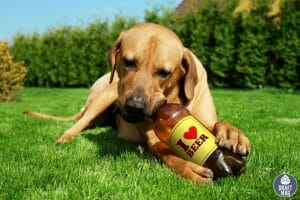 The best beer names for dogs aren't so hard to find. If you love unusual names and you love beer, the name of your new puppy could be influenced by your favorite brews! Are you looking for the perfect beer inspired dog names for your new male or female dogs? We've covered 30 of them in this article.
Table of Best Beer Names for Dogs
| | |
| --- | --- |
| Beer Name | Dog Characteristics |
| Black Lab | Strong and loyal |
| Six Pack (or Pup) |  Muscles and loyalty |
| Amstel |  Loyal and responsible |
| Stout | Plump and well-built dog |
| Bomber | Strong and active dog |
| Bung | Suits almost any breed |
| Bass | Fun and playful dog |
| Miller | Adorable and cute dog |
| Bud | Loyal and friendly dog |
| Porter | Strong and powerful dark dog breed |
| Maltese Falcon | Hyperactive dog |
| Honey | Fascinating girl pup |
| Amber | Gold-coated dog |
| Blondie | Calm and mature female dog |
| Hoppie | Friendly but protective female dog |
| India | Exotic and proud female dog |
| Blonde Ale | Sweet and playful female dog |
| Ellie | Sweet and possessive dog |
| Chasing Tail Golden Ale |  For pups with a bright and attractive color |
| Stella | For any female dog |
| Hop Scotch | Little cute dog |
| Barley | For both male and female dogs |
| Colt | Short name for any dog |
| Brewski | Loving and brave dog |
| Deschutes | For proud and glorious dog |
| Ale | Short and perfect name |
| La Rossa | A short name for a cute dog |
| Coltie | Adorable and playful dog |
| Avery | Caring and devoted dog |
| Chinook | For a cute but strong dog |
The Best Beer Names for Dogs
Here are the best beer-inspired names for your lovely dog:
– Black Lab
Named after the beer's color, Black Lab is an excellent name for a dog who's as strong and loyal as his namesake. If you're looking for dog names that match your dog's physical appearance, Black Lab is a perfect fit. What's better, your canine friend will love the name as much as you love the beer. You could call him Blackie for short if you're up to it.
– Six Pack (or Pup)
No pup can resist a belly rub, just as you can't resist a six-pack on a warm summer weekend, so you might as well name him accordingly. You'll have all of him in love with you in no time. And if he's part Husky or any other lupine breed, don't worry.
He won't be confused when he realizes that his six-pack is made up of muscles, not beer cans. Thankfully, they're not wings, so you won't have a flying dog on your hands.
– Amstel
Although Heineken took over the Amstel brewery in the 1960s, Amstel remains loyal to its taste and nutritional composition. The beer has a pleasant flavor with a slightly bitter taste that makes you want to drink it every evening.
Amstel is a great name for a loyal and responsible male dog. And if you've got a mischievous pup on your hands, you'll appreciate the irony. Either way, it's one of the best dog names related to beers.
– Stout
This dark, heavy-bodied beer with several variations would make a good name for a plump and well-built dog. The name sounds cool and fun, and beer and non-beer lovers will love it. You could always hang out on your porch with Stout on your lap and a bottle of Stout in your hand.
– Bomber
If you have daring dog breeds like American Staffordshire, Pit Bull, Terrier, German Shepherd, or Siberian husky, think Bomber. The dog name is the slang term for a 22-ounce beer often served with spicy meals. The sound of the name bomber sends a chill down your spine, making it a unique name for a strong and active dog.
– Bung
Do you love seeing that hole in the head of a keg, cask, or barre or do you like pronouncing the name each time you see a bung? Why not give yourself a good reason to call that name several times daily?
Bung would make a great name for your man dog. This name is so great because it suits almost any breed. Bungie is also a suitable nickname if you have a cute little pup.
– Bass
Bass is a cool name for your furry friend if you love vintage or classic beers. The bass brewery was founded in 1777 by William Bass and has since been a favorite of beer lovers for generations. Since the beer has a fruity and malty flavor, Bass feels like a name for a fun and playful dog. You could give it to an Australian Shepherd, a Boxer, Golden Retriever, Pomeranian, or English springer spaniel.
While breweries are named after dogs, like the Big Dog's Brewing Company or Lead Dog Brewing Company, you can do the reverse and name your dog after a brewing company.
– Miller
Miller is not just a favorite beer but also a popular name. Thankfully, the name hasn't lost its touch of cuteness despite being used for so long. Miller has a smooth and light taste that just refreshes your soul.
Name your dog Miller; you will feel refreshed whenever you call him. Sounds amazing, right? Miller is also one of the most adorable dog names that remind you of beer.
– Bud
The Budweiser beer is an American-style pale lager and has become one of the best-selling beers in the United States. It has a subtle hop aroma and malt sweetness and would make a simple, perfect name for a dog. If you love Budweiser beer a lot, nothing is stopping you from naming your dog Bud. It's an adorable dog beer name for a fine dog, after all.
– Porter
This beer was developed in the early 18th century in London, England. Its use of brown malt makes it have a dark appearance. It is a perfect name for a strong, powerful dark dog breed like a Bernese mountain dog, Scottish terrier, or Rottweiler. Like the drink, you can always rely on furry Porter to be a fierce and loyal companion. This makes Porter one of the choicest beer dog names.
– Maltese Falcon
The Maltese Falcon is a bitter European lager that is light in body and hoppy in aroma. It is also a good name for a small dog with a lot of spirit. Consider Maltese as a top pick of dog names for a hyperactive dog.
If you have a spirited dog that enjoys running, playing games, and interacting with you and your friends or family members, think about naming her Maltese Falcon (or Maltese for short). Like the beer, your little companion may not have enough stamina to run for hours at a time, but she will make a great running companion for short distances.
– Honey
It's no doubt that honey is a sweet name. If you've got a fascinating girl pup with you, why not butter it up with a sweet name to match? And what name could be sweeter than honey for your female dog?
With its caramel taste and reddish color, this beer name best suits an Irish setter or the Chow Chow. You will feel good each time you call her—a great way to lighten your mood daily.
– Amber
This beer has a smooth and malty taste, with hints of caramel, making it a lovely name for a gold-coated dog. You want to run your fingers through Amber's fur, which feels as smooth as the beer tastes. It gets even better if your dog has a sweet and gentle disposition.
– Blondie
This beer is smooth blond, light-colored, and low in bitterness. If your female dog is sweet and pretty, you can name her Blondie. It's also great to know that whether she is blond or not, it's a beautiful name. It would also make a good name for a chow chow, an American pit bull terrier, or a bloodhound. Blondie especially suits a dog with a calm and mature personality.
– Hoppie
This is for you if you love beers with hoppy flavors. If that's the case for you, Hoppie is a great match for your girl dog. Hops are one of the ingredients found in beer, alongside barley, yeast, water, etc.
You may even argue that it is one of the four essential ingredients. It is a bittering agent used to step down the sweetness in the beer, just as dogs sometimes need a little bit of aggression. Hoppie is a good name for your female dog if she is friendly but protective.
– India
The India pale ale has extra hops added to it to increase its lifespan. Some say name your female dog India, and she will have a long lifespan. India makes a great name for your canine buddy, even if it's just superstition. You'll love the name even more if you love the drink.
– Blonde Ale
If you feel Blondie is a little cliche, why not go for Blonde Ale? The name is direct, makes a statement, and, most importantly, sounds great for a girl puppy. The beer is popular and a favorite for many beer enthusiasts, so why not use it as the perfect name for your little dog? A sweet and refreshing name like this is sure to get tails wagging.
– Ellie
Do you love drinking Ellie's Brown Ale? Now is the perfect time to seal your love by naming your best friend and companion after the lovely beer. If your name is Brown, it only gets more adorable—Ellie Brown. Sweet, possessive, and fascinating. Of course, the name may attract lots of attention from curious minds. No worries, though; it only shows that you've successfully made a statement.
– Chasing Tail Golden Ale
You can call your dog by the full name of this beer or simply Golden. Whichever it is, you, your pup, and everyone around you will love the name. The name is most suitable if your pup has a bright and attractive color, just like the beer.
– Stella
You can name your girl pup Stella, like the Stella Artois Pilsner Beer. The beer was originally made in Belgium but has gradually become a household name worldwide. Stella is a great name for any breed. It's easy to pronounce, and your pup won't have any issues getting used to the name.
– Hop Scotch
This adorable pup is just like a little shot of whiskey and maybe even more irresistible than a dram for some owners. The name plays on words but also gives off an adorable vibe and works for pups of both genders. Beer lovers will get it, while non-beer lovers won't mind shouting it when they see their furry friend trot into view. It's impossible to resist giving a little pinch to a cute dog.
– Barley
If you're looking for a gender-neutral beer name to give your dog, Barley might be a great fit. Barley is one of the essential ingredients needed to brew most beers. This makes it a popular name among beer drinkers. If you love this beer so much, then you surely wouldn't mind naming your male or female dog Barley.
– Colt
The colt 45 is a slightly sweet and smooth American brand of malt. The beer is pale golden and lightly carbonated. Colt stands out and is also a great name for your pup of any breed or gender. Colt is also very easy to pronounce, so your pup will quickly learn its cute name.
– Brewski
Brewski is a golden-bodied pale ale with a fruity smell and tastes slightly bitter. Brewski is a name you give your canine when you consider him not just a pet but a friend too. Dogs that are named Brewski tend to be loving and brave. It is a good name for a German shepherd, Rottweiler, Dobermann, or Bouvier des Flandres.
– Deschutes
If you love drinking the famous Black Butte Porter, you will most likely want to name your canine pet Deschutes—named after Deschutes Brewery, the makers of the beer. This amazing beer is perfect for a hearty pup that lightens your mood all day. You can call your girl or boy pup Deschutes, and it will be awesome.
– Ale
If you want to give your canine friend a short, unique name, or a name that reminds you of craft beers, try Ale. This name is not just cute for your pet but also reminds you and others of your favorite drink. It is a short name and is perfect for males and females.
– La Rossa
This great beer of Italian origin, La Rossa, is a product of the Heineken brewing company. The beer is known for its unique taste, making it a unique name for your four-legged best friend. The name suits any breed or gender.
– Coltie
If you want a more patronizing beer name for your dog, consider naming him or her Coltie. The name is adorable and reminds you of good times spent at the bar or on your porch.
– Avery
Beers from Avery Brewing Company are remarkable. There's no better way to acknowledge the company than naming your favorite companion after it. It doesn't matter if you have a boy or girl dog; the name will still sound perfect.
– Chinook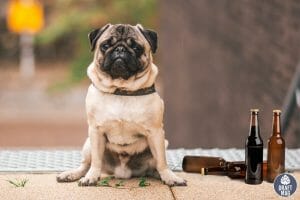 If you're looking for an outstanding beer name for your girl or boy dog, you should consider Chinnock. The chinook beer is slightly spicy and has a smoky earthiness quality. Besides its unbelievable taste, Chinook has a cool vibe to its sound, making it a perfect name for male and female pups.
Conclusion
The above article points out numerous names of beers and the best ways to match them to your dog. Here are key points from the article to note when choosing a dog name: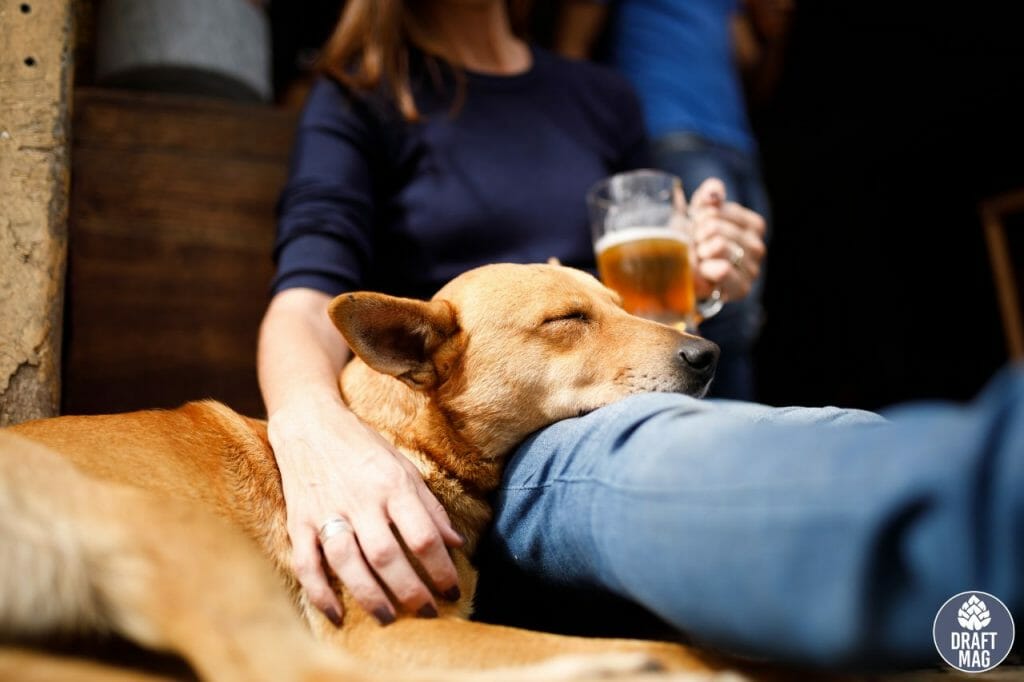 Some names are perfect for both males and females
Some are most suitable for specific dog types or genders
You can name your dog after your favorite brewing company
You can name your dogs according to their disposition
Now that you have learned about unique and adorable names to give your dogs, which name would you like to consider giving your dog?