Brut IPA Recipe: Learn How to Make This Popular Beer Style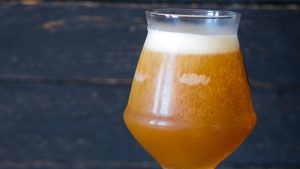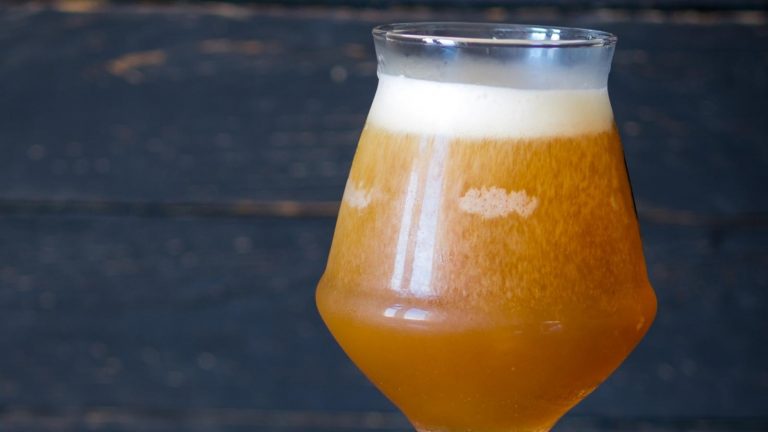 A delicious brut IPA recipe is just what any homebrewer needs to step up their brewing game, so our article will provide you with the right one! This beer style has been increasing in popularity for the past few years, impressing enthusiasts with its hop aromatics and dry sweetness.
Made with special enzymes, this Indian Pale Ale can be created in the comfort of your home by following a few steps. Let's take a closer look at them in our article below.
How To Make Brut IPA
Whether you're Kim Sturdavant or not, anyone interested in beers and homebrewing can now brew brut IPA. Keep in mind that you might not find the exact enzyme that was used in the initial making of this beer, but there are other alternatives that you can go for. We will explore two ways you can do so with two different enzymes. So, you can get started with whichever you get your hands on.
Keep in mind that you can make brut IPA in different ways depending on the enzyme you have, as long as it does the same thing as the enzyme amyloglucosidase.
– Making Brut IPA With Alpha Galactosidase Enzymes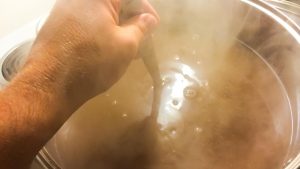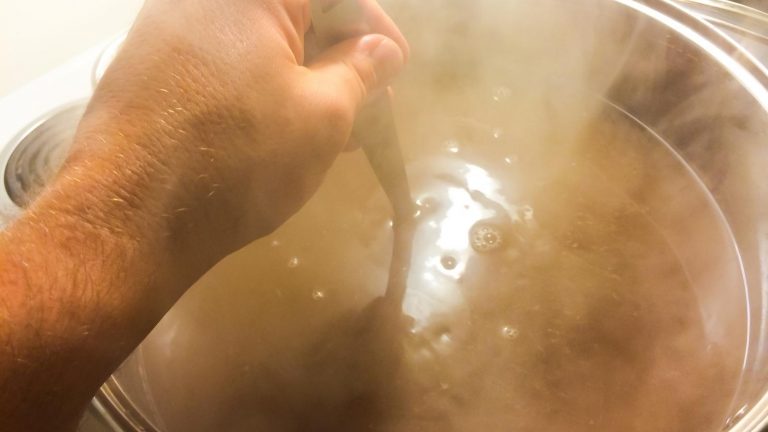 Alpha Galactosidase enzymes have been used for a long time in breaking down starch so that yeast can quickly turn it to alcohol, and this is similar to that used in the original recipe. You can follow the steps below to make brut IPA beer using Alpha Galactosidase enzymes.
Ingredients Needed
Alpha Galactosidase enzyme
Six oz of Huell Melon Hops
7.88 gallons of water
Yeast
Yeast Nutrient
Grain/Malt Bill
One pound and four oz of Flaked Corn
One pound and Four oz of Flaked Rice
Nine pounds of German Pilsner
Statistics
Alcohol content: 6.3 percent
Starting gravity: 1.058
Ending gravity: 1.010
Directions
Boil the water up to 145 degrees Fahrenheit.
Steep the grains for 60 minutes while maintaining the temperature. Ensure you stir to prevent clumps.
After the mash, increase the temperature of the water to 170 degrees Fahrenheit and leave it be for ten minutes.
Drain the excess wort into the kettle by propping the grains over liquid.
Increase the temperature until it is boiling, and maintain this for 60 minutes.
After this, keep the grains at one side.
Reduce the water temperature back to 170 degrees Fahrenheit and add half of the hops with a 20 minutes whirlpool.
Cool to 65 degrees Fahrenheit and add the yeast.
Add the yeast nutrient and enzymes at the same time.
Then, leave for ten days to ferment. If you want to reduce the alcoholic content, you can leave it for seven days instead.
Dry hop with the rest of the hops for two days, then keg it.
Taste of Brut IPA Made With Alpha GalaGalactosidase Enzymes
As long as you follow the eleven steps above, you can expect a delicious and creamy taste when you sip this beer. Although the gravity will reduce, it feels scorched in your mouth, giving you a rough taste on the tongue. This is precisely how a brut IPA should taste, except it tastes a bit sweet.
– Making Brut IPA With Ultra-Ferm Enzymes
Another way to make brut IPA yeast break down all the sugars is by using ultra-ferm enzymes. This is another good way to brew a good batch of brut IPA if you can't find the amyloglucosidase or Alpha Galactosidase enzymes.
Keep in mind that the ultra-firm enzymes will take the gravity much lower and dryer, making a much better brut IPA than the Alpha Galactosidase enzyme.
Ingredients Needed
7.88 gallons of water
Ultra-ferm enzymes
Four oz of El Dorado
Three oz of Idaho 7
California Ale Yeast
Malt/Grain Bill
0.2 ounces of acidulated malt
One pound of flaked corn
1.5 pounds of flaked rice
Nine pounds of Pilsner
Statistics
Alcohol content: 5.9 percent
Starting gravity: 1.046
Ending gravity: 1.001
Directions
Boil water at 145 degrees Fahrenheit and mash the grains. This first step is essential to make the fermentable sugars more than those that can't be fermented, leading to a dryer brut-like finish.
Mash it again at 168 degrees Fahrenheit for sixty minutes.
Pull the grain basket out after mashing.
Leave the wort to cool until it reaches 170 degrees Fahrenheit.
Add the El Dorado hops post-boil and steep for 20 minutes.
Add the California Ale Yeast and Ultra-Ferm enzymes and leave them to ferment.
The temperature should be 67 degrees Fahrenheit for six days and 70 for four days.
Add the Idaho 7 hops after four days and leave the liquid like this for three days.
Taste of Brut IPA Made With Ultra-Ferm Enzymes
The Brut IPA made with Ultra-Ferm enzymes will be more carbonated, so it's advisable to shoot for up to 4.0 volumes of CO2 while serving it, something which is only possible with a long-serving hose.
Furthermore, this beer features a citrus aroma and flavor, but it isn't sweet like the previous recipe. Instead, it is scorched, light, and crisp, as long as it is carbonated and above room temperature. If you want your beer to feel sweeter, it's best to use the Alpha Galactosidase enzymes instead.
Food Pairings for Brut IPAs
Generally, brut IPAs are best drunk when you're having a feast because of their light-bodied and fizzy nature. Since it is a light beer, you can enjoy it with many other foods on the table without getting too full.
Due to the hoppy nature of brut IPAs, you also need to eat foods with strong tastes that create a balance. These include spicy foods like burgers doused in some sort of spicy barbeque sauce or tacos, hearty meats or steaks, and sharp cheeses like cheddar and parmesan.
What Is Brut IPA?
A brut IPA is a fizzy, dry, light-bodied beer with plenty of hops and a champagne-like structure. It is not as bitter as the standard Indian Pale Ale, and it is a new type of beer.
The "brut" in the name is borrowed from Champagne terminologies in describing sweetness. In this case, it refers to the driest category in champagnes, and the same goes for this beer.
On the other hand, the IPA is Indian Pale Ale, a pretty popular type of ale that can make different kinds of recipes, including milkshake IPA, Citra IPA, or Red IPA.
So, brut IPA combines Indian Pale Ale with enzymes to make a dry and fizzy beer.
Origin of Brut IPA
The brut IPA style emerged in 2018, making it one of the newest additions to the beer scene. Kim Sturdavant invented it, who is a brewmaster working at Social Kitchen & Brewery. The initial name of this brew was champagne IPA, but to avoid offending people in France, he changed it to brut IPA.
How Was the First Brut IPA Made
He made the brew with the enzyme amyloglucosidase, which was used to break down the complex sugars that yeast cannot ferment on its own. It will break down the sugars from malt in high gravity beers, leading to higher alcohol content without becoming a thick and syrupy drink. Instead, the enzyme gives you a dry brew.
Kim Sturdavant was brewing a triple Indian Pale Ale and had some enzymes around. So, he decided to try out a new recipe in the hopes of getting a crisp and dry IPA. The result was a pale, hop-focused, dry, and brittle beer. Although this is the original brut IPA, they now come in different variations, flavors, and tastes because you can use other enzymes and hops.
Why Brut IPAs Are So Popular
One of the reasons why brut IPAs are so popular is the increasing demand for low-calorie beers. Although brut IPAs have never been marketed as drinks with lower calories, they cut the calorie count expected in an IPA.
Usually, creating a low-calorie beer means you reduce the amount of malt, leading to less sugar and less alcohol. However, with a brut IPA, you get less sugar since the enzymes will consume all of it, while the alcohol content is the same. Thus, beer enthusiasts could enjoy their brews without skimping on the alcoholic content.
This beer style also provides an alternative to those who don't like the sweet and juicy flavors of New England IPAs but want to drink an Indian Pale Ale anyway.
Moreover, this beer combines Champagne dryness with IPAs. This means that they won't feel out of place on a formal occasion and are also great when hanging out with friends and family.
Last Thoughts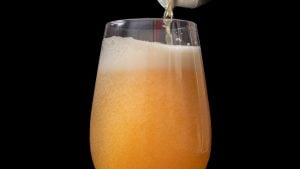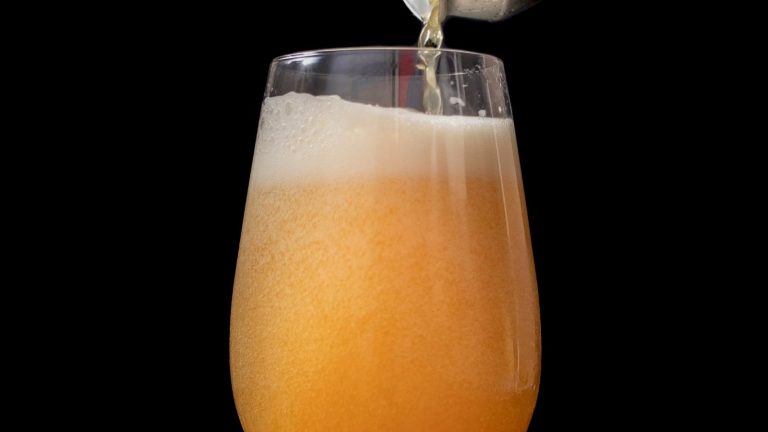 Champagne and beer lovers, or beer enthusiasts who want to try something new, will like brut IPA. As this brew is trendy, it won't be out of place to try it out and find out why it is so well-loved.
Here are the main points that were discussed in our article, so you have them in a compact place to read them whenever you come back to this recipe:
Brut IPA is a fizzy, dry, and hop-focused brew, combining the dryness of Champagne with Indian Pale Ale
It was invented in 2018 and is relatively new on the beer scene but has soon risen
It is made by using enzymes to break down non-fermentable sugars, reducing the calories while retaining the alcohol content
The inventor first made the beer with amyloglucosidase enzymes, but you can use other types as long as they work well with yeast
It gives you a fizzy and dry taste, that is sometimes sweet too, depending on the recipe you use
It goes well with robust, bold, and spicy foods
If you're curious about brut IPA, you can add these recipes to your homebrewing to-do list and give them a try.