What Is a Hazy IPA? Examining the Best Options on the Market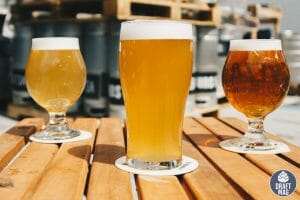 A hazy IPA is a well-crafted beer that delivers far more than it looks. This beer style has become a mainstream brew dominating shelves and draft lines while it continues to dazzle more craft beer lovers.
That brings us to the question, "what is Hazy IPA?" and "Why do beer lovers enjoy it so much?" Read this guide to get detailed answers to these questions and check out the top 10 Hazy IPAs on the market.
What Is a Hazy IPA?
A hazy IPA, as the name implies, is a beer with a cloudy appearance. The cloudy look of this beer style makes it difficult to see through them as you would with other beer styles. However, Hazy IPA goes beyond the looks. Its hazy appearance combines several ingredients, helping it deliver the fullness of flavors.
A Closer Look at Hazy IPAs
India pale ales (IPAs) emerged in the 19th century and comprised numerous styled beers. IPAs have distinct qualities from hops, fruity flavors and other herbals. Broadly, these brews vary in bitterness and alcohol content depending on the variety of hops used. You can easily imply from the name that a hazy IPA has a cloudy appearance.
If you lift a glass, you won't be able to see through, unlike other beer styles. Previously, beer haziness was uninviting in the beer community. There was even a time when dark beers were misconceived, such that when brewers saw their muddled looks, they thought the batch was infected or not adequately brewed. However, hazy ales broke free from this tradition when brewers in the United States found a way to create less bitter IPAs.
The hazy IPA origin has been linked to a brewery in Vermont. This is one of the reasons why they are called Vermont Style IPA. Now, it has become one of the most popular beers around. Thus, it is no surprise that established and newly founded brewpubs in different regions had to include hazy IPAs on their menu due to their stronghold.
– What Makes Hazy IPAs So Hazy?
Unfiltered ale yeast and dry hops are mainly responsible for the cloudy appearance of hazy IPAs. The trademark haziness of hazy IPAs results from the lesser filtration method used during their production, unlike other beers. Most beers we drink tend to be well filtered, but with hazy IPAs, their filtration process is quite different. The hazy IPA recipe comprises solid ingredients like dry hops, yeast strains, and grains.
When brewing a hazy IPA, these ingredients are less filtered or sometimes unfiltered. Consequently, massive amounts of these solid ingredient materials are left behind. The dry hop's dusty consistency easily breaks into particles and hops oil. Also, the suspended yeast particles cause a hazy IPA's thick and opaque appearance.
Sometimes, if you look closely at the glass of a hazy IPA, you might find individual particles of yeast and hops suspended in the beer. Not filtering these ingredients from the beer contributes to their sweet and fruity aroma while minimizing the hoppy bitterness of the beer. Although some beer styles are traditionally unfiltered, it can still be tricky to work out the right balance between the ingredients and the extent of filtration. This is part of what makes hazy IPAs exceptional!
– Appeal
There's plenty to love about Hazy IPAs! While sipping hazy IPAs, you will find that they satiate your tastebuds with appealing flavors and lower perceived bitterness. This makes them distinct from traditional IPAs. It has gotten many local beer drinkers clamoring for these aromatic brews.
Also, hazy IPAs offer a unique sensory experience of smooth, rich, thick mouthfeel you don't often get from most beers. As a result, Hazy IPAs have pretty much become everyone's favorite type of brew.
Characteristics
Hazy IPAs continue to take the spotlight due to their various characteristics, including their ingredients, tasting notes, and nutritional features. Despite their cloudy appearance, they appeal to the tastebuds, a feature many beer lovers find intriguing. Let's check out each of their characteristics in detail.
– Hops
There's no definite profile for hops when making hazy IPA. Brewers often mix and match dry hop varieties to invoke familiar fruit flavors. They include mango, pineapple, citrus, passion fruit, grapefruit, etc. As such, the hop varieties used by brewers in making hazy IPA depends on the flavor they aim to bring out.
Below are some of the hops you can find in hazy IPA:
Bittering Hops
Magnum
Summit
Warrior
Apollo
Fruit-forward Hops
Galaxy
Mosaic
Amarillo
El Dorado
Dual-purpose Hops
Columbus
Citra
– Tasting Notes
Unsurprisingly, a hazy IPA has a distinctive juicy IPA flavor with a silky texture. Sometimes it is often confused with a milkshake IPA due to its thick and syrupy consistency. However, these two are different styles of IPA.
Also, brewers don't add fruit or juice to attain their strong flavor profile despite their intense fruit flavor. Instead, it all comes down to the hop varieties used in its brewing. Nowadays, some people love to keep their hazy IPA classic with a crisp West Coast style IPA for an assertive bitterness. Others love the juiciness that hazy IPA brings.
Due to the unique flavor and texture of hazy IPA, it was rapidly simulated by other brewers in different regions. You will find numerous hazy IPAs dominating store shelves and brewpubs with varying tastes.
– Nutritional Features
Recently, we've seen that some beer drinkers are passionate about knowing the nutritional features of Hazy IPA. However, hazy IPA is no different from other beers because the bulk of its calories comes from carbs and alcohol. Like other features, the number of calories in a hazy IPA varies extensively from recipe to recipe. Let's make sense of this from its production.
Mashing is a brewing process in making hazy IPA, where brewers mix grains with hot water. This process draws the sugar so the yeast particles can break them during fermentation. The alcohol content also springs out here. However, the amount of sugar in the beer depends on the yeast species used during fermentation.
Consequently, the unaltered sugar forms the carbs in the beer that reaches your stomach. In other words, a beer's nutritional features vary from batch to batch. However, for most batches, hazy IPA calories range from 150 to 260 calories.
– Alcohol Percentage Range
Today, there is a relatively wide range of hazy IPAs with different alcohol content. To a large extent, a hazy IPA alcohol content depends on the craft brewer's target. In reality, there are no strict rules guiding the alcohol content of IPAs. That's why you can find most IPAs ranging from alcohol-free to 11 percent ABV content or more.
However, for hazy IPAs, you are more likely to find them lodged between 4 percent to 9 percent ABV. This makes them desirable, so you can simply go for a juicier drink or a knock-out pint.
Best 10 Hazy IPAs on the Market
By now, you're probably deliberating on trying a pint of this exhilarating craft brew. We have highlighted the top 10 hazy IPAs available in most stores you can try out.
– Sierra Nevada Hazy Little Thing
This brew is one of the most popular hazy IPAs, highly praised for its tight and clean rendition. Aside from that, the brewing company was among the first to debut as a national distributor of hazy IPA. They're available everywhere, and it is one of the best grocery stores buy.
Hazy Little Thing has a barely bitter taste with fruity notes of ripe peach, pineapple, passion fruit and mango.
– Firestone Walker Mind Haze IPA
Out of California, this beer is made from dry hops such as Azacca, Cashmere and Mosaic, combined with Strata, Mandarina and Idaho Gem. These ingredients make the beer break the mold with an explosive hop aroma and a succulent texture. Moreover, while the aroma is citric and tropical, it gives it an unrivaled shelf freshness for a hazy IPA.
This brew is another solid option you can easily find in grocery stores.
– Rogue Batsquatch Hazy IPA
This hazy IPA is packed with a hop-filled punch. It is also refreshing thanks to Mosaic hops that give it plenty of berries or blueberry-like favor. Due to its widespread availability, it is often recommended to be paired alongside nachos, rice dishes or burgers to get a good feel.
– New Belgium Voodoo Ranger Juicy Haze
New Belgium continues to hit the shelves with its new Voodoo line. Now, they've made sure that there's an IPA for every beer drinker. However, their hazy IPA is a notable standout. Its orange and grapefruit flavor from the addition of Citra, Cascade, Simcoe and Nugget hops makes it a mighty beer that fits right in with the warm climes of summer.
– Dogfish Head Slightly Mighty
This beer has been tagged as the best locally crafted hazy IPA in Delaware. This is because Dogfish Head Slightly Mighty is packed with tropical fruit flavors but uses monk fruit for an added low-calorie sweetness. In addition, Dogfish Head's is one of the best with great aroma and body being only 4 percent ABV. We suggest you try this special brew on the beach.
– The Alchemist Focal Banger
Often called Heady Topper, the best hazy IPA list would not be complete without The Alchemist. Focal Banger gets its juicy exquisite taste by adding Citra, Mosaic hops and British malts causing its orange, grapefruit and pine notes. Most beer fanatics love drinking from a glass, but the Alchemist is a distinct beer you will best enjoy right out of a can.
– Lawson's Sip of Sunshine
Brewed out of Vermont, Lawson's Sip of Sunshine has a trademark resinous finish with a golden-orange color and creamy foam. It clings to the walls of your glass as it pours less hazy than turbid offerings.
It is often paired with aged cheese, fresh summer greens or spicy Thai food to churn out its plain sailing orange flavor. Try this magical brew next summer and bask in the sunshine.
– WeldWerks Juicy Bits
Right from the brewery in Colorado, this beer conjures many flavors. WeldWerks is brewed with Citra, Mosaic, and El Dorado hops, giving this juicy bit loads of flavors like ripe melon, mango, pineapple, grapefruit, peaches and papaya. This flagship beer has a bold yet balanced bitterness with its big fruit flavors, which are often overlooked. Trust us, this juicy bit is one to try out.
– Two Roads Two Juicy Hazy Double IPA
Another exceptional hazy IPA style brewed with Citra, Mandarina Bavaria and Hallertau Blanc hops is the two juicy, hazy double IPA. It leads with an appealing juicy aroma with a well-defined flavor. Some say it tastes like freshly baked lemon cookies. Even though Two Juicy is not widely distributed, it is an excellent hazy IPA to approach.
– Almanac Hazy IPA
This hazy IPA gets its delightful taste from dry-hopped Mosaic and Citra. It also comprised pilsner malt and rolled oats, which combine to give this beer an approachable, bright taste with juicy notes. Note that Almanac regularly produces this hazy IPA for the holidays in December and during the Pride month in June. We suggest you also share its goodness with your loved ones.
Conclusion
Now, you can agree that Hazy IPAs are clear-cut brews that provide a rich mouthfeel and fruity character to give you an experience you will never forget. Here's a quick recap of the things we examined in this article: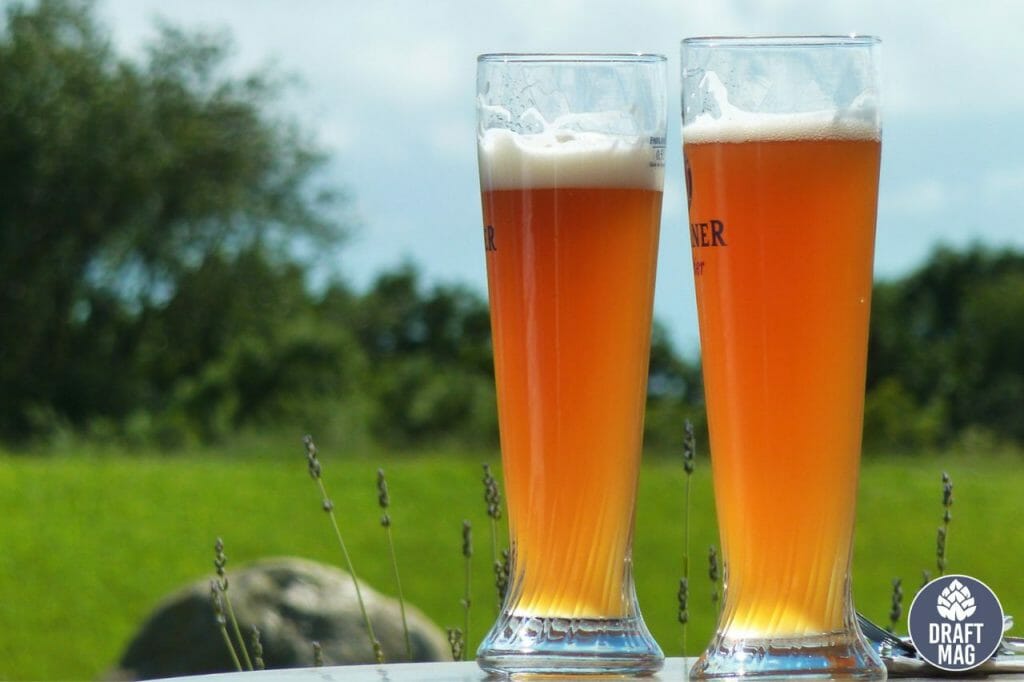 Despite the cloudy appearance of hazy IPAs, they are highly praised for their less bitter and fruity flavors.
Hazy IPAs are hazy because of the unfiltered solid ingredients suspended in the beer.
Hazy IPAs have different characteristics, including alcohol percentage range, hops, taste and nutritional features.
Some of the top hazy IPAs to try are Hazy Little Thing, Mind Haze IPA, Voodoo Ranger Juicy Haze, Dogfish Head Slightly Mighty, WeldWerks Juicy Bits, Two Juicy Hazy Double IPA, etc.
If you are looking for a beer with endless enchanting flavor and soothing taste, you should try a hazy IPA today. Trust us, you won't go wrong with them!