How Much Is in a Case of Beer? Everything You Should Know
How much is in a case of beer is perhaps one major question some beer enthusiasts would fail to answer correctly. Many people ask, "Is a case of beer 12 or 24?" In most cases, there are 24 beers in a case, but it may vary in some instances. Read this complete guide for a more detailed answer to this question.
How Much Is in a Case of Beer?
There are usually 24 bottles or cans of beer in a case. This is the case in most regions, although there might be some varieties. So next time you get caught up in those usual random debates about beers, you can flaunt your wide-ranging knowledge about it.
Everything About Beer Cases
Let's take an exciting trip down memory lane to give you some history about cases of beer. When beers were scantily produced, the established breweries started putting beer into bottles. More so, they became popular towards the end of the 19th century. The reason is not far-fetched as they detected that beers pasteurized in bottles had a longer shelf-life.
After the first world war, beer bottles became more available, and brewers realized it was a profitable way to market premium beers. This prompted the brewers to build wooden crates to hold beers in bottles. As such, these built cases had a dimension of 6×4.
As a result of the dimension, they were able to hold 24 half-pint bottles, which was a reasonable weight for carts to handle. These beer cases still enjoy widespread approval in the brewery industry today. As a result, most beer cases hold 24 bottles to date.
– Case Sizes for Beer
Nowadays, cases of beer are available in different sizes. Depending on your choice, you can purchase the 4-pack, 6-pack, 8-pack, 12-pack, 24-pack or 30-pack case of beer.
You are more likely to find more miniature packs in local beer stores. If this is still a bit confusing, you don't have to worry. Let's take a look at each case size in detail below.
4-Pack Case
This cardboard or plastic case is typically used for large-sized beer bottles or cans. Though the 12-ounce beer can or bottle has long been the standard, sizable beers in 16 and 22-ounce bottles and cans are now trendy for many craft brewers. You will find that beer fans often call these large bottles funny or whimsical names like the bomber, tallboy, pint, etc. Consequently, the 4-packs were built to package a handful of these large bottles and cans because of their weight.
You will barely find beer retailers selling these large bottles in bigger packs. In addition, the 4-packs are convenient to carry and transport. In the UK and Ireland, most canned beers are sold in batches of 4-pack. Also, in Australia, 4-pack beers have become a trend.
The average price of a 4-pack beer case ranges from 10 dollars to 25 dollars, but this depends on your brewery's location and the beer they tender. You will find that many offerings of 4-pack beer cases have different packaging. Therefore, some brewpubs offer 50 to 100 percent more in price per bottle than the standard craft beer offerings.
6-Pack Case
Often referred to as a sixer, the 6-pack beer also offers convenience as they are easy to carry and manage. In most cases, you will find that the 6-pack beer carriers are a perfect fit for standard paper grocery bags.
Like the 4-pack, they are also made from cardboard or plastic. Besides, the 6-pack is an average beer case you would purchase if you're looking to share a lovely evening with a friend.
8-Pack Case
This case size is the least common. Even though the 8-pack is not widely purchased, renowned beer brands like Heineken and Budweiser still make their beers available in this pack.
Often, you will find these packs of beer in sealed branded boxes. To a large extent, the 8-pack of beer is ideal for a mini party or social function. That way, you will save yourself from buying unnecessary bigger packs.
12-Pack Case
This case size is also called half case or half rack of beer. The 12-pack is increasingly the most sought-after beer pack in certain regions.
Unsurprisingly, most beer enthusiasts are under the false impression that an official case of beer holds 12 bottles. In many convenience stores, you will find 12-pack of beer bottles and cans packaged in sealed branded boxes.
24-Pack Case
This case size has long been the standard package size for breweries. The 24-pack is the official case size for beers. For this case size, beer bottles are usually packaged in crates. Furthermore, the cans are packaged in boxes or sealed in plastic pack rings.
These circular plastic rings, also called hi-cones or yokes, hold multi-packs of canned drinks like a 4-pack, 6-pack or 8-pack of beer. So, using simple arithmetic, you can obtain the following from a 24-case pack:
Six 4-packs
Four 6-packs
Three 8-packs of beer
This easy divisibility makes the 24-pack ideal for any setting. Trust us; you won't go wrong with them.
30-Pack Case
We have gathered that beer lovers are able to save money with a 30-pack. This case size for beers mostly comes in big boxes. We suggest you buy this case size of beer if you plan to have an extra-large party.
Moreover, purchasing the 30-pack is a good way of reducing the amount of times you frequent convenience stores to stock up your beer fridge.
– Most Common Beer Case Size
Without a doubt, the 24-pack case of beer is more widespread than a case of 12 beers. Most brewing industries only sell their product in boxes of 24 beers to other distributors.
Even though you are most likely to find 24 cans or bottles in a case, you can still get a pack of 12 beers from a 24-pack case. However, this depends on the vendor or brewery you are at. Some breweries have a strict code of selling a whole case.
Perhaps the best selection for you to enjoy an evening is to buy the 12-pack of your favorite beer. It is also a great way to save yourself from extra costs.
– What Is the Average Beer Price of a 24 Pack?
The average price of beer for a 24-pack of beer ranges from 14.62 dollars to 21.98 dollars. The price depends on the state you purchase it. Note that not all states produce the same type of beer. Therefore, the average price of beer for a 24-pack beer varies from state to state.
How Much Is a Case of Beer in New York?
The average price of a case of beer in New York is 15.48 dollars. However, in most fancy brew pubs within the state, you may find that your favorite craft beer is more expensive.
How Much Is a Case of Beer in Texas?
The average price of a case of beer in Texas is 20.17 dollars. Beer is expensive in Texas because of the excise tax of 19.4 cents on every beer.
– Alcohol Content
For a standard 12-oz bottle, the usual alcohol by volume (ABV) for domestic beer ranges from 5 to 8 percent. Furthermore, a 5 percent alcoholic beer contains roughly 14 grams of pure alcohol. A typical 12-ounce bottled beer must not be more than 354ml per serving.
A Case of Beer Bottles or Beer Cans
Regarding which one among beer bottles or cans are more suitable, this depends on you! Not everyone would like to stack up cases of beer bottles in their space, like a bar or pub. Some don't also like to go through the snag of having to dispose of cans properly. Lately, we've seen that some major local beer distributors prefer to stock up cases of cans rather than bottles.
This is because the flexible packaging of canned beers allows them to reduce the usual 24 packs to more miniature packs suitable for their buyers. Besides, 24 is a pretty divisible number. In some countries like Germany, you may find that a case of beer contains six bottles. This allows them to operate a unique empty bottle return system to encourage recycling.
There, when you buy certain beer products, you will make a deposit for the container. When you return the empty container, you will get your deposit back. Imagine getting a case of your favorite beer anytime without paying a penny. So, when debating the aptness of either bottles or cans of beers, it all comes down to you!
– Is a Case of Canned Beer Heavier Than a Case of Bottled Beer?
In a nutshell, the case of bottled beer is heavier than the case of canned beer. The weight of a 24-pack of standard 12-ounce canned beer is 20 lbs. On the other hand, the weight of a 24-pack of normal 12-ounce bottled beer is 36 lbs.
Conclusion
Well, there you have it. Without a doubt, we believe you now know that there are 24 bottles in a case of beer. This guide also examined other core beer trivia to widen your knowledge of beers, so let's take a quick look at them: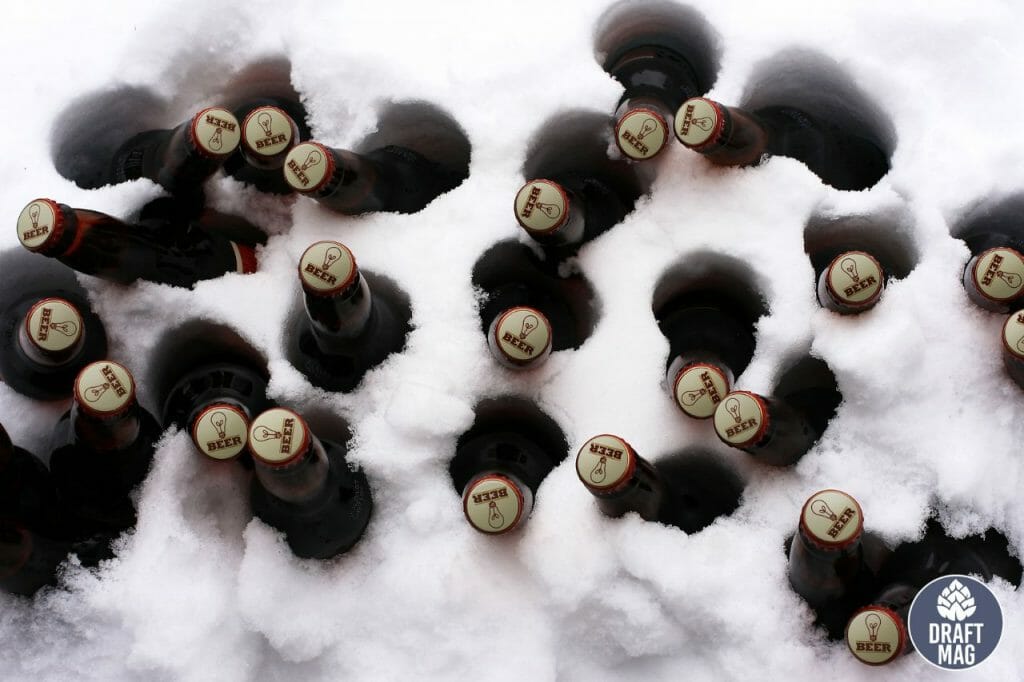 The average beer price of a 24-pack varies from state to state.
Beers can be packaged into different case sizes. Most beer cases range from the 4-case pack to the 30-case pack.
The 24-pack is the official and most common beer pack case.
Lastly, you can buy either a case of bottled beer or a case of canned beer, but note that a case of bottled beer is heavier.
Now, you can go for any suitable beer pack of your choice!