Words To Describe Beer You Are Tasting: A Guide To Proper Beer Description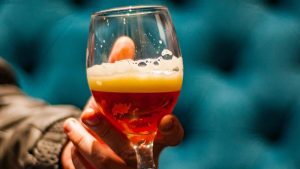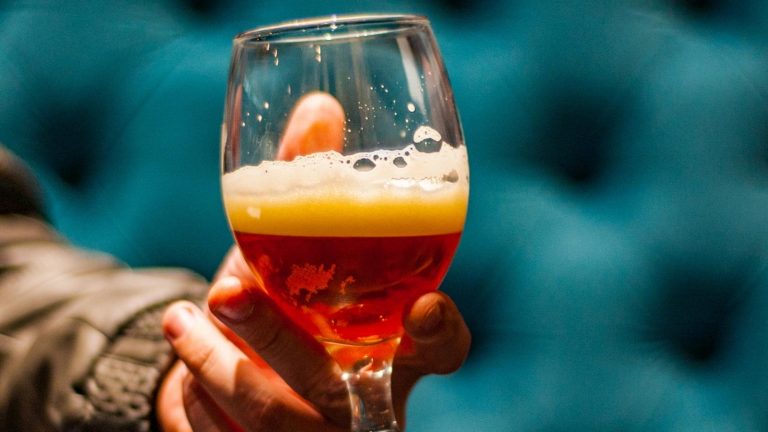 Words to describe beer are more elaborate than the simple and non-effective "good." Some of them you might've heard others say include "creamy," "balanced," or "medium-bodied." So, if you love beer but find it challenging to talk about, you've come to the right place.
Let's break down the different ways by which you can talk about your favorite beer.
How To Describe a Beer Using Beer Tasting Notes: What To Look Out For
Tasting notes help you to keep tabs on a beer's unique features. With this, you can never be lost for words when describing beer.
When evaluating a beer, you should consider the following talking points: 
– Beer Bouquet or Aroma
Bring the beer closer to your nose and take your time to perceive the beer aroma. Observe the beer's aromatic qualities as close as you can. Then you can ponder on some questions, including:
Do you get a sweet, toasty, nutty, or smoky aroma?
Does it have hints of caramel or chocolate?
Are the hops more citrusy, grassy, floral, or more resin-like?
Once you're able to answer these questions, you're on the verge of solving the aroma puzzle.
– Beer Appearance
It is always acceptable to judge beer with regard to its appearance. How beers look will always matter as it often relates to their taste.
So, it would be best if you take note of the following:
What is the best description of the color?
What is its clarity like? Would you describe it as clear or cloudy?
How is the carbonation?
Does it have head retention? What kind is it? How much head was present? And how long did the head last?
These are fundamental questions to answer when describing the appearance of a beer.
– Beer Body
The beer's feel on the palate is also a vital point when describing it.
So, you need to be able to answer the following questions after craft beer tasting:
Does it feel light or heavy on the palate?
Is the beer flat, or does it seem over-carbonated?
Would you classify the beer as robust, coarse, smooth, or thin?
– Overall Impression
While you take note of the appearance, body, and beer aroma, you should not lose sight of its overall impression. Evaluate the entire beer and take notes on the impression you get.
The following questions will come in handy: 
Did it smell or taste different than you expected?
Are there significant differences in the aroma and the taste?
Did something specific about the beer throw you off or excite you?
Would you choose to drink this beer at any time or anywhere?
Would you drink the beer in small or large quantities?
Now that you have these in mind, we can dive into the different beer flavor profiles.
Words To Describe Beer: Describing Beer With Beer Flavor Profiles
In this section, we will break down seven of the major beer flavor profiles. This will help you learn various beer tasting terms based on descriptive words. The major categories are discussed below.
Crisp and Clean
Beers you describe as crisp are those that are refreshing and clean on the palate. Their impact on the palate is delicate, and they may sometimes produce a dry feeling in the mouth.
This group of beers can be further classified into:
– Malt-Accented
These lack the fruity and spicy aromatics popular with ales. They also show milder hops profiles than Pilsners.
Some notable styles under this group are:
Pale Lager
Amber Lager
American Amber Ale
Vienna Lager
German-Style Maibock
– Clean/Delicate Fruit
This group of beers comes with a nice balance of malt and hops. The malt combines with smooth flavors that don't linger on the palate.
Common styles in this group include:
Cream Ale
English and American Blonde Ale
Wheat Ale
Bohemian and German-Style Pilsner
Belgian-Style Blonde Ale
Kolsch
– Brisk Hop
These beers use Noble Hops, giving them a distinct and dryer hop bite in the finish. Their aromas can be floral, spicy, or herbal.
The styles that often have this tasting note are:
India Pale Lager (IPL)
Imperial Pilsner
Malty and Sweet
The beer flavor profiles for the beers in this group are dominated by malt-driven flavors. The palates have an excellent level of sweetness and malty notes of caramel, toast, nuts, and dark fruits. Let's check out the words to describe them and their flavors:
– Fruit & Caramel
While malt remains their sturdy backbone, beers described this way give brighter dried-fruit notes to the palate. The mild fruit aroma combines with caramelized flavors and notes of red apples and plums.
Styles available in this beer flavor include:
Irish Red Ale
Scottish Ale
Belgian Pale Ale
English Bitter
Wheatwine
English Barleywine
Scotch Ale
– Toasty & Nutty:
This is a combination created by mild crisp with full and bready malt flavors. Stronger beers in this range include a touch of roasted fruit and caramel.
Notable styles here are:
English Mild
Dunkel Lager
English-Style Brown Ale
Schwarzbier – Dark Lager
Dark and Roasty
The beer flavor profiles of these beers focus on dark roasted malts to contribute cocoa and coffee notes. The tasting notes meet a rich dark appearance and mouthfeel. The malt roast often comes out stronger than you will find in other beer flavors.
– Soft & Malty
Dark, malty rich, and delicate bitterness, these beers tend not to show intense roasted qualities. However, they shift towards milk chocolate or coffee with cream flavor.
You'll get this flavor with beer styles like:
Schwarzbier
American Brown Ale
English Oatmeal Stout
English Brown Ale
Oatmeal Stout
Brown Porter
– Dark & Dry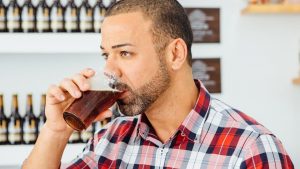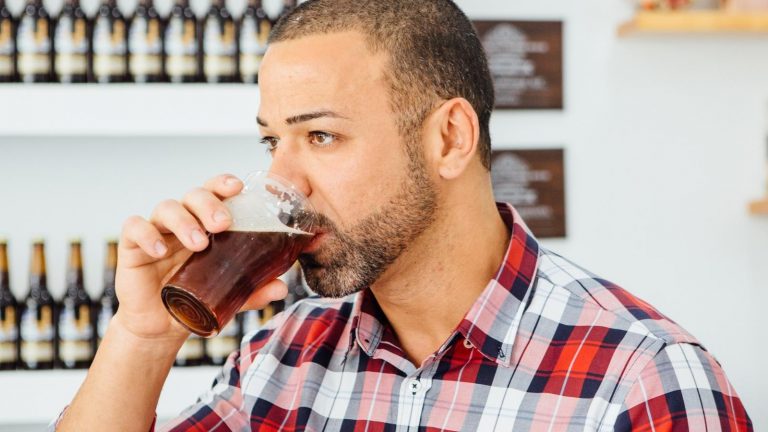 This is the driest and the most roasted-tasting you will find among dark beers. Dark chocolate, espresso, tar, and burnt grain are the dominant aromas here. The strongest version shave fruit flavors with an aroma of plums, prunes, raspberries, and cherries.
However, they are usually lighter on the palate, allowing you to feel the dry notes.
The following are some notable styles of dark and dry beers:
Irish Dry Stout
American Black Ale
Imperial Stout
American Stout
Black IPA
American Brown Ale
Fruity and Spicy
Describing beer with this flavor means that you are getting a bold fruit and spice beer aroma. Some of these beers may be sweet, dry, or semi-dry. However, they are not overly bitter. They usually have their ABV ranging from low to high and color from golden to dark brown.
– Dark
Darker fruit qualities like raspberry, cherry, strawberry, prune, and fig come out in these beers. Notes of clove, pepper, nutmeg, and cinnamon give them that spicy aroma. Malt flavors are also present to strengthen the overall beer body with chocolate and caramel notes.
Let's look at some types of beer that have this flavor profile:
Belgian Dark Ale
Belgian Dubbel
Belgian Quadruple
Dunkelweizen
Weizenbock
– Bright & Yeasty
Brighter fruit notes, on the other hand, come out like pear, lemon, tart apple, and banana. These are accompanied by a good mix with spices such as pepper, cloves, cinnamon, nutmeg, and vanilla.
Notable styles here are:
Kristalweizen
Belgian Blonde Ale
Gruit Ale
Hefeweizen
Belgian Golden Strong Ale
Belgian Tripel
Sour and Tart
Beers with this flavor profile show earthy, leather, funky, and winey notes. While some are light and acidic, others are darker, vinous, or extremely sour. Their colors range from straw to dark brown, and their alcohol content can range from low to pretty strong.
– Delicate
They are associated with lighter malts, gentle/mild acidity, and lighter bodies. All these combine to make these beers crisp and refreshing. The bright citrus (orange, lemon) notes leave the palate almost dry.
Notable styles are:
– Earthy
They are typically sour and funky, with some intense rustic notes. They have milder fruits notes common to peaches, grapes, and strawberries. The carbonation levels of these beers are usually higher, with refreshing quality on the palate: 
American Brett Beer
Traditional Unblended Lambic
Belgian Gueuze Lambic
Saison
Wild Ale
– Fruity & Vinous
These are the most wine-like among this class of beers. They have pronounced acidity with blends of fruity aromas of peach, cherry, plum, strawberry, and raspberry.
Notable styles are:
Flanders Red Ale
Flanders Oud Bruin
American Brett Beer
Wild Ale
Traditional Fruit Lambic
Conclusion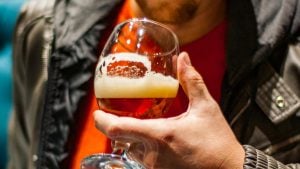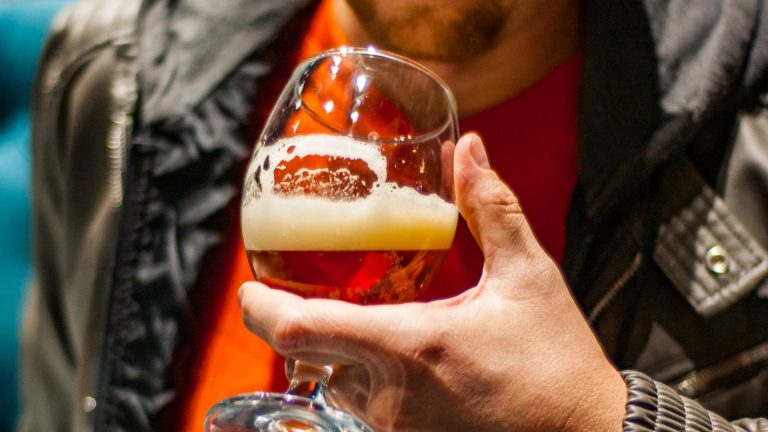 Describing beers should never be a daunting affair, since all you need to do is to look at them, smell them, and feel them. The various beer flavor profiles discussed above will simplify the description for you.
Here's a summary of what you learned:
There are four major talking points when describing beer. These are aroma, appearance, body, and overall experience
There are five major beer flavor profiles, with each of them further divided into different categories
You can describe beers as crisp and clean, malty and sweet, dark and roasty, fruity and spicy, or sour and tart
There are notable styles that showcase the flavor and aroma exuded by the different flavor categories
Keep this article close to revise the various essential points regarding ways to describe beer like a pro.