Beer Pong Team Names: 350+ Hilarious, Beer-inspired, Team Names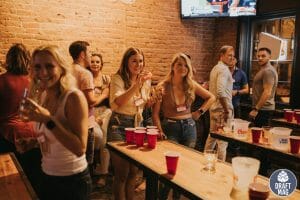 Beer pong team names need to be cool and catchy. If you're going drinking, selecting great team names is a great way to keep your spirits up. There are tons of cool drinking team name ideas out there, so you don't have to think too hard. Here are over 360 team name ideas to get you started.
Table of Beer Pong Team Names
Team Names
Why We Like It
Far From Sober
A funky name for teams who are just out for a great drinking time.
Team Shameless
It is hilarious, attention-grabbing, and of course, great for a team that's not ashamed to lose.
Followers Of The One True Pint
We like that it sounds like something out of a fantasy beer story.

It is short, classy, and great for beer nerds who love to chug beer!

Fly Girls
Fly Girls sound extremely cool, especially for girls who are huge fans of beer pong games.

It is short, sassy, and certainly a statement name for an all-girl team.

We Chug Loads
This is straight to the point and funny, especially if your team is ready to go home very drunk.
Beer Barons
Beer Barons has a sophisticated feel that every beer lover can't help but like.
Pong Ninjas
If you're a professional at playing beer pong, this is a cool name to call your team.
Dead Liver Society
A good reference to Dead Poet's society
Who's Driving Tonight
A hilarious name for a team that might end up chugging beers all night long.
Beer Raiders
It sounds extremely cool and meaningful.
King Pong
Sounds great for the winning team or a worthy contender in a game of beer pong.
Alcohooligans
Great for teams who love chugging beers and are aggressive about it.
Know It Ales
It Ales because it sounds slightly nerdy, cool, and expressive.
Raging Alcoholics
A perfect name for any beer pong team that will get drunk even if there are no games to play.
Beer Pong Samurais
It reminds us of the discipline and glory of the Samurai.
Awesome Foursome
Perfect for a team of four, Awesome Foursome is witty and expressive.
Swat team
Perfect for law-enforcement-themed games or teams.
Beer Pong Legends
This one is certainly a name for winners.

It is easy to understand.

Beast of Bourbon
It has a majestic feel that makes it a great beer pong name for any team looking to be the winner.
Too Cool Beer Pong
For the team dedicated to winning at any cost.
Beer Olympics Team
Going big, going for a victory
So Good Beer Pong
If the aim isn't victory but having a good time is.
Clever Beer Pong
For the teams who are canning and clever.
2 Players, 1 Cup
A Mysterious but simple name that accurately describes the process.
Alco Holics
Funny name that means that all the players share the same interest.
The Best Beer Pong Team Names You Can Borrow
If you have a team and are dedicated to winning, start with the right beer pong team name.
– Far From Sober
If you're participating in this game actively, you should know that you'd be far from being sober. Far From Sober is a hilarious name to give to your team. It is also unique and expressive.
– Team Shameless
Team Shameless is a perfect team name for a team who isn't ashamed of losing or even winning. It is quite funny and will have everyone in the one fixated on the team who chooses to be called Team Shameless.
– Followers of The One True Pint
Sounding like a name out of a fantasy story. Followers of the One True Pint sounds quite interesting, unique, and also funny. It is perfect for beer lovers who also love drinking games. If they like some hint of fantasy, all the better.
– Fly Girls
One word that comes to mind at the mention of Fly Girls is 'chic.' Fly Girls sound adorable for an all-girls team. It is short, straight-to-the-point, and quite sassy.
– We Chug Loads
What's this game without actually chugging beer? If you and your teammates are ready for a nice game of beer-chugging, then this short, witty name is a perfect choice.
– Beer Barons
There's something about the name Beer Barons that has sophistication and sleekness written all over it. If you can be rightfully called great at the game, this is an excellent team name for your winning team.
– Pong Ninjas
Pong Ninjas is a great name for the game. It is quite expressive and unique. It sounds almost weird to be in a team called Pong Ninjas and not win the game for the night.
– Dead Liver Society
While we're against excessive consumption of alcohol, Dead Liver Society is an extremely hilarious and attention-grabbing name for your team. Aside from its wittiness, it is also cool and quite meaningful.
– Who's Driving Tonight
The game is sure to have a lot of beers available to get everyone drunk. Who's Driving Tonight asks the obvious question on everyone's mind, or at least it should be. Be sure to decide who's driving before playing the beer pong game.
– Beer Raiders
Beer Raiders is perfect for a team ready to clear out their opponent's cup. It is a fun name for a team that's out to win the game for the night.
– King Pong
King Pong, just like the name implies, is regal and a fit for veteran players who happen to be in a team. It is extremely sophisticated, unique, and of course, not hard to understand.
– Alcohooligans
This game is for beer lovers, so calling your beer pong teams' Alcohooligans' isn't far-fetched. Alcohooligans is hilarious and cool, especially for a team who's all out for the fun and thrill of playing the game.
– Know It Ales
Know It Ales sounds like a name for a team of beer nerds. It is catchy, fun, and expressive. A team with the name, Know It Ales would easily stand out from the crowd.
– Raging Alcoholics
Let's face it, only someone who loves alcohol would enjoy playing this game. Raging Alcoholics is a befitting name for teams who are just out to drink and have a nice time.
– Beer Pong Samurais
For some weird reason, Beer Pong Samurais sounds like a name for the winning team. It is impressive, meaningful, and also hilarious. Samurais win, so why not associate with them, right?
– Awesome Foursome
Once you can get past the initial weirdness of the name, Awesome Foursome is a witty and unique name for any team of four players. Although it sounds slightly over-the-top, it is impressive and has a nice ring. But, as you can tell, this is one of those team names that hint at the sexy, so it's nothing like official Olympics team names.
– Swat Team
Swat Team is surely head-turning, unique, and is highly recommended in this list of team names. It is cool and interesting, not to mention the touch of sophistication it adds to the team.
– Beer Pong Legends
Almost every game has a regular winner. Beer Pong Legends is a befitting name for the winning team who's always taking out their opponent's cups every game night.
– Beast of Bourbon
Beast of Bourbon sounds unique and very impressive. Finding a team with that type of name would be quite rare. Beast of Bourbon is one team name that suits aggressive players who want to send a message to their opponents.
– Too Cool Beer Pong
If you are dedicated to the game and want to succeed at any cost, then the team must keep it's cool and move forward to a glorious victory. The competitors will already be wary as the name itself speaks volumes.
– Beer Olympics Team
If playing, play big. Don't choose local names; go big and choose a name that shows that your intentions are very serious and you are going for gold. Intimidate your rivals from the very start. You can even come up with a logo with beer foam rings for your team.
– So Good Beer Pong
If you want to enjoy the process no matter who wins, then this name is for you. Who cares what the results will be? The most important part is that you and your team will have a good time. All you need to do is relax and enjoy the game without thinking about the winning strategy.
– Clever Beer Pong
Is your team canning? Do you spend time understanding your competitors and analyzing your advantages and disadvantages to create a clever and winning strategy? If yes, then the name is just a perfect fit for your team.
– 2 Players, 1 Cup
If you want to keep things simple, but creative at the same time, go with this name. It perfectly explains the game, giving it a little bit of mysterious meaning. At first glance, the name is boring, but when you think about how ominous it sounds and how much mystery it holds, you realize that it's a perfect fit.
– Alco Holics
You and your team understand that the game is all about your shared hobby – beer. So the name is a funny tribute to the shared drink. No matter the outcome, the game starts with the alcohol and ends with it.
Conclusion
You can make choosing funny beer pong names with your friends even more exciting with our team names list. Whatever options you're considering for your drinking team names from those names ideas, make sure that it represents your team's spirit and personality. Some of our favorite beer pong team names on this list include: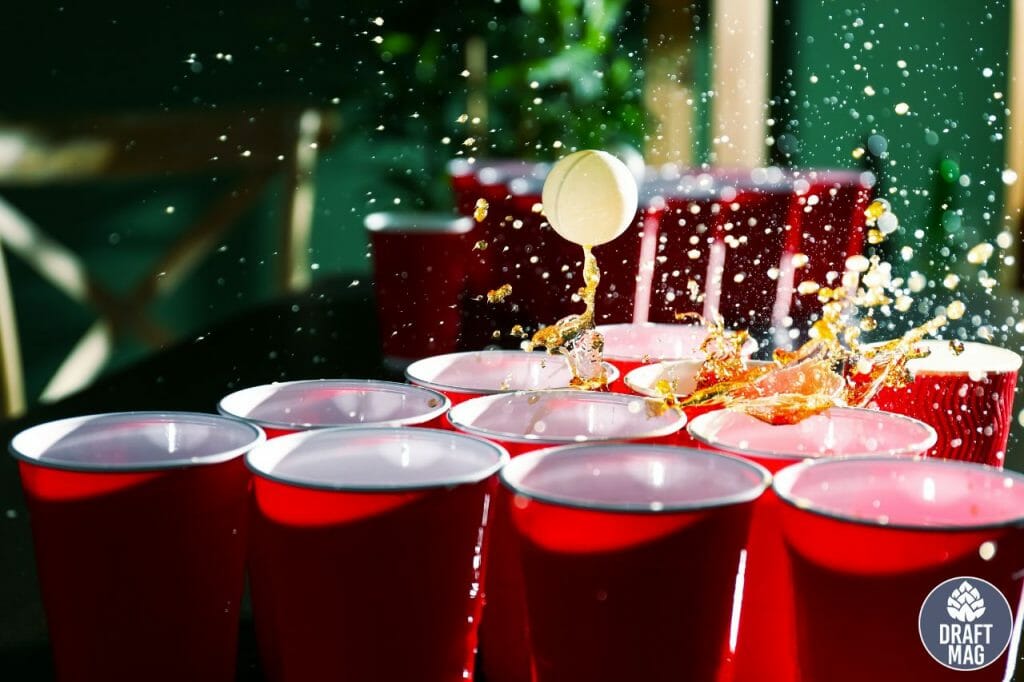 Far from sober, Dodging Under The Influence, Too Drunk to Dunk, and No Pong; These funny team names are intended for people who love fun and quirky pun-inspired beer pong team names.
Wrong Hole, Right Cup, Getting Our Balls Wet, and Brews Your Daddy; These beer pong team names are hilariously silly name ideas for edgy beer drinking teams.
You can also get a laugh out of everyone with names like Two Men With Small Balls, Win or Lose We Booze, Ice Ice Babies, and To Infinity and B-Pong.
After looking through this extensive list of beer pong team names, what have you decided to name your awesome beer pong team?