Fruit Beer Types: Check Out These Variants You Can't Miss
Fruit beer types are any beer with a primary or secondary fruit flavor, so if you want to relish some refreshing beer flavors on a night out, breezy fruit beers are the way to go! These expertly crafted beers use fruit in the brewing process, so a unique flavor profile then takes center stage.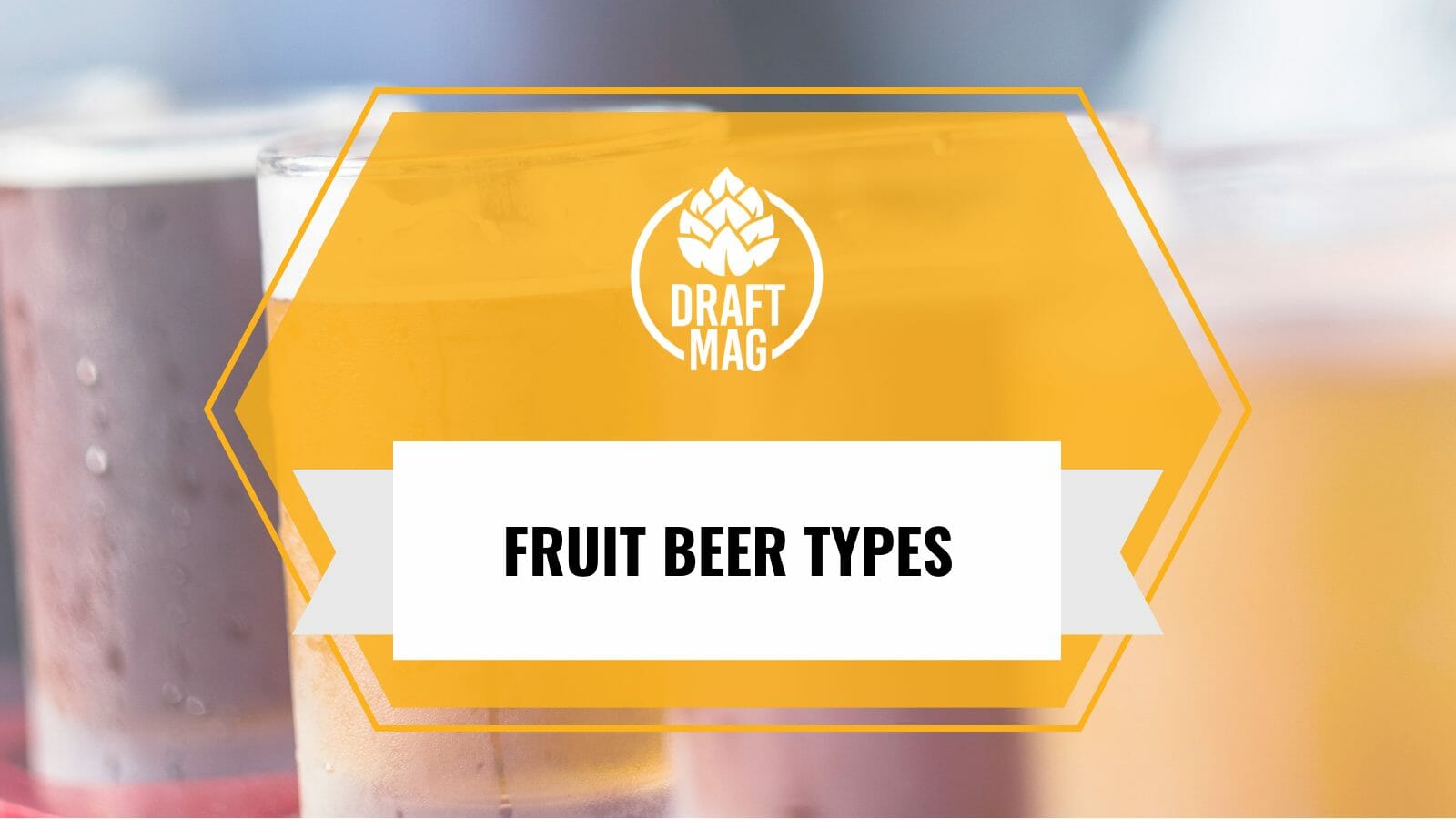 Although there's an entire community that thinks a fruit beer is a fruity drink that does not taste like a beer, the truth is that a fruit beer is as much beer as a beer could be. Journey with us as we introduce a list of the best fruit beers to try in the market!
Finest Fruit Beers To Try
Fruit beers are available in a wide variety on the market. Some are available all year, while others are season-specific or limited editions. Some are tart and flavorful, while others give fruity tastes in a more sophisticated and subtle way.
The variety is mind-boggling, and you may become puzzled about what to choose first. So save your time and check out these top fruit beers you must try!
1. Kriek Ale
Type: Belgian lambic-style beer
ABV: 7.4 percent
You can tell this isn't your average beer just by looking at it! The Kriek Ale from Cascade Brewing in Oregon tops the list for several reasons. The 75-milliliter bottle of Kriek Ale has a champagne-style cork. It is the company's signature sour ale product.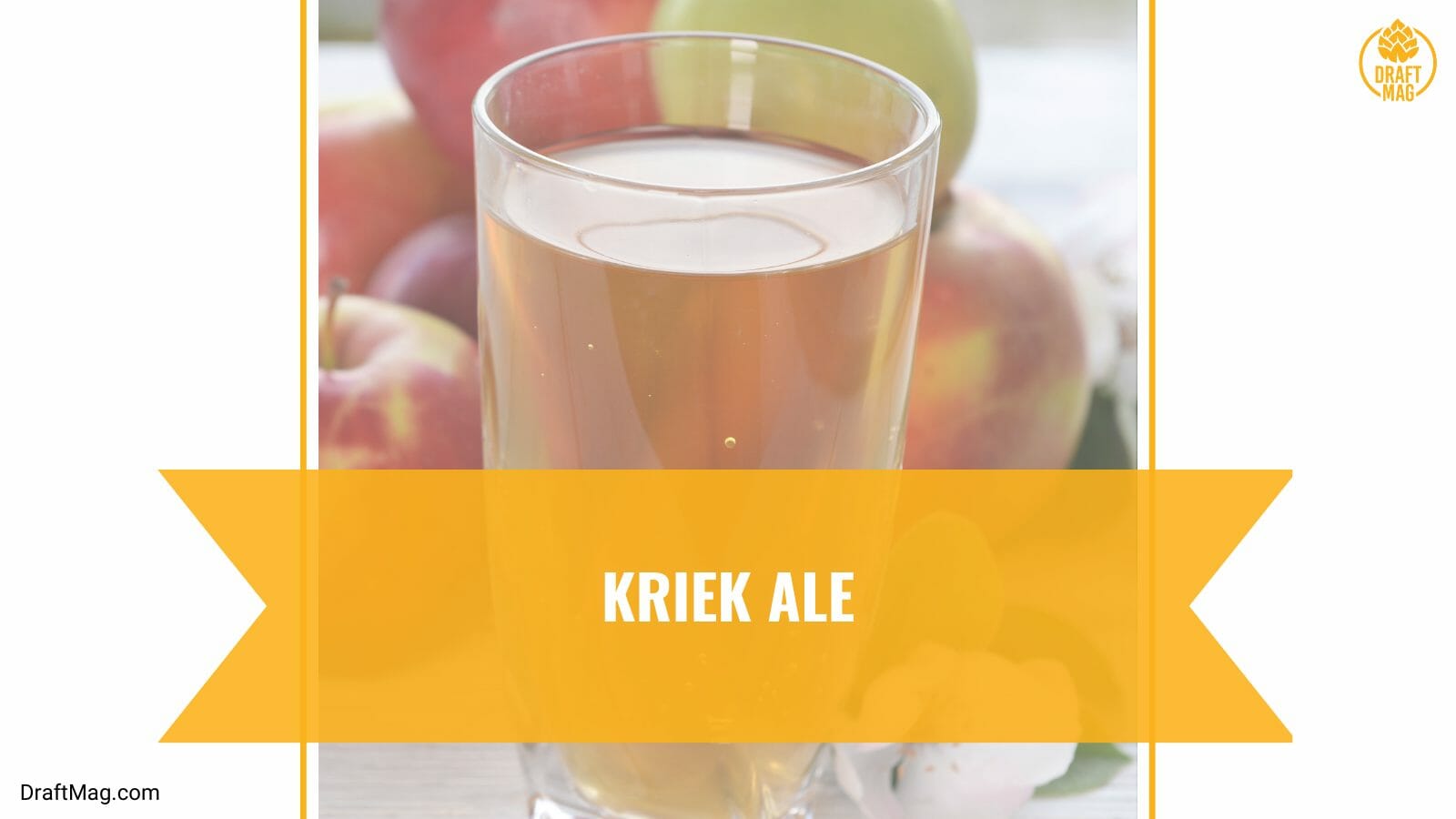 Since 2007, it has been a mainstay in the Northwest, earning excellent remarks from beer experts worldwide. This Belgian Lambic-style beer features well-balanced flavor characteristics of sour cherry and wood. That's because, during the brewing process, the beer is stored in barrels to develop its taste.
In these barrels, the beer is blended with several fresh Bing and sour cherries and left to sit for an extra year and a half. With that, you get a strong, juicy, carbonated beer with a sharp finish and an ABV of 7.4 percent, making it ideal for any dinner event!
2. San Franpsycho IPA by Anchor Brewing
Type: Fermented hazy, straw-golden beer
ABV: 5 percent
Anchor Brewing's San Franpsycho IPA is ideal if you're looking for a fruity IPA with a rich, murky presentation and various delicious flavors. This delicious beer is a tribute to the beautiful and vibrant city of San Francisco and expresses this spirit.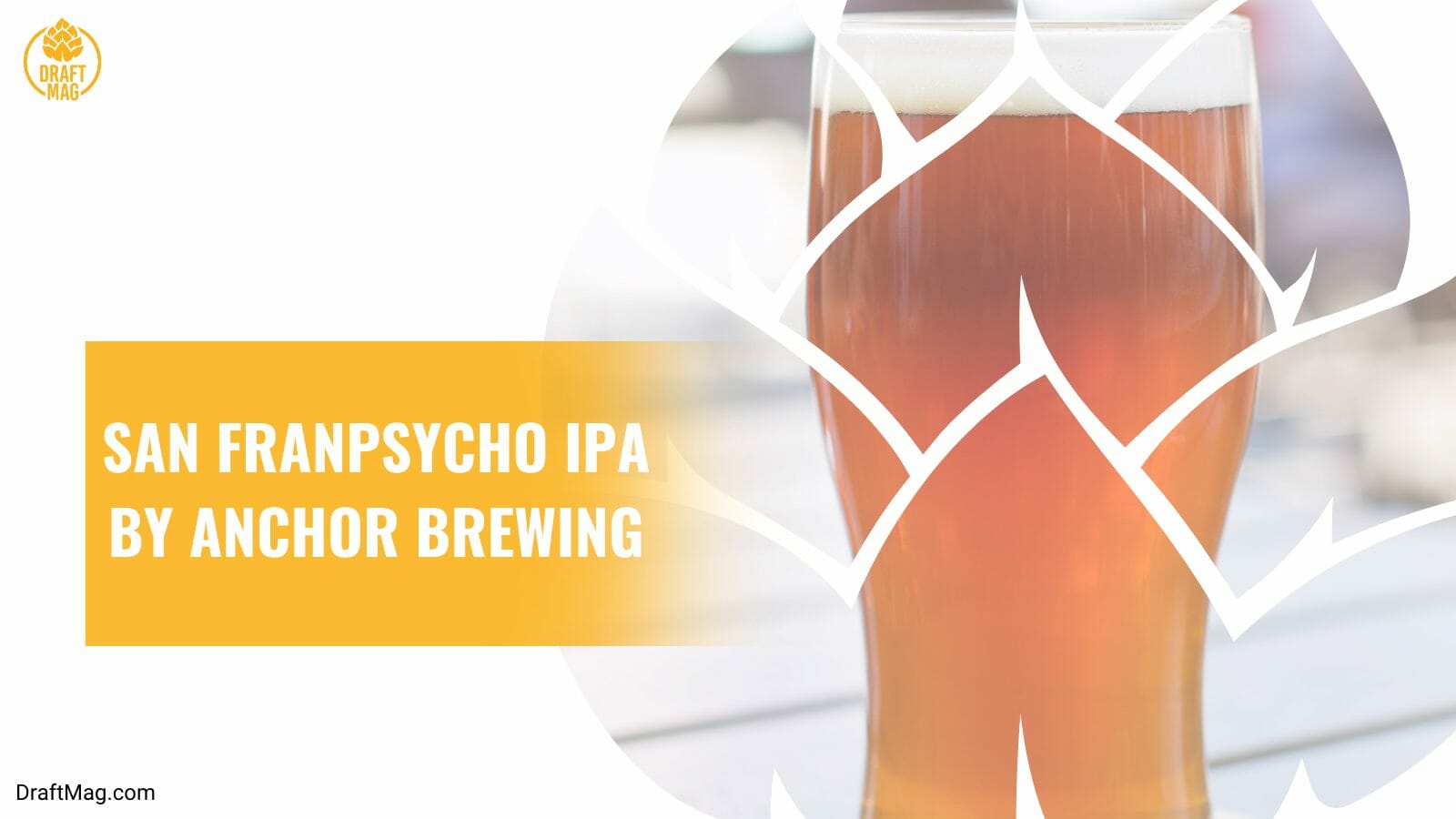 The beer has a hazy, straw-golden color. Red wheat, acidulated malts, and 2-row pale malts are used in the brewing process to create a beer with a rich, complex flavor. Peach and apricot fruit puree are added to this IPA during the fermenting process, giving it a unique brew flavor that sets it apart from other IPAs from Anchor Brewing.
This beer is absolutely unique, much like the city itself. There is a trace of back-end acidity, and the texture is creamy, smooth, and mildly effervescent. The label depicts a classic view from the Noriega hilltop, looking down to the Golden Sunset and Oceanside.
3. SuperEIGHT by Dogfish Head
Type: Gose beer
ABV: 5.3 percent
Native to Delaware, SuperEIGHT by Dogfish Head is a perfect sessionable ale. It has eight key ingredients, including mango, prickly pear, boysenberry, raspberry, blackberry, kiwi juices, elderberry, and toasted quinoa, along with some red Hawaiian sea salt. The beer got its name from Goslar town, Germany.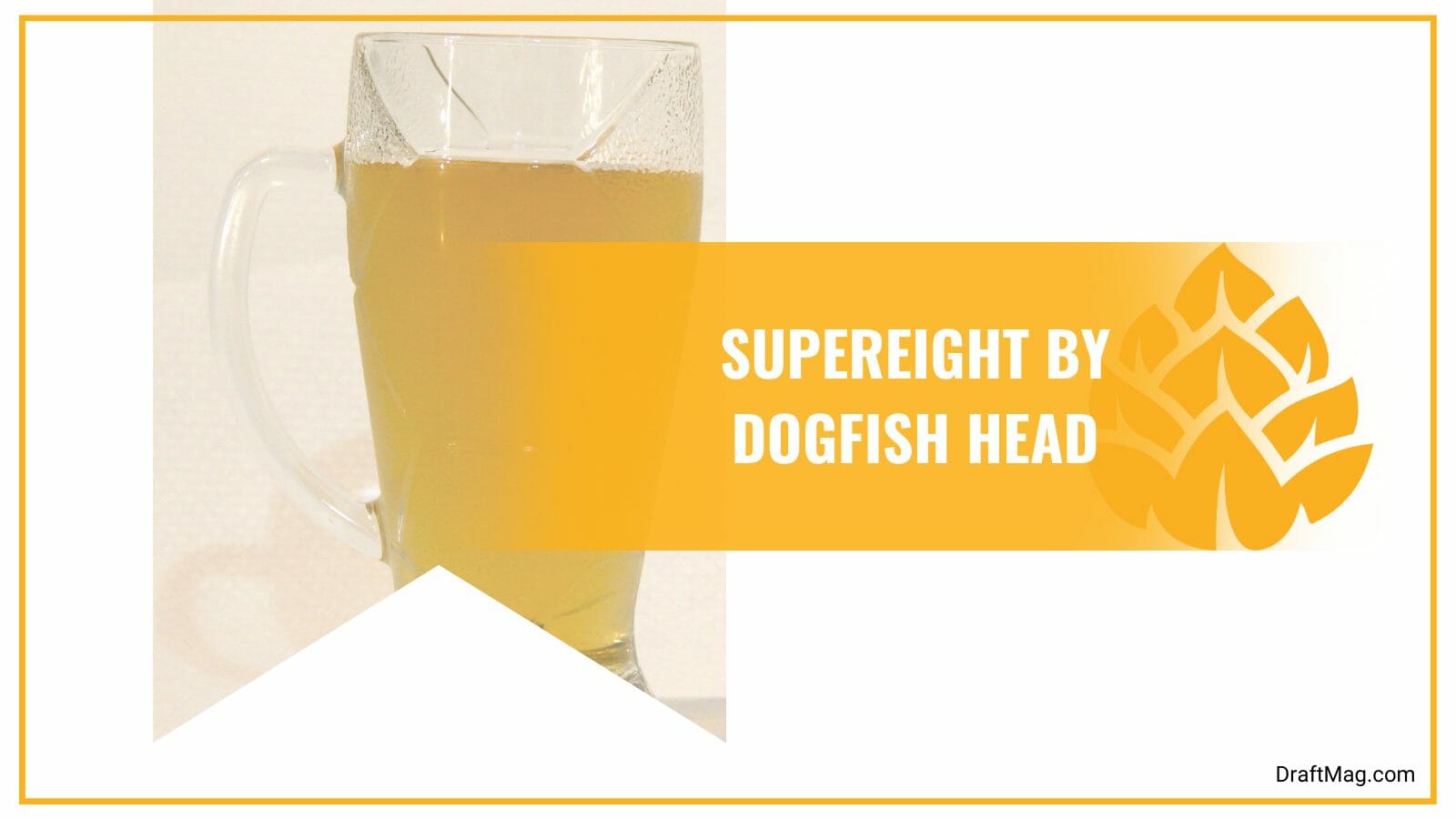 This was where it was brewed for the first time during the 13th century. Similar to any sour German style, a Gose beer is also crafted in a similar fashion, except that the brewers employ a spontaneous fermentation process and added bacteria. It creates a unique tart profile that is not too sour. It is, however, not regarded as fruity as other fruit beers out there.
The ABV value of SuperEIGHT is 5.3 percent, making it a great beach beer you can enjoy on a sunny day. The spontaneous fermentation combined with sea salts and added bacteria gives this Ale its signature sour flavor accompanied by light and refreshing tartness. You can pair it with teriyaki chicken, goat cheese, fruit salad, as well as a mango chutney as per your liking.
4. Pineapple Mana Wheat by Maui Brewing Co.
Type: Hawaiian Fruit Beer
ABV: 5.5 percent
Pineapple is a heavenly sweet fruit. This juicy tropical fruit's essence gives Pineapple Mana by Maui Brewing its signature summer flavor and delectable fragrance! This beer bears a toasted wheat taste and a mildly bitter bite that blends nicely with the sweetness of the pineapple.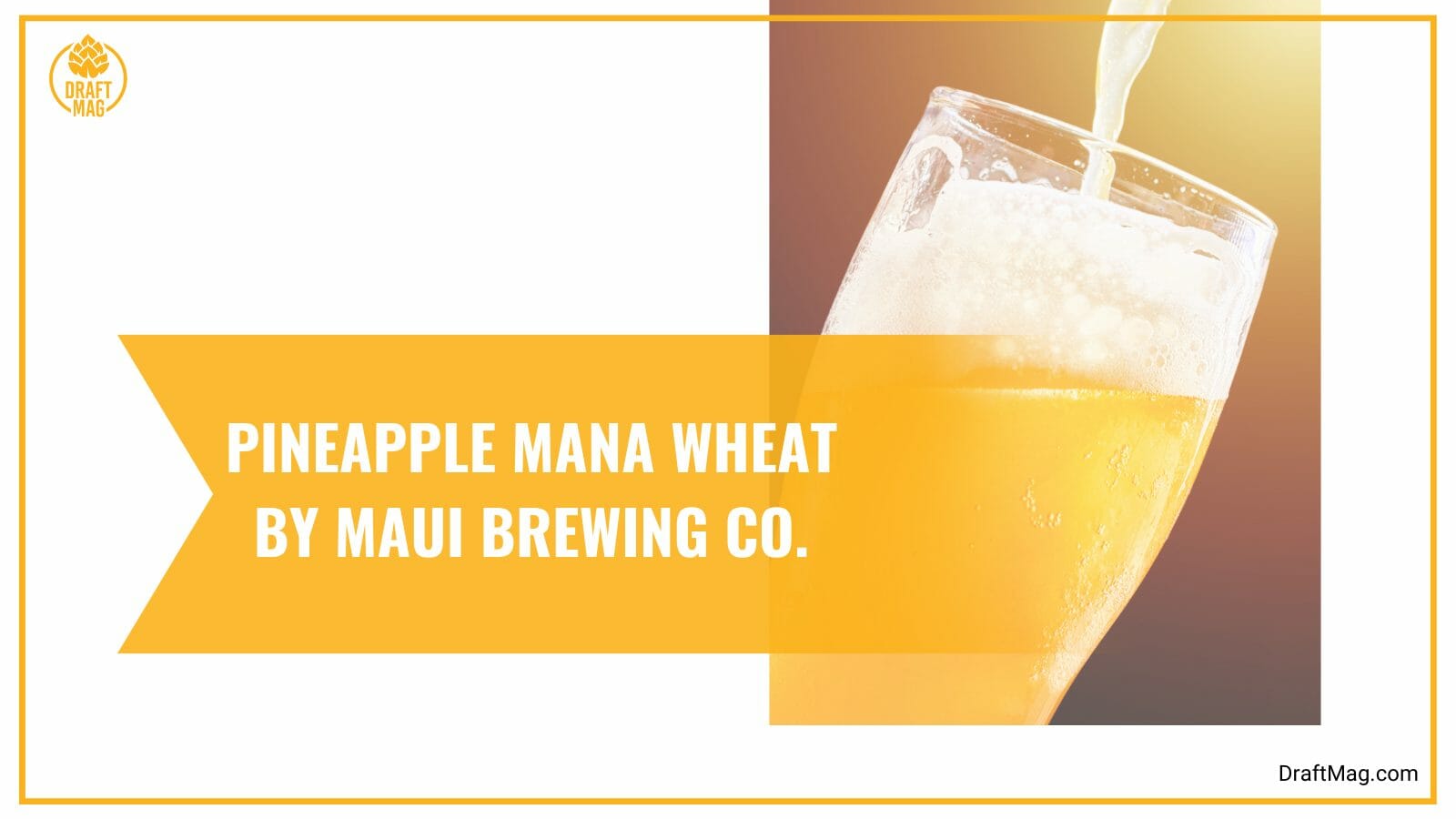 The fresh taste of pineapple is evident in this beer. The brewers at Maui Brewing chose to accentuate the sweetness rather than downplay it in their Pineapple Mana. The overall taste is combined with its toasty wheat flavors and mild bitter punch. This Hawaiian fruit beer has an ABV of 5.5 percent, making it one of the perfect fruit beer types. Try it out now as a perfect summer drink.
5. Blood Orange Wheat by Jack's Abby
Type: German-style Radler 
ABV: 4 percent
Do you like your Blue Moon with a piece of fresh orange? After a sip of this beer, you'll be swapping in your Blue Moons in a flash! This beer's tart and sweet qualities come from the inclusion of blood oranges by Jack Abby's Brewing to a classic German-style Radler.
The flavor of Jack's Abby's Blood Orange Wheat is vivid and unforgettable, as it is with all of their beers. The Blood Orange Wheat is excellent if you want to taste something fresh and unique.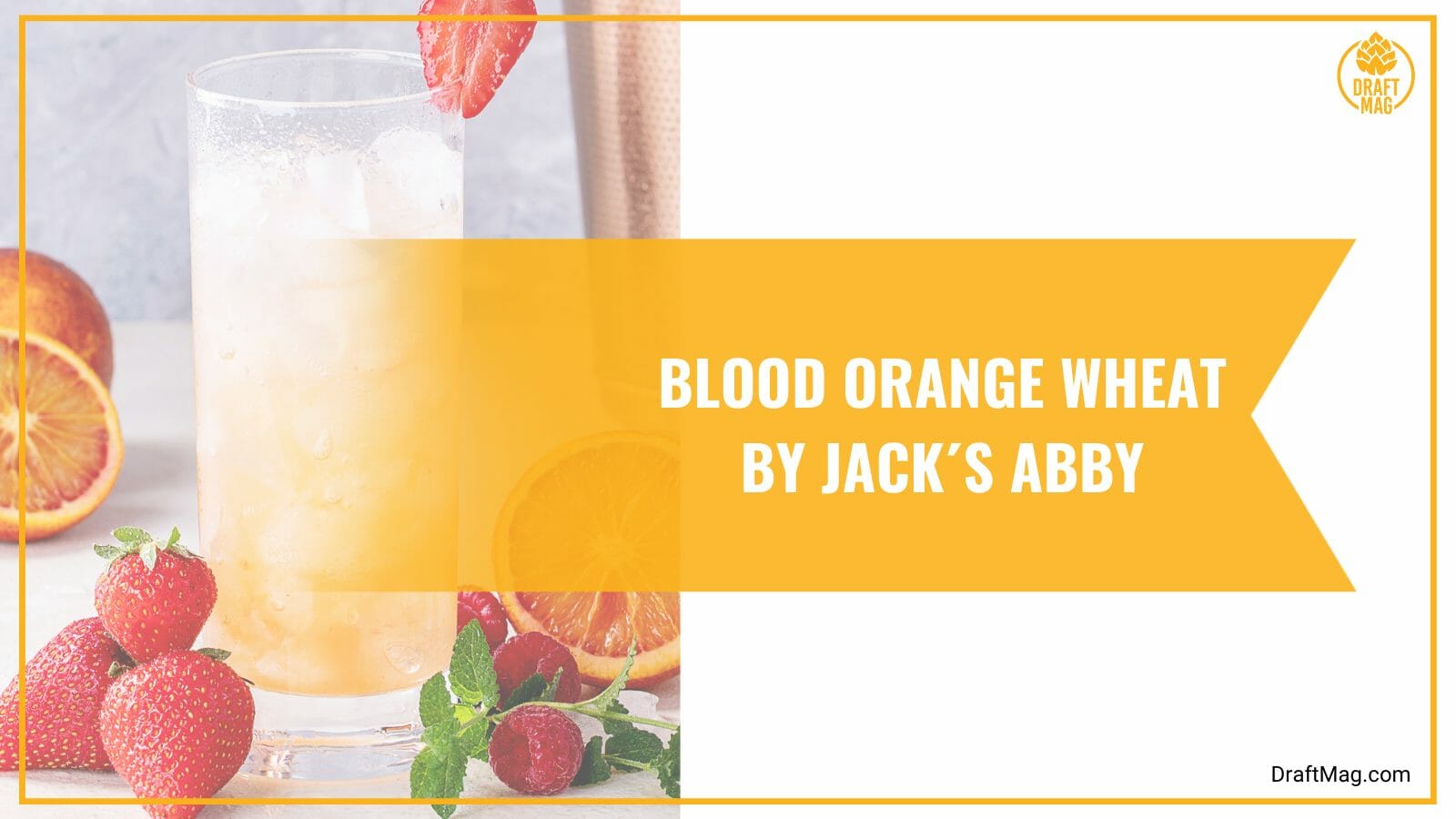 With a powerful scent and a crunchy but smooth mouthfeel, this beer with blood orange essence is mild in acidity and has moderate carbonation. That makes it a fantastic picnic beverage when coupled with a scrumptious grilled sandwich.
It will become your new favorite fruit beer if you detest fruit beers that are overly sweet or sour, and you won't be alone as this instantly gained the hearts of the people after hitting the market. The beer has a soft yellow color that masks the intensity of the blood orange flavor. Some people even say the flavor has a slightly peppery taste!
6. Organic Strawberry by Samuel Smith
Type: British Organic Strawberry Beer
ABV: 5.1 percent
Samuel Smith, well-known among British brewers for its brown ales, porters, malts, and winter warmers, also produces an incredible line of organic fruit beers.  It features a sophisticated malt blend that creates a rich flavor without masking the taste and aroma of strawberries.
Its Organic Strawberry Beer is one of the more sophisticated fruit beers, which is excellent for someone looking for a middle-of-the-road fruit beer that isn't too sweet but yet hits that sweet spot. This strawberry beer's flavors are smooth and subtle yet detectable if you have a sharp tongue.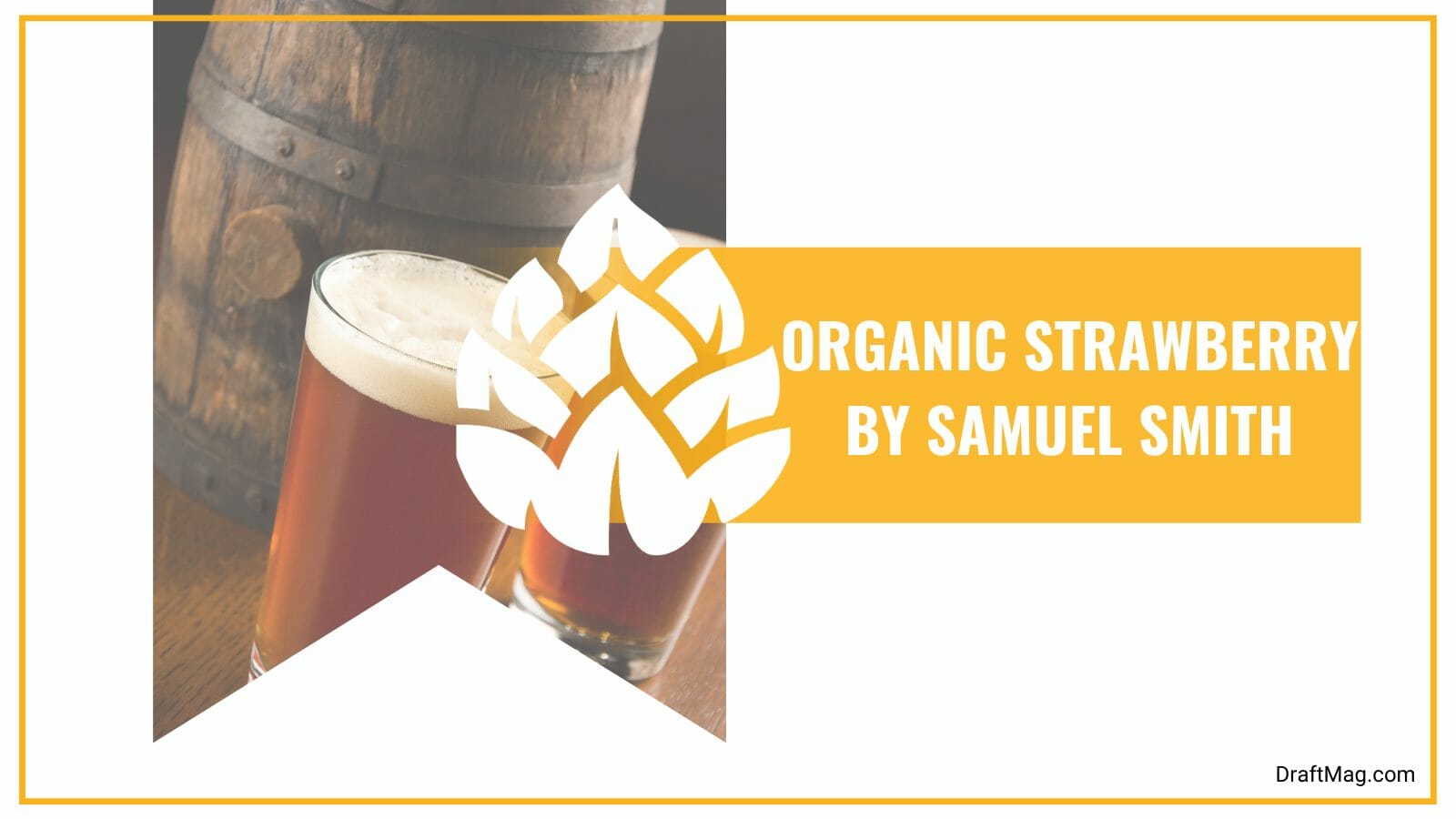 An organic fruit beer brewed with 17th-century steam-powered machinery is as handcrafted as it sounds.This subtle but rich fruit beer is made with organic strawberry juice, sugar, barley malt, and wheat malt.
The 5.1 percent ABV strawberry beer is a sheer delight to sip. The brew is fermented twice using organic malted barley and wheat and combined with organic strawberry flavorings. It's simply a fantastic beer that exposes the fruity flavor to perfection.
7. Hell or High Watermelon by 21st Amendment
Type: Californian Summer-time seasonal Wheat Beer 
ABV: 4.9 percent
The Hell or High Watermelon from 21st Amendment Brewing is an excellent choice if you want a juicy and mouth-watering fruity beer. This pale wheat beer is bursting with sweet watermelon flavors. It had a low alcohol content of 4.9 percent.
This drink goes well with grilled seafood, fresh oysters, fruit and vegetable salads, and other light meals. This watermelon beer is a delightful summertime treat only available from April to September.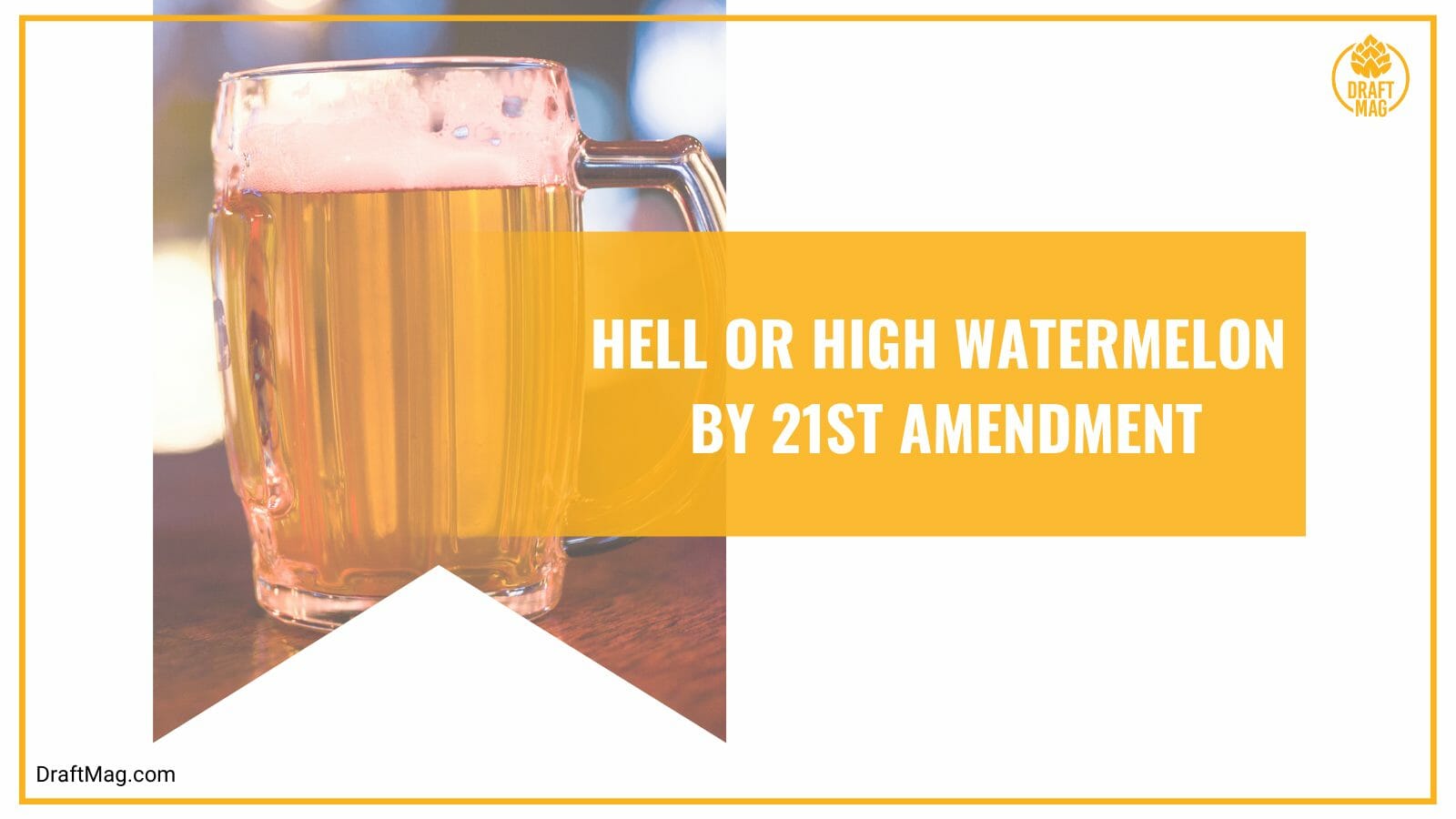 This beer is the finest fruity Ale since it has a prominent watermelon flavor without being too sugary. Hell or High Watermelon is ideal for those who enjoy a fruity flavor but don't like sour beers or ciders. This American wheat beer is made with fresh fruit, giving it a pleasantly dry, crisp, and distinctive flavor that makes summer complete!
The beer incorporates white wheat, two-row pale malt, and magnum hops for a rich yet stimulating flavor. This drink is ideal for a summer BBQ and picnics, and it tastes even better when coupled with a succulent piece of watermelon. Additionally, it has a delicious, fresh scent of melons that will have you craving more.
8. Rubaeus Raspberry Ale by Founders Brewing Co.
Type: Michigan beer 
ABV: 5.7 percent
Try Founders' delicious and tangy Raspberry Ale for something more vibrant. Founders is a well-known brewing company with a wide selection of fantastic beers, and this fruity brew is no exception. This beer has a stunning reddish-pink hue and flavors that match the color.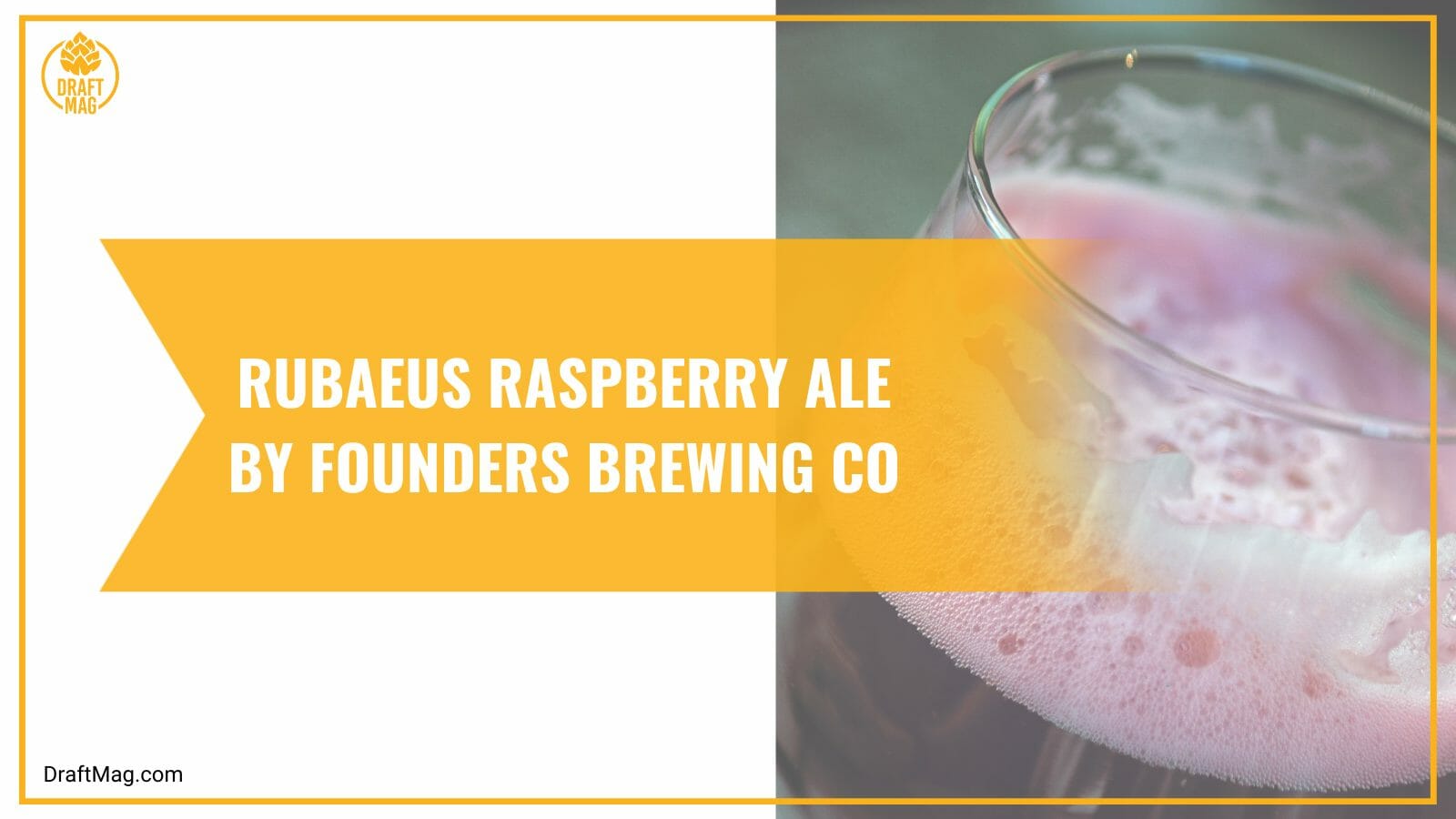 The raspberry ale used to be a seasonal specialty for the spring months, but it became so well-liked and often requested that Founders decided to make it available all year long! It is overflowing with fresh red raspberries' sweet and delicious flavor, making it clear that this drink is prepared using the fruit itself.
This Michigan beer has a touch of sweetness, but it also contains the tangy flavor of fresh raspberries, which doesn't make it overly sweet. The ruby-colored raspberry ale has a great blend of malt and fruit to ensure you know you're drinking a beer. It's an excellent choice for those who aren't big fans of fruit beers but want to give it a shot. Enjoy it with cheesecake, grilled meats, or even just cheese.
9. Grapefruit Sculpin
Type: California-American IPA 
ABV: 7 percent 
Ballast Point Brewing's Grapefruit Sculpin IPA is a well-known fruity beer, particularly in the grapefruit genre. It's also one of the most renowned beers brewed by Ballast Point! The beer has a lot of malts, yet the grapefruit flavor is still present in every sip.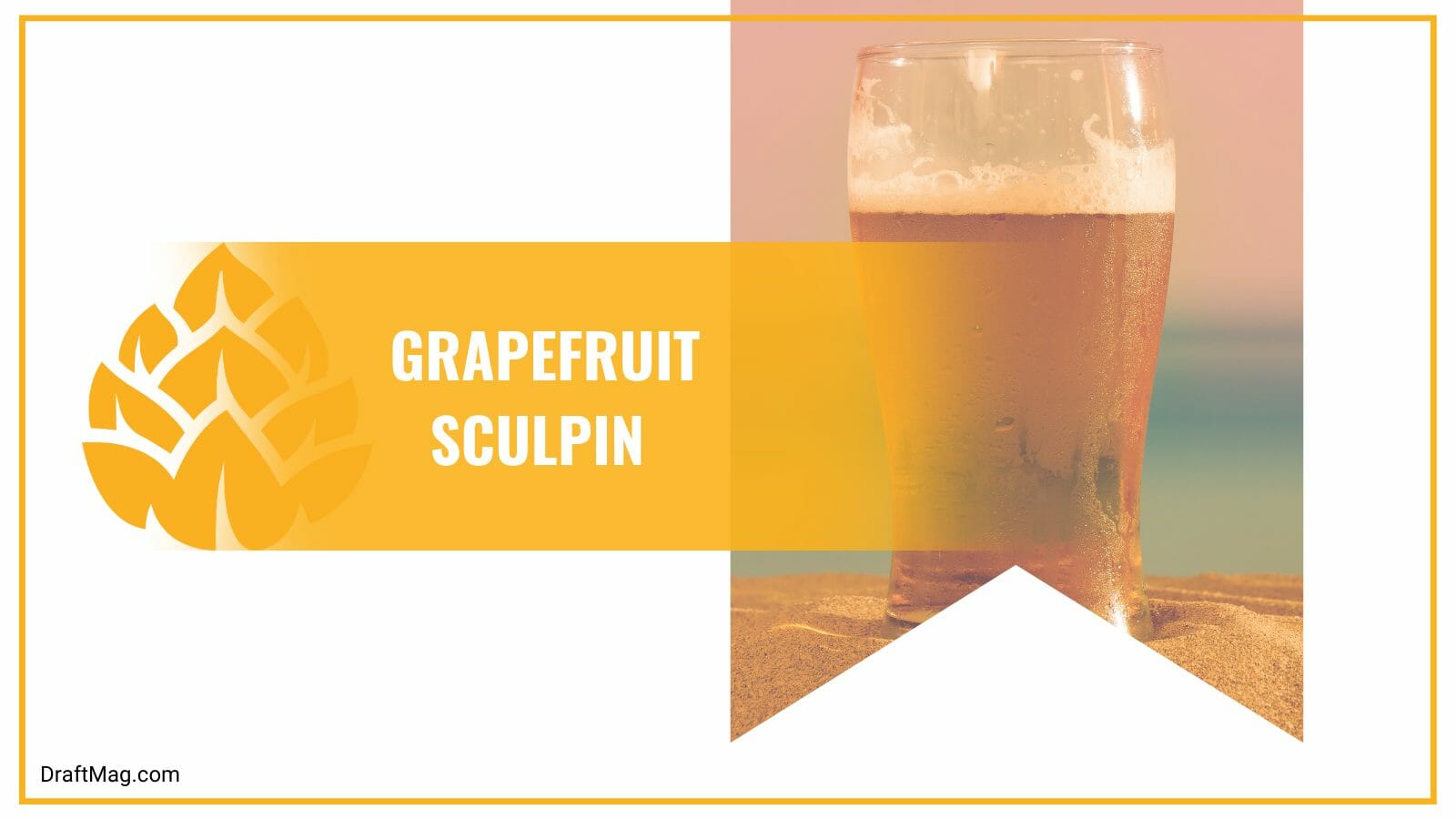 In this renowned and award-winning IPA, the grapefruit taste brings out a strong layer of sour bitterness to the fruit flavors in the buds. You could even like the smoky black pepper notes in the back. Ballast Point Grapefruit Sculpin bears a delicious and crisp flavor.
In terms of bitterness, this IPA leans toward the harsher side, making it unsuitable for those who are hesitant to try IPAs. Although this beer is a smooth brew, some people may find the grapefruit taste to be excessive. According to many critics, a clean fermentation gives this beverage its dry, sharp flavor.
10. Banana Bread Beer by Eagle Brewery
Type: British dark golden Ale
ABV: 5.2  percent
Banana Bread Beer by Eagle Brewery is an amber/red ale previously sold under the brand Wells and Young. They brew banana bread beer using Fairtrade bananas and natural mineral water, which gives it the iconic fruity flavor. The beer has its roots in the United Kingdom.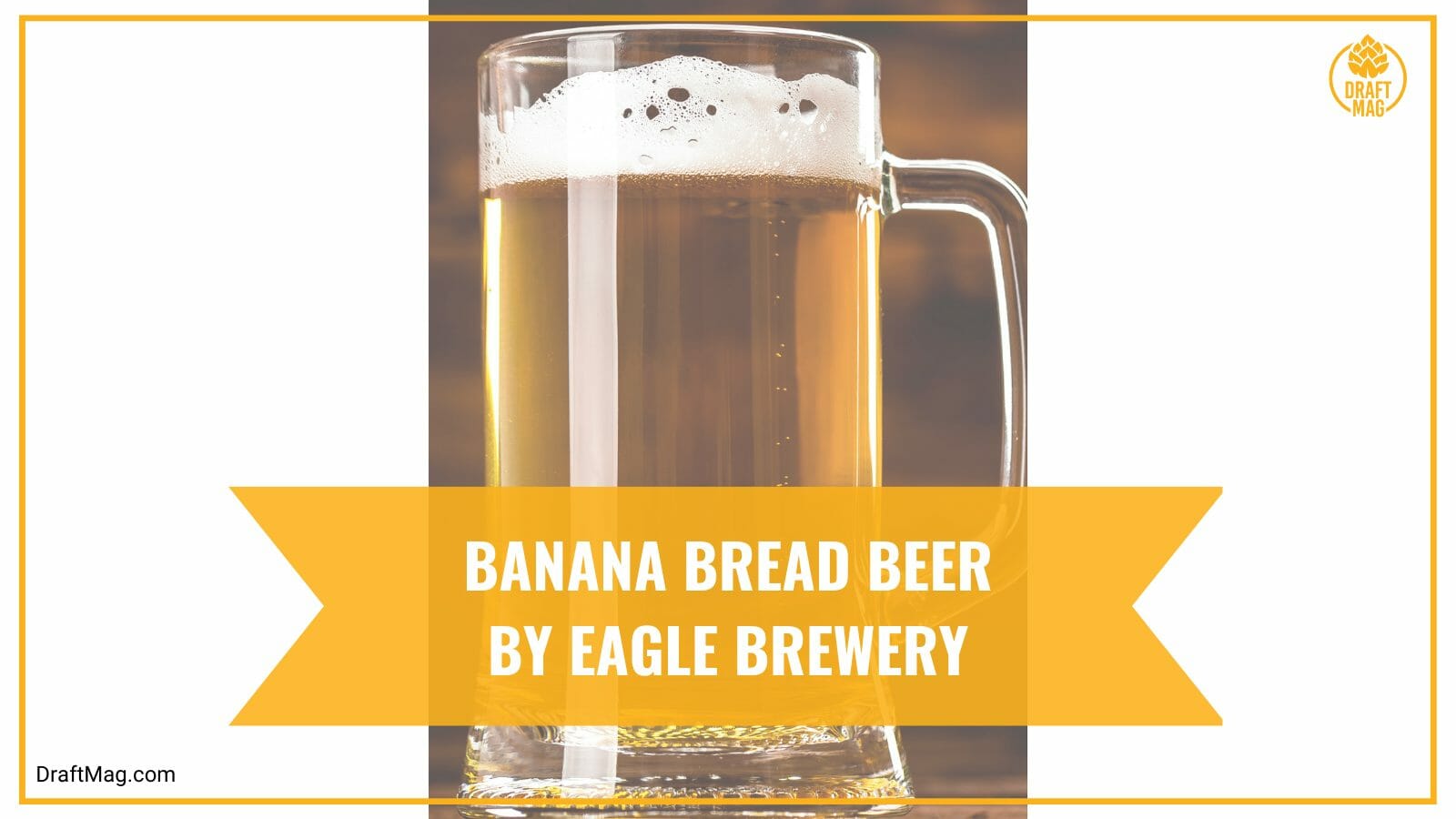 The banoffee flavor takes the dominant side with a note of warm malt flavor, balancing the fresh hops' spicy and citrusy texture. You can't go wrong with Banana Bread Beer since it exactly tastes how it sounds.
It is an amber ale with an ABV of 5.2 percent, a light body, and a sweet banana flavor that goes perfectly well with desserts like puddings, cheesecakes, and chocolates. It's also a great match for bold-flavored meats such as curried lamb or beef jerky. The banana bread beer is also suitable for baking banana bread or sweet bread.
11. Eric's Ale by New Belgium Brewing
Type: Belgian peach-flavored Ale
ABV: 7 percent
Eric Salazar, the brewer at New Belgium, created this sweet and savory wild Ale. Eric's Ale is a superb peach-flavored ale with an undertone of light spice from oak barrel maturation. It is fruity but not overly sweet, tangy and sour, and moderately acidic.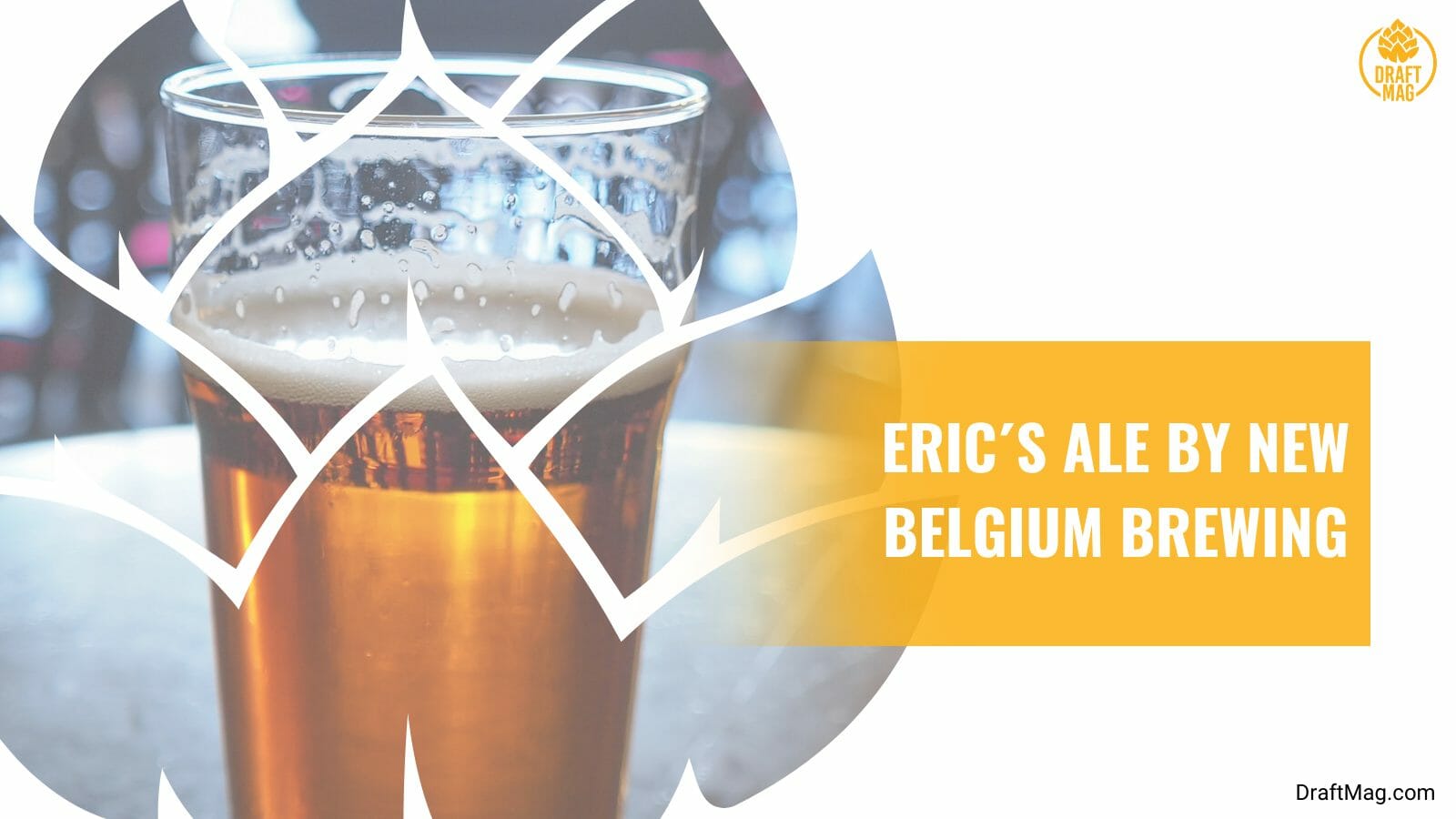 It perfectly combines the flavors of acidic fruit and rich stone fruit. Additionally, since it is aged up to three years in an oak foeder, Eric's Ale contains woody undertones that deepen its richness. Both the aroma and flavor of this excellent beer are fantastic. A true sensory experience, it goes well with burgers, pizzas, cheeses (parmesan, cheddar, romano), buffalo wings, and Mexican and Asian dishes.
However, it is a distinctive flavor that some will regard as a sour beer while others will regard it as a fruit beer.
Conclusion
There are many unique, delicious, and delightful brews to discover in the fruit beer world, which is now more vibrant than ever. It's a genre that includes a variety of fruits in almost every type of beer and goes far beyond lemonade-beer shandies. The highlights of this guide include:
Breweries can use a wide range of fruits in fruit beers. Beers with citrus and berry flavors are common, and a few daring breweries will introduce papaya, mango, or other berries. However, lighter, more pleasant ales are more popular.
Fruit beers can have a sweet or sour flavor and aren't always overly fruity. Some have a mild texture and flavor that almost tantalize the taste buds; you know it's there, but it's not overpowering.
To infuse fruity notes into their beverages, brewers apply various techniques. While some combine the beer with juice or mature the brew with fresh fruit, some add fresh fruits or juice throughout the fermentation process.
Fruit beers are exactly like regular beers, down to the alcohol concentration, save for the fruit flavoring. They normally range from 4.0 to 8.0 percent ABV, although high-point fruit beers are rare. If you uncover one with less than 3.0 percent ABV, it's most certainly a shandy.
Fruit beer's a moderate beer with organic fruit flavors. Numerous fruit beers contain soluble dietary fiber as well as vitamins and minerals, including vitamins E and B, especially folic acid. They can also rehydrate the body, alleviate stress, and increase vitality.
Generally, you have to try a few different beers before you discover your favorite, but hopefully, this article has helped you narrow your hunt for the finest fruit craft beer style.