How To Keep a Keg Cold: Tried and Tested Ways To Store Your Keg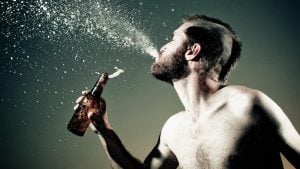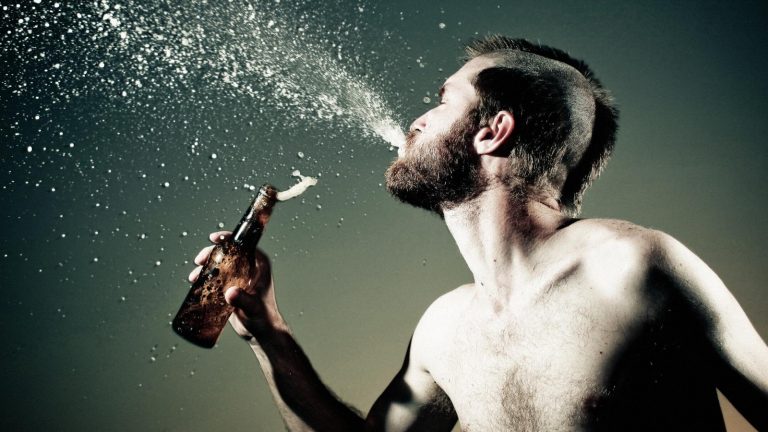 No one likes their beer warm or at room temperature; it's not beer if it isn't cold. Keeping a keg cold can be tricky business especially for an outdoor event, but if done the right way, your beer will be intact in taste and ready for anyone to grab. There are numerous ways to keep a keg cold.
Whether you are looking for keeping kegs cold at home or at outdoor events like weddings or long road trips, this guide will give you the most creative and effective ways to keep a keg cold.
How To Keep a Keg Cold: 14 Sure-shot Ways That Will Help
The temperature at which your beer is stored can determine whether the beer will taste stale and funky or refreshing. Storing it in the wrong temperatures can cause unpleasant chemical reactions in the beer, which can lead to the beer becoming spunky, which is the worst-case scenario.
In situations like these, storing beer in a keg is the best option to keep the keg temperature intact.
These are some of the best ways to keep a keg cold in any situation:
1 – Keg Coolers
Keg coolers have a mechanism similar to kegerators. They have built-in insulation that keeps the beer temperature intact with no condensation.
It uses CO2 to pump beer from the keg into the end of the cooler through the jockey box coils, and these coils are kept in an ice bath inside the cooler to keep the beer chilled at all times as it travels from the keg to the faucet.
Keg cooler handles are simple and easy to grip on. It can also store up to 170 cans of beer and is available in a variety of colors. Portable keg coolers are also currently available in the market.
2 – Kegerator
This device is like a mini-fridge in that it is a hybrid of a keg and a refrigerator. Some people fondly call it "the happiness dispenser." That is, if you equate happiness to beer.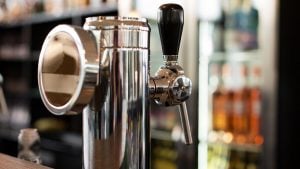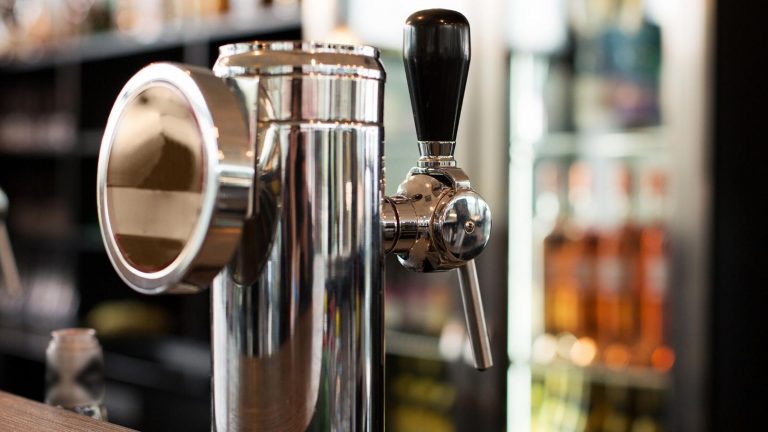 The best part of a kegerator is its highly customizable system. Owning a kegerator has many uses besides dispensing chilled beer, as you can also use it to store any carbonated drinks. From cold coffee and cola to kombucha, kegerators are essential in any household bar.
A brand new kegerator can cost you somewhere between $200 to $2000 (higher-end ones), and you would also need a CO2 canister, which goes for around $20 each.
3 – Keg Tub
This is one of the most effective ways of keeping a keg cool if you don't have a kegerator. Keg tubs have rope handles for easy transfer. It is super cost-effective; these tubs can be used for multiple purposes and they are easily transportable.
Place about 11-12 inches of ice at the bottom of the tub and lower the beer keg gently into the tub. Fill any leftover space with more ice to the top of the bucket. Add some ice water to make it an ice bath to help keep the temperature of the beer intact. Keep replacing the ice when it melts.
4 – Kiddie Pool
Another simple and efficient way to cool kegs is to use a kiddie pool. Inflate a kiddie pool and add ice water and lots of ice in it. Aside from being a cost-effective way to cool your kegs, you can also let your kids jump in the pool once all the beer business is over.
5 – Keg Sheet
A keg sheet keeps the sunlight out of reach of the keg. It is made of lightweight material covering the barrel cooler. It is not similar to a keg blanket, but this sheet is made from NASA assembled materials that do not require ice to keep it cool. It reflects heat and direct sunlight when used in outdoor events.
Keg sheets are basically effortless to set up, but there is one drawback to using this — it doesn't keep the keg cool for as long as the other options. Also, best results are obtained if the keg is already pre-chilled, but on the upside, a keg sheet can also be used to chill food on long road trips.
6 – Jockey Box
While this isn't a cost-effective choice compared to the others mentioned above, a jockey box still has its benefits. It is a mobile draft beer system with a built-in cooler. The beer is fed from the keg to the chilled coils, which is connected to an external tap.
On the upside, it is easily transferable and the extra layer in the coil provides extra chilling. The igloo coolers keep the ice bath chilled for several hours, but you would need to buy the dispensing kit separately and the keg needs to be pre-chilled.
7 – Stainless Tumbler
This is a tumbler made from stainless steel with double insulation. This is a good option to keep beer cold during long road trips or camping trips.
8 – Insulated Bottle
An insulated bottle is a good option for a short trip when you just need to carry some beer on hand. It is also easy to handle and primarily cheaper than all other methods. Just pour your beer into the bottle and you are good to go for a couple of hours.
9 – Eco-friendly Ice Cubes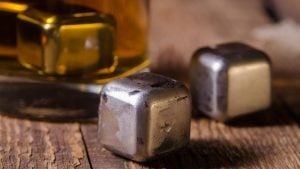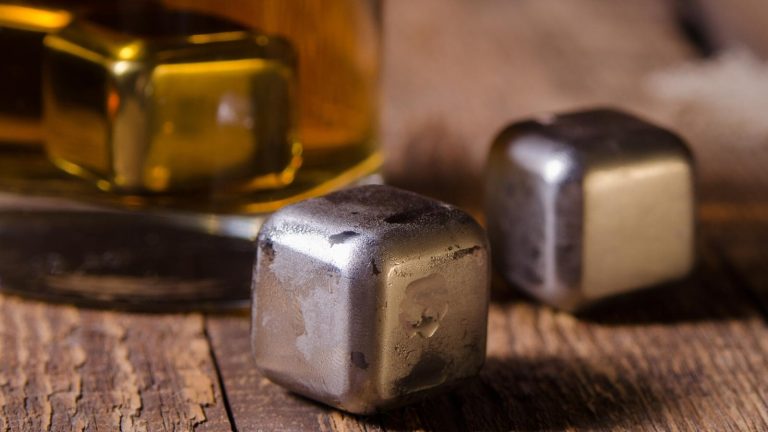 These ice cubes are made of stainless steel. You can freeze them for five or six hours, and they won't change the taste of your beer or rust up and tarnish. Use them once, wash them and use them again. They are simple to use and easily available.
10 – Stainless Beer Chiller
A beer chiller with a built-in bottle opener.
Doesn't that sound brilliant?
A stainless beer chiller has a double wall that keeps both bottles and cans cool for hours.
11 – Neoprene Koozie
A neoprene koozie helps keep your beer cool and in place, even in the harshest conditions.
12 – Dry Ice
Although wet ice is cheaper than dry ice, dry ice has a distinct advantage. It can last for up to three days in an icebox, is easy to maintain and does the job well.
13 – Backpack Cooler
An average-sized backpack cooler can hold up to 12 cans of beer at a time. This is simple to carry around for a short hike or an overnight camping trip. You can carry this on your shoulders or float it in a pool.
14 – A New Alternative Making the Rounds
These are called the 5-liter party kegs. They are small and easily portable, and they come with a variety of dispensers, making them excellent for a sunny day at the beach with your friends.
How To Keep a Keg Cold at a Wedding: Three Sure-shot Ways
Weddings are a great place to chill with beers, especially summer day weddings. Aside from keg coolers that are stunning for outdoor weddings and keg tubs which can be dressed well for a thematic wedding but need constant assistance with ice, there are many other options available to keep a keg cold at a wedding.
If you are the type to throw small, intimate events, these options to keep kegs cool can come in handy:
– Outdoor Cooler
This is an excellent piece to own to keep a keg cold at a wedding or any other outdoor activity. It is adaptable to harsh conditions, is sturdy and easy to port. It is made of waterproof fiber, which protects the beer from UV rays and punctures. It is made from FDA-approved materials and is even safe to use for food.
– Floating Cooler
The floating cooler is designed with top-class insulation and generates stunning ice retention. It is an excellent option for a summer wedding by the pool or a pool party in general. You can just tie it behind your boat or float it by you in the pool. This keeps the beer cool for hours.
– Keg Blankets
A keg blanket is like a sleeping bag for a keg. It inflates like a jacket and maintains the temperature of the keg. This is also a cost-effective and easy-to-handle device as it isn't bulky and doesn't require a tub or plenty of ice to hold.
Keg blankets are made of thick, waterproof neoprene material which keeps the keg cold for up to eight hours. It also rolls back up for easy transport. This will keep a keg cold outside, so it is best to use keg blankets for long outdoor weddings or receptions. Plus, it also looks nice.
Make a Keg Cooler at Home: Super Useful DIY Tricks
Whether you have just stepped into the world of homebrewing and are still miles away from investing in giant machines or just don't want to spend extra money on miscellaneous things, this DIY keg cooler technique will come in handy.
– Garbage Can Keg Cooler
Make a keg cooler with a garbage can. Before you judge it based on the name, this is actually a nice and inexpensive way to keep your keg cool. Just like a keg tub, you can fill a clean garbage can with ice and place your keg inside. It maintains the temperature of the keg for as long as the ice remains.
You can refill the can with more ice for longer hours, and it is also easy to transport and transfer. Garbage cans are a great choice as they are found in every household, so even if you have just been introduced to homebrewing, this is something that will definitely work for you.
– Bathtub Keg Storage
The second option to create keg storage is to use a bathtub if you have one in your house. Just fill the bathtub with lots of ice and place your keg in it. The only downfall with this trick is that you will have to fill your beer in the bathroom.
– Kiddie Pool
Another fun way to make insulated keg storage is to use your kid's inflatable pool and fill it with ice-cold water and giant ice cubes. Place your keg, beer bottles or cans inside the pool for a fun picnic by your front porch. Later, your kids can enjoy a swim in the water once it has gotten warm.
Keep a Keg Cold: Why You Should Keep the Beer Chilled
Kegerators are nothing but a combination of kegs and refrigerators (like a mini-fridge). It is designed to keep beer cold in any situation. As we are all probably aware, bagged ice in a plastic tub is one of the cheapest tried and tested ways to keep a keg cold.
In most cases, it is really important to keep a keg cold. While there are people who enjoy a beer at warmer temperatures, beer is best enjoyed when it is cool and chilled. This avoids a change in the taste and froth of the beer. When beer gets too warm, it tends to get extra foamy, so if you are pouring warm beer on a hot day, the excess foam is a waste of good beer.
The science behind warm beer is that warm liquids hold more gas. The carbon dioxide which was previously dissolved in cold beer will now pop right out of the beer when opened. These are just some of the many reasons why you need to keep a keg cold.
FAQ
Can a cold keg produce warm beer?
No, a properly cooled keg will not produce warm beer. Consistent temperature is important for quality beer.
Can a keg get cold if left out in the winter cold?
Yes, a keg can get cold if kept in winter cold temperatures, but consistent temperature is important for quality beer.
How do restaurants keep kegs cold?
Restaurants use refrigeration systems to keep kegs cold, typically using a specialized kegerator or walk-in cooler.
Conclusion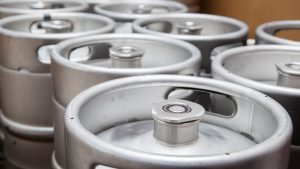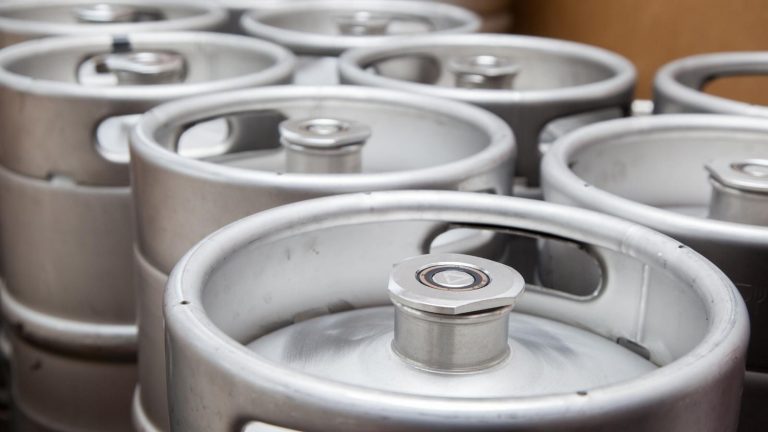 The amount of time a keg will remain chilled depends mainly on where it is stored.
Here are some of the main points we discussed in the article above.
It is best to store your keg in a kegerator. If stored correctly, the keg can last for up to eight weeks.
There are a number of other options available to keep your keg cold — from expensive to inexpensive ones, anything that suits your interest and budget is possible.
If you can afford one, then investing in a good kegerator is the best possible solution in the long run.
The next best options range from keg sheets or jockey boxes and insulated bottles for smaller events.
Pick what suits you best and store your keg correctly for a longer shelf life.
Whatever option you choose, you can never go wrong with pre-chilling your keg, but now that you know some useful tips and tricks to keep your keg cool, you can now throw that pool or beach party with confidence!