New Belgium 1554 Review: Should You Grab a Bottle of This Beer?
New Belgium 1554 beer is easily one of the most controversial beers in the beer scene due to its mysterious beer style. Also known as New Belgium 1554 Enlightened Black Ale, this brew defies the traditional beer standard by being unique and refreshingly tasty.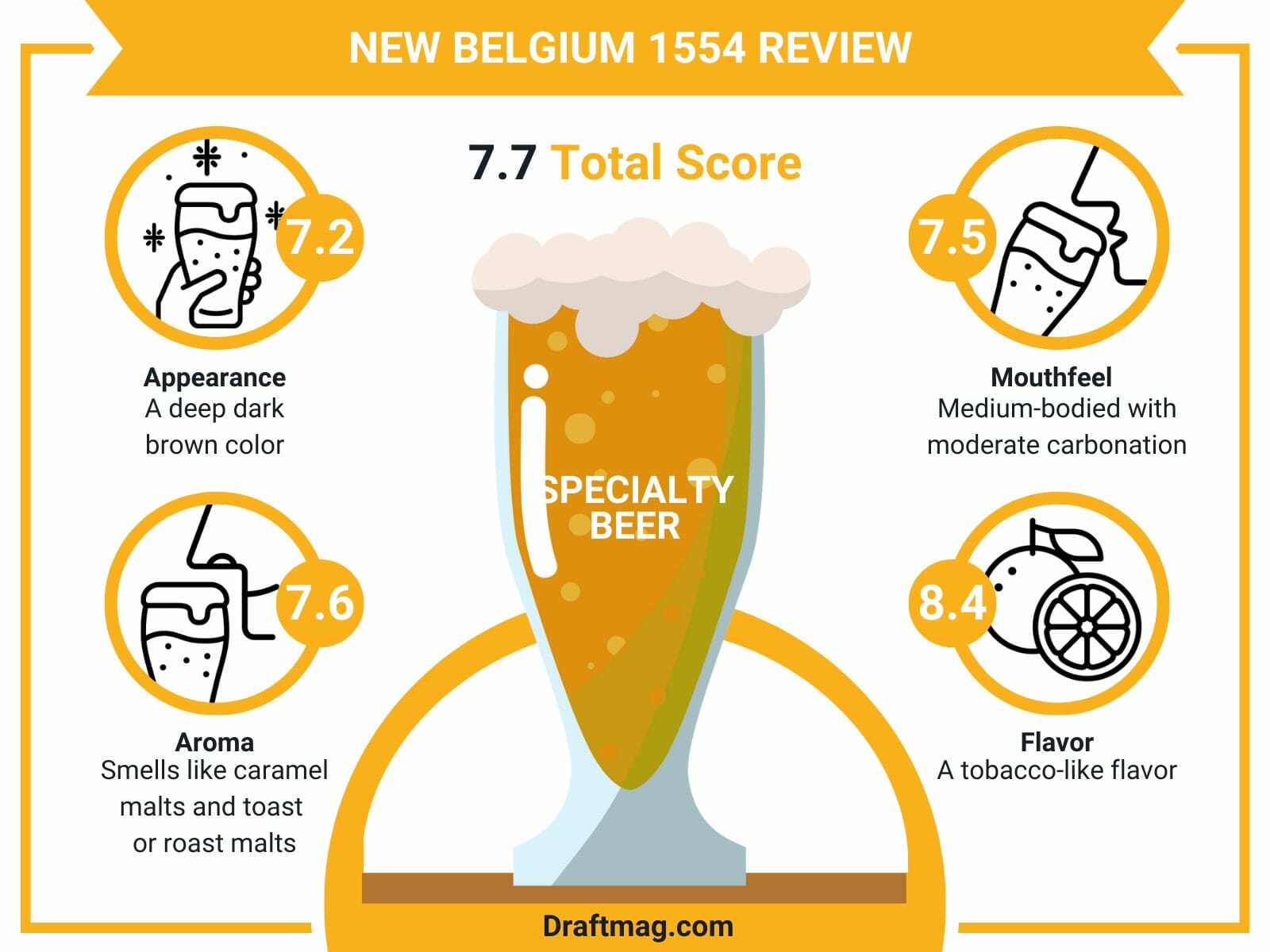 Its producer describes it as a variation of Zwert beer – an ancient beer style – and combines dark malts and European lager yeast to produce a beer fermented at ale temperature. Our review provides a helpful overview if you're curious to know what this mysterious beer style tastes like.
New Belgium 1554 Stats
| | |
| --- | --- |
| Country | United States (Colorado) |
| Brand | New Belgium Brewing Company |
| Style | Specialty Beer |
| Taste | This beer is predominantly malty and sweet with a lingering bitterness. You can taste the chocolate essence, too. |
| Body | It is medium-bodied with moderate carbonation. It is somewhat sweet with a lingering but mild bitterness. It leaves a creamy, dry finish. |
| ABV | Six percent |
| Flavor and Aroma | The flavor and aroma are subdued and are predominantly of dark malts, licorice, chocolate, and mild hops. |
| Serving Temperature | 43 – 50 degrees Fahrenheit |
Tasting Notes
New Belgium 1554 Tasting Profile
New Belgium 1554 Review
New Belgium Brewing 1554 is a unique brew that many beer lovers have been talking about. This brew has received several positive reviews for its rich chocolate taste and flavors. Here, we provide an unbiased analysis of this brew for an honest review without any gimmicks.
– Appearance
This beer pours a deep dark brown color, although it appears to have a black body from a distance. If you hold the beer to bright light or direct sunlight, you'll catch some reddish highlights in its body. A thin off-white foamy head appears immediately and doesn't last long. It leaves behind minimal lacing and sticks to the side of the glass.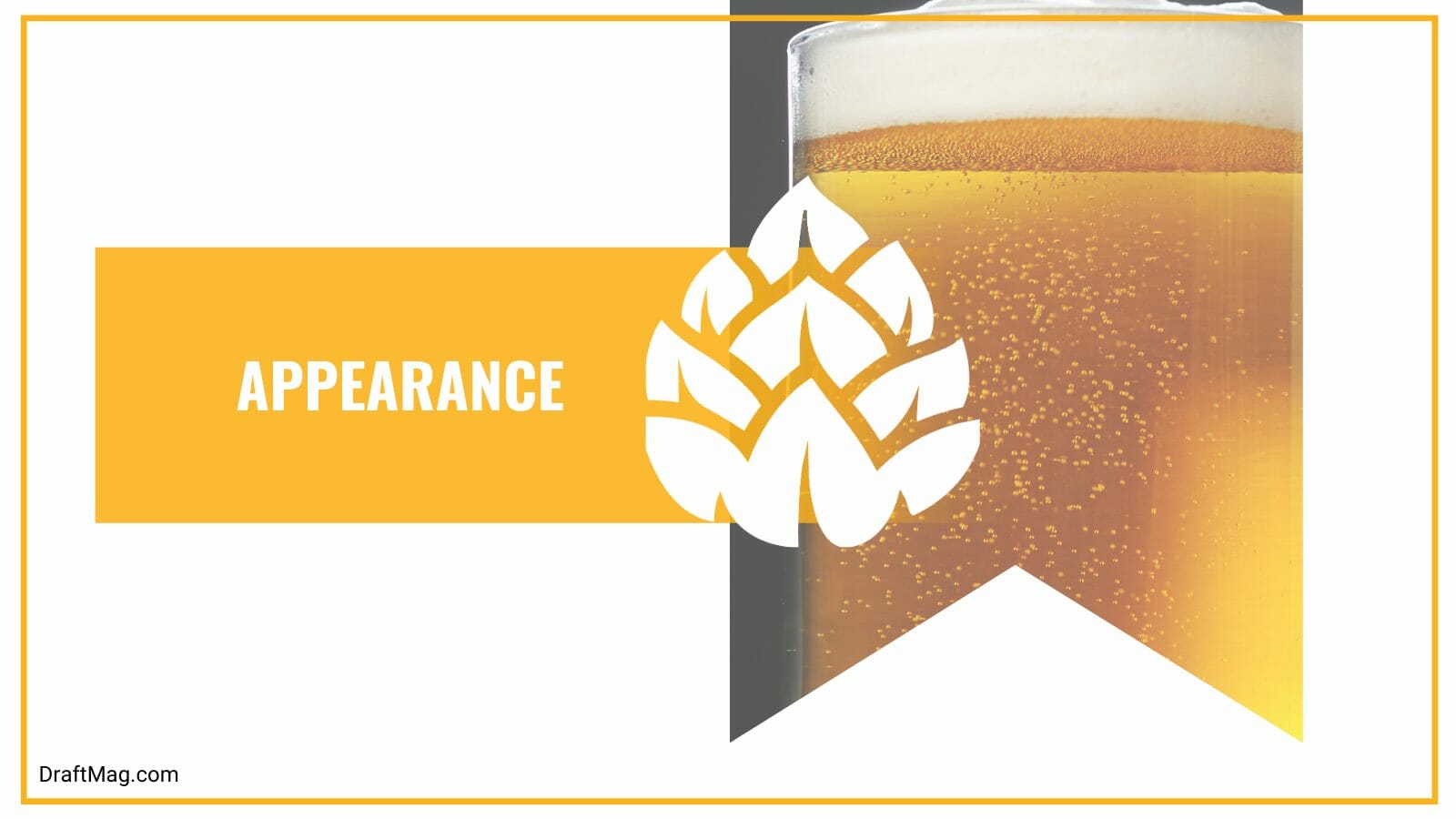 Once you remove its thin foamy head and minimal lacing, the overall appearance of this beer easily makes you think of it as a stout or porter. It looks nice enough, although nothing is inviting about the appearance.
– Aroma
The first thing our team noticed is that the aroma of this beer is relatively subdued. You can detect a whiff of maltiness that smells like caramel malts and what may be toast or roast malts. A chocolatey note comes to the front, and a touch of toffee-like note gives the beer a cocoa drink smell. The smell of licorice and hints of spiciness to the beer profile is also present.
Upon closer inspection, you'll detect a muted hop note and a woodsy scent that reminds one of tobacco. The most predominant notes to expect are a rich maltiness and licorice. Overall, the scent is decent enough, though minimal.
– Mouthfeel
The beer is medium-bodied with moderate carbonation that is unnoticed in its appearance. It has a creamy and mildly astringent feel that can easily be felt from the first gulp. This adds depth to the beer to compensate for its subdued flavors and aroma.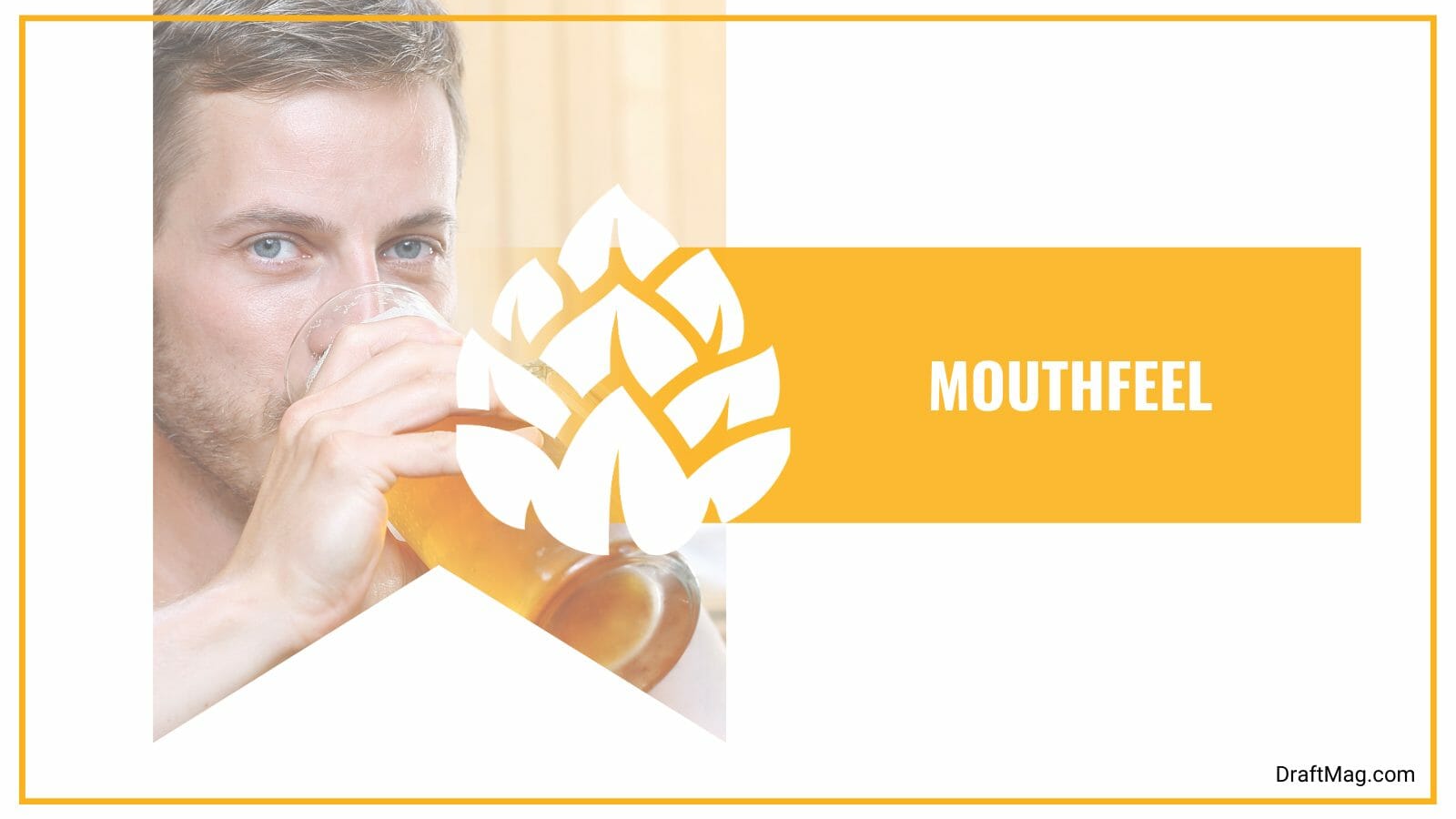 One thing to like about this beer is that it is easy to drink, especially as it finishes with a malty sweetness, barely any alcoholic presence, and a trace of lingering mild bitterness. However, its astringent mouthfeel makes it a very drying beer, which wasn't what we expected, considering its appearance.
– Flavor
Just like its aroma, the flavors in this beer seem minimal. You can make out a malt flavor that seems toasty. There's also a tobacco-like flavor that's earthy and, at the same time, woodsy. Its hop flavor is almost non-existent.
You can detect a relatively subdued chocolate flavor. Although it's not quite there, you can see a dark fruity flavor at the base. We like that the flavors of this beer are not heavy, but if you're a fan of bold-flavored beers, this may be underwhelming.
– Food Pairings
Due to its intricate profile, this beer is versatile and can be paired with almost any meal. You can decide to pair this beer with creamy cheeses of nearly every variety. You can also pair it with roasted lamb, chicken and buffalo wings, steak, and cured meat. You can pair this beer with French fries, garlic bread, pizza, or burgers for simpler options.
1554 can also be paired with sweet desserts, especially caramel, chocolate, and vanilla-flavored sweets. An option for vegetarians is to pair the beer with greens, fruit salad, and root veggies.
Ingredients
The ingredients used in brewing this beer include nugget hop, European lager yeast, and a variety of malts. These malts include Carapils, Black Malt, Chocolate, and Munich malt. There are also hints of licorice in its composition.
Nutrition Facts
It contains 193 calories, 10 grams of net carbs, zero grams of protein, and zero grams of fat.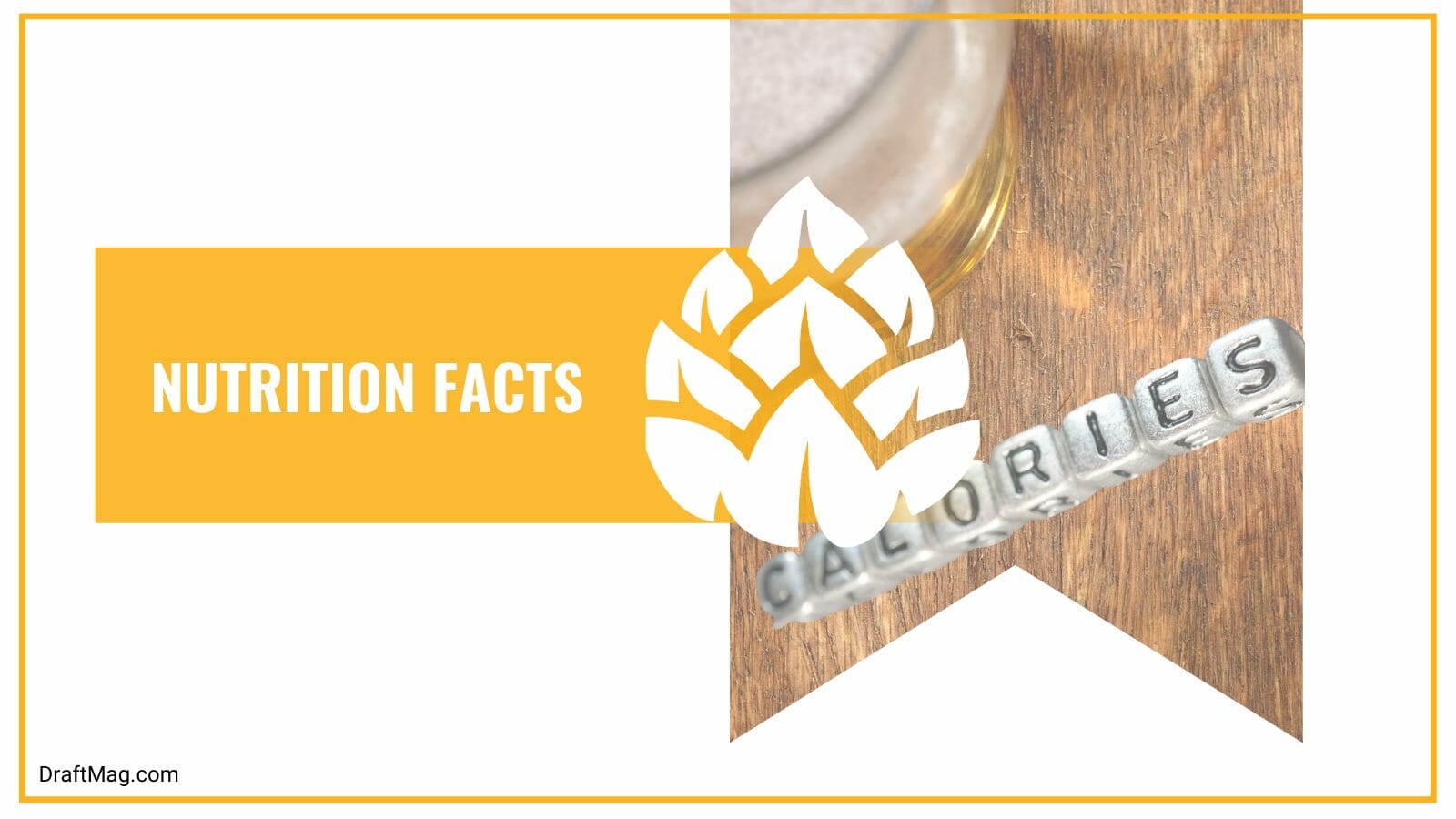 It doesn't contain artificial flavors and additives, but it may contain gluten, although in low amounts. It has an IBU of 21 and an ABV of 6 percent. 1554 is an excellent beer for vegetarians since it only uses plants.
History
1554 was first produced in 1998 by the New Belgium Brewing Company. It is a specialty craft beer with a relatively unknown style. The beer was formerly described as a dark ale, but it was rebranded with a Black Lager inscription added to its logo. The company describes the beer as a reproduction of the ancient Zwert beer style.
1554 tastes sweet with a drying bitterness, chocolatey creaminess, and no alcohol. It tastes similar to New Belgium's Fat Tire. It is a fusion of licorice, European lager yeast, and malts to produce a dry beer fermented at ale temperature. Hence, it is safe to describe this beer as a lager and a dark ale.
Conclusion
1554 is a tasty beer, although it is slightly underwhelming, considering that it has an interesting beer style. Here's a recap of the points we discussed in this article:
New Belgium 1554 is a specialty beer with a 6 percent ABV and is produced by New Belgium Brewing Co.
Its taste, flavor, and aroma are of chocolate, dark malts, and slight hops. There's also a strong hint of licorice and muted, dark fruity notes. It has a non-alcoholic presence.
This beer is medium-bodied with moderate carbonation and a creamy mouthfeel. It is malty sweet with a lingering bitterness and a drying finish.
You can pair this beer with root veggies, pizza, burgers, chicken wings, and buffalo alongside cheese.
Whether you want to call it a dark lager or ale, one thing is clear: this beer is an enjoyable drink for any time of the year. If you're a fan of minimal flavored and malt-forward beers, we recommend grabbing a bottle of 1554 today!