Pantera Beer Review: Pleasant Brew That Goes Down Easy
Pantera Beer is one of the most popular beers from the Texas Ale Project, brewed specifically for Pantera. If you're a fan of this metal band, you'll definitely enjoy this crisp, crushable and refreshing beer.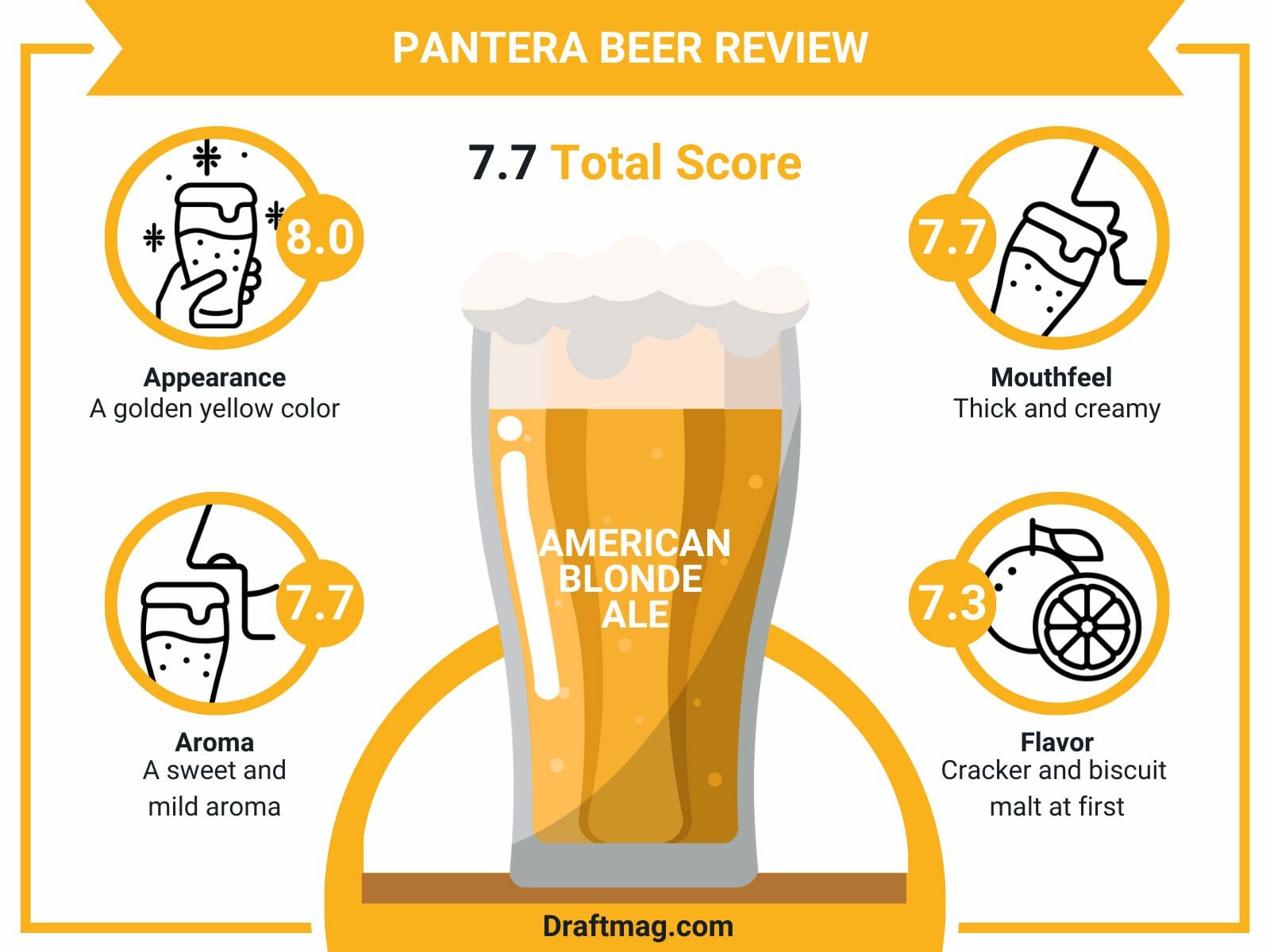 The sessionable ale has a low hop profile and bitterness but is bursting with fruity, citrus, and sweet malts flavors. We've put together a detailed review for anyone interested in trying out this beer, so keep on reading below.
Pantera Beer Stats
| | |
| --- | --- |
| Country  | United States |
| Brand | Texas Ale Project |
| Style | American Blonde Ale |
| Taste  | Cracker malts, citrus |
| Body | Medium body |
| ABV | 5.4 percent |
| Flavors & Aromas | Cracker malt, biscuit, orange, grapefruit, lemon, caramel, wheat, pine |
| Serving Temperature | 45 – 50 degrees Fahrenheit |
Tasting Notes
Pantera Beer Tasting Profile
Pantera Beer Review
Pantera Golden Ale is an American blonde ale with a 5.4 percent alcohol content. The smooth, golden ale is made by the leading brewery, Texas Ale Project, to be easy to drink, thirst-quenching, and refreshing. It pours a golden yellow color into your glass with a medium body.
The Pantera ale has flavors and aromas of cracker malts, biscuits, orange, grapefruit, lemon, pine, and wheat, with hints of hay and yeast and an earthy finish. It is best served in a pint glass, as the slender shape will show off the bright yellow color easily. It also holds a puffy white head.
The ideal serving temperature is from 45 to 50 degrees Fahrenheit, and you can garnish it with a citrus slice like an orange or lemon.
– Appearance
The Pantera Golden ale pours a golden yellow color into your glass, with a lightly hazed appearance and some particles. On top of the beer is a one-finger head with a foamy white look. The head offers good retention and will fade slowly, leaving some lacing and white foam on the sides of the glass.
– Aroma
On the nose, the beer has a sweet and mild aroma that won't overshadow the flavor. The heaviest scent on the nose is that of the crisp cracker and biscuit malts.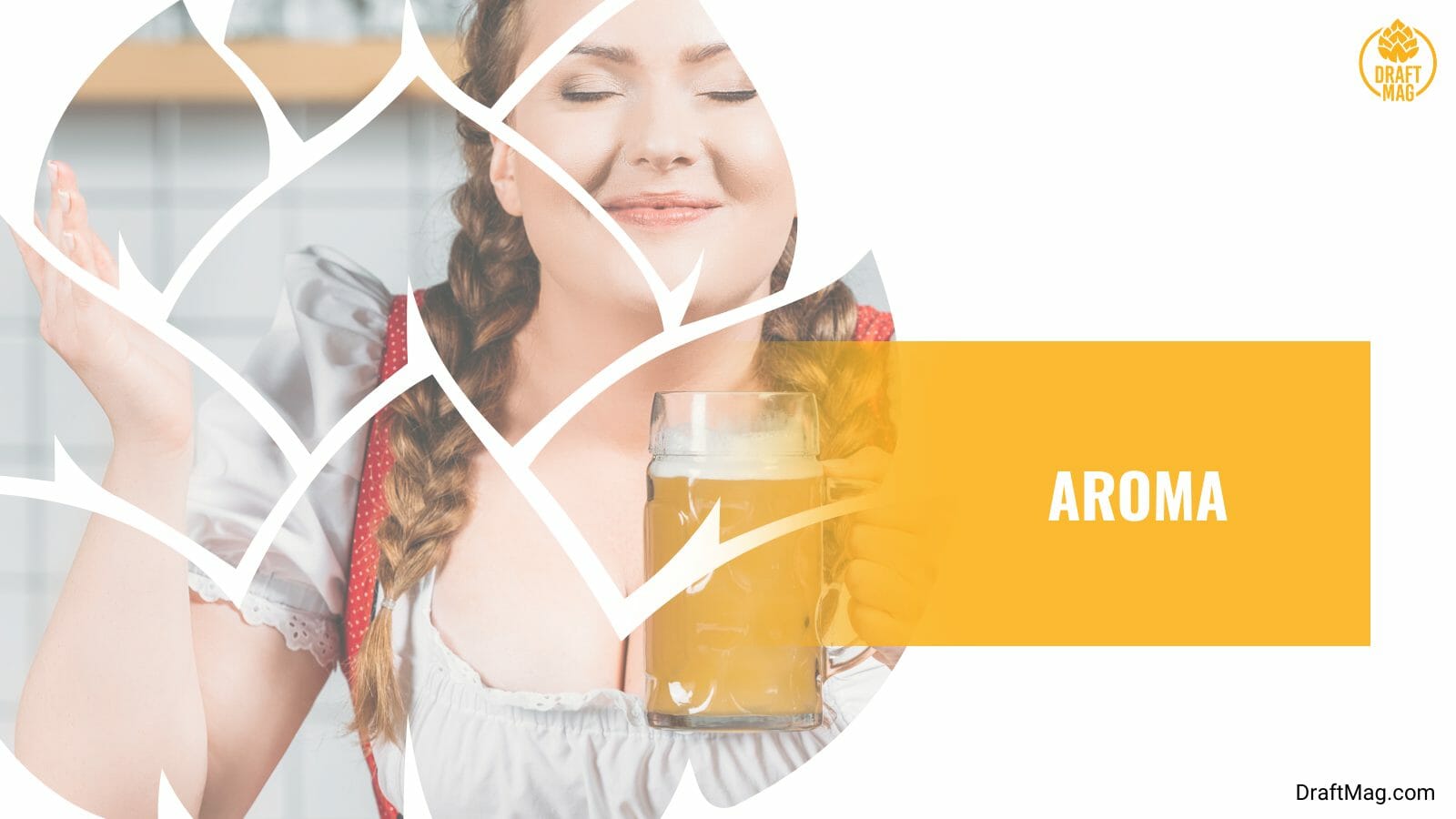 This balances out with some piney hops and hints of yeast. You might also notice some grapefruit and hay at the back of the taste.
– Mouthfeel
As for the mouthfeel, the ale comes with a medium body as it is thick and creamy. The beer also has a moderate carbonation level that results in slight fizziness, but this is overwhelmed by the smooth, syrupy feel. The beer is designed to be a pleasant sipper for any occasion.
– Flavor
The flavor of the Pantera ale follows the nose but in a different order. The first thing you will taste is the cracker and biscuit malt flavors, which are quite sweet and pleasant. There is then a bit of orange and grapefruit citrus that quickly balances out the malts. Along with this balance of citrus and malts are some yeast and hay,
As you advance forward to the middle of the palate, you will notice some lemon from the hops while the malts transform into a sweet and light caramel. There's a bit of wheat in the taste. Towards the end of the palate, there's a bit of pine, and the earthy hops round up the flavor nicely.
– Food Pairings
There's nothing better than pairing your beer with the right foods. For the Pantera Golden ale, there are many options available, including sweet, hot, and spicy foods. You can try out chicken, bratwurst, buffalo wings, and salmon, which pair well with the sweet, smooth, and malty flavor of the blonde ale.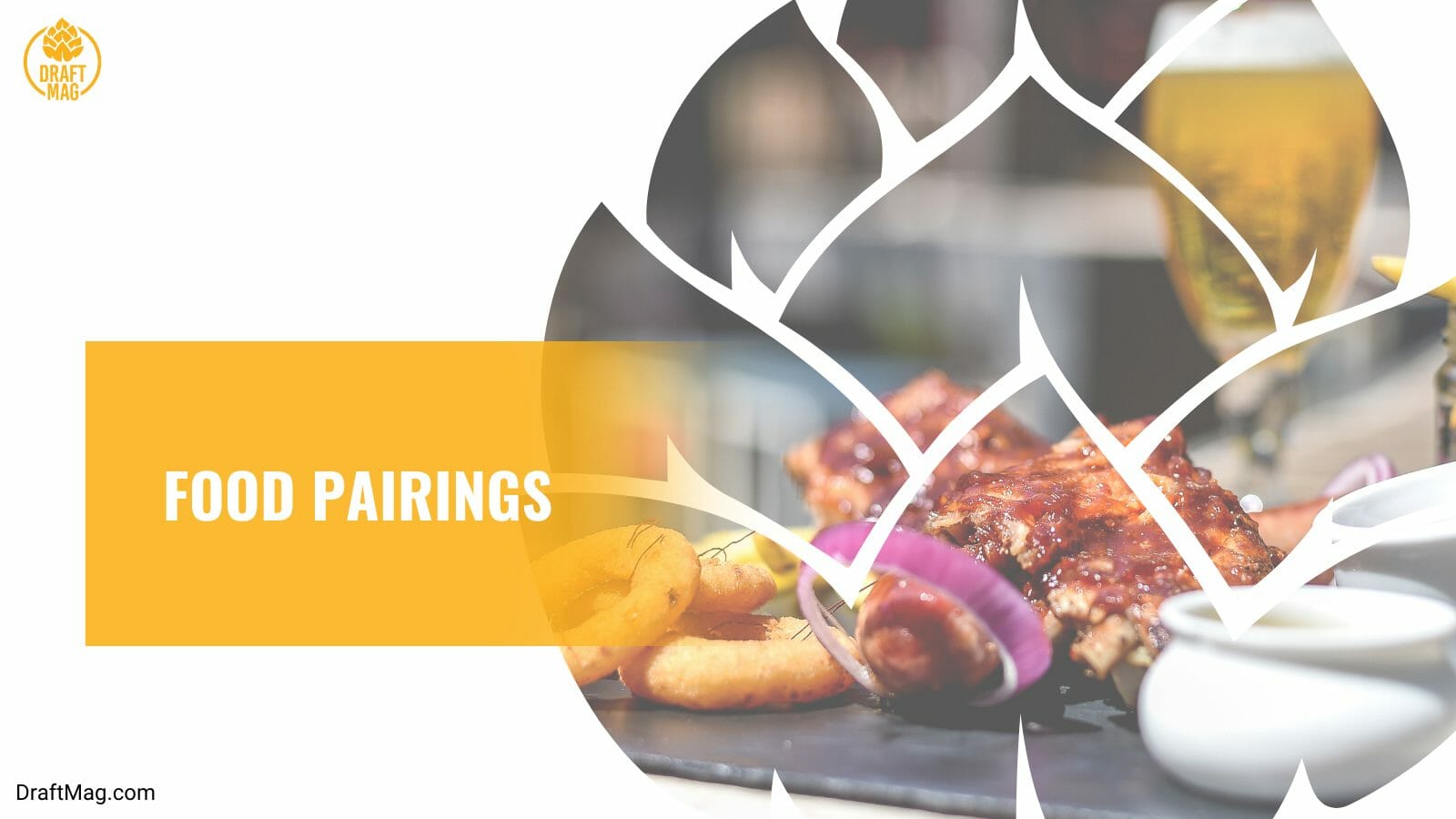 If you have the Pantera ale, you should try out some spicy, fried, and nutty foods or bread-based food like pizza, burgers, bread salads, pancakes, jeon, and more. You can especially go for Mexican and Asian cuisine for the best experience.
In general, sweet and spicy foods like spaghetti and meatballs, fruits, and tacos go well with this brew. For cheese, you can try out options like Cheddar, Romano, Parmesan, and Pepper Jack cheese. Sugar cookies are an ideal choice for dessert, or you can try out some citrus-flavored desserts like crepes and sorbet with oranges or lemon.
Ingredients
The Pantera beer is made with barley malts, hops, yeast, and water. The malts that are used to make the beer are Pilsen malts, which provide a smooth and clean taste with crackers and biscuit malts. As for the hops, they are Citra and Cascade malts, which provide a flavor and aroma of citruses like grapefruit and orange.
Nutrition Facts
The Pantera ale features an alcohol content of 5.4 percent, which is a decent level of alcohol. There is barely any alcohol warming in the taste, and it won't get you drunk quickly. As for the IBU, it is 16, as there is low bitterness and hoppiness in the flavor and aroma.
The beer is not ideal for those on a keto diet due to the high carbs content. It is also not gluten-free or vegan-friendly.
History
The ale is brewed by Texas Ale Project in collaboration with Pantera. It was launched in March 2021 and was a popular collaboration with well-known music icons in Texas. The band also released Vulgar Display. Once it was released, the beer was distributed across fine retailers across Texas and through Tavour for direct shipping.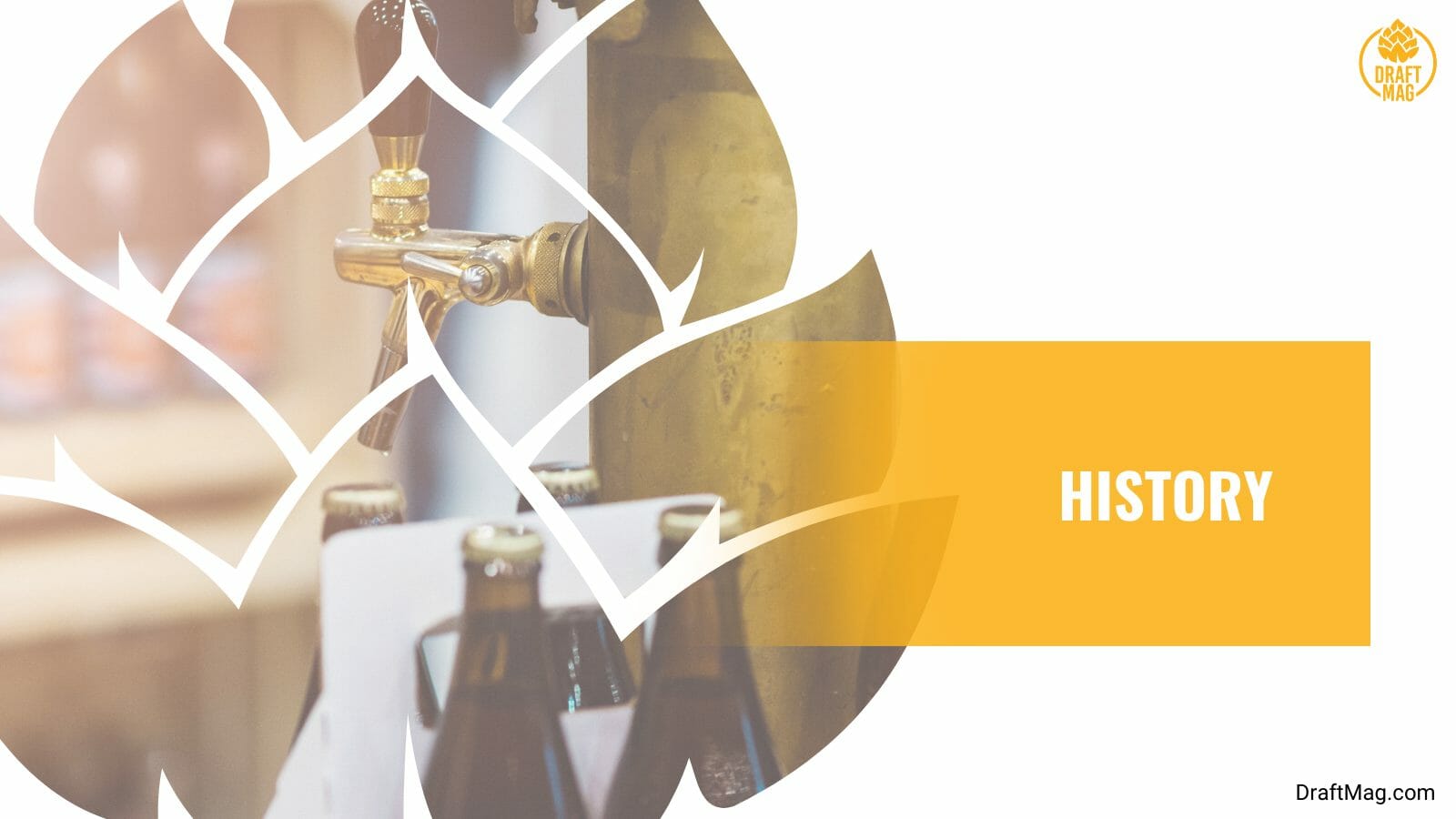 Texas Ale Project is a family and Veteran owned brewery in Dallas, and it opened in 2014. The brewery is known for having some of the best beers in Texas, including gold medal-winning breweries. They have also launched a new craft hard seltzers brand.
Conclusion
The Pantera is the ideal choice for beer lovers that want a crushable and refreshing ale on any occasion. Here's a rundown of our beer review:
Pantera ale is an American blonde ale with a 5.4 percent alcohol content.
The beer has flavors and aromas of cracker malts and biscuits, grapefruit, orange and lemon, wheat, hay, yeast, and pine.
It is made with Citra and Cascade hops and Pilsen malts.
The beer is best served in a pint glass at 45 degrees Fahrenheit.
Pair it with spicy, fried, nutty, and bread-based Mexican and Asian cuisine, Cheddar and Parmesan cheese, or sugar cookies for dessert.
You can easily order the beer through Tavour or purchase it at stores throughout Texas.