Terrapin Luau Review: Tropical Flavors From This Hawaiian IPA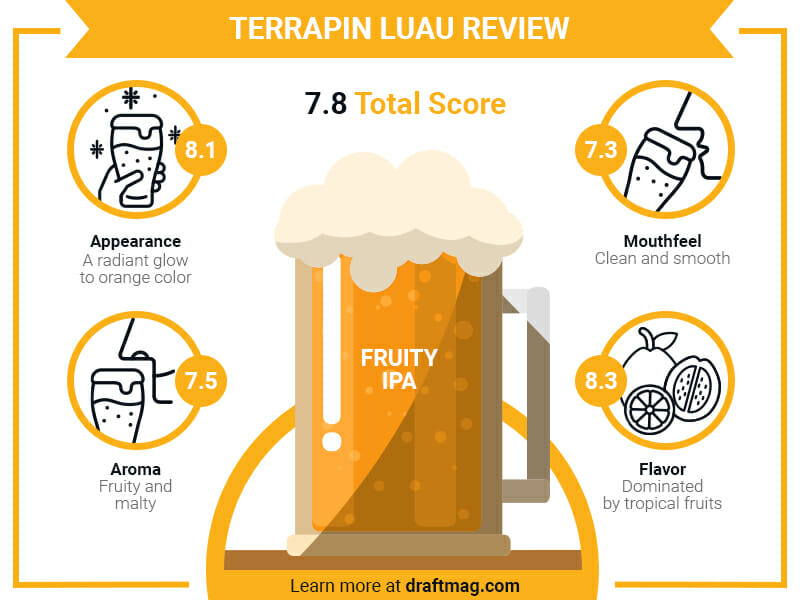 The Terrapin Luau beer is an American IPA inspired by Hawaiian flavors made by the Terrapin Beer Company. It is often called the Luau Krunkles beer, with bold, tropical flavors of passionfruit, guava, and orange.
With a delicious and juicy balance of bitterness and fruits, the Luau beer is ideal for anyone who wants something refreshing. This guide will give a complete review of the Luau Krunkles beer, including the flavor profile and food pairing.
Terrapin Luau Stats
| | |
| --- | --- |
| Country | United States |
| Brand | Terrapin Beer Company |
| Style | Fruity IPA |
| Taste | Fruitiness, hoppy bitterness |
| Body | Medium body |
| ABV | 6.5 percent |
| Flavors & Aromas | Citrus, Guava, Passionfruit, Fruity |
| Serving Temperature | 45-50 degrees Fahrenheit |
Tasting Notes
Terrapin Luau Tasting Profile
Terrapin Luau Review
Terrapin Luau is an India Pale Ale with various fruits that add tartness and solid hop bitterness to the flavor and aroma. This is balanced with the pale malt backbone, giving you a delicious experience.
The beer has passionfruit flavors, which add tartness, guava for the sweetness, and freshly squeezed orange, which adds a citrusy flavor. With the Luau, you can enjoy a fruity and flavorful beer, from how the fruits dominate the nose to how the juicy hops and bitterness are balanced on the tongue.
The Luau is the perfect choice for a hot day, especially when you need a thirst-quenching beer. It is best poured in a pint glass, goblet, snifter, and chalice, especially when garnished with an orange slice.
– Appearance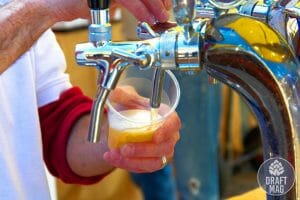 The Terrapin Luau Krunkles has a radiant glow to orange color and a largely white, foamy head sitting on the top. The head has good retention and sticks to the beer and the sides of your glass for a long time. It also has good carbonation with visibly large bubbles.
– Aroma
The Luau has a fruity and malty scent on the nose, giving you a well-balanced aroma. You will notice hints of guava and other floral and tropical aromas, with bread and graham crackers from the malt. The guava is especially intense on the nose.
– Mouthfeel
The Luau beer has a medium body that feels full in your mouth. The beer has a clean and smooth feeling on your palate. You will also notice the bubbly and fizzy feeling due to the moderate carbonation, and it finishes with a bittersweet and smooth taste.
– Flavor
The flavor of the Luau beer is dominated by tropical fruits, including citrus, passionfruit, guava, and orange. It is a lightly sweet beer, with hints of hoppy bitterness balanced in the flavor. From the malts, you will notice flavors of caramel and graham crackers.
With a slightly earthy and bready flavor, it gives some hints of honey and light alcohol warming as you drink. It has minimal bitterness and juiciness, with a sweet malty finish.
– Food Pairings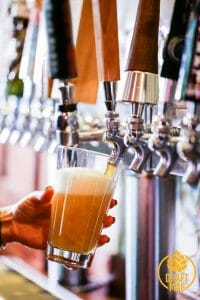 The Luau beer is best served with Hawaiian-style food, especially since the beer is popular there. It's recommended to try it out with coconut rice and a blackened Mahi-Mahi fillet. It's best to pair the beer with similarly strong tastes like burgers, tacos, chicken, and other meaty foods with barbeque or hot sauce.
Cheese lovers can enjoy the beer with gouda and white cheddar. As for dessert, you should pair the tropical IPA with other fruity desserts like fruit cake, peach pie, apple tart, and similar foods. You can also try something unique, like chicken wings or steak with fruity flavors like mango dip.
Ingredients
The Terrapin Beer Co has revealed its ingredients, which means you can also make the beer at home. The malts include 2-row malts, wheat, ashburne, and honey malts. As for the hops, the beer is brewed with Mosaic, Citra, Amarillo, Zythos, and Galaxy hops.
The beer is also dry hopped, which adds to the hoppy flavor. It is brewed with Simcoe, Amarillo, and Citra hops. Other ingredients in the beer include passionfruit, guava, and orange.
Nutrition Facts
The Luau beer features a 6.5 percent ABV, 38 IBU, and 15.4 original gravity. It is poured in 12-oz and 16-oz cans and on draft at the brewery. In every 12-ounce can, the Luau beer has 210 calories, which is the normal range for most American IPAs.
In the 12-oz can, the beer also has 15.4 grams of carbs, 1 gram of sugar, 15 grams of sodium, and 12.4 grams of protein. The beer should be avoided on keto because it's a high-carb drink and does not classify as a gluten-free one.
History
The Luau is a beer from Terrapin Company. The beer was first released in a limited series by the brewing company in 2016. But in 2017, it was replaced in the limited series the next day.
But due to popular demand, the beer was released as one of the brewery's year-round offerings. It is based on Krunkles, a fictional brewer who goes around making creative IPAs. The Luau beer follows the story of Krunkles visiting the Hawaiian Islands.
It is a Hawaiian IPA with tropical flavors of passionfruit, guava, and orange. Terrapin Co released its first beer in 2002 and is based in Athens, Georgia. Their craft beers are distributed to 20 states in the USA.
Conclusion
The Terrapin Luau is the ideal beer for those who want an island experience in one can. It's one of the most popular beers from the brewery, and now that it's available year-round, you can always get it when you visit Terrapin. Here are some important points to keep in mind: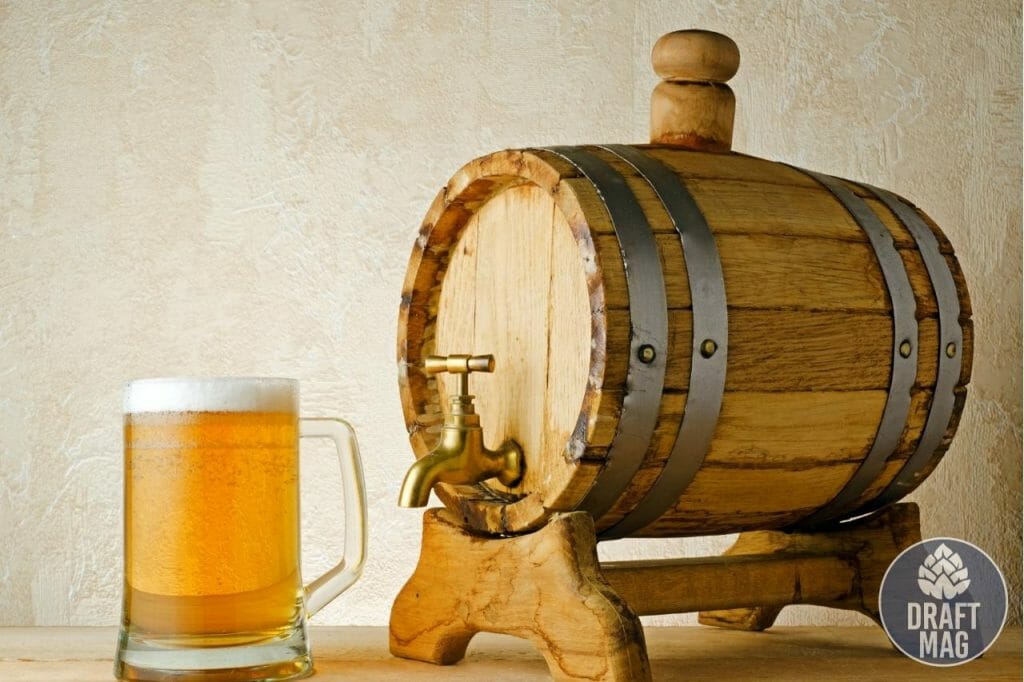 Luau is a popular Hawaiian-inspired beer made by Terrapin Co.
The beer has aromas and flavors of citrus, passionfruit, guava, and oranges, combined with a malty backbone.
The beer recipe is well-known and includes different malts, hops, and dry hops.
It is best served in a pint glass, snifter, chalice, or goblet, with an orange slice garnish.
The beer goes great with different kinds of food, including meaty and spicy foods, gouda and white cheddar, and fruity desserts.
The best thing to know more about this beer is to visit the Terrapin Co. in Georgia and get it directly on draft, and you can also look out for it in liquor stores since it is distributed globally.