Azacca Hops Guide: A Detailed Study on This Unique Haitian Hop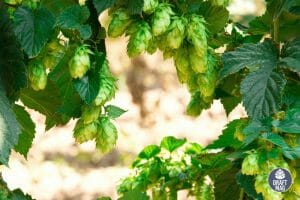 Azacca hops get its name from the Haitian god of agriculture, and it is used to produce single-hopped brews. It has a unique flavor that comes out as bright and fresh when added to a beer recipe. In this article, we have carefully curated the main features of the Azacca hop, its uses, and more. Read on to find out more.
What Is Azacca Hops?
Azacca Hops are a new-age hop used as both a bittering and flavoring agent. It is a patented hop and can not be freely grown by anyone who desires to grow backyard hops. It is grown by the American Dwarf Hop Association, a hop breeding venture of Roy Farms, Wyckoff Farms, and Green Acres Farms.
Fast Facts
| | |
| --- | --- |
| Features | Description |
| Origin | USA |
| Owned by | American Dwarf Hop Association |
| Purpose | Bittering and aroma |
| Taste and aroma | Fruity and tropical |
| Alpha Acid Composition | 14 – 16 percent |
| Beta Acid Composition | 4 – 5.5 percent |
| Alpha – Beta Composition Ratio | 3:1 average |
| Co-Humulone Composition | 38 – 45 percent |
| Total Oil Composition | 1.6 – 2.5 milliliters/100 grams |
| Myrcene Oil Composition | 46 – 55 percent |
| Humulene Oil Composition | 14 – 18 percent |
| Caryophyllene Oil | 8 – 12 percent |
| Farnesene Oil | Less than 1 percent |
| Close substitute hops | Amarillo, Citra, Delta, Pekko |
| Best used for | India Pale Ale |
| Yield | 2465-2690 kg/hectare |
| Storability | Lasts up to 6 months at 68 degrees Fahrenheit |
General Characteristics
There is a lot of debate about the characteristics of the Azacca hop due to its closely guarded secret for patent issues at the ADHA. So here is a list of characteristics that have been found to date. Other information like cone type, diseases it is susceptible to, and diseases it is resistant to are not available for public use.
– Taste and Smell
Azacca hop is one of the most flavorful and dynamic tropical-flavored hops. It has multiple fruity smells, all of which are very subtle on the nose and taste palate. It has different aromas of mango, papaya, lemon, pine, spice, pineapple, grassy, tropical fruit, orange, grapefruit, and citrus. That makes it a little tropical and a mild sour-tasting hop.
The bitterness of the Azacca hop is quite pronounced too. However, that never overpowers all the layers of sour fruit aromas present in this particular hop. The flavors are so delicate that they can be mixed with different experimental flavor profiles to make dynamic new craft beers. It all depends on the type of recipe you use, so make sure to adjust the quantities and method of use according to it to get the best results.
The overall aroma is very refreshing, making it the perfect base for fruity and sour beers when used as a dry hop or late addition hop. But it also works well for an IPA when used as a bittering hop.
– Appearance
The Azacca hop looks very unique and quite different from any other hops in its range. It has a dark color scheme that almost resembles purple. This stays in contrast with the beautiful lush green color of the cones and makes a great color contrast.
– Availability
Though the Azacca hop is quite popular, sadly it is not available for individual production. But it is available all year round at many local home brewery stores, online stores, and more.
– Uses
Azacca hop has a dual purpose: it is used both as an aroma hop and as a bittering hop. However, most craft brewers use it for dry-hopping at later stages of the brewing process. As it has a very high alpha acid rate and fruity and tropical aroma and flavor, it helps make a lot of flavorful and experimental craft beers.
It works very well even as a bitter agent when paired with other hops. But craft brewers claim that it works best as a single-use dry hop. This gets the best aroma out of it, helping the smell of the hops shine and stand out from the rest of the ingredients used in the brew.
But beware not to overuse the Azacca hop. If it becomes extremely fruity, there will be higher amounts of esters in the beer, especially when it mixes with the yeast used to brew.
– Storage
The Azacca hop has a good shelf life. It can stay fresh at normal room temperature (60 – 68 degrees Fahrenheit) in normal weather conditions for a good six months. After six months of storage, it still retains 75 percent of its alpha acid, which is not the case with many other hops in this range.
– Substitutes
It is very hard to find good substitutes for the Azacca hop due to its unique flavor and aroma profile. Here is a list of hops similar to Azacca hops that many veteran brewers have experimented with over the years.
Amarillo
Citra
Delta
Pekko
– Hop Pairings
Some hops pair well with each other, but not all kinds of bittering hops and aroma hops marry well. You need to find the right balance to make the pairings shine and to make sure that no hop overpowers the other with the aggressive aroma or bitterness.
Here are a few hop pair options that work very well with the Azacca hop:
Mosaic
Citra
Ekuanot
Cascade
El Dorado
Idaho 7 hops
Where To Buy Azacca Hops
Azacca hops are now available globally. They are found in both hop pellets and in cone forms. The authentic Azacca hops are available in 5-kilogram packages, so if you are looking for smaller quantities, you might have to contact your local brewers for help.
Here are a few places you can get your hands on some authentic Azacca hops to start your craft beer brewing process. In America, you can either buy it directly from the producers in Amazon or in some of the few places listed below.
Yakima Valley Hops (USA)
Great Fermentations (USA)
Humlegårdens Ekolager (Sweden)
Hop Alliance (USA)
Northwest Hop Farms (Canada)
BeerCo (Australia)
no (Norway)
co.nz (New Zealand)
Grain and Grape (Australia)
Beers Made With Azacca Hops
Contrary to popular belief, Azacca is used to brew many more varieties of beer than just a simple India Pale Ale. Check out the list here:
Double IPA
Fruit beers
Saison
American sour beers
American pale ales
American wild ales
– Commercial Beers
Throughout its one-decade long existence, the Azacca hop has been used by many experimental brewers to brew many flagship craft beers and many fruity beer styles. Here is a list of the best finds that use Azacca, and you must try them to understand the true depths of flavor in this hop.
– Craft Beers With Only Azacca Hops
Try out one of these craft beers made exclusively with Azacca hops to understand the true nuances of this hop and experience its flavors and aroma.
Founders Azacca IPA by the Founders Brewing Company (Seasonal Brew)
The Founders Azacca IPA recipe is a tribute to the Azacca hops. This beer lets the authentic Azacca hops flavors shine. The beer is slightly on the sweeter side. It has mild tastes of mango and a lemon-like sourness.
The brewers also use caramel malt, which adds a mild bitterness. The ABV is 7 percent, and the high alcohol level works very well with the sweetness of the hops and brings about a well-balanced beer.
Grizacca by the Oxbow Brewing Company
The Grizacca is a farmhouse ale that uses the Azacca hops to get the extra depth of flavor. It is golden yellow in color and has an ABV of 5.2 percent. It is on the milder side for a typical ale, but the fruity taste notes from the hops and the sweetness from the malts used work wonders on the taste palate.
There are some subtle taste notes of spicy pepper and citrus effects from the Azacca that pair well to form this earthen farmhouse ale.
Hoppy Sour: Azacca by the Almanac Brewing Company
The Hoppy Sour is a strong wild ale with a 7 percent ABV. The beer is true to its name. It is quite sour and very hoppy and brings out the best characteristics of the Azacca and helps beer lovers get the true taste of this fine hop.
It is highly recommendable that you taste most of the beers listed above to understand the flavor profile of the Azacca hop. If you are a homebrewer trying to understand this hop, then trying out competitive brands is exactly where you should start and form your own opinion about this tropical hop.
Origins
If you are a craft brewer, craft beer lover, or simply a hop enthusiast, you have most likely heard the name Azacca hops. It was first released in 2013 and became quite a rage in the craft beer market. Breweries like Founders Brewing took notice of this dynamic new hop and started using it in their experimental fruity ales.
Azacca hop is strictly bred and cultivated by the American Dwarf Hop Association (ADHA) and is patented under their company's name as Azacca® hops. These hop breeders have previously brought other unique hops into the market like the Summit hop variety in 2003. ADHA has always been a hop breeding organization that wants to aim at breeding hops that are disease resistant, have good storability and experimental flavors.
Azacca hops came from a mother plant named the Toyomidori plant. This plant is found mainly in Japan and comes from the Northern Brew lineage. It has been reinvented in America by the ADHA. The father plant does not have a specific name or origin, and it is termed as the 94/95 variety but has a close association with the Summit variety bred by ADHA in 2003.
Commercial Production
When it was in its experimental stage in labs and controlled cultivation lands, it was known as the #483 variety of hop. Later, when ADHA started its commercial cultivation, it got the name Azacca hop after the Haitian god of agriculture to mark its roots in the earth and acknowledge its earthen flavors. Here are some important numbers:
Since the beginning of its release, Azacca has been pretty popular among craft brewers, with its production expanding from 79 acres in 2014 to 175 acres in 2015 and finally to 506 acres in 2016.
They produced more than 946,000 lbs in a year and sored their sales to double of last year. Now, this variety of hops is available all across the globe, but the production rights still remain with ADHA.
Azacca hops production grew by a whopping 34 percent between 2014 to 2019. And in 2019, Azacca hop was the 18th most grown hop in the whole of the USA, which has paved its way for bigger commercial use in the coming years.
If you plan to cultivate your own Azacca hops in your backyard, you will most likely end up in legal trouble. You can instead cultivate some of its close substitutes like Amarillo, Citra, Delta, and Pekko.
Endnote
We covered a lot of ground about the Azacca hop in the above article. Here is a quick recap of what we learned about the Azacca hop for you to remember before experimenting on your craft beer.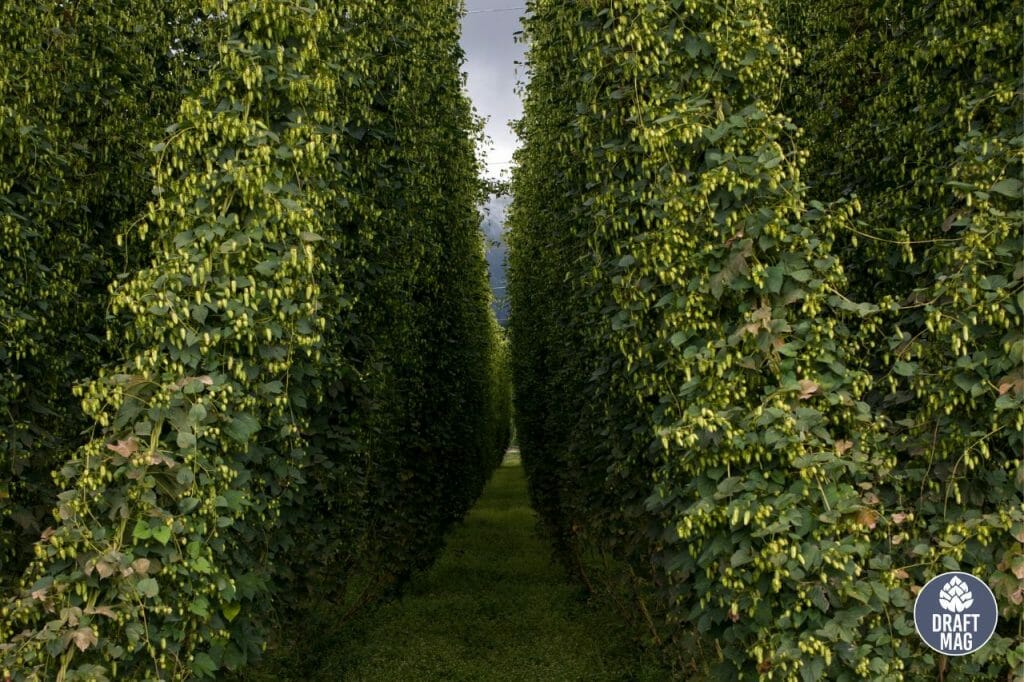 The Azacca hop is exclusively brewed and patented by the American Dwarf Hop Association (ADHA) in partnership with hop breeders like Roy Farms, the Wyckoff Farms, and Green Acres Farms. Unfortunately, the ADHA has the exclusive rights to cultivate this hop, so you can not grow it in your backyard.
This hop has a typically refreshing tropical and fruity flavor profile that makes it very popular among fruit and sour beer makers.
The Azacca hop has subtle layers of taste like mango, papaya, orange, grapefruit, lemon, pine, spice, pineapple, grassy, tropical fruit, and citrus.
It is used both as an aroma hop and as a bittering hop depending on the recipe at hand and the type of beer being brewed.
This hop has a very high alpha acid level and has very good storability rates. It retains 75 percent of its alpha acids at room temperature for over six months.
If you are an enthusiastic homebrewer or planning to be one, this Azacca hop guide is the right fit for you.