Beers Similar to Blue Moon: Top-selling Alternatives You Can Try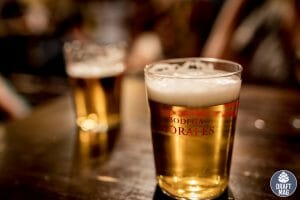 If you are a Blue Moon lover, you will find the best beers similar to Blue Moon in this guide, with a similar flavor and taste profile to the popular brew. These beers will be a great alternative to Blue Moon beers if you want to enter into the world of simple yet delicious craft beers.
Blue Moon is a Witbier with a 5.4 percent ABV rating, and we have looked through different beers with a similar style to include in this list. You will find these Blue Moon alternatives refreshing, tasty, and a perfect summer companion, so let's dig deep into this guide for the best-selling beers.
| | |
| --- | --- |
| Beers Similar to Blue Moon | Why They're the Best Alternative |
| Pyramid Hefeweizen | An award-winning beer with a mildly sweet flavor and a great spicy feel. |
| St. Bernardus Wit | Its refreshing feel and easy drinkability make it a good introduction for beer nights. |
| Blue Moon Light Sky | This beer is lighter than Blue Moon and comes from the same brewer with a similar taste. |
| Shock Top Belgian White | The beer with a heavier profile than Blue Moon is ideal for people who love a striking feel in their taste buds. |
| Japas Cervejaria Oishii Chicago | The ginger ale combines with the freshly grounded coriander to give you a refreshing vibe for the next drinks. |
| Allagash White | The crispness and tanginess of the beer are heavenly with a lighter feel. |
| Hacker-Pschorr Weisse | Every sip of this classic white Weisse beer is filled with sweetness and an orangey feel like the original Blue Moon. |
| Ommegang Witte | The Witte beer from Ommegang is available in nearly every beer shop and is highly drinkable for first-time drinkers. |
| Bell's Oberon | With a 26 percent IBU rating, this beer is made for bitterness and IPA lovers. |
| Springdale Brewing Co. Lavenade Framingham | Its lemon tart initially offers you a unique feel, which is balanced with the herbal and floral flavor in the background. |
Best Beers Similar to Blue Moon
Blue Moon is a Belgian white beer with a nice balance of malt and acidity. Also, its creamy texture feels more delicious than you expect at the first sip. Although the beer is thicker for chewing, it still holds a perfect balance of sweetness and acidity.
Here, we will go through the top ten beers similar to Blue Moon with similar taste profiles. The ABV rating will also be close enough for easy drinkability. Without further ado, let's jump right in and learn all about these Blue Moon alternatives!
– Pyramid Hefeweizen
Pyramid Hefeweizen is the standard for most white beers, including Blue Moon. The beer has won several awards, including the Gold Awards in the Great American Beer festival in 2009. The beer goes down the throat easily with a mild spicy flavor.
Also, you will love the classic German Hefeweizen style mixed with the banana flavor. It has 60 percent malted wheat, making it taste malty and sweet. On top of it, the beer has 1 percent caramel for a creamy mouth feel. Finally, with the light flavor and malted flavor, the Pyramid Hefeweizen not only feels like Blue Moon but also feels tastier than it.
ABV Rating: 5.2 percent
Flavor: Mildly sweet
Aroma: Malty notes with caramel
– St. Bernardus Wit
The St. Bernardus Wit is another white beer that follows the classic craft Belgian beer style. Pierre Celis crafted the unfiltered beer that goes down easily. Yet, it gives you a strong feel with a zesty taste.
The white beer blends orange and coriander for the acidic feel that tastes much like Blue Moon. Plus, the citrus and fruit background mixed with cloves feels slightly spicy. It further boosts its similarity with Blue Moon and, at times, even higher.
The herbs and malt balance each other perfectly. You will appreciate the sweet malty flavor. Finally, the refreshing vibe will freshen up you as you swallow the beer, and you can consume the beer with any food item that will further improve its drinkability. We suggest you combine it with classic seafood menus for the best taste.
ABV Rating: 5.5 percent
Flavor: Zesty acidic
Aroma: Sweet malty notes
– Blue Moon Light Sky
Are you a fan of the Blue Boon venture? Then, you can try out their Blue Moon Light Sky for a lighter feel without even leaving their shop. With just a 4 percent ABV rating, Light Sky is a perfect choice to kick off your beer night.
Also, those who want to enter the white beer for the first time will find the Blue Moon Light Sky a true alternative to the heavier counterpart. It is easy to drink and you can pair it with fries or seafood for a classic taste.
While Blue Moon uses orange for brewing the Belgian craft beer, the Light Sky uses tangerines so it tastes more acidic. Thanks to its caramel blend, you will also love the creamy taste with every sip you take. The beer has 95 calories per serving, so even health-conscious people will find it suitable. Moreover, you may find the beer nearly in all groceries and beer shops throughout the year; you won't have to walk for miles to taste a beer similar to Blue Moon.
ABV Rating: 4 percent
Flavor: Acidic
Aroma: Zesty yet flavorful
– Shock Top Belgian White
Do you like the orangey flavor of Blue Moon? Then you must taste the Shock Top beer with almost the similar orangey profile of Blue Moon. The brewer uses lime peels, orange, and lemon to prepare this Belgian white beer.
Thus, you will get the right combo of fruity and citrusy Belgian beer. It improves the taste, but the Shock Top is slightly heavier and darker than Blue Moon. You will love the rocker profile along with the easy drinkability.
You can get the beer in kegs, cans, and bottles, so you are free to choose the option you need to match your mood. Also, its classic Belgian preparation makes it a perfect night starter during the weekends with friends or families.
ABV Rating: 5.2 percent
Flavor: Mildly acidic
Aroma: Citrusy
– Japas Cervejaria Oishii Chicago
This beer is a Japanese delicacy with the perfect combination of bitterness and sweetness. While Blue Moon is known for its creamy feel, the slight bitterness of the Oishi will feel increasingly refreshing to the mouth. Also, the soft delicacy is unforgettable.
In fact, the word "Oishi" stands for yummy or delicious. Although the recipes follow the original and classic Japanese beer style, it mimics the Belgian white beer taste. Also, the originality of the beer is unparalleled.
As you sip the beer, its hint of lemongrass taste will feel refreshing. As it goes inside your throat, you will get the aroma of coriander seeds. The seeds are freshly grounded, and it also has gingers within the beer serving.
The combo of ginger ale and fresh coriander seeds will provide you with a cooling sensation. You won't feel the heat and love the quick and easy drinkability. Finally, the bitterness of the orange peels will last for hours.
ABV Rating: 4.7 percent
Flavor: Gingery and mild bitter
Aroma: Refreshing and slightly sweet
– Allagash White
When you taste Allagash beer, you will immediately find the difference between craft and mass-produced beers without much attention. Also, the white beer truly mimics the flavor and aroma of Blue Moon that your taste buds will surely love.
The beer isn't produced widely, so you may find the beer difficult to get. Nonetheless, it's worth investing a few meters walk to find the American beer delicacy. Its refreshing and crisp feel will stick to your mouth for hours, and you can kick start your beer night with this introductory white beer.
The good part is the beer maintains the original flavor. It is soothing without any rocker feel to your palate. Also, you can match it with many dishes, but we found that it goes best with deep friend tangy chicken.
ABV Rating: 5.2 percent
Flavor: Tangy sweetness
Aroma: Malted and refreshing
– Hacker-Pschorr Weisse
The Bavarian white beer truly uplifts the classic and traditional Weisse beer style. Also, the brewery of this refreshing and cooling beer has been brewing some of the iconic Bavarian ales since 1417, so the craft brewery has a rich history of more than 600 years.
Also, some of their ales are from the medieval ages. If you are a fan of ancient beer crafting and don't like going away from Blue Moon taste, this is the perfect beer for your taste buds. Its creamy and caramel sweetness will leave a permanent impression in your mouth.
With just a 5.5 percent ABV rating, you can enjoy the beer with an array of poultry and fish items.
ABV Rating: 5.5 percent
Flavor: Sweet and mild acidic
Aroma: Creamy
– Ommegang Witte
Ommegang is a popular Belgian-style beer manufacturer. You will know their crafting arts immediately once you taste the Witte. With its 5.2 percent ABV, this beer comes close to the Blue Moon alcohol content.
The beer combines a hazy feel with an improved refreshing and crisp feel. Also, you will find it highly delicate and drinkable. Last but not least, you can get beer in most beer shops, bars, groceries, and restaurants, thanks to its wide availability.
ABV Rating: 5.2 percent
Flavor: Hazy
Aroma: Refreshing and sweet
– Bell's Oberon
Many Blue Moon lovers drink it for the hoppy characteristics the beer has. Thus, for them, we included the Bell's Oberon here. It surely has the best hoppy character with a tangy and bitter feeling, yet it manages to hold the refreshing vibe perfectly.
Nothing beats the Bell's Oberon if you love bitterness in your drinking list. It has a 26 IBU (International Bitterness Unit) rating. It is a sharp increase in bitterness since most beers similar to Blue Moon have only a 15 to 20 IBU rating, so be prepared to give your tongue a twisty shock.
You will find the beer mainly during the summer months since it is brewed for summer days.
ABV Rating: 5.8 percent
Flavor: Bitter
Aroma: Hoppy
– Springdale Brewing Co. Lavenade Framingham
Those who love sour beer and a striking feel on their palate must try this lemon tart-filled beer. The beer is brewed from lavender and lemon tart. Also, it has squeezed lemonade for the carbonate feel to fill your mouth fully.
During the first few sips, you may find it tastes much like lavender and lemon. The floral and herbal notes will take over your taste buds as you continue sipping the beer. Although the beer is made to quench your thirst, you may mix it with an array of craft beers.
You can use it to prepare your favorite cocktail with lemon juice, different syrups, and even gins. You can take it with poultry items for appetite contentment.
ABV Rating: 4.5 percent
Flavor: Lemony
Aroma: Slightly sour
FAQ
How is Oberon similar to Blue Moon?
Oberon and Blue Moon are both wheat beers with citrus notes, but Oberon is brewed by Bell's Brewery in Michigan and Blue Moon is brewed by Coors in Colorado.
Are all Belgian white beers similar to Blue Moon?
Not all Belgian white beers are similar to Blue Moon, as there are many variations in ingredients and brewing methods among different brands.
Is Hefeweizen similar to Blue Moon?
Hefeweizen and Blue Moon share some similarities in their use of wheat and citrus flavors, but Hefeweizen typically has a stronger banana or clove flavor profile.
Conclusion
Blue Moon is popular for its citrusy and crisp feel, so many people have been introduced to the white beer world with Blue Moon. Nonetheless, as your beer appetite develops, you may try beers similar to Blue Moon for different tastes.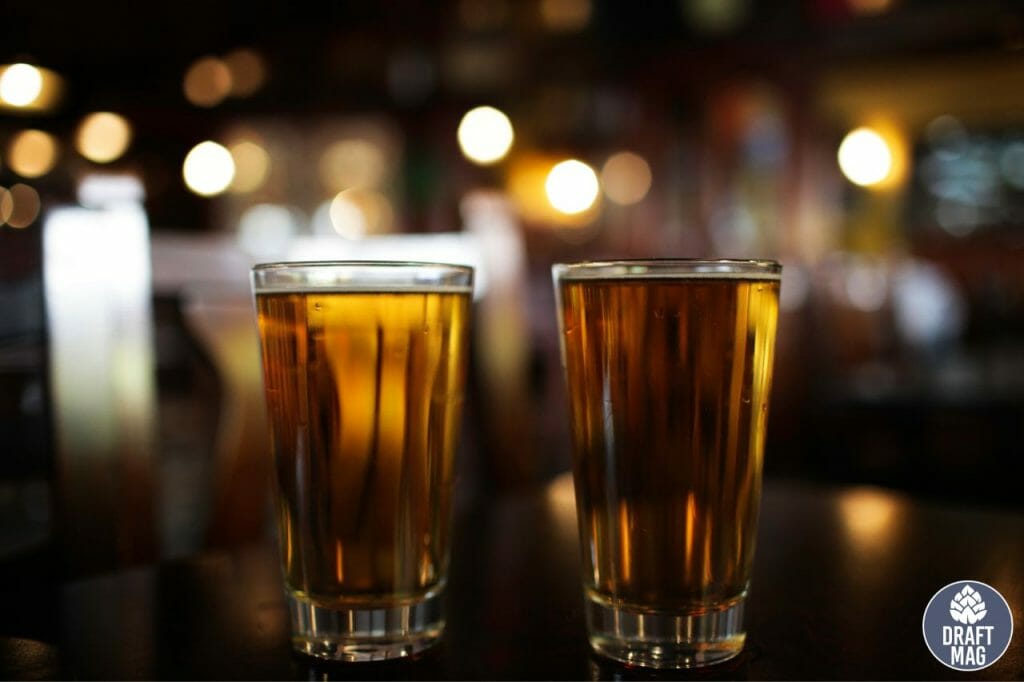 With multiple beer festival awards in its bag, Pyramid Hefeweizen is the ideal way to go for a sweet, creamy feel.
You may start your long beer nights with the easy drinkability of St. Bernardus Wit. Later, you can taste different beers with this beer filling your taste buds with sweetness.
 If you love IPA but can't forget your Blue Moon days, you must try Bell's Oberon. Its 26 percent IBU rating gives you the tangiest feel as Blue Moon alternatives.
Shock Top Belgian White mimics the orangey flavor of Blue Moon the best. You will also love its high drinkability.
This list provides you with the best Blue Moon beer alternatives. If you are tired of tasting the same craft beer, give your taste buds relief with these incredibly flavorful and mouthwatering beers.