Brewdog Elvis Juice Review: An Overview of the Unique Grapefruit Beer 
Brewdog Elvis Juice is your go-to beverage if you need a grapefruit-infused IPA. This beer has grapefruit at its center stage, and it offers a bitter edge that pushes your citrus tolerance farther than you'd expect.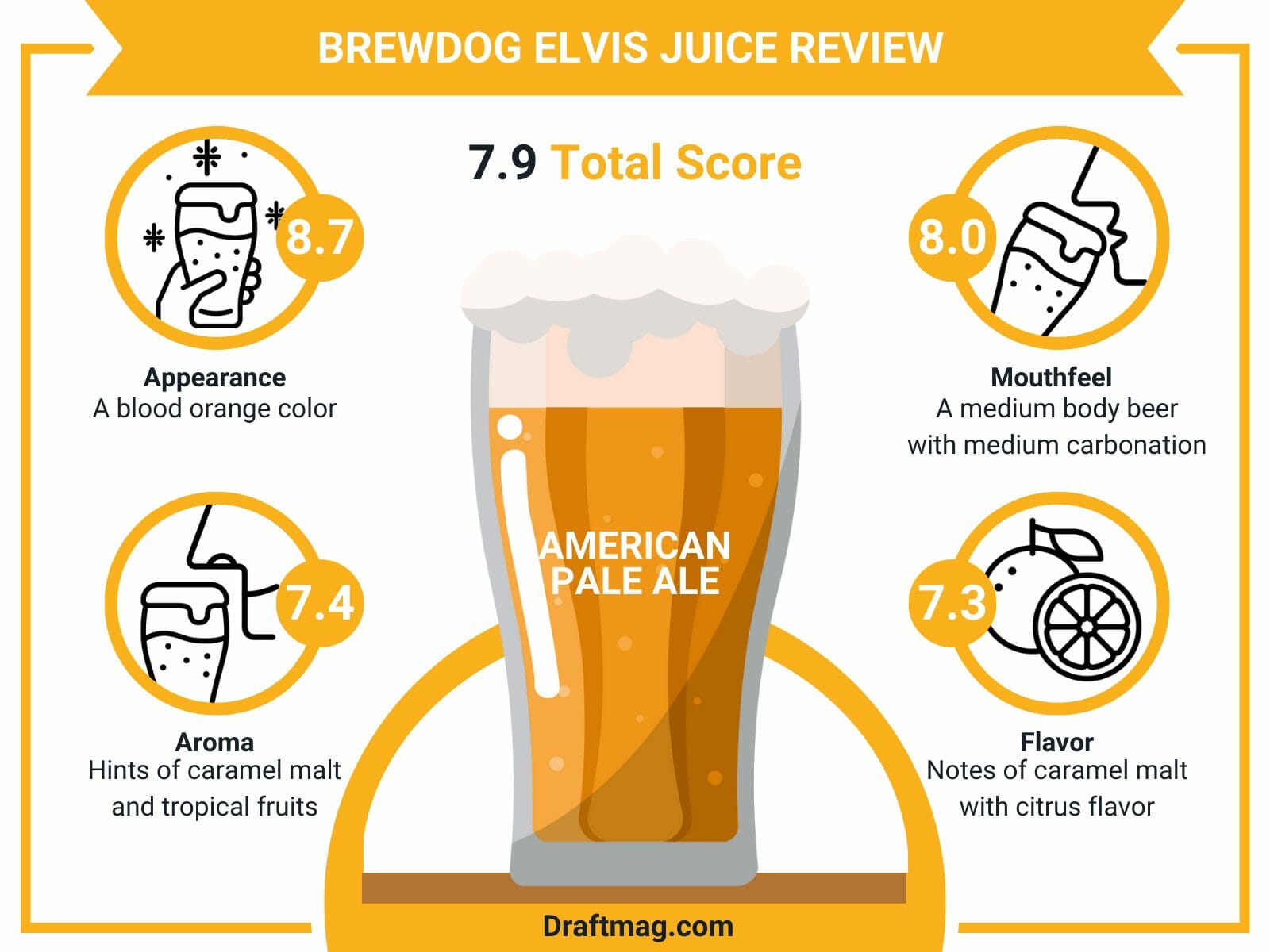 Besides, its medium mouthfeel, dry finish and other infused natural flavors make it enjoyable. Here, we will examine all you need to know about this exceptional brew's tasting notes and features.
Brewdog Elvis Juice Stats
| | |
| --- | --- |
| Country | Scotland, United Kingdom |
| Brand | Brewdog |
| Style | American Style Pale Ale |
| Taste | Crisp, caramel with a bitter edge |
| Body | Medium-bodied |
| ABV | 6.5 percent |
| Flavors & Aromas | Refreshing flavor and aroma with noticeable notes of grapefruit, aromatic hops, malt, pine, orange and grass citrus |
| Serving Temperature | 45 to 50 degrees Fahrenheit |
Tasting Notes
Brewdog Elvis Juice Tasting Profile
Brewdog Elvis Juice Review
Brewdog Elvis Juice IPA is an American IPA loaded with tart, pithy grapefruit peel, making it a unique grapefruit beer. In addition, this chilled brew is juiced up with a notable bitter grip on the palate. This slight bitterness combines well with orange and pine notes to satisfy your drinking needs.
Without further ado, let's examine the unique features of this beer.
– Appearance
This beer appears as a blood orange color with a light haze when you pour this beer into a pint glass. Even though this beer is not completely clear, it is still within the range of the American IPA style.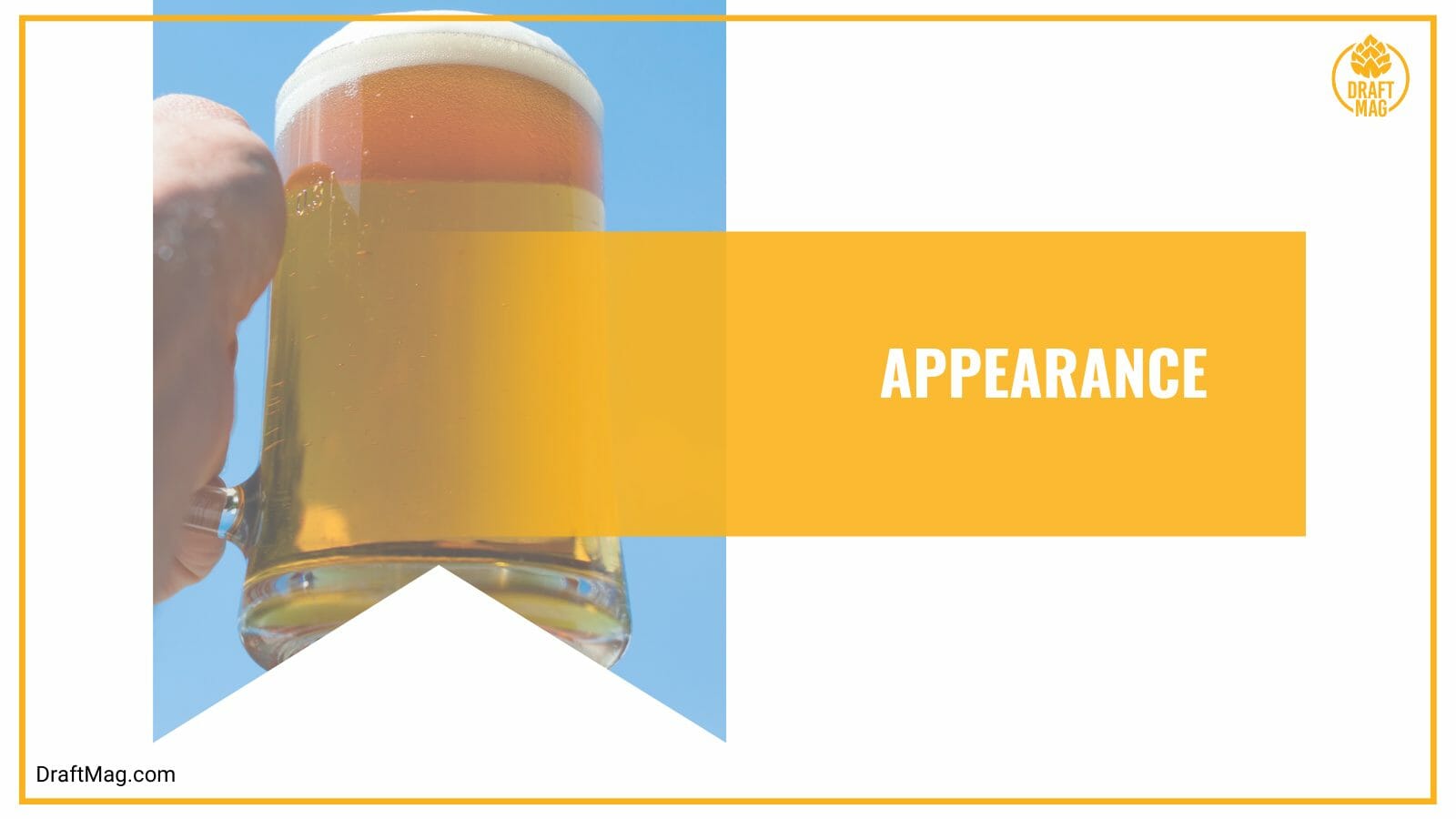 Furthermore, you will also notice that it pours with a foamy white head that lasts long into the pint. The head fades, leaving thin laces on the side of the glass.
– Aroma
On the nose, this beer's aroma oozes an intense grapefruit aroma. This aroma mixes perfectly with moderate hints of caramel malt and tropical fruits of pineapple and orange. If you pay further attention, you will notice little notes of lemon and mango. It produces an overall pleasant and inviting scent that you can't miss.
– Mouthfeel
This Brewdog's offering is moderately polished, providing its medium body and a light haze. Thus, its medium body offers moderate carbonation and gentle crispiness. The malt notes also come through alongside a slightly aggressive bitterness that hits the palate. Put together, this beer gives you a crisp and appealing mouthfeel.
– Flavor
To a large extent, this IPA's flavor stays ahead of many others within its range. Elvis Juice is heavily infused with grapefruit peel. Therefore, it has a citrus-forward flavor profile, while the notes from the caramel malt base support the frontal citrus overload.
Along with these flavors, this grapefruit IPA also packs waves of crashing pine, mango, orange, lemon and hop bitterness.
– Food Pairings
It would be best to store this beer cold and drink it while chilled to enjoy its refreshing flavor and aroma. More so, its intense citrus punch combines perfectly with a sharp lime bite and the freshness of coriander.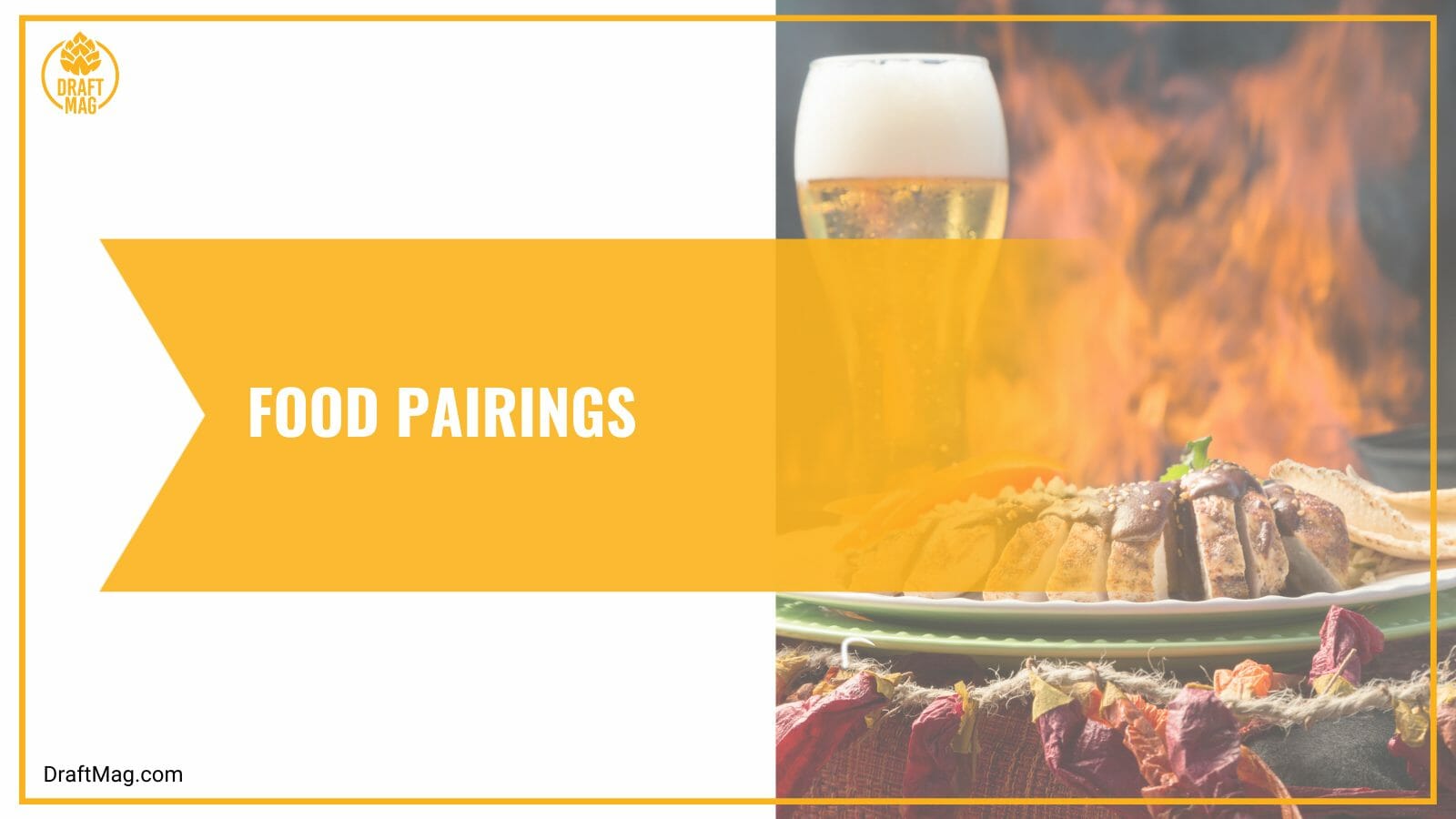 Therefore, you should try this beer with griddled chicken spiced with avocado and lime salsa. The creamy avocado balances the rising grapefruit bitterness. Likewise, the toasty caramel malt base blends well with the char on the grilled chicken to make a delicious combination. Trust us — you won't go wrong with this pairing.
Ingredients
This beer is juiced with gigantic notes of grapefruit and ready to roll. The major ingredients used for this great beer are:
Malts – Cara, Extra Pale, Barley
Hops – Amarillo, Citra, Magnum, Mosaic, Simcoe
Yeast
Water
Natural Flavorings – Grapefruit, Orange, Pineapple, Lemon, Mango
Nutrition Facts
Brewdog Elvis Juice calories surprise many beer drinkers. Despite its enormous fruity character, it contains 192 calories per 12-ounce serving. Likewise, the same 12-ounce serving of Elvis Juice contains a net carb of 24 grams and a total fat content of 10 grams.
Therefore, it is not keto-friendly due to its high carb and fat content, so ensure you consume this beer in moderation to avoid unwanted fat storage in your body. Brewdog Elvis Juice IBU rating is 40, justifying its bitter grapefruit edge that grips your palate.
Furthermore, the alcohol content of this beer stands at 6.5 percent. Thus, it is a decent option for veteran beer drinkers. Remember that this beer contains barley, so avoid this beer if you are allergic to barley.
History
Brewdog Brewery was founded in 2007 by childhood friends Martin Dickie and James Watt in Fraserburgh, Scotland. These founders were reportedly the first microbrewers in Scotland at just 24 years of age when they established their company. Just a few years after the launch, the Brewdog founders were presented with several awards.
Brewdog refined their recipe with oodles of grapefruit peel to develop the Elvis Juice IPA in 2015. Soon after, this delicious brew turned out to be a true crowd pleaser. The Brewdog Elvis Juice lawsuit in 2016 was due to opposition from Elvis Presley Enterprises. The estate management company refuted Brewdog's application to trademark the beer as "Elvis Juice."
The brewery initially lost the legal battle to trademark the beer, but it was later overturned, and Brewdog was legally permitted to trademark the beer as "Brewdog Elvis Juice." It re-debuted in January 2017 and is widely available to date. Brewdog continues to create unique experiences through their craft brews sold in over 50 bars across the UK and 24 bars worldwide.
Conclusion
This review examined the different features of this special beer, and we hope it helps you decide if it is an excellent choice for you. Let's go over the essential points mentioned: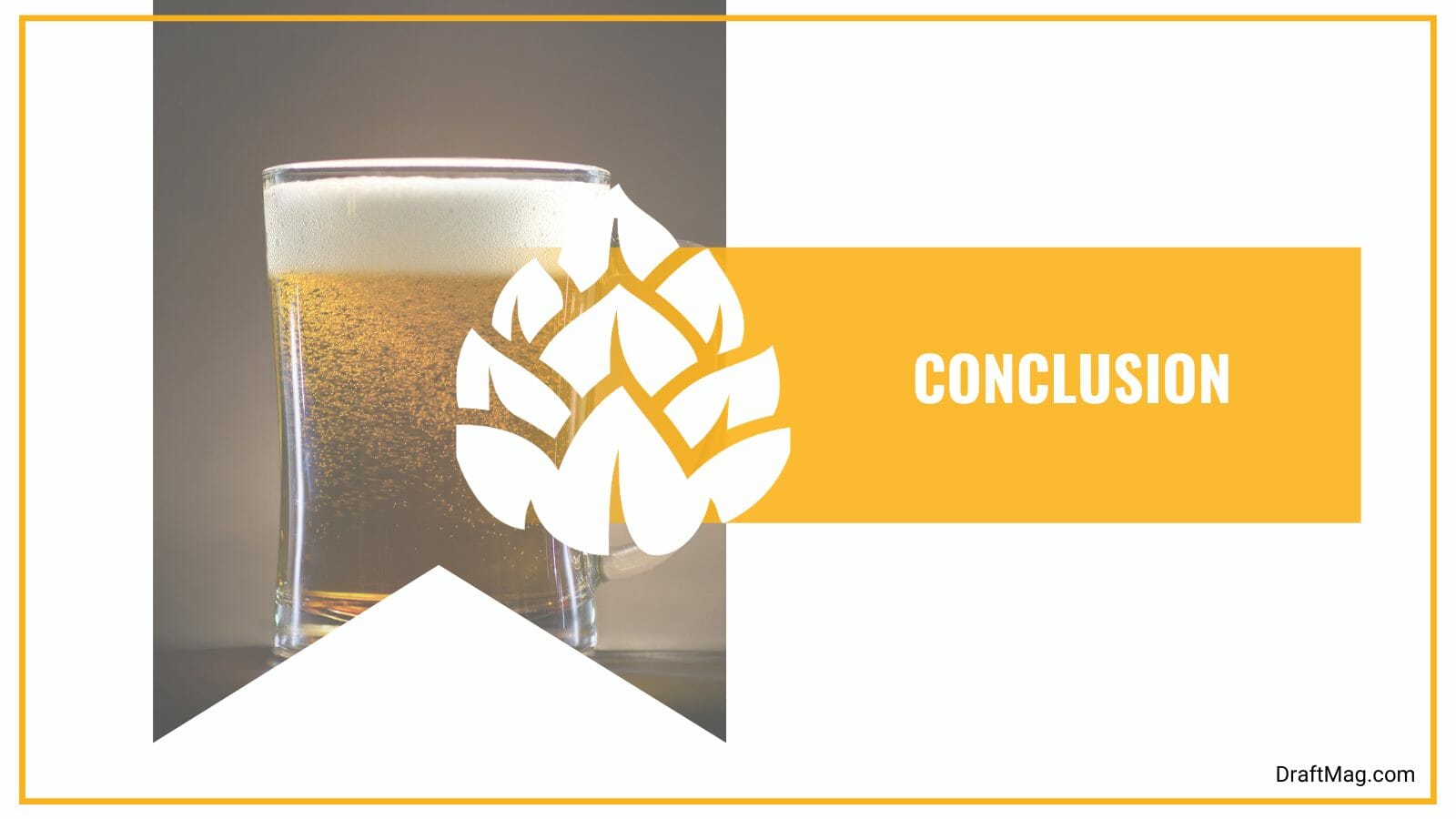 Brew Elvis Juice IPA pours a slightly hazy blood orange color with a foamy white head.
The beer has a strong grapefruit aroma and medium body with moderate carbonation, making it enjoyable.
It has a grapefruit-forward flavor profile backed by the caramel malt base, combining perfectly with grilled chicken spiced with avocado and lime salsa.
Brewdog Elvis Juice recipe contains malts, hops, yeast, water and natural flavorings.
This beer's ABV is 6.5 percent and it has 40 IBU. The 12-oz cans contain 192 calories, 24 grams of carb and 10 grams of fat, so ensure you limit your intake of this beer to avoid unwanted fat storage.
Grab a Brewdog Elvis Juice bottle or can today to savor its exciting grapefruit flavor that packs a punch. Cheers!