Captain's Daughter Beer Review: Guide to This Special Grey Sail Brew
The Captain's Daughter beer hails from the Grey Sail Brewing Company, a Westerly, Rhode Island brewery. This high-quality double IPA appeals to beer lovers with its refreshing tropical flavor and intense aroma, making it a home run.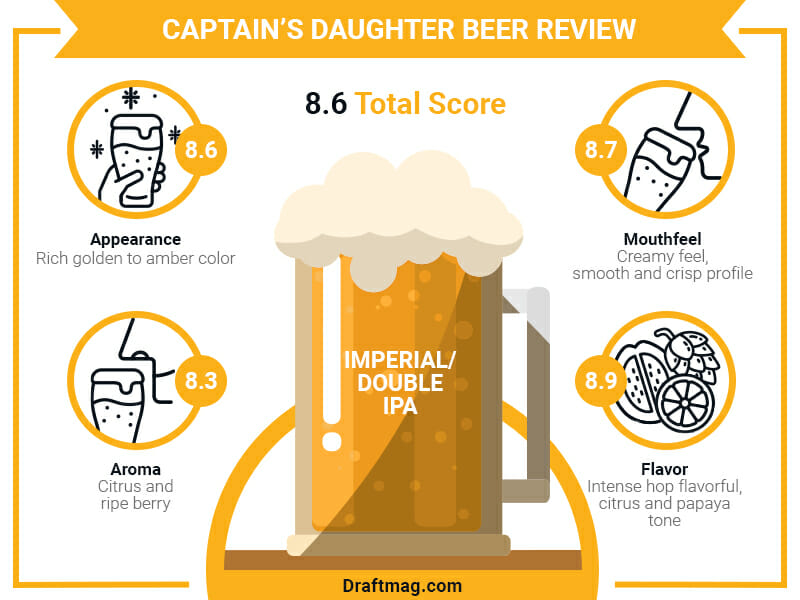 Moreover, you'll find that this beer dominates shelves and taprooms in various bars, liquor stores, restaurants, and pubs. This beer review offers a comprehensive look at what you should expect when you buy and gulp down a bottle of Captain's Daughter beer from any available outlet.
Captain's Daughter Beer Stats
| | |
| --- | --- |
| Country | United States |
| Brand | Grey Sail Brewing of Rhode Island |
| Style | Imperial/Double IPA |
| Taste | Huge malt taste with balanced bitterness |
| Body | Full-bodied |
| ABV | 8.5 percent |
| Flavors & Aromas | Refreshing flavor and aroma with notes of hops, papaya, tropical stone fruits, and pineapple. |
| Serving Temperature | 50 to 55 degrees Fahrenheit |
Tasting Notes
Captain's Daughter Beer Tasting Profile
Captain's Daughter Beer Review
Captain's Daughter is an Imperial India Pale Ale. This full-bodied beer is one of the best beers from the Pacific Northwest. It packs hop-derived goodness that commands respect. Grab this top-flight brew if you want a relatively strong beer with a dominating hop presence.
Let's take a closer look at its unique features.
– Appearance
Generally, double IPAs appear rich golden to amber color with a hoppy character. Captain's Daughter beer is no exception, as it pours a nicely straw-colored body while displaying a mild hazy appearance. And this slight cloudy look is due to its aggressive hopping with Mosaic during the brewing process.
Likewise, it also pours with a minor billowy white head and hazy lacing that stays persistent throughout the entire glass. Hence, this brew compares well in terms of outlook to Grey Sail Little Sister; an American-style IPA also brewed by Grey Sail Brewing Company.
– Aroma
On the nose, this beer hits you with delightful aromas exploding from the glass. The dank citrus and ripe berry aromas courtesy of the Mosaic hops hit first, along with hints of tropical papaya, lemon zest and pineapple notes. The scent is persistent, with bready notes for the pilsner malt mixed with an underlying French Onion Soup smell.
– Mouthfeel
This brew is well dry hopped, thus providing a mouthfeel that is quite exquisite. It reveals a creamy feel on the tongue, with a smooth and crisp profile. Aside from this, this beer yields a clean, dry malt bitterness balanced with the resiny hop fade and faint fruity flavor. In a nutshell, Captain's Daughter beer has a full-bodied mouthfeel with a moderate carbonation rate.
– Flavor
This unique Grey Sail beer has an intense hop flavorful profile with layers of juicy fruit tone. It starts with a sweet front while sipping through flavors of citrus and papaya. Then, you will quickly notice a developing tropical bitterness on the palate as you sip it.
However, the malty character balances this rising bitterness to make it pleasant and drinkable. This also justifies its moderately high alcohol content. Thus, each sip ends with a luscious, creamy, and slightly alcoholic fade.
– Food Pairings
This beer is best served chilled to ensure you savor all its flavor and delicate aroma. Besides, taking the chilled brew is perfect for drinking on sunny days, while it opens you up to a lot more complexity in taste and smell. This beer's flavor profile best combines with barbecue. You should also pair this brew with grilled meat, salmon, and peppery-style cheese.
Ingredients
The hype around this beer is not something to overlook, and buzz hovers around its high-quality ingredients. Unlike other brews, this imperial IPA relies on a distinct fermentation process that uses strains of yeasts that remain at the top of the malty, sweet wort. Check the significant ingredients below:
Mosaic and a few other hops
Pilsner malt
Flaked oats
Yeast and sweet wort
Other aromatics and fruit flavors are commonly infused into beer to give different notes and flavors for a pleasant drink, so this beer definitely has more to offer than just these ingredients.
Nutrition Facts
Captain's Daughter beer alcohol content is 8.5 percent. As such, you will agree that overdrinking this beer can get you tipsy. So remember to always drink in moderation!
It also has an IBU of 69, providing extravagantly rising hoppy bitterness. Besides, the strong pilsner malt flavor and fruity tones balance this bitterness to give a firm but not overpowering dose of bitterness.
Furthermore, Captain's Daughter beer calories are 255 per 12-ounce serving. This makes the beer a high-carb beverage and less keto-friendly as it contains a net carb of 13.33 grams per 240ml serving. For this reason, many agree that this brew is a dangerously drinkable and complex ale.
History
Captain's Daughter beer sprung from Grey Sail Brewing Company as its year-round offering. This brewing company was founded by Alan Brinton and his wife in 2010. Then, the first batch of flagship ale got brewed in November 2011. Captain's Daughter debuted in early September 2014, and its label was first spotted on September 12, 2014.
This brew has gained a lofty reputation in and around the Pacific Northwest as a fantastic brew. It was an immediate sensation that started dominating and flying off the shelves. If you are pondering where to buy Captain's Daughter IPA, take a trip to Westerly, where you will get a chance to try this brew and other classics right from the source.
Conclusion
Captain's Daughter beer is an Imperial IPA from the Grey Sail Brewing Company. The brew classifies as one of the top-flight releases from Rhode Island. Here's a quick recap of the things we discussed.
Captain's Daughter beer pours with a hazy straw-colored body and a slight white head lacing.
Captain's Daughter IPA has a unique hoppy aroma, full-bodied mouthfeel and a lingering bitter finish.
It has a developing bitter dry hop flavor balanced with a strong malt flavor that pairs well with various cuisines like barbecue, salmon and grilled meat.
This beer is made from Mosaic hop, high-quality pilsner malt, flaked oats and yeast.
Captain's Daughter beer's ABV is 8.5 percent and the IBU is 69. Its 355ml serving contains 255 calories, making it a high carb and less keto-friendly beverage.
If you're a fan of fruity, relatively strong double IPAs, then grab a Captain's Daughter beer and get ready to be wowed!