Gold Buckle Beer Review: A Guide to the Official PRCA Beer
The Gold Buckle Beer is an American lager common among rodeo cowboys and enthusiasts in the US. If you're curious about this beer and why it is loved, this review will enlighten you on some basic facts. We'll discuss the beer's appearance, mouthfeel, aroma, and ingredients.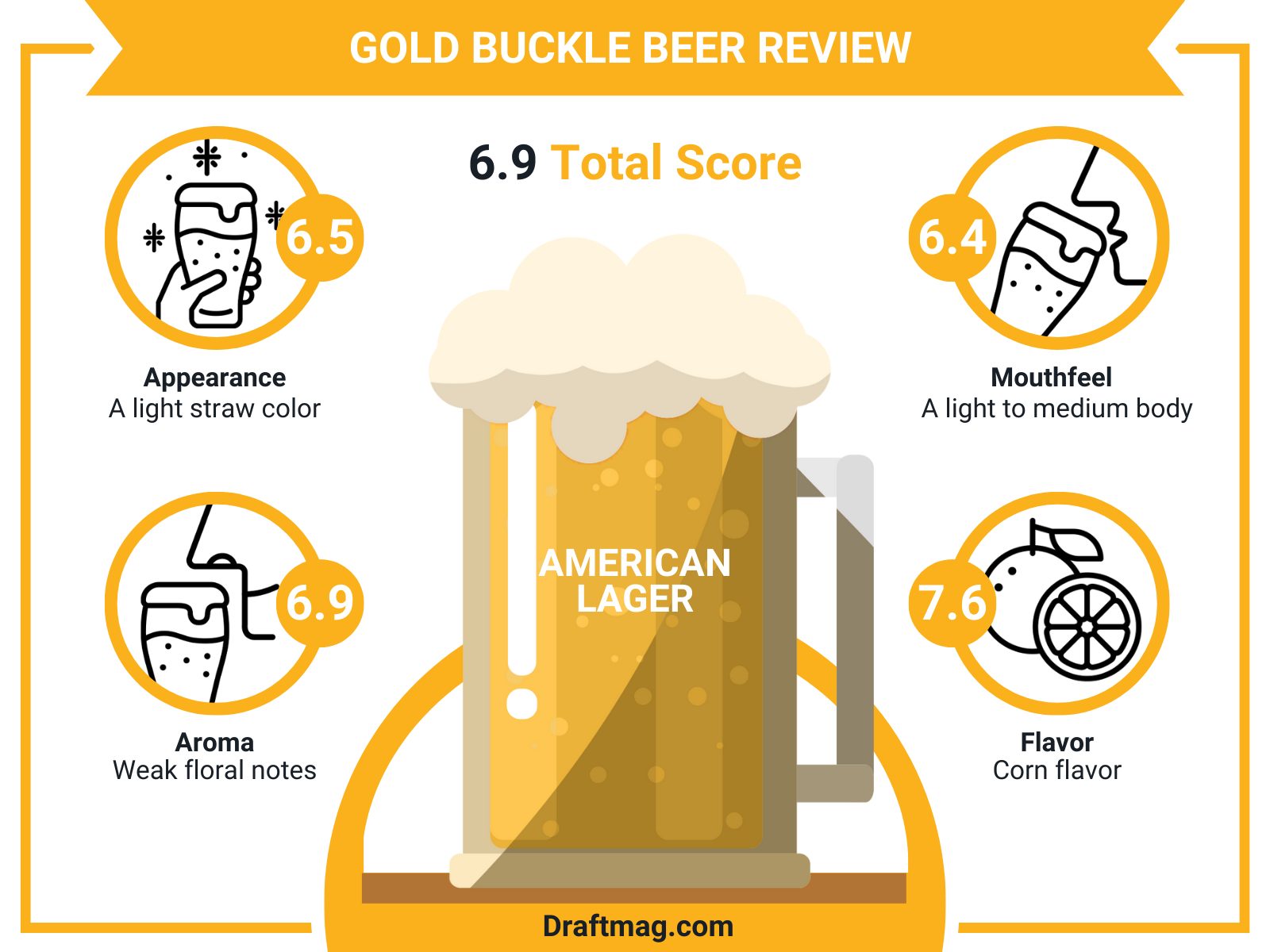 Keep reading, as this beer review will also cover its history, food pairings, and nutrition facts.
Gold Buckle Beer Stats
| | |
| --- | --- |
| Country | United States |
| Brand | Gold Buckle Brewery |
| Style | American Lager |
| Taste | Faint maltiness with a grainy sweetness |
| Body | Low to medium |
| ABV | 4.5 percent |
| Flavors & Aromas | Grainy. Grapefruit with mild malt and hoppiness |
| Serving Temperature | 40 to 45 degrees Fahrenheit |
Tasting Notes
Gold Buckle Tasting Profile
Gold Buckle Beer Review
As earlier mentioned, the gold buck beer is an American-style lager. Now as we head below, we will review the characteristics that make it an excellent beer.
– Appearance
Typical of an American lager, this beer appears light straw colored from a flute beer glass with rising bubbles. It is a transparent beer with a porous and not very persistent white foamy head with no lacing.
– Aroma
This beer does not present significant malty notes on the nose, which is common in American lagers. However, there is a subtle grainy note at the end; a faint smell of corn syrup is perceptible. Also, the hops and floral notes are weak. In addition, this beer includes light fermentative aromas due to yeasts.
– Mouthfeel
Significantly being an American lager, this beer is less bitter and hoppy than an international lager. It is highly carbonated with a light to medium body, which is why it has a sweet malty taste with grainy and grapey hints and no distinct hop characteristics.
The carbonation gives a perfect effervescence and a slight tingle on the tongue and provides the beer with its typical crispy feel.
If served chilled as recommended, it is very refreshing and thirst-quenching. Due to the low bitterness index, this beer has faint flora notes with sweet graininess and finishes dry.
– Flavor
Generally, this beer has less flavor, hops, and bitterness than traditional European Pilsners. It has a sweet but mild malty and grainy corn flavor with no distinct hop characteristics. Also, it includes some grapey hints.
– Food Pairings
When pairing beer with foods, the aim is to create a balance. Hence, as a guide, you'll need to create contrast, for example, pairing light beers with spicy dishes. Pairing doesn't depend only on contrast; you can also combine similar strengths, flavors, and aromas.
As mentioned earlier, the beer has a mild hop-to-malt balance and a crisp and dry finish. Also, its high carbonation gives it a refreshing feel. Based on the said characteristics, this beer perfectly contrasts with spicy foods like buffalo wings, noodles, and Vietnamese pho, including other Eastern Asian, Latino fusion, Mexican, and Thai dishes. Also, this beer goes well with bitter veggies like asparagus as it cleanses its astringency.
Due to its crispy nature, the beer pairs well with chicken meals, especially the slightly herbed types. The beer cuts through the chicken, cleansing the palate between bites. The palate-cleansing character also makes this beer perfect with mild cheeses like gouda, brie, and mozzarella, including fries and fatty foods. In addition, our recommendation does not exclude pasta. However, the pasta should not include meat sauce and cream.
You can also create a magical combination with seafood like crabs, calamari, oysters, and salmon. Furthermore, the sweet corny notes of this beer pair well with sweets and desserts like kettle corn balls, hot dog sausage, and lemon-based desserts.
Ingredients
While there may be some proprietary recipes used in brewing, this beer contains the following essential American lager ingredients:
Malt (2-Row / 6-Row Barley)
Lager yeast
Low mineral water
Hops
Corn adjuncts
Nutrition Facts
Every 12 fl. oz can contain approximately 144 calories, 2g of proteins, 11g of carbohydrates, and 0g of fats. These values are fair; however, you may need to be mindful of how much you take if you're on a low-carb diet. However, this beer is void of micronutrients, vitamins, dietary fibers, and cholesterol.
Also, the beer has 4.5 percent alcohol by volume (ABV), which is within the range of a typical American lager. The ABV is moderately low; thus, you can drink a few cans without getting boozy. There is no concrete detail about the beer's IBU. But, being an American-style lager, the IBU would be between 5 and 15 and probably on the low end of the scale. The reason is that the beer doesn't have a distinct bitterness.
History
Gold buckle beer is a 21st-century American lager from La Junta, Colorado, US. The beer is one of Dean & Co. Brewery's portfolios, and this brewery is responsible for its production and distribution.
After its inception, they introduced two different beers, Gold-Buckle Superlight and Gold-Buckle Hard Seltzer. This portfolio was created to brew beers that promote the western lifestyle and appreciate rodeo players. Because of this Beer signed a long-term partnership with the Professional Rodeo Cowboys Association (PRCA) in March 2019.
This partnership made the beer the official sponsor of the PRCA. In addition, a certain percentage of every can of Gold buckle beer sales goes to the PRCA. Also, later in 2019, the maiden Gold Buckle Beer Open, a team roping world series, was played, with the winner going home with $56,000.
Conclusion
This beer is popular among rodeo contestants and fans. As mentioned earlier, this review has detailed vital facts about this beer. Here are crucial points to remember:
Gold buckle beer is an American-style lager with 4.5 percent ABV.
It is a transparent beer with a light straw color and a white head with no lacing.
It is a crisp, light to medium-bodied beer with high carbonation and finishes dry.
It is the official beer of the PRCA, brewed and distributed by Dean & Co. Brewery.
It is best served chilled to enjoy its subtle flavor such as with different varieties of cheese, fried food, and even mexican food.
With the various food suggestions discussed in this review, what food are you pairing with this beer today?