Hitachino Nest White Ale Review: The Best Japanese White Ale
Hitachino Nest White Ale is an aristocratic Japanese craft beer that won people's hearts for many reasons.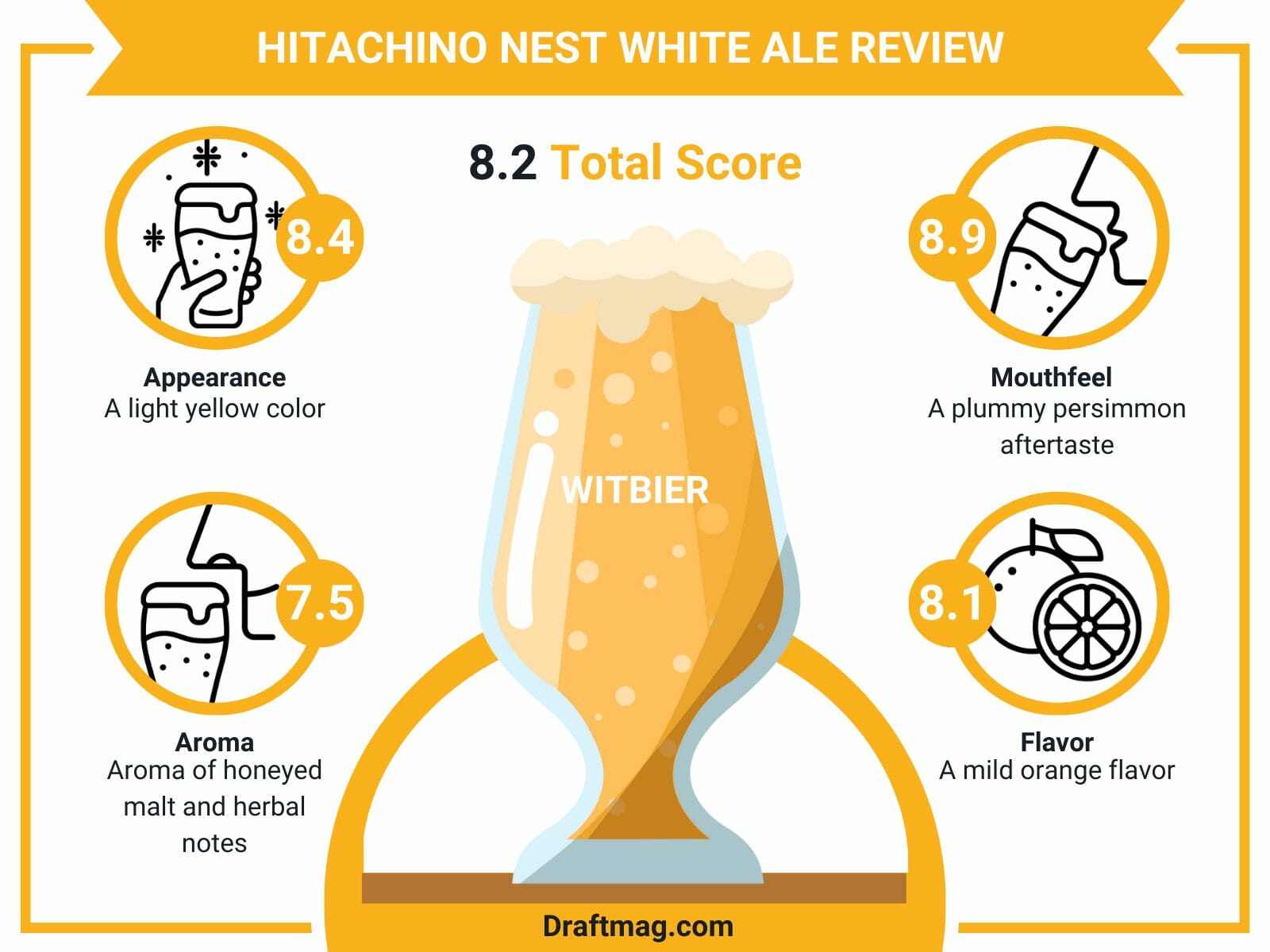 As you are here, we understand you want to know the causes of the beer's success. Keep on reading this well-put-together article, and you will get to know all desired information about this white Japanese beer.
Hitachino Nest White Ale Stats
| | |
| --- | --- |
| Country | Japan |
| Brand | Kiuchi Brewery |
| Style | Witbier |
| Taste | Mild hoppy taste, wheat tang with orange and lemon |
| Body | Light-bodied |
| ABV | 5.5 percent alcohol content |
| Flavors & Aromas | Malty, Orange, Nutmeg, and Coriander |
| Serving Temperature | 10 to 14 degrees Fahrenheit |
Tasting Notes
Hitachino Nest White Ale Tasting Profile
Hitachino Nest White Ale Review
The word Hitachino comes from Hitachino-Ushiku Station, most probably. It's a rail station in Tsuchiura, Ibaraki Prefecture, where the Kiuchi Brewery, this pale ale's brewing company is located. This cultural beer is a craft beer brewed in the rural town of Konosu in the Ibaraki Prefecture of Japan and one of the favorites of its kind among people in Japan and worldwide. Below you will find a detailed reviewed of this beer:
– Appearance
This white ale is a beautiful beer with a nice golden color that can also be described as light yellow. A half-inch long white foamy head gets created when you pour it into the glass, which evaporates soon.
A layer will be found with the second pouring. When you almost finish your drink, a murky look of the beer appears. A moderate lacing will be seen as you keep sipping your glass. Overall, this ale is the lightest Japanese beer in appearance because it is a white beer.
– Aroma
The floral aroma it has due to the hops makes you know the beer's presence at first. Different hops also provide herbal and fruity fragrances. The note of orange peel and lemon will blow your mind, and the scent of coriander and nutmeg will steal your heart.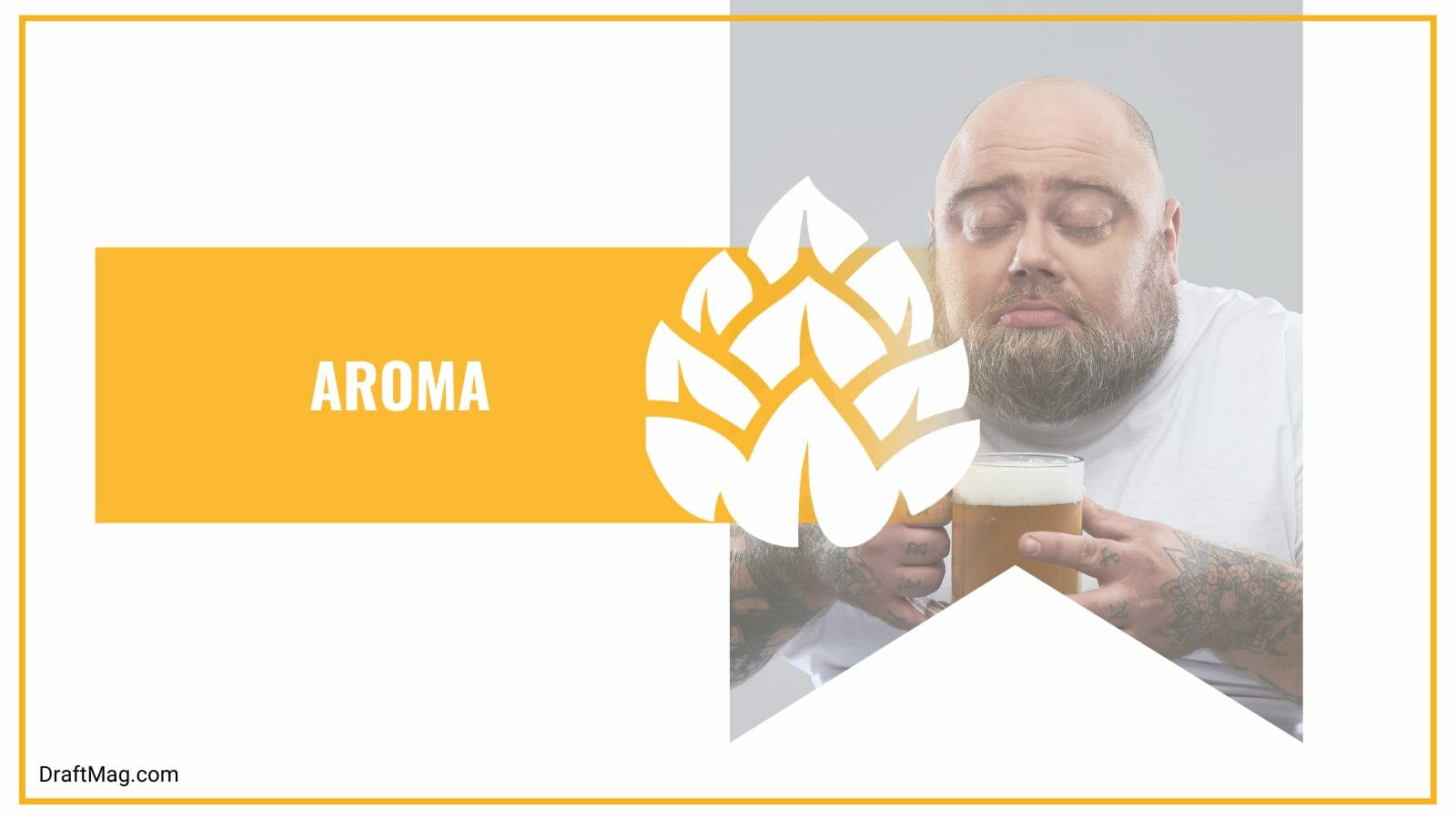 Moreover, the aroma of honeyed malt and herbal notes is very apparent in the beer. Overall, a complex, rich aroma consisting of several things is a signature attribute of the beer.
– Mouthfeel
The mouthfeel of Hitachino Nest White Ale is not strong. Rather this medium-bodied beer with average carbonation gives you a medium, specifically a calm feel. You will enjoy the best smoothy feeling while drinking it because it has a soft texture. Brisk carbonation also causes a crumbly sense in the mouth.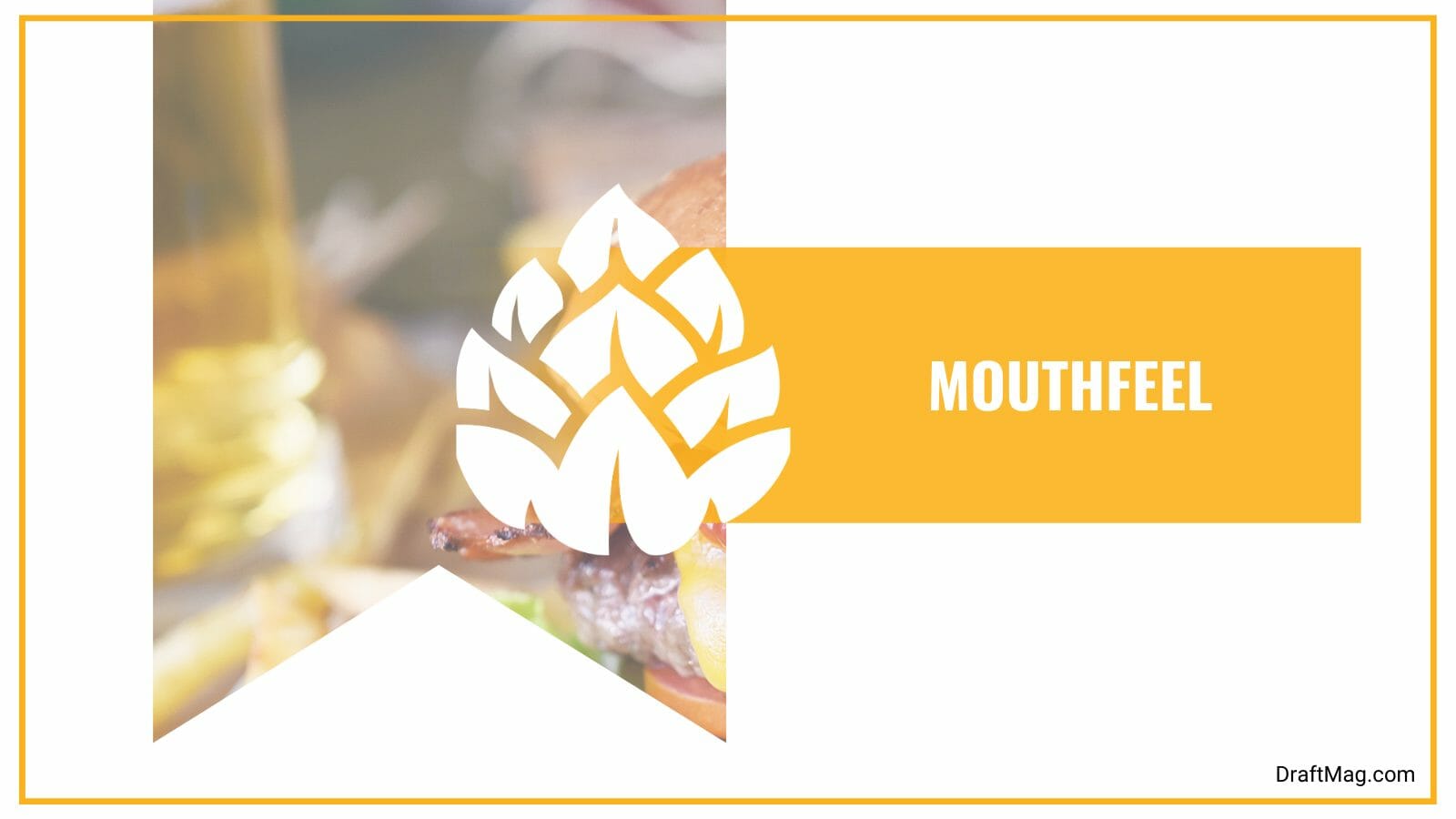 Its a semi-dry finish, along with a plummy persimmon aftertaste with grassy, spicy gingery notes. Remember that this beer is a great choice if you want to have a witbier.
– Flavor
When you drink the beer from your glass with a beautiful nutmeg savor, you encounter a mild orange flavor. This beer has a striking trait of a well-balanced taste of sweetness that touches your tongue in tiny doses and light bitterness. An underlying tart, spicy flavor gets created because coriander will entertain you at last. The flavors of malt, orange peel, coriander, and nutmeg are also obvious as they are essential beer ingredients.
– Food Pairings
This Indian Pale Ale pairs best with salads, because both of them complement each other in a very harmonious manner. As it has a fresh, lively, and herbal leaning taste and is full of spices, the beer goes well with almost every vinaigrette that has added fruits to them.
Shellfish, including shrimp, crayfish, crab, lobster, clams, scallops, oysters, mussels, and oily fish, including herring, pilchards, salmon, sardines, sprats, trout, mackerel, also goes well with the beer.
Besides, items made of monkfish, known as Ankou, are another great option for having this beer. Last but not least, note that, any egg-based dishes pairs nicely with this beer as it enhances the .
Ingredients
This Belgian-style craft beer is brewed with grains, hops, and other elements. Grains, including malted, torrified, and flaked wheat, are the main ingredients as it is a wheat beer. The pale malt is also necessary to brew this amazing ale.
However, this ale is not hoppy as classic Belgian wit-style beers are not meant to be hoppy primarily. However, hops, including Perle, Celeia, Amarillo, and Styrian Golding are used to make it. Besides, orange peel, orange juice, coriander, and nutmeg are additional ingredients needed to brew the beer.
Nutrition Facts
There are 165 calories this Ale, as it contains per bottle of 12 oz. Besides, its 16.7gm of carbs, one mg of protein, and no fat. Due to having low calories, drinking this beer in a certain amount is good for the heart.
The popular belief is that Hitachino beer is gluten-free, as Japanese beers are made with rice and are usually gluten-free. But this light colored ale is not because this beer is brewed with plenty of gluten ingredients.
History
Kiuchi Brewery has been brewing Hitachino beer since 1823 in the rural town of Kounosu in Naka city, Ibaraki Prefecture, Japan. Kiuchi family established themselves as a famous sake brewery and has been passing down their legacy and beer craft skills to their successors in the family.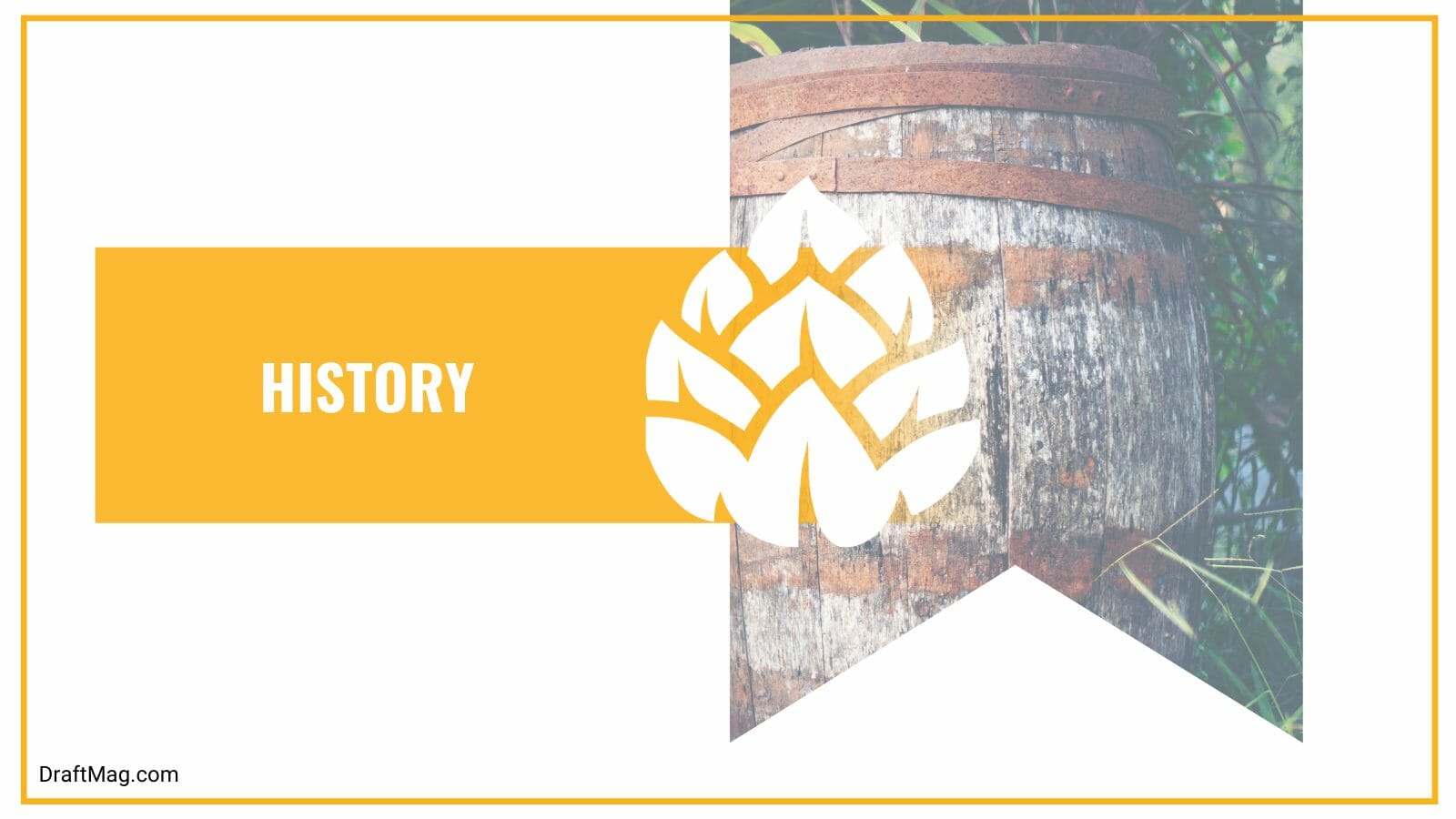 Following the traditional expertise, the company takes pride in its brewing procedure based on 'kodawari,' a Japanese word that signifies "the unyielding and fastidious involvement of perfection." Hitachino Nest is now renowned in the country and worldwide due to the top-notch quality beer it produces.
Conclusion
Hitachino Nest White Ale is a must-try for every Japanese beer fan. We have summed up crucial facts about this great beer for you.
This ale brewed by Kiuchi Brewery of Japan is a classic Belgian with a unique style.
The flavor of malt, orange, nutmeg, and coriander are prominent in this beer.
The main ingredients of Hitachino Pale Ale include malted wheat, torrified wheat, flaked wheat, and pale malt.
You will find floral, fruity, and herbal aromas in this beer, as it isknown as witbier too and lightly carbonated, containing low alcohol.
This beer provides a medium, smooth mouthfeel and pairs best with salad, shellfish, and oily fish.
You simply cannot miss this Japanese royalty if you are into tasty ale. Give it a try, and you will definitely love it.