National Beer Day: A Fun Holiday for All Beer Lovers and Enthusiasts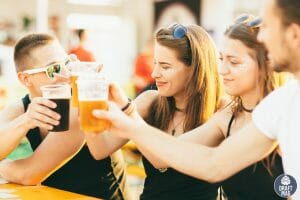 National Beer Day is one holiday that beer lovers don't know much about, even if it's dedicated to them. There's a lot of confusion about when the day is and what you're supposed to do, especially since there's no public holiday.
But this holiday is the best time for all beer lovers to enjoy unique brews and connect with like-minded people. Let's take a closer look at the holiday and how you can get the most out of it.
What Is National Beer Day?
National Beer Day is a holiday that recognizes and celebrates the third most widely consumed alcoholic beverage in the world — beer. After water and tea, the most popular drink in the world is beer. Beer possibly dates back to 9500 BC, making it one of the oldest prepared beverages in the world as well.
All About National Beer Day
As cereal was initially farmed, beer also followed. Beer is also recorded in the history of ancient Egypt and ancient Iraq. The holiday is dedicated to everything beer-related and is celebrated in the United States.
– When Do We Celebrate National Beer Day?
National Beer Day is held every year on the 7th of April. The past dates are:
Saturday, 7th of April 2018
Sunday, 7th of April 2019
Tuesday, 7th of April, 2020
Wednesday, 7th of April, 2021
Thursday, 7th of April, 2022
The future dates will be:
Sunday, 7th of April, 2024
Monday, 7th of April, 2025
Tuesday, 7th of April, 2026
Wednesday, 7th of April, 2027
Friday, 7th of April, 2028
– Can I Get Discounts on This Holiday?
Yes, you can; many brewing establishments like brewpubs, taprooms, bars, and pubs will offer unique rewards and discounts on the 7th of April. You can choose to go to your usual spot or look for different discounts and select the one you'd enjoy the most.
– History
With over 35 billion gallons of beer produced worldwide every year, it's not surprising that there is a day dedicated to celebrating beer. The holiday is focused on celebrating the day that the Cullen-Harrison Act was signed into law in 1933.
The Cullen-Harrison Act was the law that put an end to the prohibition of selling alcohol in the United States. The Prohibition was a country-wide constitutional ban on the production, importation, transportation, and sale of all forms of alcohol, and it lasted between 1920 and 1933. It was focused on reducing crime and corruption, reducing the tax burden, solving social problems, and improving health and hygiene in the United States.
By 2009, a man named Justin Smith started this fun holiday to commemorate the day when the Prohibition was reversed. Although it was unofficial, it was recognized by the state of Virginia as a law. Now, it is recognized by millions of people around the country, although unofficially.
April 7
Although the Cullen-Harrison Act was signed into law on the 24th of March, it wasn't implemented until the 7th of April. Once it went into effect, many Americans took to the streets to celebrate, and they all enjoyed beers.
The Cullen-Harrison Act was approved by Congress on the 23rd of March and signed by President Franklin Roosevelt the next day. It was also here that the president said one of his most famous quotes, saying, "I think this would be a good time for a beer."
It is said that the president had not drunk beer for over 13 years and was also eager to sign the act.
History of Beer Timeline
The timeline of beer starts in the 11000 BC, when early humans began producing beverages similar to beer in the Middle East. Then between the 1200s and 1300s, Germans in the Bohemian region started making their brews with hops.
The year 1765 is popularly known as the year of The Beer Boom, when the steam engine was invented during the Industrial Revolution. This transformed the way beers were made. Then in 2009, craft breweries started to emerge in the United States very quickly.
– Traditions of the Day
There are no fixed traditions on this day, so you can do whatever beer-related activity you want. On this day, you can find different pictures and posts on social media that show how other people celebrate the holiday.
Whether by buying a round of beer for your friends or visiting a brewpub during Happy Hour, you can celebrate it in your way. Some breweries also have special events or discounts which you can take advantage of.
While enjoying your beer, you should show your bartenders, waiters, and brewers verbal appreciation and tip them generously.
– What To Drink on National Beer Day
This depends on you. It is not like St. Patrick's Day when you drink green beer, ales, lagers, and stouts. You can either choose to drink your usual brews for this holiday or try something you haven't checked out before.
Regardless of what you drink on this day, you shouldn't down a whole pack of high ABV beers to celebrate. The best way to enjoy your holiday is to drink your beers responsibly while hanging out with your loved ones.
Activities To Do
If you're not sure what to do when the next holiday comes around, here are some fun activities you can try out on this day.
– Head to a Craft Beer Bar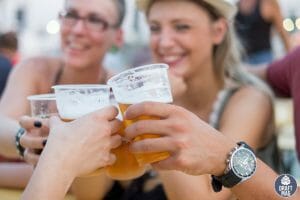 One of the best ways to celebrate this holiday is to drink some craft brews. There are tons of brewpubs that serve regional and local specialty brews, and they are well-known for having unique brews that mass breweries don't serve. Craft breweries usually have rotating menus, so check regularly.
– Tour a Brewery
You can try something different on this holiday by visiting one of the most famous breweries for a tour. Brewing beer combines art and science, and you can learn how your favorite beer is made. It also makes it easy for you to appreciate the effort brewers make; plus, there are free samples.
– Pick up a Variety of Six-packs
If you'd prefer to enjoy the holiday in the comfort of your home or with your friends and family, you can shake things up by purchasing a six-pack rather than your usual pale ale. Many beer companies and distributors usually offer variety packs, which mix different styles of beers into one for your enjoyment.
– Support a Craft Brewery
Another fun thing that you can do on holiday is support your local craft brewing establishment. It might be a surprise to know that many craft breweries were opening around the country before the Prohibition. The Prohibition led to many craft breweries closing, and they could not open as quickly as large breweries. You can ask your local craft brewing company how you can support them.
– Drink Homemade Beer
About a month before the holiday, it's a great idea to brew your beer in time. Anyone can brew beer at home with the right equipment and a good recipe. There are different guides that you can use, and although it might not taste right the first time, it would absolutely be a fun experience.
– Bake Beer Bread
You can also celebrate this holiday by baking beer bread. You can bake homemade bread with your beer and enjoy it with a nice meal this holiday. It's also a fun activity that you can have with your friends and family.
– Try Out Flights
One of the best ways to enjoy beer is with flights, so you can make this your activity for a holiday. Many watering holes offer beer flights, which are tiny shots of different beers served at once. Whenever you order a beer flight, it is arranged from the weakest to the strongest, and it's best to drink it that way and enjoy it.
– Drink a Hard Root Beer
If you want something new that isn't quite like beer but will give you a similar taste, you can go for hard root beers instead. Hard root beers are root beers, but they have been made with alcohol instead. This type of beer is becoming pretty popular among craft beer lovers.
Beer Days Around the World
The United States isn't the only place where you can enjoy this holiday. There are different versions around the world where beer is celebrated. Let's take a closer look at these holidays.
| | | | |
| --- | --- | --- | --- |
| Holiday | Country | Description | Date |
| Oktoberfest | Germany | This is the most famous beer festival in the world, and it's celebrated every year in Munich. | The 18th of September |
| St. Patrick's Day | Ireland | Also celebrated worldwide, the holiday celebrates the luck of the Irish and Irish Whiskey. | The 17th of March |
| BeerFes | Japan | This is the biggest craft beer festival in Japan and is enjoyed by tourists worldwide. | The 6th of June |
| Beer Day | Iceland | Iceland banned beers for over a decade, and this holiday is focused on celebrating this. | The 1st of March |
| Oktoberfest | Philippines | A new festival that has become the largest annual festival focused on beer. | Changes constantly |
– When is International Beer Day in 2022?
In 2022, the international celebration for beer will be held on Friday, 5th of August.
The international celebration is celebrated on the first Friday of every August. It's not the same as the U.S. national holiday, especially since it is an unofficial worldwide holiday. Jesse Avshalomov founded it in Santa Cruz, California.
The international holiday is focused on uniting the world together under the umbrella of beer and celebrating all the world's beers on one day. Aside from this, it also aims to honor those who brew and serve beer and encourage all people to enjoy beers with their friends.
– National Drink Beer Day
National Drink Beer Day is not the same as National Beer Day, as the former is celebrated annually on the 28th of September. Beer enthusiasts usually mix up both holidays, but they are a few months apart.
The holiday is as the name says. It is focused on all people enjoying a pint of beer with their friends, so all you need to do is have a beer. The holiday does not belong to any particular country, and many people celebrate it.
It's unsure who founded this holiday, but it usually coincides with the end of Oktoberfest celebrations and is a great way to end it. It is also the same with the estimated birthday of Arthur Guinness, who founded the world-famous Guinness brewery.
The good news is that you can also enjoy celebrating beer three times a year! Although we all want a refreshing beer on good and bad days, it's great to see that there are specific days focused on celebrating it.
FAQs
– Is August 7th National Beer Day?
No, it is not. There is no beer-related holiday on the 7th of August, although you might be confused because the 7th of August in 2020 was the international celebration. This holiday changes based on when the first Friday of the month is.
– Is There Any World Alcohol Day?
Yes, there is: National Alcohol Day is celebrated annually on the 2nd of October. It is focused on all kinds of alcohol. Different types of alcoholic drinks like wine rose, vodka, stout, and the like also have days of celebration.
Conclusion
As National Beer Day and many other beer-related holidays come around, you should look for fantastic ways to celebrate them that work for you.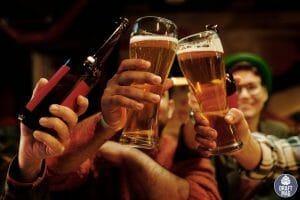 National Beer Day is celebrated on the 7th of April annually and focuses on celebrating all kinds of beers.
Justin Smith founded it to commemorate the day that the Cullen-Harrison Act was finally put into effect.
There are different types of beer days worldwide, including Oktoberfest and St. Patrick's Day.
You can celebrate it in different ways, including touring a brewery, trying flights, homebrewing beer, and supporting your local craft brewing company.
National Beer Day should not be mistaken for other beer-related holidays.
So gather your friends around and start making plans for the next holiday!