New England IPA Recipe: Hazy Indian Pale Ale that All Americans Love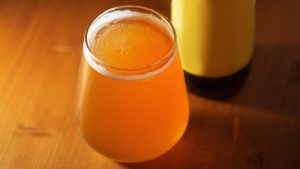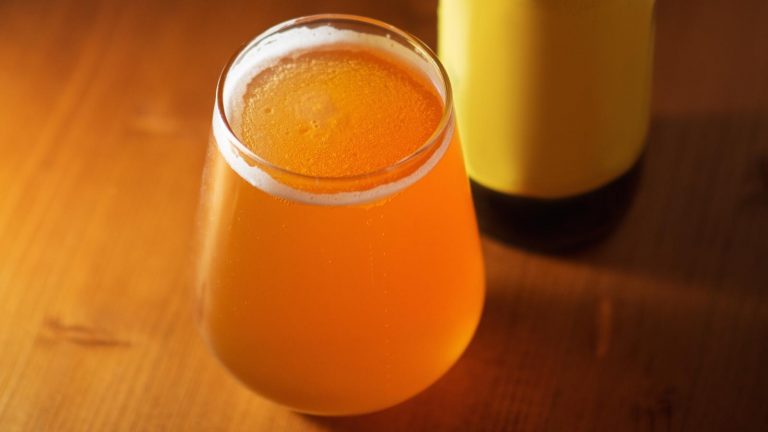 Homebrewers looking for a New England IPA recipe might be surprised to find out that this is a juicy American beer instead. This tropical beer will make you thirsty from its description alone and is pretty easy to make.
As IPAs are widely popular, there's a lot to expect from the New England IPA.
Learn how to make this delicious, seasonal beer using our complete guide below.
How to Make New England IPA – The Recipe
One of the main reasons why NEIPAs are popular is their easy recipes. Anyone can make delicious beer in their kitchen, whether it's a New England IPA all grain or extract process. If you're new to homebrewing, it's advisable to follow the recipe to the letter, although experienced brewers can add tweaks to meet their preferences.
The recipe includes a grain/malt bill, which lists all the grains you will need to make your beer. As for the hops, the schedule lists out the hops you need to add and the time you are meant to add them.
Keep in mind that there's a lot of dry hopping involved in making New England IPAs.
– Grain/Malt Bill
9 pounds of 2-Row Pilsner
1 pound and 8 ounces of Flaked Barley
1 pound and 8 ounces of Flaked Oats
1 pound of Flaked Wheat
– Hops Schedule
At 180 degrees Fahrenheit after cooling down the wort, add 1 ounce of Willamette, El Dorado, Centennial, Mosaic and Citra each.
After 4 days of fermentation, add 1 ounce of Centennial, Mosaic, and El Dorado and 2 ounces of Citra and Willamette.
After 3 days again, add 2 ounces of Lemondrop.
– Yeast
Imperial Yeast Ale Juice A38
– Directions
Boil 7.70 gallons of water.
Put your malts in a grinder to crush them finely.
Mash the malts in water at 150 degrees Fahrenheit for 60 minutes.
Boil for 75 minutes. When 60 minutes pass, add a half-pound of sugar.
Cool the wort down to 180 degrees Fahrenheit and follow the first step of the hops schedule.
Add the yeast.
Follow the rest of the hops schedule while the wort is fermenting.
Finally, keg and drink your delicious New England IPA.
– Stats
ABV: 6%
IBU: 55.3
Initial Gravity: 1.060
Final Gravity: 1.014
What Is New England IPA?
A New England IPA is an American Indian Pale Ale with an intense and tropical-centric flavor and aroma. The NEIPA features a lot of heavy dry hopping, so much so that it looks hazy and full. It is less bitter than other types of IPAs with a smooth flavor, and it also features a fruity, dank and juicy flavor, leaving you with a delicious drink.
The perfect combination of yeast strains, an adequately arranged hops schedule, and the grain bill will give you a juicy New England IPA. The NEIPA is one of the most popular beers that homebrewers have been interested in lately, and it is easy for novices to get it done.
Origin
The NEIPA is a pretty new beer style and has increased in popularity since it emerged. Initially brewed in Vermont, the IPA beer was a massive hit in the United States. Many in its cult following will argue that it is a glimpse into the future of beers with its fruity and cloudy flavor, offering refined bitterness.
The Heady Topper
The origin of the beer is traced back to 2004 with the Heady Topper, an IPA made by The Alchemist brewery. John Kimmich was a brewer in the company and did not pasteurize or filter the beer when trying out the recipe. This is why NEIPAs are known for their short-shelf lives.
This was a thick Indian Pale Ale with a hazy appearance and unique taste. Now, breweries don't filter their NEIPAs and heavily dry hop the worts. It is also called hazy IPA because of its murky, orange-juice-like appearance.
In 2011, the New England IPA was relatively known among beer consumers, but when the Beer Judge Certification Program Style guidelines were released in 2015, they became highly sought after by other breweries.
NEIPA vs. IPA
Although the New England style IPA is under the general umbrella of Indian Pale Ales, it separates itself from the latter and other types. An Indian Pale Ale is a popular hoppy type of pale ale, known for having way more hops and alcohol content than is expected for lighter ales. It is traced back to England in the 19th century, where British troops stationed in India enjoyed this beer.
There are different types of IPAs aside from the NEIPA, including milkshake IPA, black IPA, brut IPA, West Coast IPA, Citra IPA, fruity IPA, sour IPA, oat IPA and more. The main difference between NEIPA and these other types is that it is unfiltered and barely bitter.
New England IPAs also stand out with their moderate carbonation and dry-hopped nature. They are probably the haziest of all the IPAs, with a sweet and tropical taste. Even the appearance is different, as it looks like thick orange juice rather than beer. It also gives you the feeling of a fresh fruit salad in its taste and aroma and can easily be made in a homebrewer's kitchen.
Is NEIPA Still Popular?
Yes, it is. New England Indian Pale Ale remains as popular as when it was first introduced to the market. Many enthusiasts and homebrewers have tasted and even made the ale, and you're about to be one of them. It's not surprising that this beer is still popular as it is pretty likable.
It features a moderate alcoholic content for long-time drinking and is especially loved by those who want to drink beer but don't appreciate the bitter taste that most of them feature. They are fantastic juicy beers for all seasons, whether you need a refreshing drink during summer or a sweet and warm beer once winter arrives.
Style Profile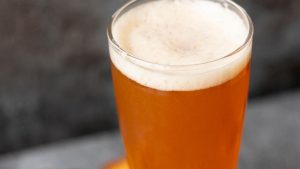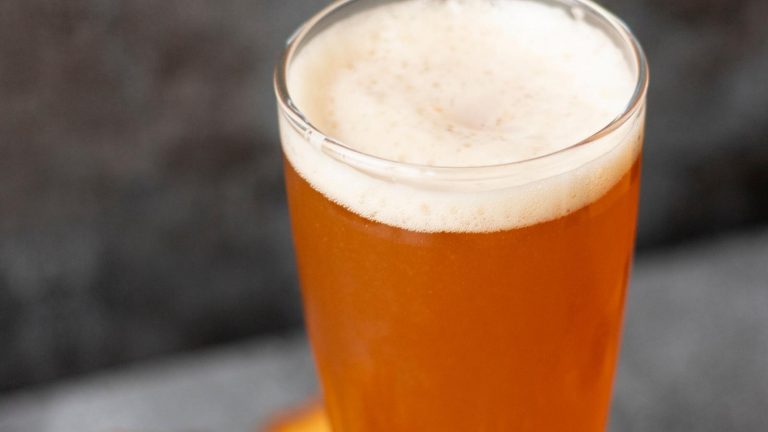 Before brewing your own New England IPA, it's best to understand its style profile. This way, you will know if you got it right after you homebrew your beer or if you need to try again. The profile includes the appearance, mouthfeel, aroma and flavor of the beer.
– Appearance
When looking at the New England IPA, the first thing you notice is its orange, murky appearance. The color ranges from orange to golden yellow and features a creamy, dense head on the top. You will also see the carbonation bubbles at the top.
This hazy feature is another essential part of the appearance caused by its ingredients, including hop oils and wildflowers.
– Scent
The aromatics of a New England IPA are different based on the brew, but it is known for being rich and overwhelming when you take a whiff. You can expect tropical and fruity aromas and dominant hop notes.
The hop notes end up being dominant because NEIPAs usually feature a limited and neutral malt profile. While some breweries will use high ester yeast strains in their production, it's best to keep the malts low so that the orangey flavor can stand out.
– Mouthfeel
The NEIPA feels silky and soft in your mouth, with a full, lingering body. This is caused by the flaked malts and hops variety. You can also expect a refreshing sweetness on your tongue that quenches thirst and an alcoholic feel if the content is on the high side. Carbonation, too, is usually average to high.
– Flavor
Now we have the taste and flavor of the New England IPA, which is fruity and hop-heavy. The hop-forward nature of the beer is complemented by yeast esters, which will give you sweet tinges.
When making the NEIPA, the main types of hops are varieties based on tropical fruits. These include passionfruit, papaya, pineapple, guava and mango, although other brews feature hints of citrus in the taste.
The bitter flavors of NEIPA are only secondary, unlike other types of Indian Pale Ale. It is between 40 and 60 IBU, depending on the brew.
The moderate bitter flavor goes through your palate cleanly and does not linger when you drink it. Since the alcohol content is also average, it doesn't overwhelm the taste, and you can only enjoy it as a secondary flavor.
Food Pairing
Because of the tropical flavor of New England IPA, it is best paired with similar food so that they don't clash. You can pair your NEIPA with lamb or venison cooked with fruity and savory sauces. Seafood lovers can also enjoy this beer with steamed oysters or seared scallops.
Spicy dishes from Indian, Mexican and Asian cuisines also go well with NEIPA. Cheese enthusiasts will enjoy having cheddar and blue cheese with their New England-style beer. As for dessert, you can enjoy drinking your NEIPA with fruity desserts like cheesecakes, fruity tacos, lasagna, fruity crepes, fruit tarts and the likes.
Serving and Storage
Your NEIPA should be served at a 46 to 54 degrees Fahrenheit temperature and poured at a 45-degree angle. It should be poured in an IPA glass if you want to enjoy the full beer experience. If you don't have an IPA glass, you can go for a pint glass.
As for storage, you should keep your New England IPA in kegs and at cellar temperature. Avoid exposing it to the sun or light. Keep in mind that you can't store a NEIPA for too long since it's unfiltered and has a lot of hops. The beer will oxidate and degrade quickly; thus, you should consume the beer within a month.
Conclusion and Summary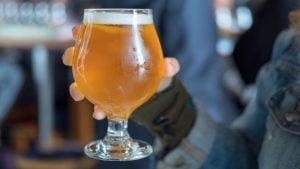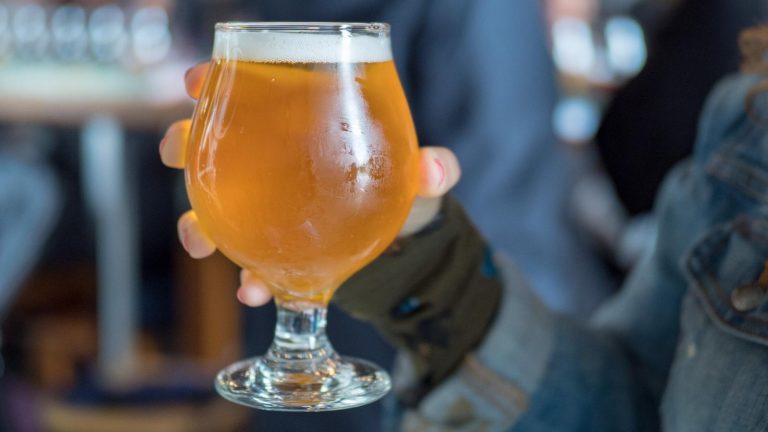 With the best New England IPA recipe above, you can get started with making this juicy and tropical beer.
New England IPAs are hoppy and tropical Indian Pale Ales, American-style.
Its origin is traced back to 2004 but it became very popular in 2015.
NEIPAs are different from other IPAs because they are unfiltered and sweet.
It features a hazy appearance, fruity and tropical taste, aroma, and a silky and soft mouthfeel.
Making NEIPAs focuses a lot on dry hopping.
It is paired well with spicy, sweet and fruity food.
It has to be consumed within a month of making it or it will degrade.
You can start making your delicious New England IPA and enjoy the tropical and sweet tastes that it has to offer.