Reef Donkey Beer Review: Everything You Must Know
Reed Donkey is a widely acclaimed and popular American pale ale from the famous Tampa Bay Brewing Company. Its citrusy and fruity flavor with lemon aroma gives the beer a unique and soothing taste for everyone.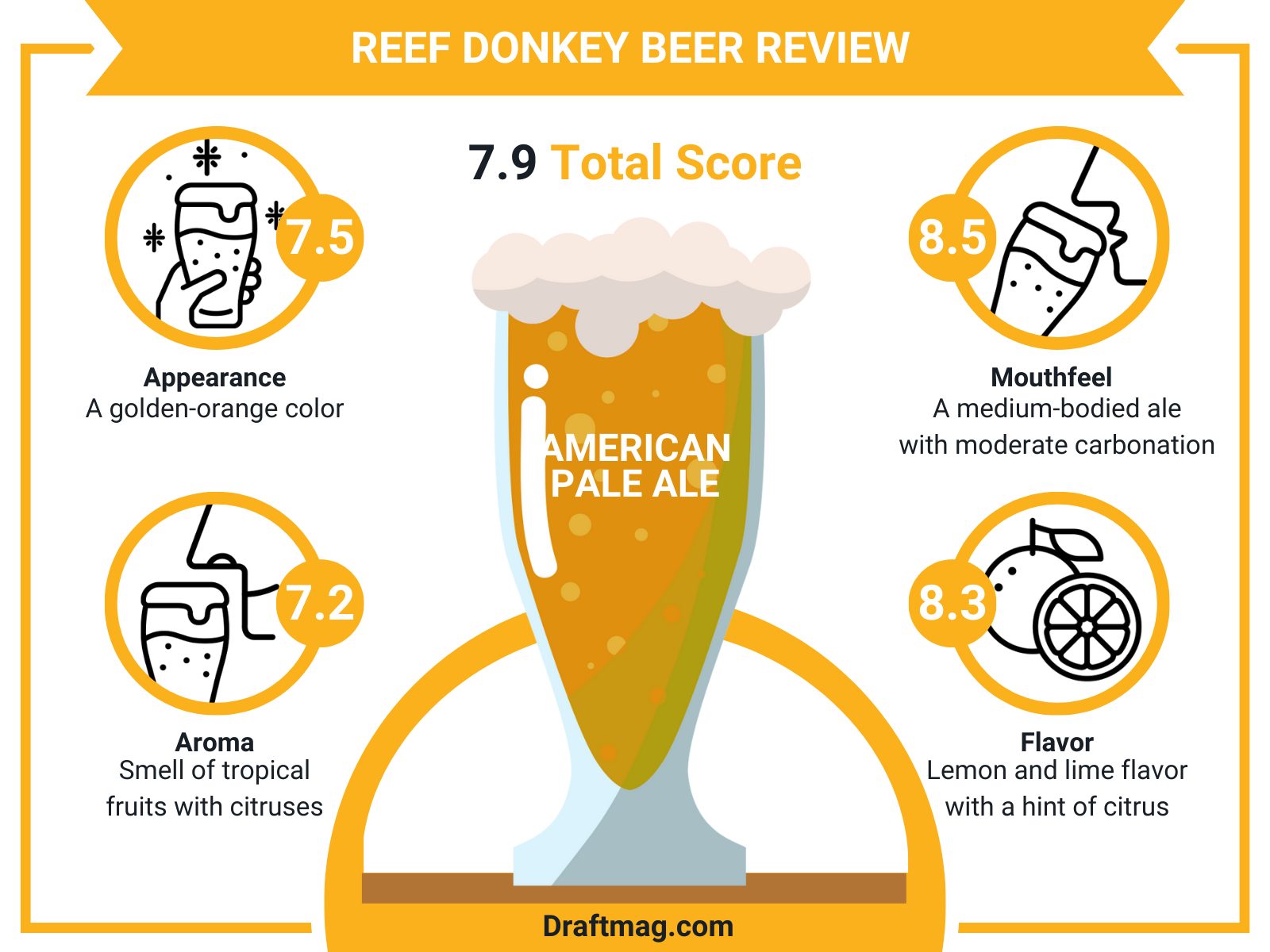 The beer has perfectly combined its bitterness with the sweetness, so, it gives you a welcome feeling as soon as it hits your stomach. If you want to know more about the beer, continue reading our review.
Reef Donkey Stats
| | |
| --- | --- |
| Country | United States |
| Brand | Tampa Bay Brewing Company |
| Style | American Pale Ale |
| Taste | Citrusy and fruity; balanced, fresh, and crisp. |
| Body | Medium-bodied |
| ABV | 5.5 percent alcohol content |
| Flavors & Aromas | Citrusy, tropical fruity, Motueka, equinot, and Citra |
| Serving Temperature | 45 to 50 degrees Fahrenheit |
Tasting Notes
Reef Donkey Tasting Profile
Beef Donkey Review
Tampa Bay Brewing Company has many craft beers on its popularity list. It receives its name from the famous Floridian game fish Amberjack. In fact, reef donkey is a slang used to refer to Amberjack, found widely in the entire Floridian coastal area. If you plan a fun fishing day, this reef donkey APA will be great.
– Appearance
The beer has an attractive appearance similar to golden-orange with a tint of haziness. The golden-orange and hazy appearance look incredible. When served, its top will have a cap of white foam. It is usually half-inch thick. However, the white foamy cap will dissolve quickly.
There will also be a clingy residual development in the glass. For testing the appearance, we used a pint glass.
– Aroma
This craft-style beer has a bright aroma that mixes tropical fruits with citruses. So, you will first get a lemon aroma from the beer. The fruity feel will hit your mouth as you continue drinking the beer. This means, its mouth feeling is outstanding.
Apart from the citrus aroma, it also has a solid malty and hoppy feel. It comes from carefully selected hops, including Citra hops. It also has famous Motueka hops, coming directly from New Zealand.
– Mouth feel
The mouth feel of this outstanding beer is somewhat thin. Also, the beer has moderate carbonation. The beer with a 36 IBU rating is a medium-bodied ale. Lastly, reef donkey alcohol content with 5.5 percent only; it also has easy drinkability. Henceforth, you will appreciate reef donkey IBU with excellent taste.
– Flavor
When you drink any beer, its flavor is significant. Thererfore, for the reef donkey pale ale, we tasted it through to find its actual flavor. Initially, the pallets feel slightly bitter. The bitterness comes from its unique selection of hops. After that, the lemon and lime flavor with a hint of citrus takes over from the squeezed grapefruit.
As you continue consuming the beer, you will see the assertion of sweetness. It is the result of malty caramel within the beer recipe.
– Food Pairings
According to beer testers and fans, this outstanding beer is perfect for eating with buffalo wings and burgers. You can pair this beer with Asian and Mexican foods too. Many reef donkey lovers say it goes brilliantly with fries.
You may also try the beer with any spicy foods. Even you can bite your steaks and pizzas to enjoy this beer with a perfect combination of bitterness and malty sweetness.
On the other hand, beer lovers would enjoy pairing this beer with burgers, whether served medium well or even well done. The taste of the beer would be highly compatible with burgers as long as you make sure that you have caramelized onions in the burger. The reason is that these types of food would enhance the flavor of the beer as you drink and eat them together.
Ingredients
The watery mouth feel of the beer comes from its secret recipe. According to Tampa Bay Brewing, the beer has different hops and tropical fruits on its list. However, the company hasn't disclosed its secret formula and its ingredient ratios.
We have found that the brewing company uses the following three hops for this recipe: Motueka, Equinot, and Citra. These are the ones that give the rich flavor to the beer.
The Motueka is a famous hop from New Zealand. Plus, Equinox hops bring a distinctive lemon aroma that hits your taste buds fantastically. A few people also say it has a squeeze of grapefruits which is responsible for the citrusy feel. However, we couldn't find the detailed ingredient list for the famous beer as Tampa Brewing Company keeps it secret.
Nutrition facts
The medium-bodied drink is good for nutritional facts. To begin with, it comes with 180 calories for a serving of 12oz cans. On the other side, reef donkey calories for a 16oz serving are 240 calories. So, it has a medium-calorie level.
If you are on a diet, you can still enjoy this beer without any worries as it won't increase your carbohydrate. It only has 14 grams of carbohydrates and two grams of proteins and four grams of dietary fiber. Also, it has low carbs and fats for an easygoing taste.
As you see from the list, this beer is low in carbs, fats, and protein. Which means it won't disturb your dietary routine. It means you can consume it as much as you want. In addition, it is key to note that this beer is made for all with easy drinkability, watery mouthfeel, and medium-bodied brewing. Whether an amateur or expert drinker, the reef donkey will perfectly meet your appetite.
History
Reef donkey is an original craft beer from Tampa Bay Brewing Co. It is one of the newest brewing companies in the western coastal area of Florida. Doble and her family established this family brewing company in 1995.
Their first brewing pub was in Ybor City. Soon, it got popular among beer lovers. Plus, its fantastic dining experience also helped it gain quick popularity. Many people visit the beer pub to enjoy its long and exciting beer list with fabulous foods.
You will love their steaks, shrimp, and different fried items. As their popularity grew among beer lovers, they opened their next brewing branch in Westchase. It also has a fantastic restaurant facility to offer you a one-of-a-kind pub and fine dining experience.
Now, however, Tuner has recently become their first female brewer. She joined the Westchase pub. She has been an instrumental figure in the increasing popularity of the company. She has also prepared many secret beet recipes for the brewing company.
Conclusion
Reef donkey is a perfect choice for those who like medium-bodied beers with an IBU rating of less than 40. Also, with a watery mouthfeel and citrusy flavor, this beer is an easygoing item for your palate.
Its first hit of bitterness and slow increase of malty sweetness unveils your appetite for strong IPAs and DIPAs for the whole night's fun.
Also, you can check out the reef donkey clone recipe for cheaper options. It includes Reef Donkey Clone V1 and Pound Puppy Pale Ale.
The beer has easy drinkability with medium-bodied brewing. It won't surprise you with any shocking feeling in your appetite.
You should drink it in a chilled pilsner glass and pair it with a few drops of lemon for an even more citrusy feel.
It is key to pair this beer with burgers that have caramelized onions, and a side of fires, as the tastes will complement each other.
You will also love its lemon aroma of squeezed grapefruit. You should try it with beef steaks and fish for the best taste.