Amber Bock Beer Review: Unveiling One of the Finest Red Lager Brews
Amber Bock beer is a dark lager brewed by the Anheuser-Busch brewing company, one of the most popular brands in town. If you're going through this guide, you probably have questions about this popular beer's properties, history, nutrition facts, and ingredients.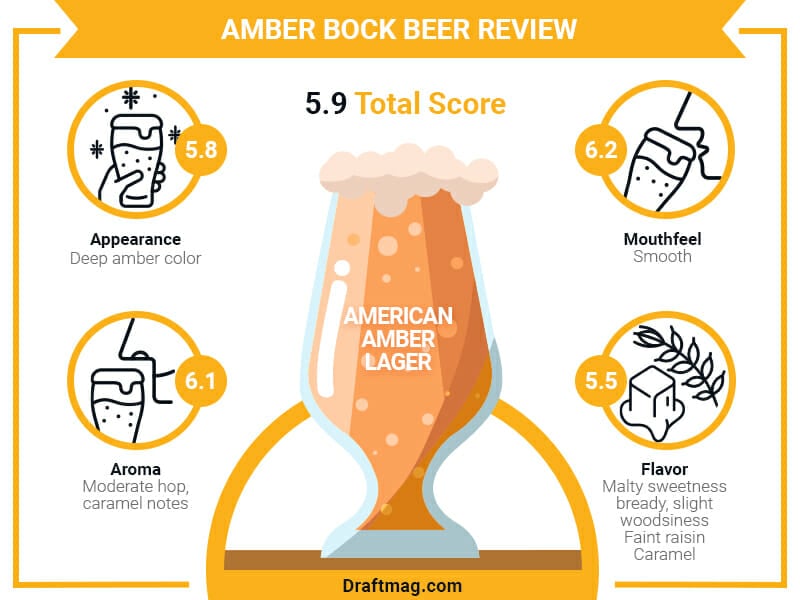 You must also be wondering if it's worth grabbing one or two bottles of this beer. However, before you grab a bottle, go through this comprehensive review to know what to expect.
Amber Bock Beer Stats
Amber Bock is an exciting offering with equally exciting tasting notes. Here's a table summarizing its features:
| | |
| --- | --- |
| Country | United States |
| Brand | Anheuser-Busch InBev |
| Style | American Amber lager |
| Taste | Concentrated malty and low creamy hoppy tastes and caramel notes |
| Body | Light- medium-bodied |
| ABV | 5.1 percent |
| Flavors & Aromas | Nutty, rich, chocolate aromas with sweet malts low fruity flavors |
| Serving Temperature | 45 to 54 degrees Fahrenheit |
Tasting Notes
Amber Bock Tasting Profile
Amber Bock Beer Review
Michelob AmberBock is one of the controversial beers of recent years, probably due to its discontinuation. However, this does not undermine its mouthful offerings, including thrilling tasting notes from exciting ingredients. This beer was great to have with dinner, making it a popular choice while it was still being sold.
Let's check out these features in more detail below.
– Appearance
According to the SRM color reference chart, Amber Bock beer's color ranges from 10-20 SRM. It has a deep amber color that is clear and filtered with a nice vibrance.
The beer pours a nutty brown with a reddish tint. The head is off-white and disappears quickly but retains around the glass's edge. It has a low to medium lacing with average carbonation.
– Aroma
The presence of mild maltiness helps hide the hops' aroma. The beer has a low to moderate hop aroma with hints of caramel notes. You can feel the presence of bready malt, amber malt, a kiss of woodiness and mild malty/sugar sweetness.
Due to the presence of the fruity esters, you will notice the presence of a light citrusy character, void of diacetyl.
– Mouthfeel
This lager beer has a nutty and malty flavor profile with hints of caramel, toast, toffee and breadiness. It's not a fat lager but has decent carbonation like soda water, giving a smooth mouthfeel.
However, the sweetness isn't entirely strong. This is probably because of the mild bitterness that balances it. Due to its alcohol content, you will feel a little warmth on the tongue.
– Flavor
Malt syrup or malt extract can be perceived on pouring the beer. Some of the flavor notes include:
Malty sweetness
Bready
Slight woodsiness
Faint raisin
Caramel
– Food Pairings
A tulip, mug or chalice glass is best used to serve this Amber Lager beer. These glasses' broad bottom and narrow top help keep the beer's full body intact. The tastes of the hops and malt are best experienced when the beer is extremely cold. The recommended serving temperature ranges from 45 to 54 degrees Fahrenheit.
The beer has over 160 calories per serving, so it is best to balance it with a relatively low-calorie meal. This flexible beer can be served with just about any type of meal. The best options include chicken, pizza, stews, chocolate cheesecake and red meat.
You can sometimes improve the texture of your beer by pairing it with bland foods like rice, sautéed veggies or fish.
– Bock Properties
Being a Bock beer, it is relatively strong compared to other beers. They are also sweet and lightly hopped.
Furthermore, the aroma is malty and toasty, with alcohol hints but without detectable fruitiness and hops. You will get a smooth mouthfeel with moderate carbonation and zero astringencies. The taste is also toasty and rich, sometimes giving a hint of caramel. Other examples of this type of beer include Christmas Bock, Rockefeller Bock, Brewhouse Bock, Nashville Bock, etc.
Ingredients
This Michelob Amber Bock lager comes from various ingredients to ensure a crisp and refreshing beer. Some of the ingredients include:
Barley malt
Water
Yeast
Hops
Using dark-roasted caramel and specialty malts, a Michelob Amber Bock is brewed mainly of malt. Its flavor profile shows Vienna malt and malt extract/syrup used in the brewing process. The hops utilized in this brew were of the Noble hop species.
Nutritional Facts
One serving of this lager contains 15 grams of carbohydrate, 1 gram of protein, 0 gram of fat and 170 calories. Amber bock beer calories are a little bit high, so you should watch the amount you consume if you're regulating your calorie intake.
The Amber Bock beer alcohol content is 5.2 percent. This is perfect for those who have a low tolerance for alcohol. If you want a healthy beer, then this is perfect for you.
History
Amber Bock came into the limelight in 1995. On the other hand, the Michelob line was first introduced by Anheuser-Busch in the early 1900s. The first Michelob, a 4.7 percent ABV pale lager, was made by Adolphus Busch in 1896. This lager was a specialty beer for draught at the time.
Anheuser-Busch shipped the lager across state lines, where they pasteurized the beers in 1961. The teardrop bottle, a distinctive container used to package Michelob, was first used for sales. Anheuser-Busch began selling Michelob in cans five years later. A modification in the teardrop bottle helped improve the productivity of the brewery's manufacturing process.
Anheuser-Busch created numerous iterations of the Michelob label between 1978 and 2007. But the majority of these beers only had very little distribution, which is one of the reasons you don't see them as frequently these days.
– Michelob Amber Bock Discontinued
The Michelob Amber Bock dark lager has been discontinued for a while now. However, Anheuser-Busch released Michelob Ultra to replace the Bock beer, a darker beer with a high amounts of carbs.
FAQ
– What Does Bock Mean in Beer?
Bock refers to a strong beer in German, so German brewers and beer lovers consider a beer with "bock" in its name a strong beer. These kinds of beers are usually dark lagers, with several substyles existing. Aside from the bock properties we mentioned earlier, here are some more facts about them:
Mailbock: This style contains strong pale lagers (6.3 to 8.1 percent alcohol by volume). They are lighter in color and have more hop presence than the traditional variants. Their colors can range from light amber to deep gold, with a large, creamy head and moderately high carbonation. The flavor is less malty and is often drier and hoppier.
Doppelbock: Paulaner Friars created Doppelbock, often known as Double Bock, as a stronger variation of the original Bock. Doppelbock is still powerful, with an alcohol content of 7 to 12 percent. It is transparent and comes in various colors, from dark gold for the lighter version to dark brown for the darker one, with a big, persistent, creamy head. Darker variants may have a fruity or chocolatey aroma; the aroma is extremely malty, with some toasted notes and probably some alcohol present as well.
Eisbock: The typical specialty beer of the Kulmbach neighborhood in Bavaria, Germany, is called Eisbock. To concentrate the flavor and alcohol content, a Doppelbock was partially frozen before the brewer removed the water ice. Therefore, we have a flavorful beer with ABV ranging from 8.6 to 14.3 percent. It is transparent and ranges in color from deep copper to dark brown, frequently with ruby highlights, and although it often pours with a thin off-white head, the higher alcohol concentration generally makes head retention less effective.
Weizenbock: This is a type of beer where 40 to 60 percent of the grain bill is made up of wheat while the remaining is barley. It was given the name "Aventinus" in honor of a Bavarian historian. Munich malts and top-fermenting yeast are highlights of this type, which is brewed to a Doppelbock's intensity. Darker varieties have a subtle roasted malt flavor and carbonation is frequently very high.
Conclusion
With its dark lager properties and popularity, Amber Bock is truly one of a kind — a unique lager. This complete review described the essential information about the features of the beer, including taste, aroma, appearance, and more. Here's a quick recap of the discussion we had above:
Amber Bock beer is a lager brewed by Anheuser-Busch in 1995.
The beer pours a nutty brown with a reddish tint. The head is off-white and disappears quickly but remains around the glass's edge.
The beer has a low to moderate hop aroma with hints of caramel notes. The alcohol content gives a bit of warmth in the mouth to balance out the flavors.
One serving of this lager contains 15 grams of carbohydrate, 1 gram of protein, 0 gram of fat and 170 calories. It also has a 5.2 percent ABV, making it an ideal option if you want to enjoy a couple of bottles.
If you've been wondering where to get the Michelob Ultra Amber Max Light Beer, which is equally as good, you can find them in any liquor store in the US.