Best Pumpkin Beer: 13 Best Seasonal Beers That Will Blow Your Mind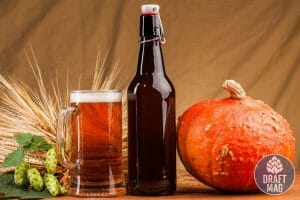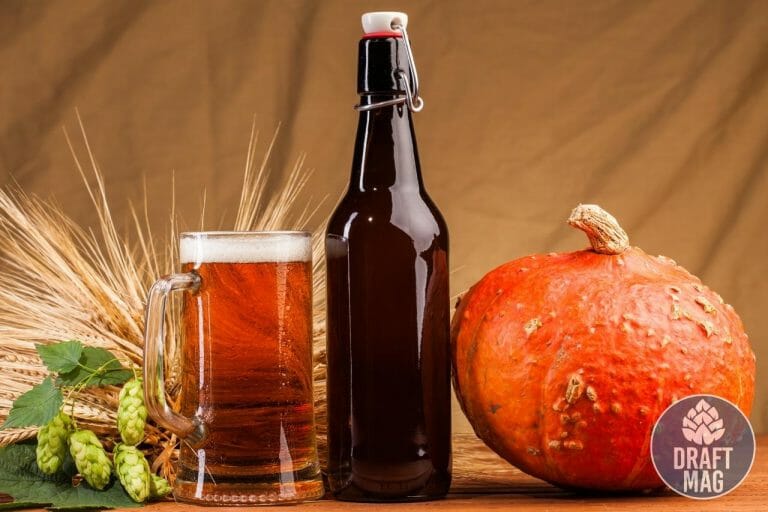 With the variety available in the market, finding the best pumpkin beer would be quite a task. But this article will make it easy for you as we have compiled a list of the best pumpkin spice beers from around the world. Every fall comes fresh seasonal produce of the season's favorite beers for a limited time.
With so many delicious options laid on the shelves, skip pumpkin spiced lattes and cookies this time for a seasonal pumpkin beer!
The Best Pumpkin Beer: 13 Best Beers You Should Try
It is tough to pick any one best pumpkin beer, so here is a list of the very best, most preferred pumpkin beers:
Rogue Pumpkin Patch Ale
This is arguably one of the best pumpkin flavored beers out there. The brewers use 100 percent authentic ingredients and fresh, high-quality malts. The brewery grows its own gourds. They are harvested, cut, and roasted by hand right before the mash. This creates a rich flavored beer with authentic sweetness.
Value: A 750-milliliter bottle is available at $17. While the price is on the higher end, the taste balances everything. It is a total value for money.
Quality of Ingredients: As mentioned above, the brewers use authentic self-grown ingredients which create the essence of the beer.
Flavor and Aroma: The beer has a rich pumpkin aroma, heavy spices, restrained caramel notes, and hints of vanilla and toasty malts.
Packaging: The packaging is an eye-turner. It comes in a bright orange bottle designed particularly for the autumn season.
Troegs Independent Brewing Master of Pumpkins
This is one of the more unique pumpkin ales you can try. The spice level in this beer is strong, and the Belgian yeast sets it apart from the rest. This beer is dark amber and has rich copper hues.
Value: It costs about $7-$8 for a 750-milliliter bottle—a complete value for money product.
Quality of ingredients: Organic flavors of cinnamon, clove, ginger, and nutmeg are well featured.
Flavor and Aroma: There is a subtle balance between the sweetness and the spicy flavors of the beer. It also has more earthy incarnations.
Packaging: The packaging is again a win-win. The can is black matte colored with holiday and Halloween graffiti across, and the bottle is dark brown installed with similar graffiti.
New Belgium Voodoo Ranger Atomic Pumpkin
Nothing feels better than a nice, spicy, full-bodied pumpkin beer on a cold, crisp autumn night. This beer is perfect for those who enjoy raw spices and low bitterness.
Value: A 12-ounce bottle costs about $5 to $6—super value for money for this brilliantly-tasting beer.
Quality of Ingredients: Finest grounded pepper is used here. The beer is all about strong pepper flavor and aromas. The beer is made with pale, Munich, caramel malts, and nugget hops, making it minimal on IBU. Pumpkin juice for the pumpkin flavor. The ale is brewed with Saigon cinnamon, habanero, aji, and del Arbol peppers.
Flavor and Aroma: There are moderate aromas of fall spices like cinnamon, cloves, and spicy pepper in the middle. The spicy pepper stays long through the end, giving a nice spicy finish.
Packaging: The packaging of this beer is super attractive. It has a graphic decorated skeleton on the body of the bottle, designed around Halloween. A perfect must-have around the haunted season.
UFO Journey to Planet Pumpkin
Beer drinkers would call this a "crushable" beer, which means a beer super easy to drink; you just crush it. The UFO Planet Pumpkin is just that. It is medium-bodied, bubbly, and a breeze to drink.
Value: It is barely $11 for a six-pack. What better than this?
Quality of Ingredients: The beer is made using freshly pureed pumpkins, giving it a mild pumpkin flavor. It is malty, sweet, and has some spice profile of cinnamon and nutmeg. The yeast isn't filtered out, seemingly adding more authenticity to the beverage.
Flavors and Aromas: It mostly smells of spiced pumpkin and a slight wheat flavor afterward.
Packaging: It is bright and orange, just like carving a fresh pumpkin.
Bronx Brewery Tattooed Pumpkin IPA
This beer is a perfect hybrid between a pumpkin ale and an IPA where the pumpkin feature dominates. It is a medium-bodied beer, smooth to drink.
At 7.5 percent ABV, this beer boasts earthy hops and a multitude of hops, including chocolate and caramel. Fresh pumpkin puree and vanilla curb are added to bring the bitterness balance. This is the perfect pumpkin craft beer ever made.
Value: This beer is available at $19 for a four-pack. Won't say that it's easy on the wallet, but it's worth a try.
Quality of ingredients: The brewers of Bronx have used the highest quality 2 Row, Pilsner, Flaked oats, Flaked wheat, caramel, and chocolate malts. Apart from these, earthy and piney, slightly fruity hops have also been used.
Flavors and Aromas: There are slight aromas of pumpkin, pumpkin spices, and gingerbread cookies. It has a fairly dry taste and is low on bitterness.
Packaging: The packaging again stands out from the rest. It shows muscular pumpkin graffiti, personifying the ABV strength of the beer.
O'Fallon Salted Caramel Pumpkin Beer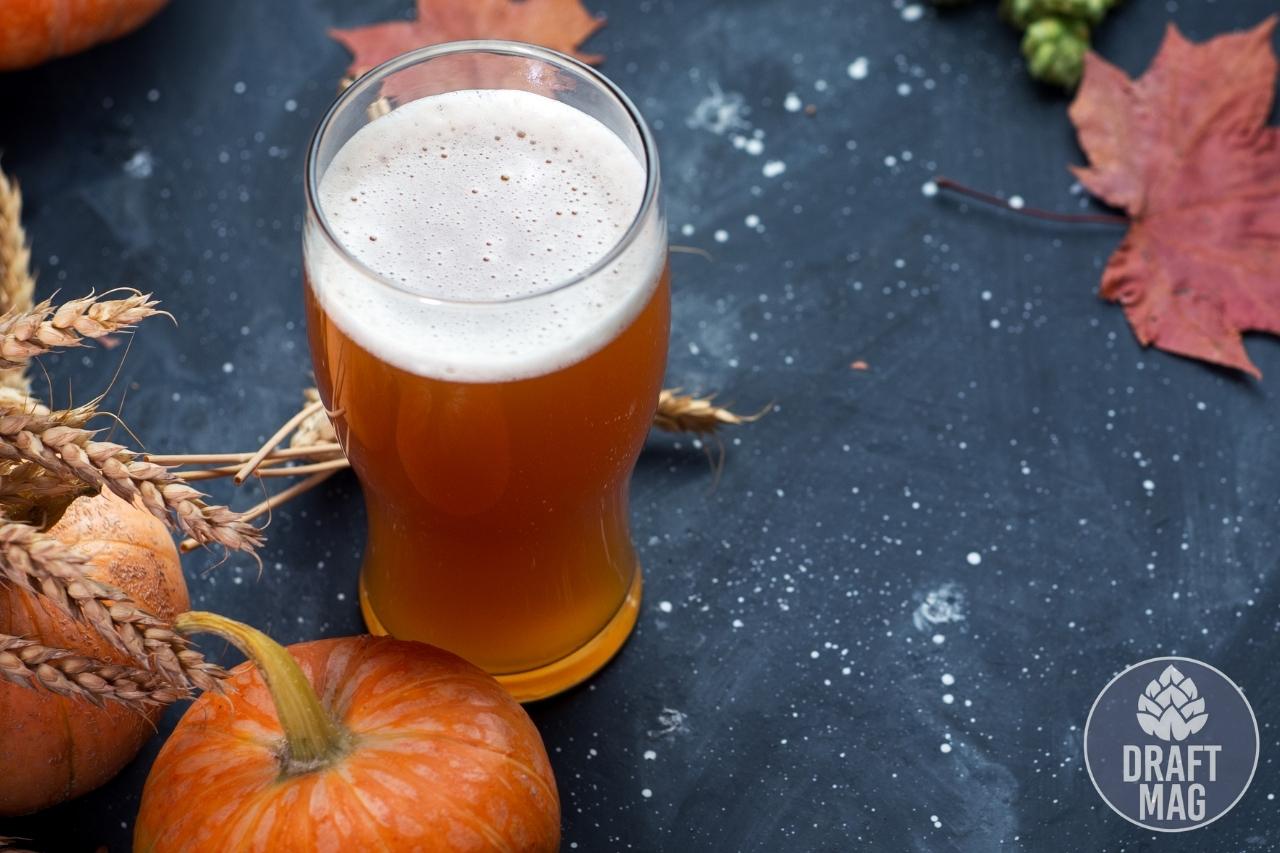 This has been called "The Thanksgiving Beer" by many folks for one simple reason – It tastes super sweet. So, this is a must-try if you don't mind sweet beers.
It has an ABV of 5.5 percent, making it a good holiday evening drink. It has bare-minimum bitterness at an IBU of 8. It is available from August to November. This is an excellent light pumpkin beer.
Value: This beer is 100 percent value for money. With the quality of ingredients and the price at which it is available, it's a must-try.
Quality of ingredients: The brewers at O'Fallon Brewery have used cold-pressed Madagascar Bourbon Vanilla, turning the brew into a spectacularly flavorful beverage. A rich blend of caramel malts and lactose has been used for a creamy texture alongside some pink salt to balance out the sweetness.
Flavors and Aromas: Warming cinnamon, nutmeg, and clove flavors add a pleasant warmth to the otherwise sweet beer. It also has a caramel and toffee note, hence bringing into the picture the "thanksgiving beer" phrase.
Packaging: The beer comes in a golden-brown bottle with a print that is Halloween-friendly. It is apt for the season.
Two Roads Roadsmary's Baby
When the nights get colder, it only calls for good pumpkin beers. Two Roads is one such beer. At an ABV of 6.6 percent, it is quite a strong beer in the pumpkin category. It gets treatment for rum barrel aging. The barrel aging process is used when a brewer wants to add extra complexity and off-hand flavors to the beer.
Value: A six-pack available at less than $13.
Quality of Ingredients: The beer is aged in rum barrels with vanilla beans.
Flavors and aromas: The beer has some pretty intense notes due to its aging process. It is a smooth beer with notes of pumpkin, vanilla, oak, spices, and a touch of rum. There is a light touch of malt and rice too. There is an outburst of vanilla flavor towards the end.
Packaging: It comes packed in a golden-brown bottle, keeping it safe from skunking.
Cherry Street Brewing Cooperative Friend of the Farmer
Friend of the Farmer Pumpkin Pie Porter is an extremely smooth beer brewed with a balanced combination of roasted pumpkin and a blend of various spices alongside lactose to enhance the mouthfeel. With an ABV of 7 percent, this is a pretty strong beer.
Value: A four-pack is available at $14. While the price is a bit high compared to the rest of the beers, this beer is still one of the most loved pumpkin beers in the world.
Quality of Ingredients: There is light carbonation, and the added lactose gives the beer a fuller mouthfeel. It isn't too creamy either—just the right balance between lactose, spices and malt.
Flavors and Aromas: There are notes of nutmeg, clove, and cinnamon in the beginning. There are also some fruity ester flavors and a light bubblegum aroma towards the end.
Packaging: The packaging is super colorful, adding to the beer's appealing character. You look at the beer, and you want to pick it.
Saint Arnold Pumpkinator
Pumpkinator is an imperial stout brewed with the best quality malts and hops. At an ABV of 10 percent, this is an extremely strong beer, so a couple of these and you'd call it a night. It is a big, boozy, spiced pumpkin stout counted as a slow sipper for thanksgiving.
Value: A 22-ounce bottle is priced at $8.70. For the quality of the brew, this beer is a complete value for money.
Quality of Ingredients: The stout is made with high-quality pale two-row, black, and caramel malts. Cascade and Liberty hops are used alongside brown sugar, spices, molasses, and pumpkin to get a super rich flavored beer.
Flavors and Aromas: Flavors of clove, ginger, and cinnamon are prominent. This beer is dark, rich, and is big on pumpkin spice aroma. It also smells like Mexican hot chocolate, nutmeg, cinnamon, and allspice. There is a slight sweetness with nice warmth.
Packaging: Pumpkinator is dark, rich, malty, and full. It comes in a dark brown bottle which almost looks black with the beer in it.
Elysian Punkuccino
This is one of the most unique and complex pumpkin beers ever made. It is the perfect winter beer with coffee, pumpkin, and spice flavors, creating a cozy balance. If you are a fan of the Starbucks Pumpkin Latte, this beer is for you. Instead of coffee, it is beer. This beer is available from September to October.
Value: At 6 percent ABV, this beer is priced at $10 for a 22-ounce bottle—high value for money in comparison to the taste.
Quality of Ingredients: Pale, brown, biscuit with C77 crystal, chocolate, and kiln coffee malts, give this beer its heavy body. There are a total of three pumpkin additions – in the mash, kettle, and fermenter.
Flavors and Aromas: A shake of cinnamon and nutmeg alongside a shot of dark coffee makes up for this delicious drink.
Packaging: The beer comes in a dark brown bottle and lovely Halloween graphics.
Dogfish Head Punkin Ale
This is the type of pumpkin beer for people who dislike pumpkin beers. It has very mild pumpkin flavors that don't overpower your palate. This beer is available from early September till thanksgiving. It is clear, bright amber in color, and has a thick white foam.
Value: This beer is available in a pack of six for $13.99. A super value deal for those homely Thanksgiving dinners.
Quality of Ingredients: The beer has a predictable fall aroma filled with spices like nutmeg, cinnamon, lemon zest, and cracked pepper. It also has a pinch of cardamom.
Flavors and Aromas: The most obvious pumpkin flavor seems a little hidden here, but overall the beer is rich and oily with perfect density and a good balance of overall sweetness. It is a beer that you will enjoy even if you generally don't like the obvious flavors. The after-finish is quick and salty with almost no aftertaste.
Packaging: The graffiti on the packaging is super loud and bright, making you want to grab a set and take it home.
Weyerbacher Imperial Pumpkin
This is one of the best, strongest pumpkin beers available in the United States. It has an ABV of 8 percent, is hearty, rich, spicier, and stronger than other pumpkin beers out there.
Imperials are big beers. They are generally really strong in flavor and alcohol percent. It is malt-forward, bready in aroma with some brown sugar to balance off the slight bitterness.
Value: A four-pack is available at $13. It is a bit on the pricier end, but the flavor and quality of the beer are worth the money.
Quality of Ingredients: Cardamom and cloves add a unique flavor profile to the beer.
Flavors and Aromas: This beer is quite heavy on spices. Cardamom and clove flavors are almost instantly felt. The overall smell of the beer is that of fall. Very warm and pleasant. There are also bits of spicy cinnamon and roasted coriander towards the end.
Packaging: The graffiti on the dark brown bottles is proof that this beer is only a seasonal brew. This is the beer if you enjoy strong palatable holiday spices.
Lakefront Imperial Pumpkin
At a whopping 13.5 percent ABV, this pumpkin beer is the daddy beer of all the others listed here. Maybe not in terms of taste, but in terms of Alcohol content, this beer is the winner. It is one of those beers that must be slow sipped on after a thanksgiving dinner, alongside a nice desert-like apple pie.
Value: A pack of six of 12-ounce bottles is priced at $15.99.
Quality of Ingredients: This is a brandy barrel-aged beer. This gives the beer an excellent old-school charm, character, and woody flavor.
Flavors and Aromas: The beer has strong aromas of brandy and pumpkin spice. There are obvious flavors of pumpkin, vanilla, wood, brown sugar, and spices. There are silent aromas of nutmeg and cinnamon. The mouthfeel of this beer is excellent, with high carbonation levels and a balanced sugar taste.
Packaging: It comes in a dark gold-brown bottle which looks almost blackish with the beer.
What Are Pumpkin Beers? A Quick Dive Into Their History
Brewing beers using Pumpkin dates back to the 18th century. The first commercial pumpkin ale came from the Buffalo Bill Brewery in Hayward, California. It became so popular that it was defined as a "pumpkin spice craze," which led to producing other pumpkin-induced products like the spiced latte and pumpkin-spiced cookies.
Pumpkin ale is a famous beer style in the United States. Beers are brewed using fresh pumpkin flesh alongside malt and other beer grains and natural or artificial flavors to enhance the palate. Some brewers add spice flavors to evoke the pumpkin pie vibe.
How These Beers Are Rated: Parameters We Used
These beers on this list were judged on the following parameters:
Value: Is it worth the price?
Quality of Ingredients: Real pumpkin? Pumpkin puree? Pumpkin essence? How authentic are the products?
Flavor and Aromas: Does it taste up to mark?
Packaging: How attractive is the design? Does it serve the mood?
FAQ
Is Pumpkin Ale the same as Pumpkin beer?
Pumpkin ale and pumpkin beer are essentially the same thing, as they both refer to beer brewed with pumpkin as an ingredient.
What is the best base for Pumpkin beer?
The best base for pumpkin beer is typically a malt-based beer, such as a brown ale or porter, that can complement the flavors of pumpkin.
Which Pumpkin beer tastes like Pumpkin pie?
Some pumpkin beers that taste most like pumpkin pie include Southern Tier's Pumking, Dogfish Head's Punkin Ale, and Schlafly's Pumpkin Ale.
Conclusion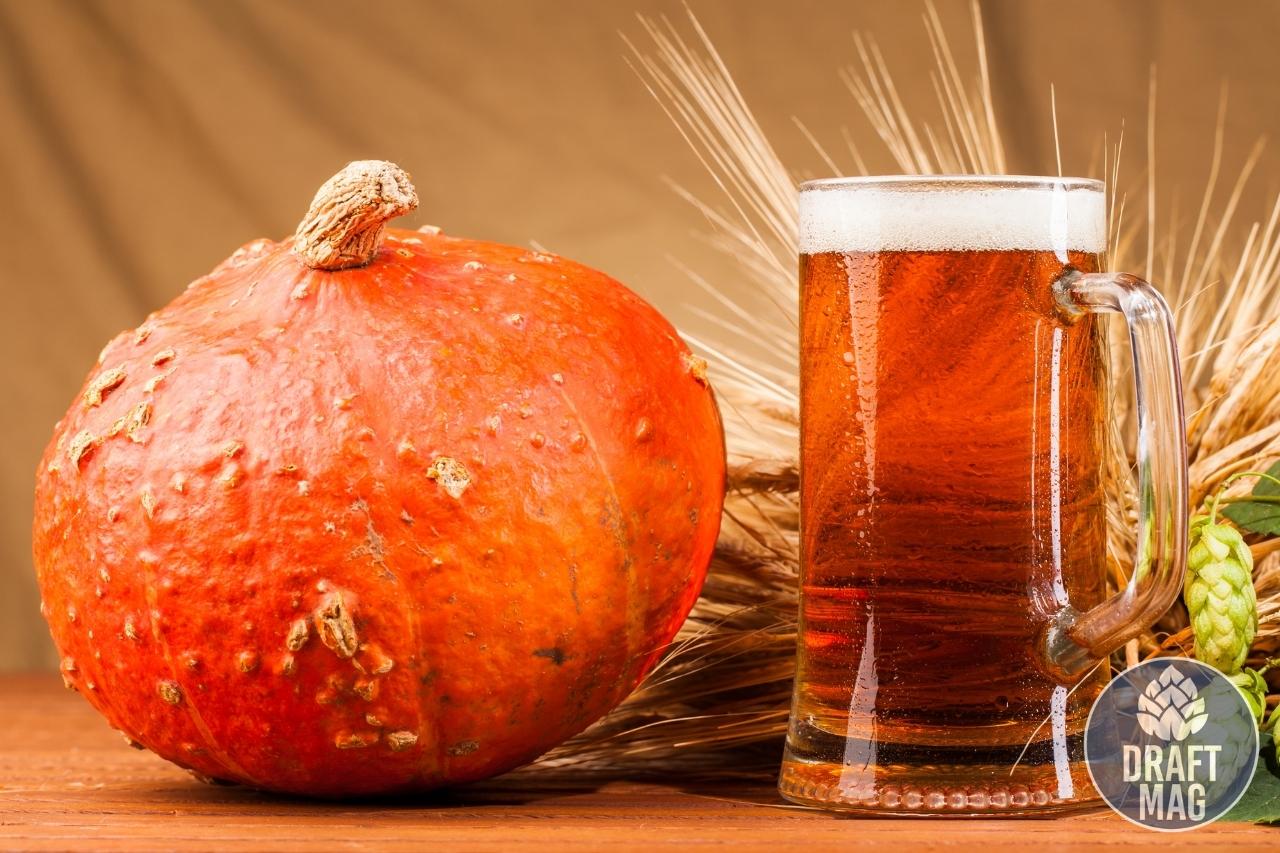 Every year with the coming of the early holiday and thanksgiving season, craft brewers work on new recipes to suit the season favorite. These 13 beers listed above are an example of what the craft brewing industry is capable of doing.
These are the best based on ABV from the above:
Cherry Street Brewing Cooperative Friend of the Farmer – 7 percent
Weyerbacher Imperial Pumpkin – 8 percent
Saint Arnold Pumpkinator – 10 percent
Lakefront Imperial Pumpkin – 13.5 percent
If you're the kind to enjoy seasonal brews and aren't afraid to give new beers a shot, then this list will come in handy for you.