Best Breweries in Folsom: Top Breweries You Just Cannot Miss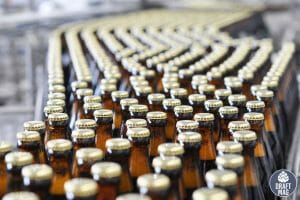 These are the 10 best breweries in Folsom, CA and you must visit each of them. The Folsom map has a small trail of some of the most loved breweries in and around the area.
So whether you are looking to grab a quick beer on a hot day, picking take-aways to camp in the nearby hills, or simply want to do a picnic day with the family, Folsom definitely has something for everyone.
| | | |
| --- | --- | --- |
| Breweries in Folsom | Number of Active Beers | ABV (Lowest-Highest) |
| Red Bus Brewing Company | 15 | 5.1 – 8.3 percent |
| Out Of Bounds Folsom | 15 | 4 – 8 percent |
| Fort Rock Brewing | 11 | 5.2 – 11 percent |
| Mraz Brewing Company | 15 | 4.5 – 9 percent |
| Logoff Brewing | 17 | 4.4 – 11.6 percent |
| Fair Oaks Brew Pub | 18 | 4.1 – 11 percent |
| Auburn Alehouse | 13 | 4.5 – 9 percent |
| Palm Tree Brewing Co. | 15 | 4.5 – 11.2 |
Best Breweries To Check Out in Folsom, CA
Here are 10 of the best breweries in and around Folsom. Some of these are pet friendly, and some have a delicious food menu, but one thing in common between them all is quality craft brews that will blow your mind and keep you hooked.
– Red Bus Brewing Company
This is Folsom's oldest craft brewery that started operating in the early 1880s. The brewers here aim at crafting both old and new forms of beer. Be it the traditional or the new-age hoppy, hazy brews, they have it all.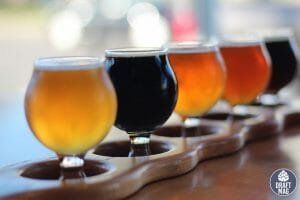 The taproom is a small, cozy setting, perfect for people to come together and celebrate the smaller moments in life.
Their Must-try Beers
Early Bay Lager is a Maibock brewed at 7.1 percent ABV. It has notes of bread, the sweetness of honey and a slight warmth at the end.
Another brilliant brew from them is the Hazy Sutter Nights New England IPA brewed at 6.1 percent ABV. This beer has a brilliant haze, juicy hops and a refreshing mouthfeel.
– Out Of Bounds Craft Kitchen & Biergarden
Bringing years of Pacific Northwest brewing trends and experience to the Sierra Nevada, this brewery has multiple award-winning beers on its list. The Folsom craft kitchen and Biergarden is a stunning spot with both outdoor and indoor seating.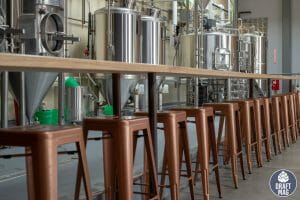 The outdoor space has a small stage section where live musicians are often hosted. The space is extremely vibrant and inviting.
Their Must-try Beers
The Cowbell Blonde is a Blonde Ale brewed at 5.0 percent ABV. This beer is light, with bready notes and biscuit flavors.
No Manches is a classic Mexican Lager brewed at 5.2 percent ABV is brewed with flaked maize corn to bring a nice light mouthfeel to the beer. Caramel malt is used in a small quantity to bring bright color and a hint of flavor to the beer.
– Fort Rock Brewing
One of the best breweries in Rancho Cordova, the barrel district, this brewery has beers from Ales to Lagers, Porters to Pilsners and beyond. They give serious attention to detail and name their beers after fun movies, events, activities and anecdotes.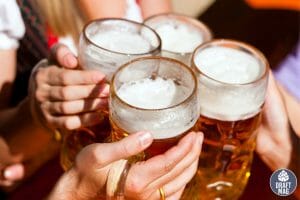 The brewery opened in 2013 in a small garage in Folsom. They simply wanted to brew great beer with original ingredients, without fancy adjuncts and gimmicks.
Their Must-try Beers
A Hazing Grace is a New England Hazy IPA brewed at 6.8 percent ABV. It has all the qualities of a classic IPA, is lightly bitter and has a brilliant juicy, citrusy mouthfeel. Their Patagonia Pale Ale is another stunning brew at 5.6 percent ABV. It is a classic American Pale Ale with a light, refreshing, crisp mouthfeel.
– Mraz Brewing Company
This is an El Dorado Hills Brewery and is popular for brewing the best Belgian and American style ales. It is a comfortable venue, with a dog and child-friendly patio seating, making it one of the many famous microbreweries in the area.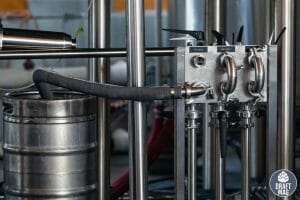 There are several food vendors and food trucks on-site to offer quick bites along with their tasty beers.
Their Must-try Beers
Highway to Hell is a loud West Coast IPA brewed at 7.0 percent ABV. This beer has a fantastic balance between juicy and hoppy aroma with a light malt backbone.
Another brilliant brew is the Ambrosia, a Pastry Sour filled with a burst of flavors from blueberry, raspberry, cranberry dragonfruit, apricot, peach, orange, vanilla, and tangerine and a dose of lactose. This is literally like summer in the mouth.
– Claimstake Brewing Company
The vision of this brewery is to give its customers the highest quality beer drinking experience. They aim at using quality ingredients and a creative approach to beer making. They make well-balanced beers that are gentle on the palate. They also host live music in their outdoor section.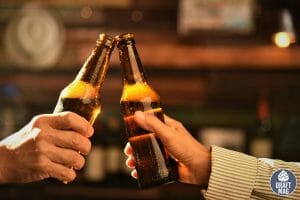 Their Must-try Beers
The Fruity Sour is a Peachy Sour IPA that is an exceptionally crushable and fruity brew. It is filled with flavors of peach and vanilla.
– Logoff Brewing Company
In a world that is always logged into their online social spaces and technologies bringing people together virtually, LogOff aims at giving people the space to keep everything aside and just enjoy quality time with good quality beer.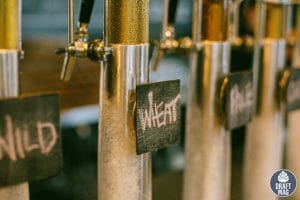 They brew some of the most exciting flavors, right from Hazy IPAs to Saisons and Pastry Stouts. It's a brilliant excuse to come together and enjoy conversations with crafty beer.
Their Must-try Beers
The Desperately Seeking Saison is a classic Farmhouse Ale brewed at 6.1 percent ABV. This brew is a golden Belgian Saison brewed with orange peel and clove. It is a delicious summertime Ale with a crisp and dry finish.
Fusion Dance Cookies and Cream Ale is yet another delicious brew at 7.1 percent ABV. It has a flavor burst of cookies and cream, making it very much like a pastry beer.
– Movement Brewing Company
This is a family-owned brewery whose end goal was to create an atmosphere that people will love spending time in. They regularly push the boundaries of classic brewing and bring in innovative twists and turns.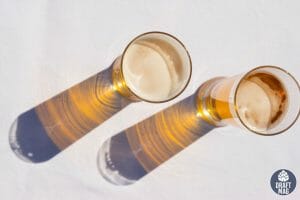 By pushing the lines of traditional methods of beer making, they aimed at starting a movement in the craft brewing industry. This is where the name of the brewery came into existence.
Their Must-try Beers
The Ancient Night Owl is a rich and robust Imperial Stout brewed at 12 percent ABV. It is brewed with Guatemalan cocoa and toasted coconut. Another delicious brew is the Beer of Kings brewed at 7.5 percent ABV. This is a classic American IPA brewed with mosaic hops which release juicy hop aromas and flavors.
– Fair Oaks Brew Pub
This brewery is located in the main village and is a nano brewery. They brew small batches of up to five beers on tap and host up to nine guest taps. They also serve delicious artisanal pizzas, all homemade from scratch. Besides craft beer, they serve craft wine and specialty cocktails.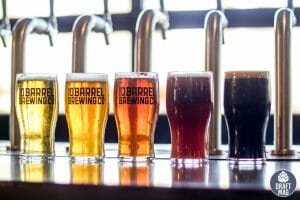 Their Must-try Beers
Queen Tangerine is a refreshing Light Ale brewed at 5.0 percent ABV. This is one of their most famous house brews with a light body, crisp mouthfeel and light tangerine and citrusy notes.
– Auburn Alehouse Brewery
The Auburn Brewery history dates back to 2007 when they first started brewing quality craft brews. The place is full of vibrant people flocking in and out throughout the day. It has an inviting atmosphere, good beer and a decent spread of starters and burgers.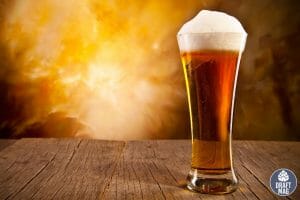 Their Must-try Beers
Whitey's Rusty Spur Lager is a classic American Light Lager brewed at 4.5 percent ABV. It is brewed keeping traditional American standards in mind and is extremely, light, crisp and refreshing.
American River Pale Ale is another classic American Pale beer brewed at 5.6 percent ABV. This is their personal version of a breezy West Coast Pale Ale with a delicious balance between the caramel malt profile and the vibrancy of fruity hops.
– Palm Tree Brewing Company
This is a Hawaiian-inspired trap house built for the sole purpose of letting its visitors enjoy some tropical island time. They have something for everyone, and not just in terms of tapped beers, but also on their food menu.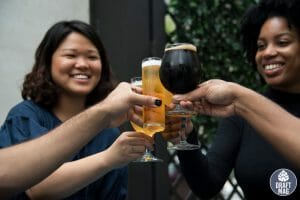 The brewery is minimalistic designed, with a large outdoor garden space, and minimal furniture. They also host private events if booked earlier.
Their Must-try Beers
You must try the Bismarck Palm Doppelbock Lager brewed at 8.8 percent ABV. This is a classic Bock deep-copper in color and a heavy mouthfeel and clear malty and caramel backbone.
Another must-try from this brewery is the Purple King Palm IPA brewed at 8.5 percent ABV. This beer is a super clear, light golden-colored IPA with a refreshing mouthfeel, light body and slightly citrusy flavor.
Conclusion
These are the 10 most famous and most loved breweries in Folsom, but once you start your brewery tour, there are many smaller, nano breweries to explore. These 10 breweries brew some of the most delicious beers in town and will keep you hooked and wanting more.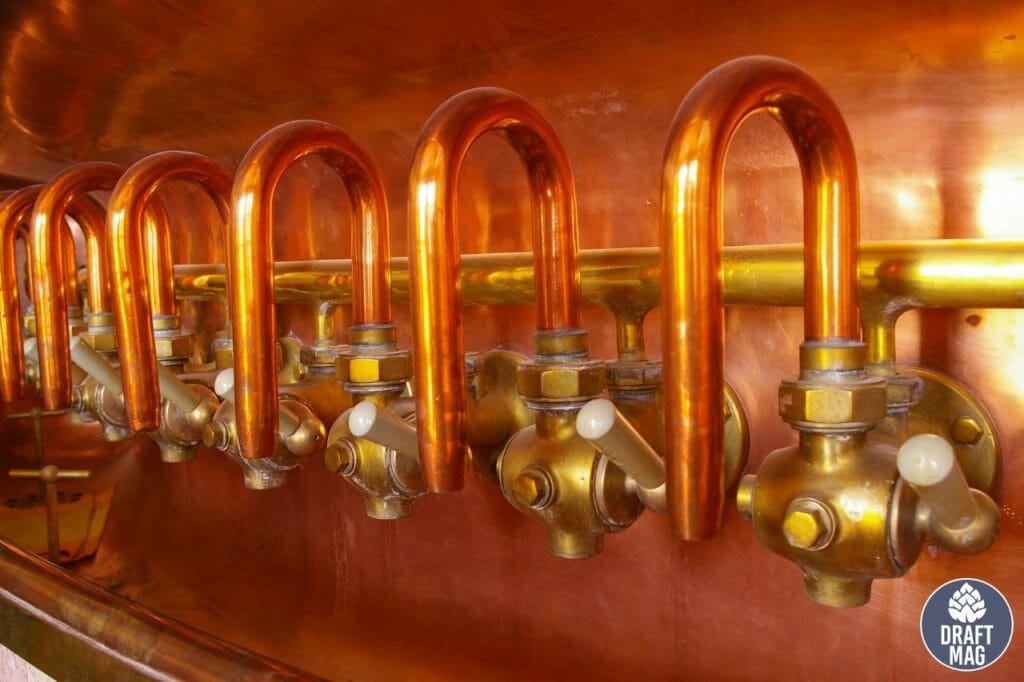 The Out of Bounds Brewery Folsom menu is filled with delicious American pub grub food, so if you enjoy burgers and sandwiches and fries along with your beer, this is your spot.
Mraz Brewing is a dog-friendly brewery and has an open outdoor space where you can enjoy a good sundowner with your family and friends.
Fair Oaks is known for its thin crust pizza served in their relaxing tavern.
So what are you waiting for? Put on your shoes and drive away into the world of delightful brews in this tiny cozy corner of California.