Best Breweries in Greensboro, NC
Prepare your tastebuds for an exciting adventure across Greensboro's breweries, as each one showcases their craft with flavorsome beers and unbeatable hospitality. With every sip, you'll become part of a welcoming culture of beer fans that truly cherishes its brewing traditions.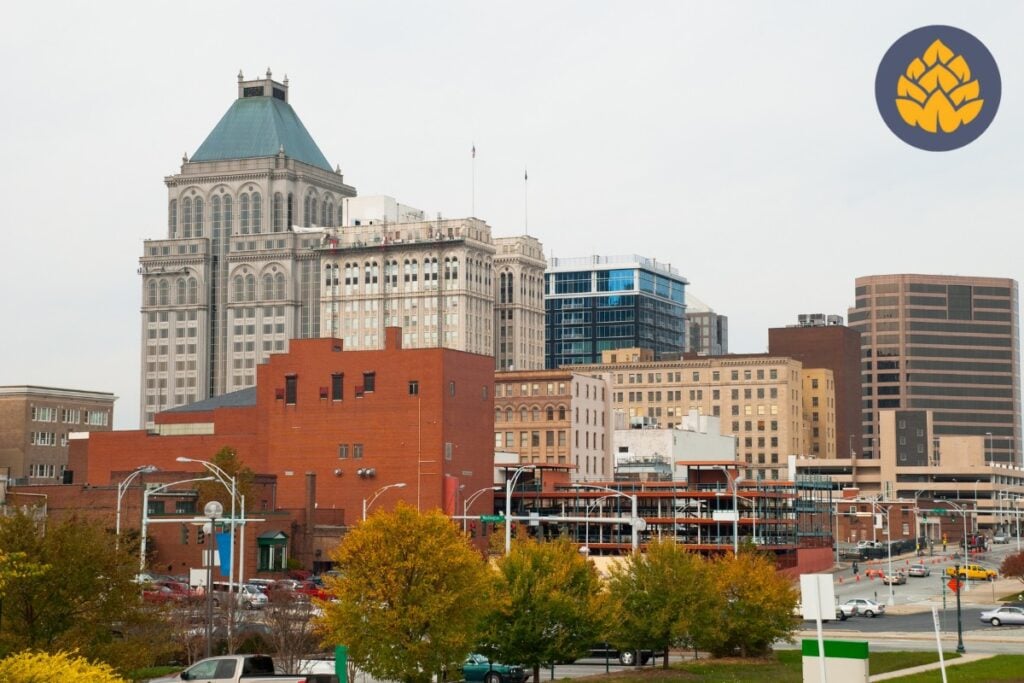 Greensboro has some of the Best North Carolina Beer on offer and will have you drinking until the cows come home! From Amber ales to Belgium Trippel, and delicious Dessert Stouts, there's something for every palate in Greensboro.
Greensboro, North Carolina, is a thriving city that's rich in history and heritage with a population of around 300,000, located in Guilford County.
Those who want to thoroughly immerse themselves in history should definitely check out the International Civil Rights Museum in the former Woolworth's department store, the National Military Park, dedicated to the Battle of Guilford Court House, or the Greensboro Historical Museum.
The city is also home to many colleges and universities, which have opened the door for many breweries and restaurants, thanks to the influx of college students and young professionals moving to the city. Plus, every year, Greensboro hosts an annual Summertime Brews Festival with dozens of breweries, food trucks, activities, and music available for party-goers and craft beer lovers to enjoy.
So, whatever you're visiting or moving to Greensboro for, know that you'll be welcomed with open arms.
And no place welcomes its Greensboro visitors more than craft breweries with lively atmospheres, proper pub food, live music, and of course, drool-worthy refreshing pints! Let's jump in and talk about the best breweries in Greensboro, NC.
Readers Favorite: Joymongers Brewery
Though many on this list are great breweries in their own right, Joymongers gets the nod! The large outdoor grass surrounded by seating areas is just the perfect place for kids and dogs to run around. Plus, the beer and food is on point delicious.
Best Breweries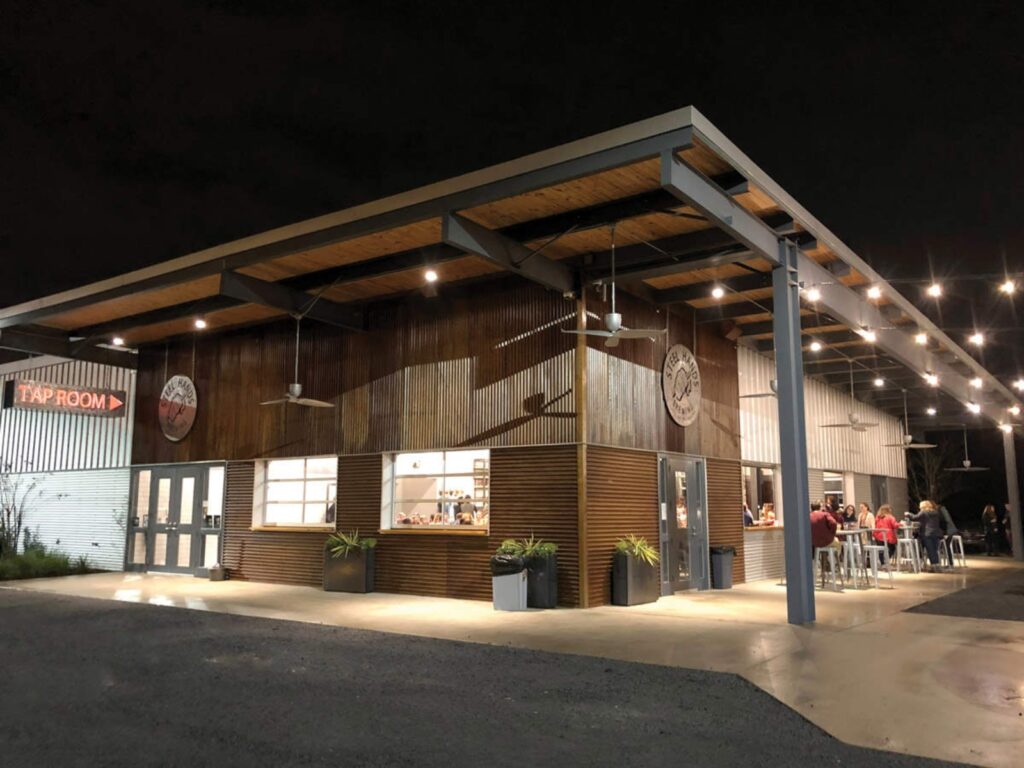 Steel Hands Brewing is one of the newest breweries in Greensboro, situated right across from the Greensboro Coliseum. Their taproom provides the perfect spot to enjoy a pre or post-event drink with a lively atmosphere, ample indoor seating, live music performances, and a spacious outdoor patio area.
The brewery takes pride in its beer and food offerings, with a wide range of craft beers, from types of IPA to amber ales, and innovative seasonal dishes available. Some of their most popular dishes to snack on are their delicious pizzas and brew pub-style pretzels with beer cheese.
Location details
Recommended Beer: Papaya Hefeweizen – a refreshing twist on a Hefeweizen base beer with a dry papaya sweetness from different temperatures during the mashing process. Love Hefeweizen? Check our article on the best Hefeweizen beers.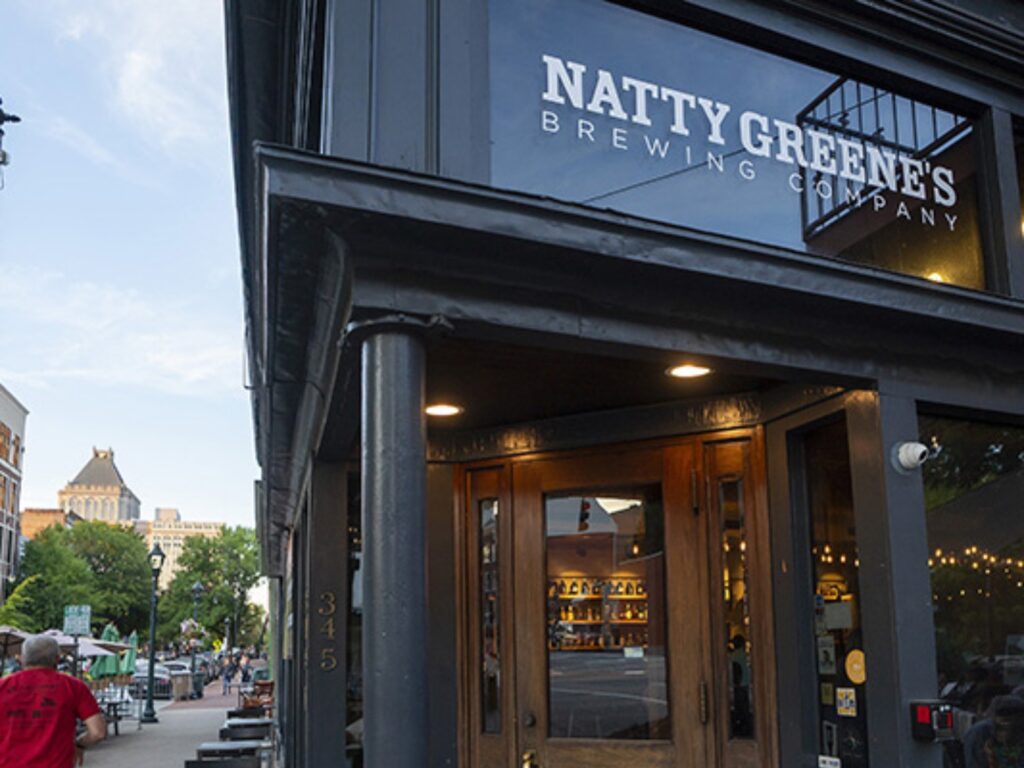 Established in 2004, Natty Greene's Brewing Company is one of Greensboro's oldest and best breweries. As a microbrewery, they focus on producing sustainable and delicious beers.
The brewery's location is situated in the downtown Greensboro area on Elm Street, making it easily accessible and the perfect stop during a brewery tour.
Natty Greene's offers a variety of venue details, events, and game nights, such as trivia nights and run clubs to entertain their guests. With two levels of seating, including an outdoor patio, the local brewery accommodates various tastes and preferences.
The expansive beer and food menu, featuring locally sourced ingredients, ensures the best quality and flavors for a satisfying experience for all visitors.
Location details
Recommended Beer: Olde Town Brown Ale – a smooth, slightly sweet brew with a dark roast malt base and baker's chocolate, creating a bitter, dry finish.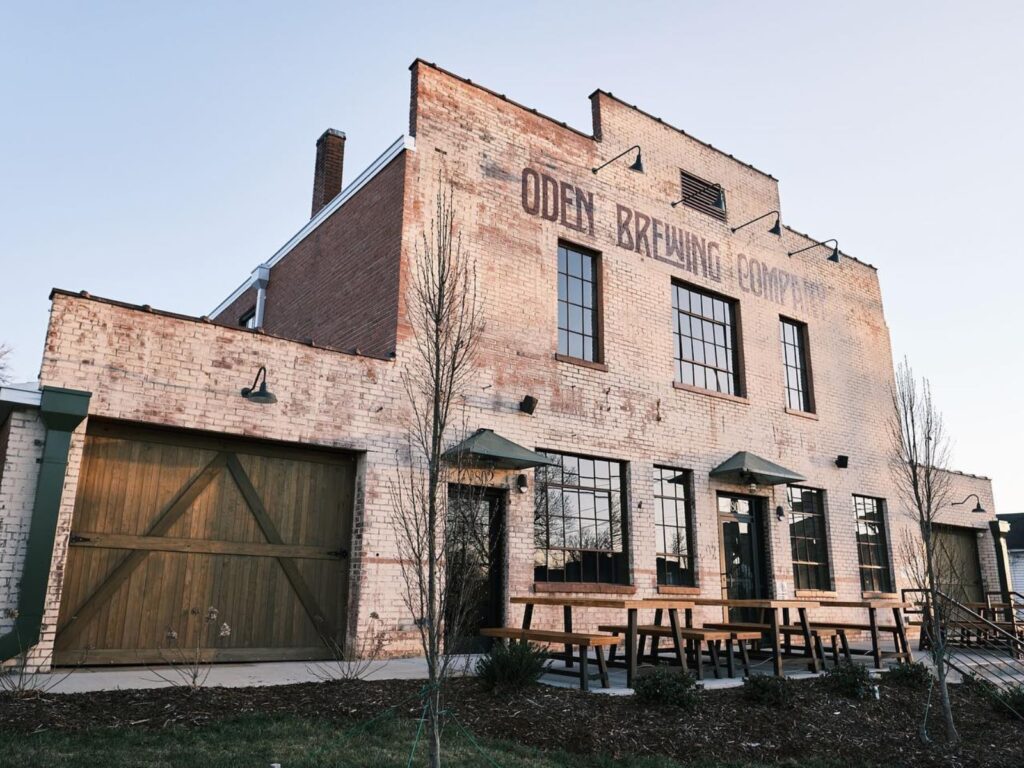 Oden Brewing Company's history goes back to an old bottling facility, which was completely transformed into a brewery while retaining its rustic charm. The Oden family brewery and taproom offer 15 rotating taps, featuring numerous beers ranging from porter to pale ale and everything in between.
The brewery serves as a bustling hub of activity for locals and tourists, with a packed schedule of events such as open mic nights, songwriter sessions, running clubs, and much more.
While Oden Brewing Company does not serve food on-site, food trucks often make an appearance to provide visitors with a variety of dining options.
Location details
Recommended Beer: Deliberate Disregard Blonde Ale – a light, easy-drinking ale with a surprising hop twist!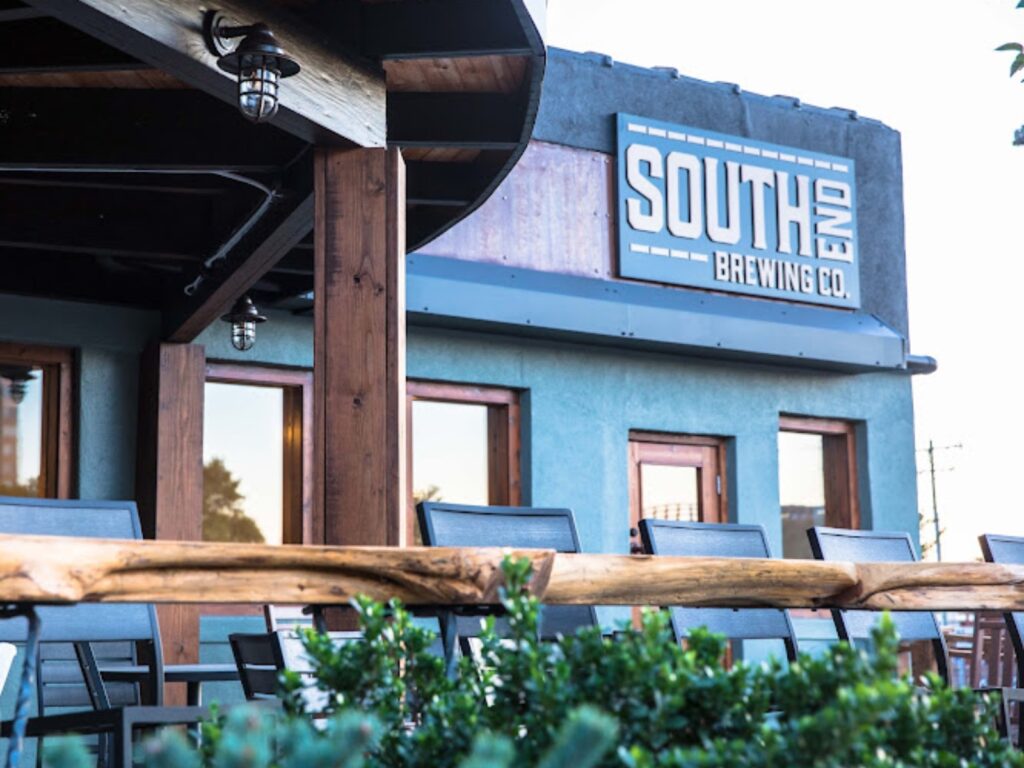 Founded by a father and son duo, SouthEnd Brewing aims to create the perfect atmosphere for guests to relax, enjoy a beer, grab a bite, and strike up a conversation.
Situated in downtown Greensboro, SouthEnd Brewing's location is ideal for starting and ending your brewery tour. The venue offers plenty of indoor seating, an outdoor patio area, and a packed calendar of events to keep you entertained – including trivia nights, live music, and a run club.
With a diverse beer menu and a mouth-watering food menu, from shareable dishes to snack on with your friends to loaded sandwiches and specialty fries, SouthEnd truly caters to all palates.
Location Details
Recommended Beer: Flying Hyena American Pale Ale – a rich, malty brew that highlights the flavors of Marris Otter and Vienna malts, blended with five different hops.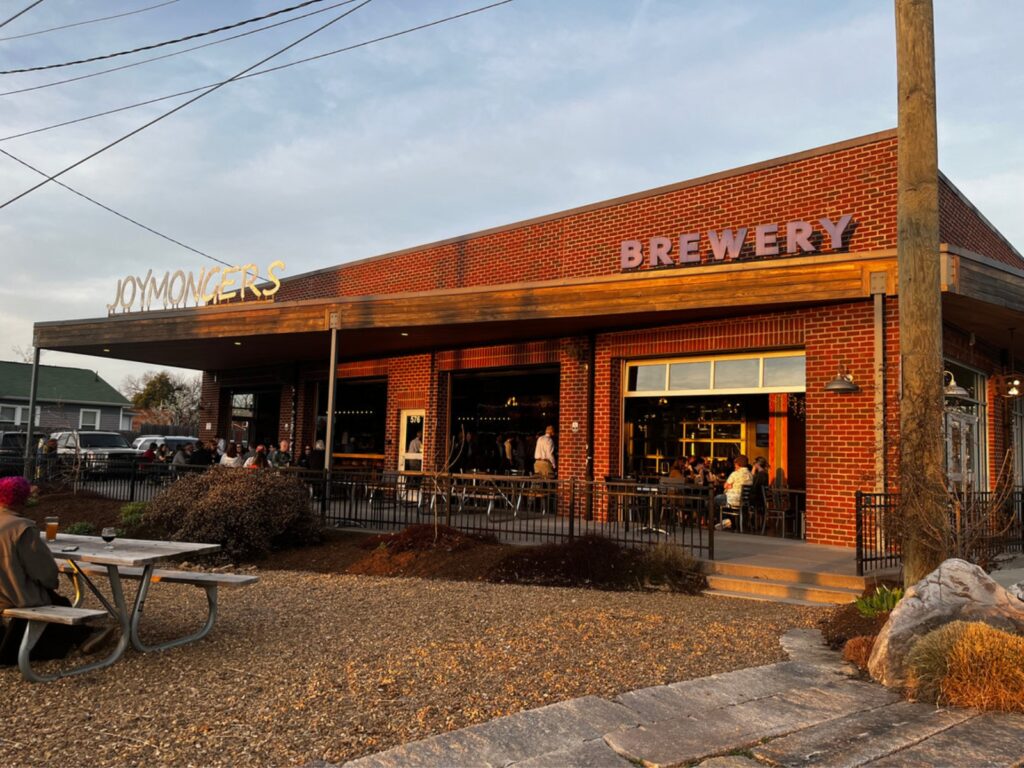 Joymongers Brewery is another popular spot for beer enthusiasts in Greensboro and Winston-Salem, offering a lively atmosphere with food trucks and live music every week.
With up to 16 beers on tap at any given time, Joymongers ensures a fresh and interesting variety of beers for your enjoyment. The brewery also hosts various events, game nights, and live music, which make it a perfect place to kick back and relax with your buddies.
The spacious outside seating area and turf section provide ample space for families and their furry friends to spend quality time together. Apart from their wide selection of great beers, Joymongers also offers a range of delicious ciders, sours, wines, and other innovative drinks.
Location Details
Recommended Beer: Vienna Lager – a creamy, copper-colored lager with a slightly toasty, complex malt profile and a touch of bitterness that finishes dry.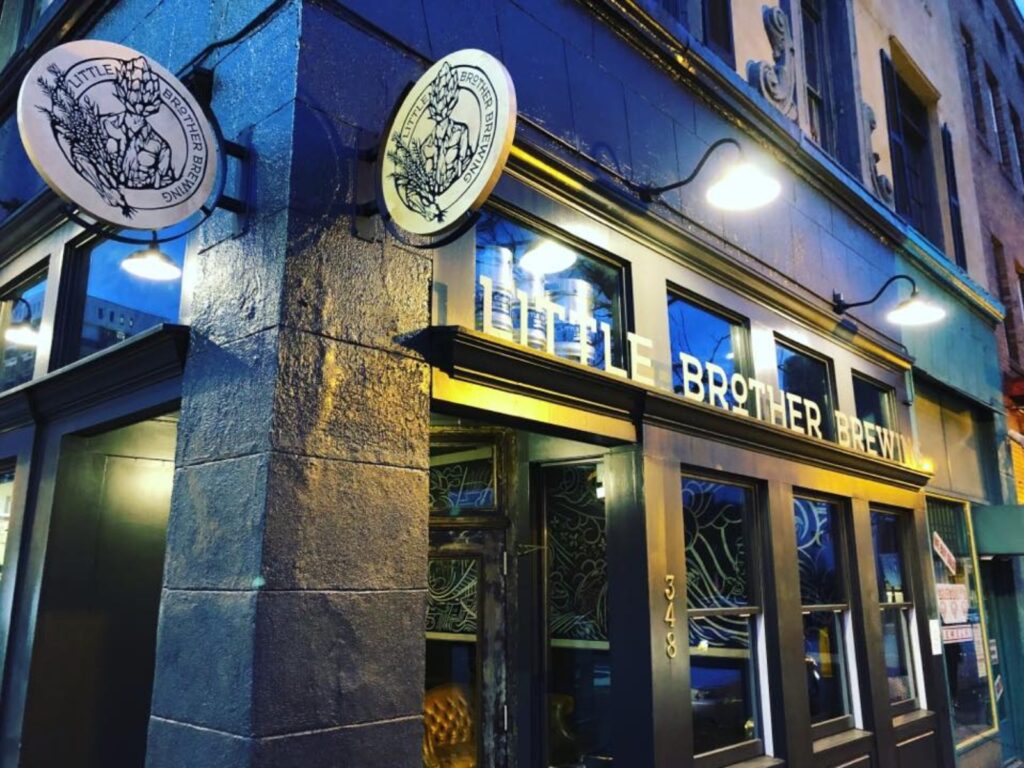 Little Brother Brewing is a small boutique brewery in the heart of downtown Greensboro near Market St. and the Civil Rights Museum, offering an intimate setting for visitors to chat with bartenders and fellow patrons while sipping on one of their flavorsome craft beers.
They employ a 4-barrel brewing system, which emphasizes creativity and experimentation with ingredients sourced from North Carolina farms to produce the best beer possible.
Little Brother Brewing provides a distinctive experience for guests by offering live music on Fridays and Saturdays from local musicians, plus other events throughout the week. The brewery is also available to book for private events, like birthdays, office parties, or workshops.
Location Details
Recommended Beer: Creme Brulee Stout – a delicious stout that combines the flavors of crème brûlée crust and sweet custard for a unique and satisfying finish.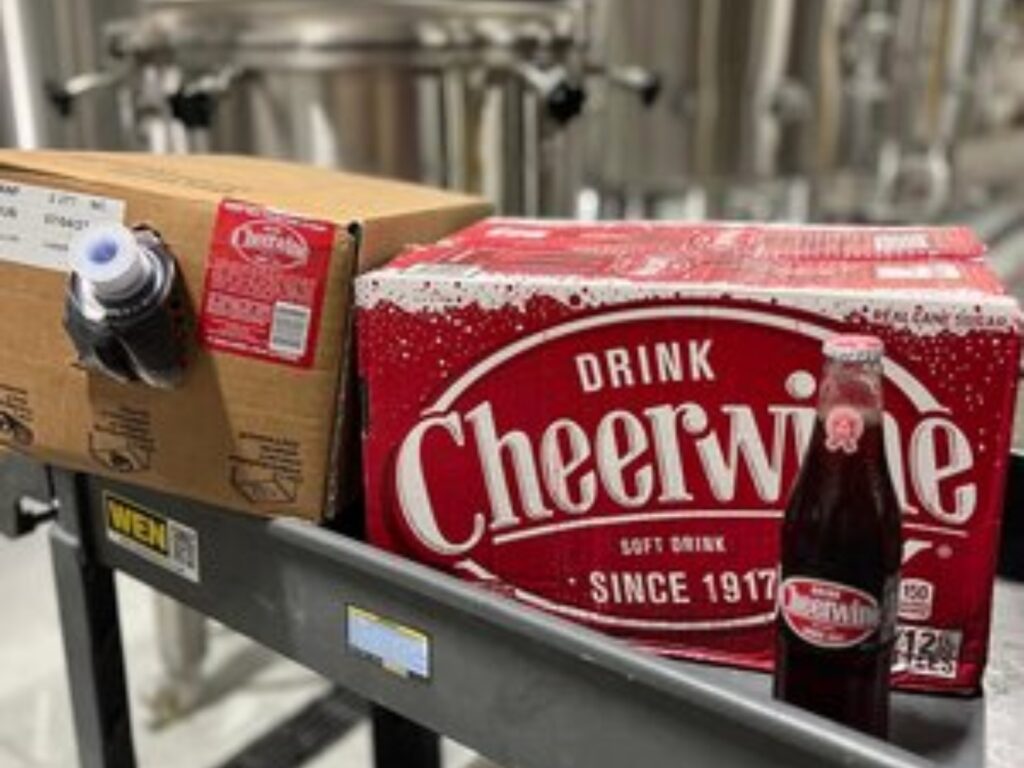 For those seeking an alternative to beer, Bull City Ciderworks offers a tantalizing selection of ciders in their Greensboro location. The cidery's extensive menu features a range of flavors and seasonal items, ensuring a treat for your taste buds.
The brewery provides plenty of indoor and outdoor seating, complete with fire pits for those cold evenings. Although they do not serve in-house food, the cidery frequently collaborates with local food trucks to offer guests a diverse dining experience.
And for those seeking something to laugh about while enjoying a cold, refreshing cider, Bull City Ciderworks has comedy nights, music bingo, and Trivia throughout the week.
Location Details
Recommended Cider: Cherry Tart – Bull City Ciderworks' most popular and refreshing cider option that is sure to put a smile on your face.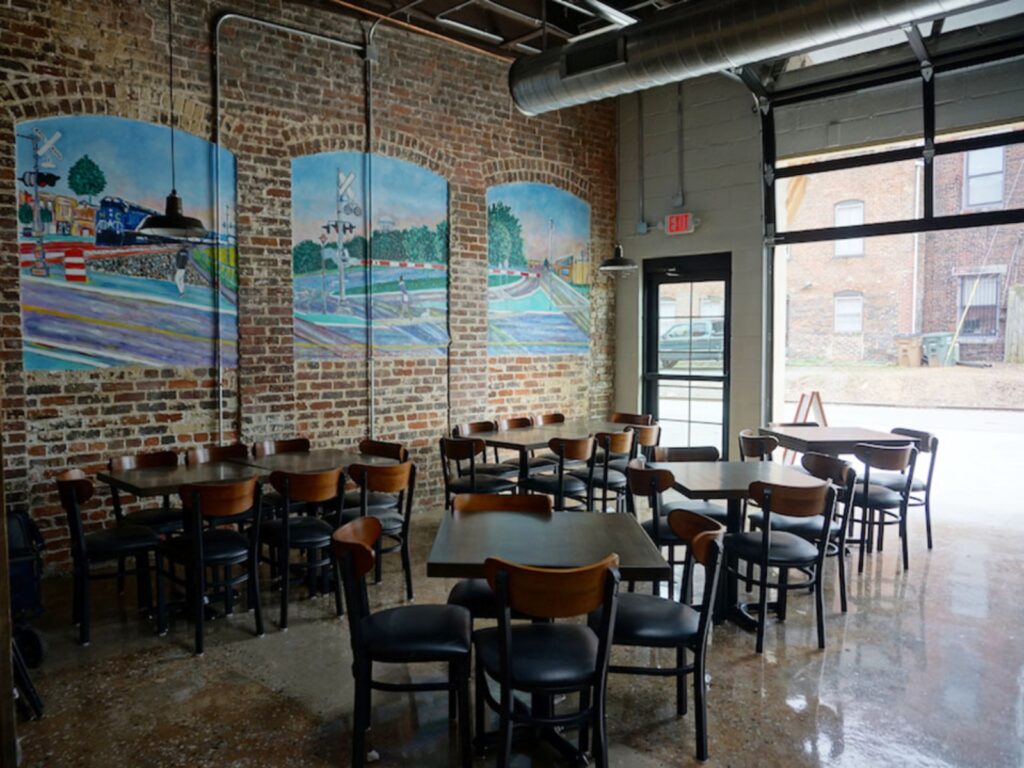 As the newest addition to Greensboro's brewery scene, Hidden Gate Brewing Company is making waves with its diverse beer offerings and dedication to giving back to the local community.
This hidden gem is located on a side street on Elms St. near Natty Greene's, offering a unique and intimate experience for beer lovers. With its dedication to supporting local charities and the homeless, Hidden Gate Brewing Company stands out among its peers.
The brewery's ever-expanding beer menu provides a wide range of options, ensuring there's something for everyone, plus there's plenty of games to participate in and live music shows to see.
Location details
Recommended Beer: Crushing It – American Premium Lager – a light, crushable, straw-colored lager with a clean finish and subtle aroma of flaked maize.
Expert Tip
When traveling to Greensboro, there's ONE place you must visit! The Greensboro Science Center.
It's one of the coolest places in Greensboro because it combines an aquarium, museum, zoo, and a tree-top adventure park all in one venue. Kids and adults love it because there's so much to see and do!
The zoo houses many exotic animals, spectacular gardens, a variety of marine life, and the museum offers interactive scientific exhibits. It's a wholesome educational and entertainment experience for both and a wonderful place for family-friendly fun and learning before hitting the breweries.
FAQs
Have any Greensboro breweries won any awards for their beer?
Yes, Natty Greene's Brewing Company has won several awards for its delicious craft beer, including a gold medal at the Great American Beer Festival for their American Sour Ale in 2016.
Do the breweries in Greensboro offer beer tasting?
Yes, Little Brother Brewing and Oden Brewing Company offer beer tasting, often as part of a brewery tour or at special events.
Which brewery is best for private events or parties?
For private events or parties, Little Brother Brewing is a great option as it offers a lively setting equipped for large crowds.
Related Local Breweries
If you want to find more hidden breweries dotted around North Carolina, check out the best breweries in Winston-Salem, the best breweries in Cary, or the best breweries in Wilmington.
Wrapping Up
Greensboro, NC, is undoubtedly a paradise for beer lovers with its impressive selection of local breweries, offering a vast array of unique brews and lively entertainment. Make sure to explore these amazing breweries for an unforgettable, fun-filled experience built on exceptional craft brews and an inviting community spirit when in town, and don't forget to share your story with us!