Best Breweries in Durham, NC
Brewing up a storm in the beer world, Durham, North Carolina, has become a hop haven for craft beer aficionados. With its burgeoning brewery scene, Durham offers the perfect blend of innovation, sustainability, and taste in every pint, definitely worth raising a toast to.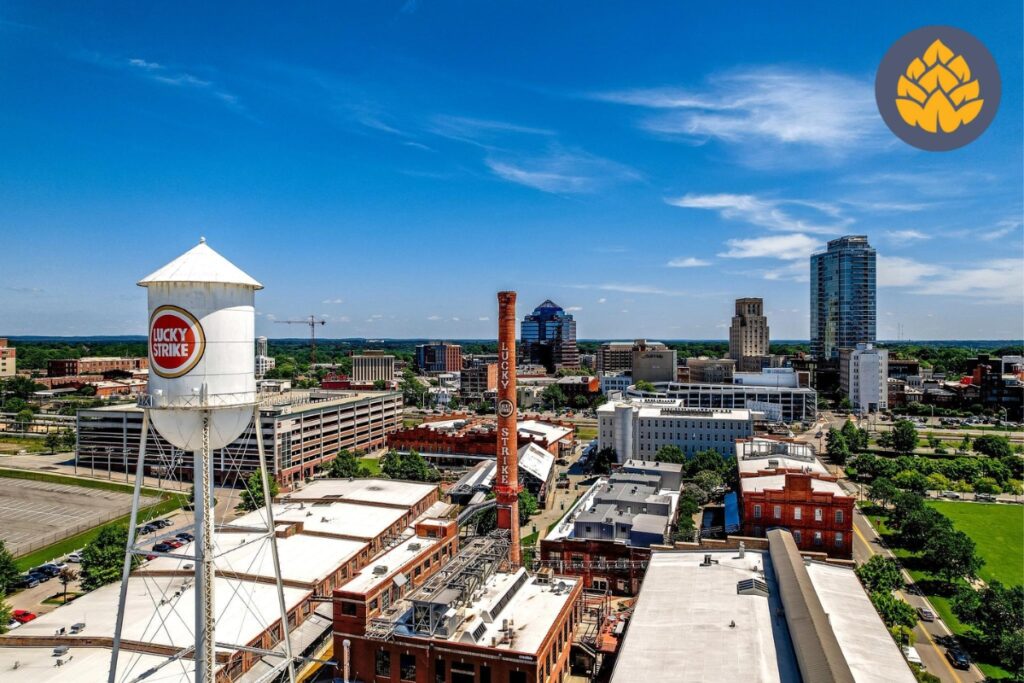 If you're a craft beer enthusiast, our in-depth beer reviews will give you a rundown of what to expect from each establishment. Once you've found your favorite, why not learn how to make your favorite beer at home?
Why we love this
When it comes to enjoying a pint of craft beer, Durham, North Carolina, has created a reputation as a bull's-eye destination for discerning beer enthusiasts.
Known for its thrilling sports scene, academically inclined institutions, captivating science and technology centers, and an array of fascinating museums, the vibrant city has blazed a new trail in the brewing industry over the past decade.
Manchester of the modern South, or the 'Bull City' as residents affectionately call it, has seen a renaissance in the downtown Durham area, resulting in an innovative craft beer scene that sets it apart as a 'Beer City' teeming with creativity and taste.
With each taproom having its unique charms, from special small batches to robust brew offerings, these beer heavens offer a brew for every beer lover. These local breweries are not just places where magical brews are crafted; they serve as economic pillars and cultural cornerstones, uplifting the community.
They bring together the love for local agriculture, the passion for sustainable brewing practices, and the drive for creativity, truly mirroring the spirit of Bull City.
Durham Breweries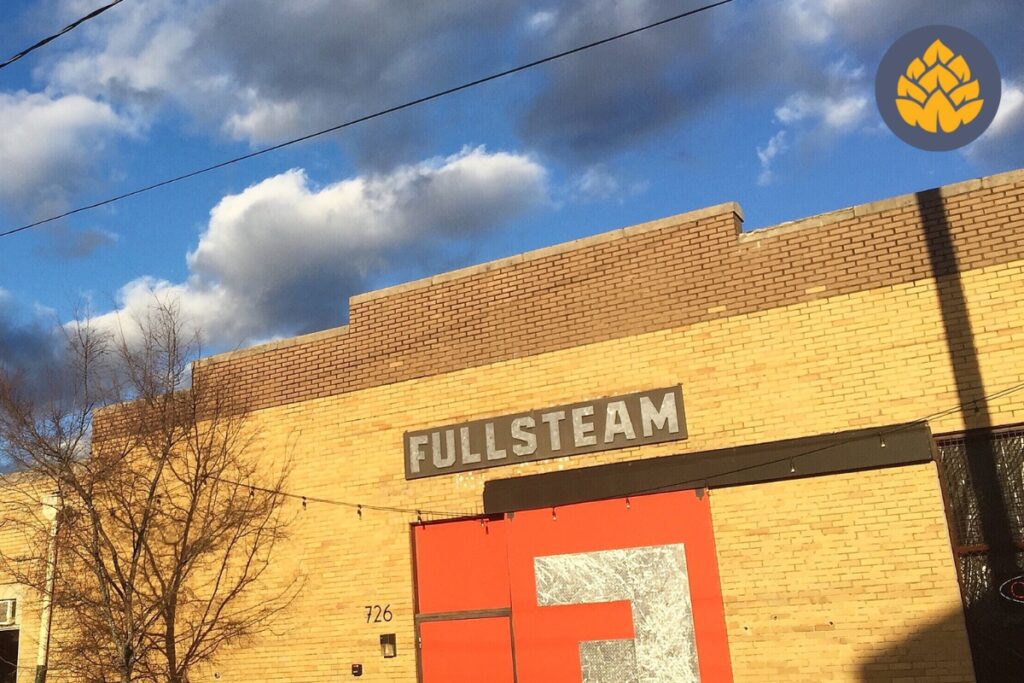 Starting your North Carolina craft beer journey, your first pit stop must be the Fullsteam Brewery. Integral to the Durham brewery scene, this pioneering business serves as a reflection of the Southern beer economy. Having a robust connection with Southern farmers and living by the 'Plow to Pint' mantra, Fullsteam sets the bar high in terms of sustainability and creativity in brewing.
The brewery's commitment to using local ingredients shines through in their notable beers and experimental brews. From their First Frost Winter Lager, made with hand-harvested persimmons, to their Hogwash Hickory-Smoked Porter, featuring barley smoked on-site, Fullsteam Brewery pushes boundaries and challenges palates.
Their approachable yet distinct flavors have earned them a devoted following and numerous accolades within the craft beer community.
Location details
Beer recommendation: Paycheck Pilsner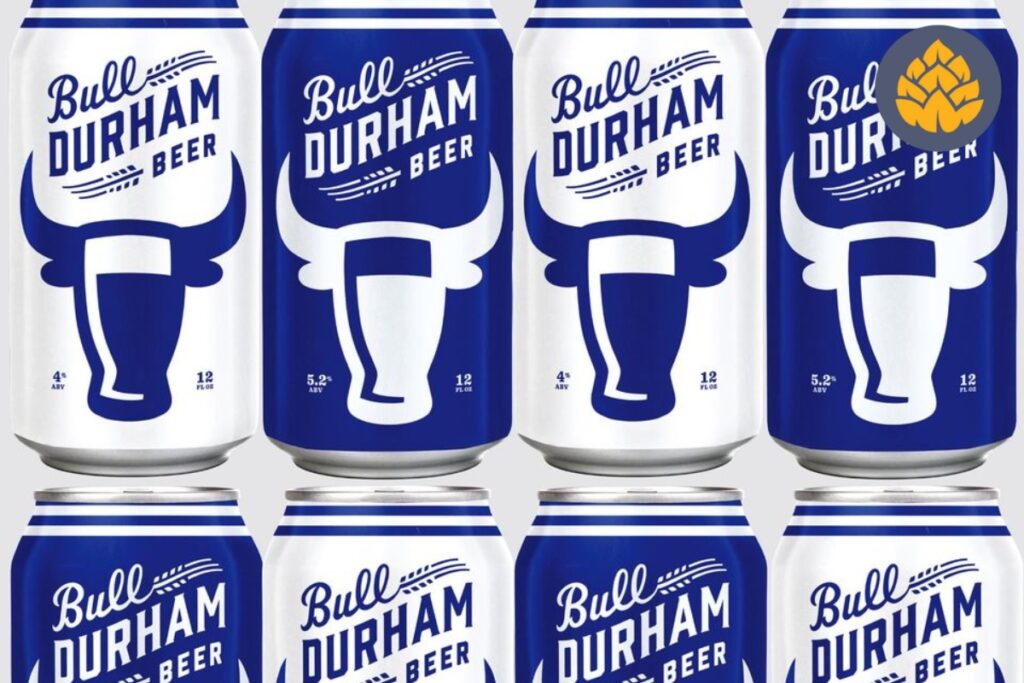 Continuing on the Durham beer adventure, a visit to Bull Durham Beer Company is a must.
Situated within the iconic Durham Bulls Athletic Park, it holds the prestigious title of being the first brewery in the country located inside a sports stadium. This innovative concept combines the passion for both baseball and beer, further elevating the city's reputation as a craft beer destination.
Enjoy their delicious beers brewed on-site while taking in the thrilling ambiance of a minor league baseball stadium. With a focus on traditional beer flavors, their offerings range from classic IPAs to smooth and malty lagers.
Whether you're a baseball fan or not, the experience of sipping a freshly brewed pint while watching a game is nothing short of exhilarating.
Location details
Beer recommendation: Bull Durham Beer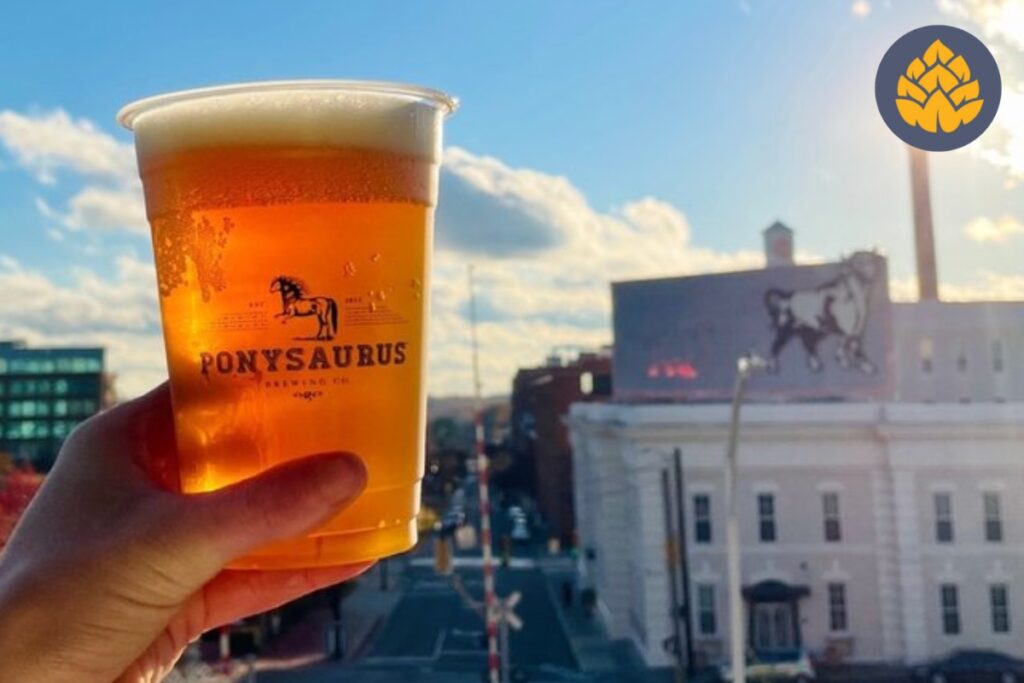 Ponysaurus Brewing is another gem in Durham's crown of craft breweries. Known for its European-inspired brews, this brewery boasts a wide range of offerings, from traditional Belgian ales to experimental flavors.
Their attention to detail and dedication to quality shines through in every pint they pour. From their renowned Scottish Ale with a rich malty character to their refreshing and crisp Kölsch, Ponysaurus Brewing has something to satisfy every beer lover's palate.
Ponysaurus also boasts activities and entertainment for guests that like to enjoy a cold brew with games and music with trivia nights, music bingo, and pony run ( a thrilling run with the local community and a cold beer after) scheduled on their monthly event calendar.
Location details
Beer recommendation: Bull Durham Beer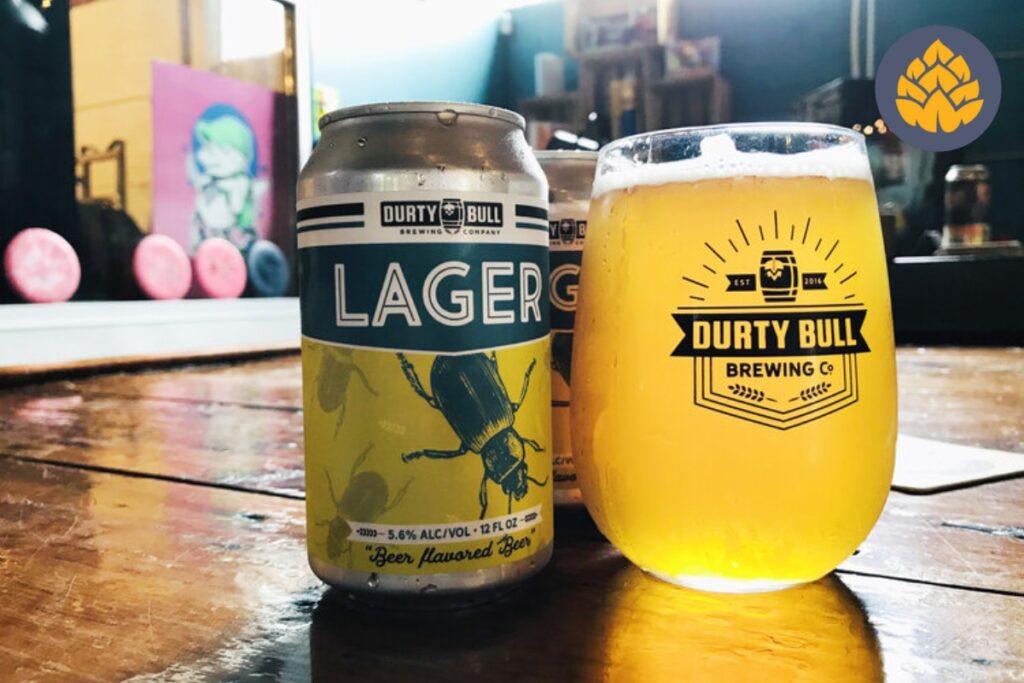 Durty Bull Brewing Company has become a mainstay in Durham's craft beer landscape and is known for its dedication to old-world brewing techniques. With a history dating back to 2016, this brewery has quickly made a name for itself and has even been ranked as one of the top breweries in the nation.
Durty Bull takes pride in its commitment to using traditional brewing methods, allowing their unique and full-bodied flavors to shine through. From their barrel-aged sours to their wild ales, each sip is a testament to the artistry that goes into their brewing process.
Their taproom provides a cozy and inviting atmosphere, making it the perfect spot to gather with friends and enjoy their exceptional beers. For those seeking a relaxing place to unwind in the sun, their beer garden provides the ideal scenario.
Location details
Beer recommendation: Barrel-aged sour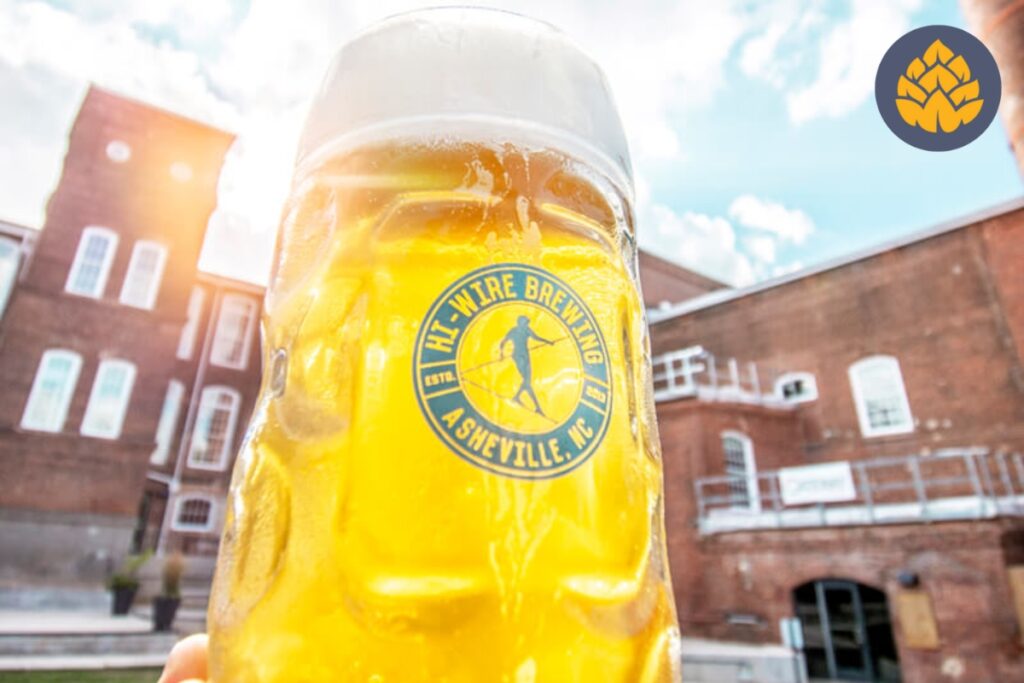 Hi-Wire Brewing at Golden Belt is a must-visit destination for beer lovers seeking a balanced and diverse beer experience. Known for its wide range of seasonal offerings and indoor and outdoor locations with up to 20 unique beers on tap, Hi-Wire Brewery is the perfect setting to enjoy their carefully crafted brews.
Their taproom on Taylor St Durham, NC, is perfect for pet lovers and families with interactive games such as soccer pool tables, table tennis, foosball, shuffleboard, and a huge patio for the furry animals to relax.
And if that's not enough, this great brewery goes above and beyond with its 360° of vibrant indoor murals. The colorful artistic murals add plenty of color to the taproom and bring in crowds of street art lovers from around North Carolina to admire while they drink beer.
Location details
Beer recommendation: Hi pitch Mosaic IPA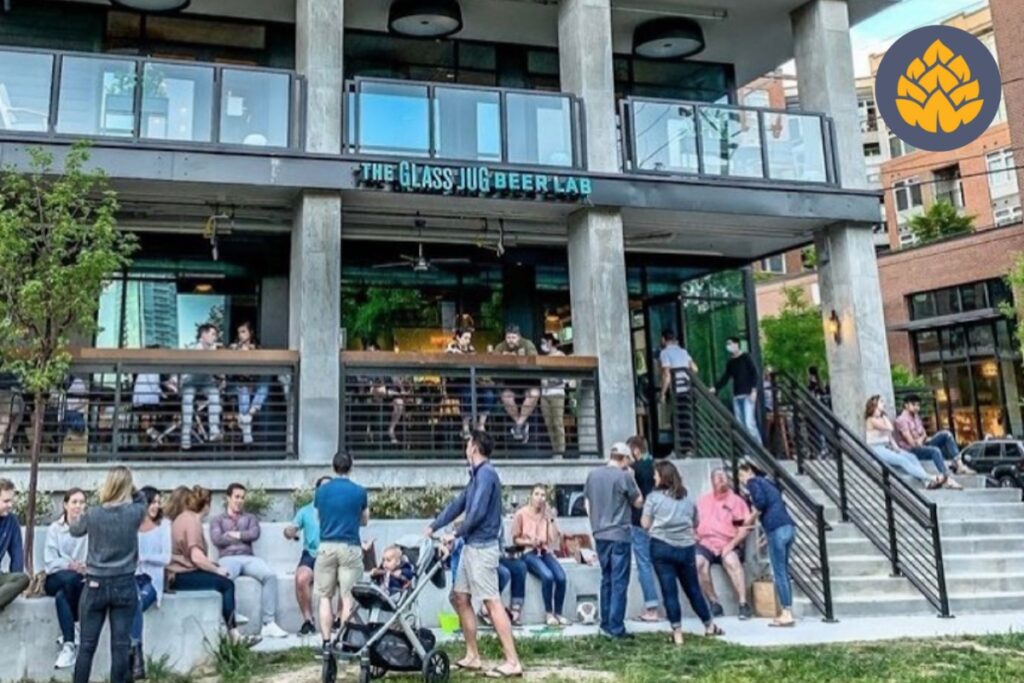 The Glass Jug Beer Lab takes a unique approach to brewing, emphasizing science and sterilization in their small-batch, experimental brews. Their commitment to innovation is evident in their scientific-themed beer names and options.
With a constantly rotating tap list and knowledgeable staff, The Glass Jug Beer Lab provides an educational and enjoyable experience for beer enthusiasts.
Though, Glass Jug Beer Lab is more than just an ordinary brewpub. This Durham brewery gets involved with the local community and assists and contributes to both STEM and community-minded projects and organizations. And to top it off, guests are treated to live music, food trucks, festivals, beer garden jam sessions, yoga, game nights, and more while enjoying great beer.
Location details
Beer recommendation: Research Triangle Pilsner
Starpoint Brewing (in collaboration with Beer Study) has become a celebrated Durham establishment. Known for their small-batch beers, Starpoint Brewing has carved a niche for themselves in the beer community.
Their dedication to creating hop-forward beers has resulted in fan favorites like "Hipster or Hobo," a West Coast-style IPA bursting with citrus and pine flavors. This brewery and bottle shop is also dog-friendly and has a soccer bar and arcade games for parents and kids to enjoy, making it a great place for families to hang out and taste their delicious beer.
Location details
Beer recommendation: Hipster or Hobo Pale Ale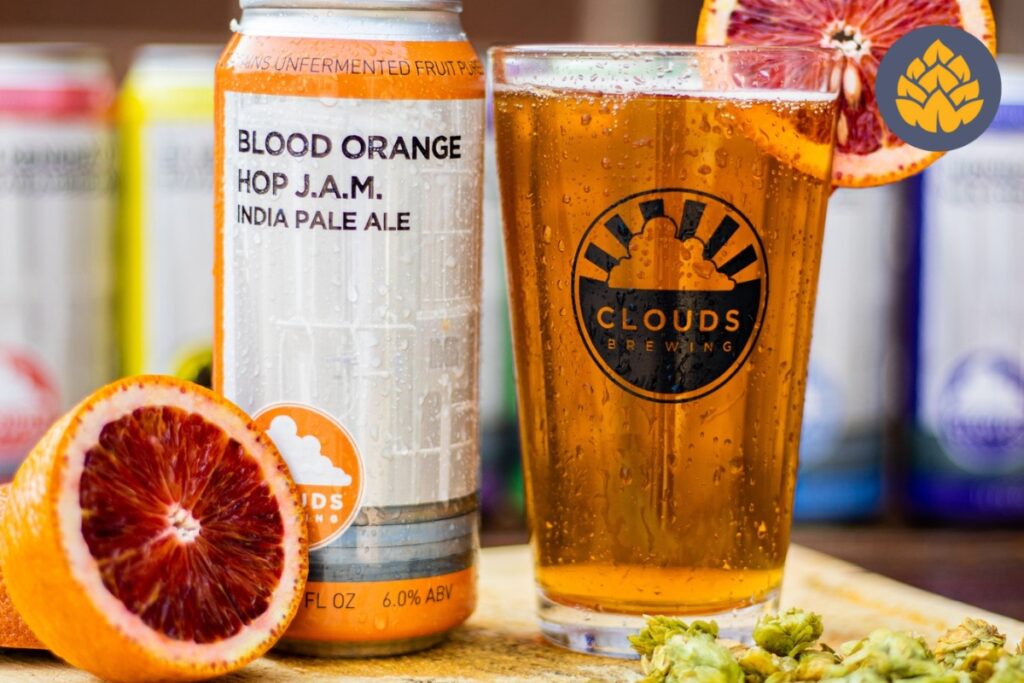 Clouds Brewing is a German-inspired brewery that brings a taste of European-style beers and cuisine to Durham.
With an extensive selection on tap and an in-house food menu featuring dishes like nachos, chicken wings, pretzels, and grilled bratwurst, Clouds Brewing makes sure customers don't go hungry during their visit.
They also host events of up to 250 people in their rustic-style warehouse, perfect for larger parties, and up to 40 guests in their private dining area fitted with TVs, a sound system, and a projector for showing slideshows and PowerPoints.
Whether you're seeking a refreshing lager or a rich and malty stout, their pub-style atmosphere and friendly staff provide the perfect setting to enjoy their carefully crafted brews.
Location details
Beer recommendation: Blood Orange Hop J.A.M IPA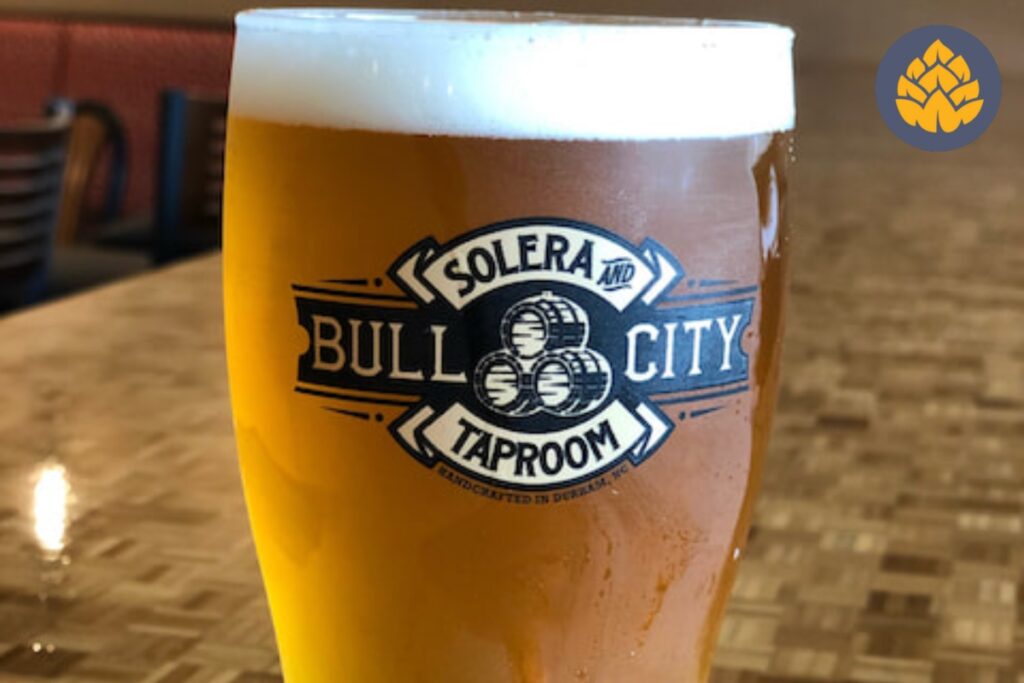 Bull City Burger and Brewery (BCBB) is not only a brewery but also a sustainable and community-driven establishment. As a certified B Corp, they adhere to strict brewing principles that prioritize environmental sustainability and community impact.
In addition to brewing exceptional craft beers, BCBB is also known for their pasture-raised beef burgers. The combination of their delicious brews and high-quality food, makes for an unforgettable experience.
But that's not all!
Visitors planning a trip to the brewery during March can get involved in the annual Bull City event "Golden Bulls" – a thrilling hunt for Golden Bulls using puzzles and riddles to find them to win FREE BULLS BURGERS FOR A YEAR. And if you're arriving in April, grab some exotic meats during Exotic Meat Month.
Location details
Beer recommendation: Bryant Bridge Gateway Golden Ale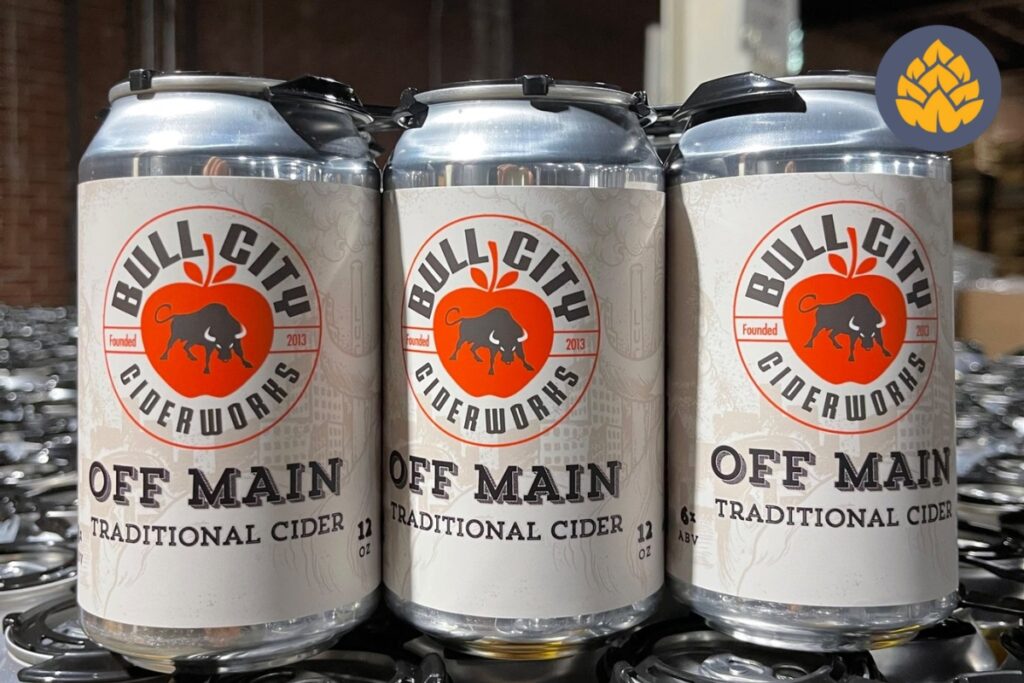 For those looking for something different from beer, Bull City Ciderworks offers a refreshing alternative with their handcrafted ciders. Located in the heart of Durham, this cozy cider bar provides a comfortable and inviting atmosphere to enjoy their unique and flavorful ciders.
From classic apple ciders to innovative fruit-infused options, Bull City Ciderworks has something to satisfy every palate. Whether you're a cider aficionado or a beer lover looking to try something new, this cider bar is a must-visit destination.
Location details
Cider recommendation: Fruit-infused cider
Top brewery tip
When visiting the breweries in Durham, be sure to take advantage of the unique experiences they offer. From watching a baseball game while enjoying a pint at Bull Durham Beer Company to participating in events like the Golden Bulls hunt at Bull City Burger and Brewery, these breweries go above and beyond to create memorable experiences for their visitors.
So, don't just go for the beer, immerse yourself in the atmosphere and activities that each brewery has to offer.
FAQs
Which Durham brewery caters for private events?
Clouds Brewing offers event hosting for up to 250 people in their rustic-style warehouse. They also have a private dining area that can accommodate up to 40 guests and a cocktail bar area for up to 50.
Which brewery is Durham's oldest brewpub?
The actual oldest brewery is believed to be Triangle Brewing Company, though it is no longer in operation. However, Bull City Burger and Brewery is one of the earliest brewpubs to establish a significant presence in the city's craft beer scene.
Do breweries in Durham, NC, offer brewery tours?
Yes, many breweries in Durham offer brewery tours. For example, Fullsteam Brewery and Durty Bull Brewing Company offer behind-the-scenes tours that include a walk through the brewing process and tastings of their craft beers.
Related Local Breweries in NC
After exploring the top breweries in Durham, it's worth broadening your horizons and checking out some of the other excellent beer cities in North Carolina. Our guides to the best breweries in Charlotte and the best breweries in North Carolina provide an in-depth look at the state's thriving beer scene and an impressive selection of breweries, taprooms, and beer gardens to discover.
Wrapping Up
In conclusion, Durham, North Carolina, offers many fantastic breweries that showcase the city's rich culture, inventive spirit, and commitment to sustainability. With their diverse offerings, unique flavors, and unwavering commitment to quality, these breweries have played a vital role in shaping Durham's cultural landscape and boosting its economy.