Cyclers Brewing: An In-depth Overview of This Unique Brewery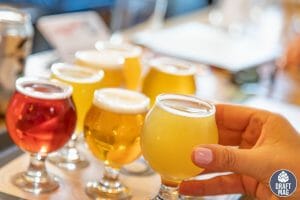 If you're visiting Texas for the beer, you must have heard of Cyclers Brewing Company. The Montgomery-based brewery is well-known for its cycling motif, which is evident in its name, making it stand out among others.
Aside from the cycling motif, the brewery is an excellent place for private reservations and beers with spices. This guide will review all you need to know about Cyclers and the best beers to enjoy in this brewery.
Cyclers Brewing Overview
Here's an overview of what to expect when you visit Cycler's Brewing. Although it's a small brewpub, it offers all visitors a unique and refreshing experience.
Address
17105 Osborn Road, Montgomery, Texas.
Hours
Saturdays: 1 pm – 4 pm

You are required to make reservations.

Tours
Private tours, 15-person minimum
Most Popular Beers
55-11 Double Red, Domestique Wit
Prices
$15 per person offered 3-4 beers
Growlers
N/A
Food
Bring Your Own
Kids/Pets
They are allowed
AC
N/A but cool weather in front of the lake and forest
Parking
Grassy lot in front of the barn
Bathrooms
Clean porta-potties
Offerings
Although Cycler's Brewing is a small brewery, the founders have stated that they don't want to outpace their growth. This is a common base of many small-scale breweries, and regardless of the size, the company has remained very popular.
You can enjoy drinking in the man cave upstairs when you visit the brewery. They have ping pong, darts, a pool table, and other games to enjoy. Although it's a hike to get to the brewery, it would be worth it when you enjoy the beers and food.
Some of the beers they are well-known for are 55-11 Double Red and Domestique Wit, but they also have some underrated beers that you should keep in mind when you visit. Here are some beers you can drink when you visit Cyclers in Montgomery, Texas:
Domestique Wit: 5 percent ABV
55-11 Double Red Ale: 7.9 percent ABV
DeRailleur Scotch Porter: 8.5 percent ABV
Bonked Pumpkin Ale: 9.5 percent ABV
Ryed Hard Rye IPA: 6.6 percent ABV
Palmares Russian Imperial Stout: 9.2 percent ABV
Breakaway IPA: 6.4 percent ABV
Ryed Hard: 6.6 percent ABV
Abi-Mi-Ale: 8.5 percent ABV
Saddletime: 6 percent ABV
Viva-la-Abi: 9 percent ABV
Whiskey Oak Aged Derailleur: 8.5 percent ABV
Mi'Lagre: 4.2 percent ABV
Culture Trip West Coast IPA: 6.9 percent ABV
Alley Cat Racer East Coast IPA: 5.5 percent ABV
Storm Ricer: 6.4 percent ABV
Best Beers at Cyclers
Although there are different beers to choose from when you visit Cyclers, it might be hard to go for just one if you're visiting for the first time. To help you out, here are the best beers you can have when you visit Cyclers.
– Domestique Wit
One of the most popular beers from Cyclers is Domestique Wit, a Witbier that quickly appealed to beer lovers in Texas. With a 5 percent ABV and 10 UBU, the beer is described as the American version of a Belgian Wheat ale.
The beer is unfiltered and made with wheat malts and organic oats. You can also taste hints of coriander, orange peels, and lavender, which gives it a slight flavor of lemon. The Domestique Wit is also brewed with aged hops, giving you low levels of hops in the aroma and taste. It's a perfect beer for quenching your thirst during summer.
– Ryed Hard
Another beer you should try out when you visit Cyclers is the Ryed Hard. Rye beers are known to have an average level of bitterness, which brings out the sour and spicy characteristics of the beer. Ryed Hard is the same, with a delicious aroma and fragrance that will attract you to the beer.
The beer has hints of citrus, but underneath it, you can enjoy the spicy aromas. It pours into an attractive golden copper color and a thin head. You will first taste the hoppy orange flavor with a spicy aftertaste that lingers when you first drink it.
– Breakaway IPA
It would be best to try out Cycler's definition of what an English IPA should taste like by drinking the Breakaway IPA. This beer features an excellent flavor profile, from the hazy golden color that ends with a foamy head. The beer has decent head retention and mild lacing.
The beer has a slight citrus scent on the nose, which follows into the taste. The balance of citrus and malt is combined with moderate hoppy bitterness. The grapefruit and pine are a strong backbone in this hoppy classic, and it has a 6.4 percent ABV.
– Palmares Russian Imperial Stout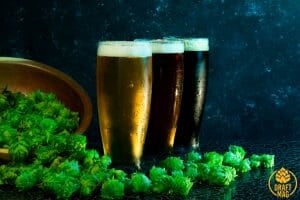 One of the best beers that go great with cycling is the Palmares Russian Imperial Stout, a perfect choice for any stout drinker. The beer's appearance is dark red-black with a foamy head, and the over-carbonation makes it a gusher. The carbonation allows the beer to fill your mouth instantly and has a sharp taste.
On the nose, the beer features aromas of molasses, raisin bread, chocolate, brown sugar, espresso, and some hints of yeast. The flavor follows the aroma, giving you a dark and earthy flavor. It is almost bitter when you first taste it, with a massive hoppiness. There are also dried fruit notes and coffee.
– 55-11 Double Red
Customers are also impressed with the 55-11 Double Red from Cycler. This Imperial Red Ale is a true classic and one of the most famous beers offered by this brewery. It is a strong ale with a 7.9 percent ABV. It has a murky amber orange color and an off-white head.
The beer has a fruity aroma of orange, candied orange, peach, and pine in the background. Some of this follows into the taste, but you can expect a strong backbone of caramel and mango. The hops make the beer bitter, and the mouthfeel is light and crisp.
– DeRailleur
At Cyclers, you can also enjoy the DeRailleur Scotch Potter, which gives you a combination of malts and chocolate. It has an 8.5 percent ABV and a lot of stout-like chocolate flavor. The beer pours black and tan, with a foamy head and minimal lacing.
It also has a chocolatey aroma that you can smell as you pour, but not overpowering. There is a blend of chocolate, café mocha, milk chocolate, dark fruits, and raisins that follow into the flavor. The scotch porter has a creamy soft mouthfeel, full of carbonation.
– Abi-Mi-Ale
You can also go for the Abi-Mi-Ale beer when you visit Cyclers, offering you a fantastic flavor and aroma. The Abby-Style Belgian Dubbel is a malty-rich beer with a medium to full body and expressive carbonation. It has spicy and mild alcohol characteristics, evident in the flavor and aroma.
The Belgian Strong Dark Ale has some aromas and flavors of dark fruit with mild hop bitterness. There's no lingering hop flavor in the beer, offering you a clean taste after you swallow. You will also enjoy hints of caramel because the beer was brewed with crystal malts and dark candy sugar.
– Saddletime
If you're on the lookout for something new, Saddletime is the ideal choice. The India Pale Lager is made with lager yeast that sharpens the taste and brings out the main characters: the hops. Like a saddle, the beer becomes more comfortable and delicious the longer you drink it.
A dry citrus base gives it a hoppy and refreshing character. The beer pours slightly cloudy yellow into a glass and has a nice head. The good retention leaves some lacing against the glass. It also has an aroma and flavor of lemon and grapefruit, giving you a delicious beer.
– Culture Trip IPA
You can also give this West Coast IPA a try whenever you visit Cycler's Brewing taproom or brewery. The American IPA is ideal for hop heads and will enhance your ale experience.
It is made with Amarillo, Simcoe, Centennial, and Ekuanot hops, from the brewing and whirlpool to the dry-hopping. The beer has a 6.9 percent ABV and pushes the malty taste to the backbone while the hoppy bitterness shines.
Customer Experience
As we've mentioned in this guide, the core motivation behind Cycler's Brewing comes from the founders' love of road cycling events. Although the sport isn't well-known, the brewery stands on this and offers a simple yet uncommon technique. They have spent half a decade perfecting this craft, and you will notice this in the flavor of their brews.
The brewery is ideal for anyone who wants to enjoy a cozy and homely place to enjoy beers. It is located in a small and comfortable location, and you have to travel through the Sam Houston National Forest to get there. This is one of the four National Forests in the state and is a beautiful drive before getting to the brewery.
Cyclers are located in a large building overlooking a lake, which is an excellent place for you to relax and enjoy brews with your friends. It's also a great private location for beers, especially since you need to make a reservation before you can visit.
There are also a lot of dogs in the brewery that would make your stay even more fun, and you can bring your kids and dogs with you. You can easily view the lake and enjoy the country vibes when you climb upstairs.
History
The story behind Cycler's Brewing started with Clay Wicker and Tina Wicker, who are the co-founders. Clay Wicker was known by his friends to prefer macro beers rather than craft, although there were not many craft breweries around during that time.
When he first tried a craft beer, he became curious and tried many other craft options that he could get. During the 2009 Fiesta Bowl Game, Clay Wicker visited the Yard House restaurant and saw over 200 types of craft beers, getting him hooked. Because of this, he wanted to be a part of the craft industry.
Before founding the brewery, he was an area manager for Coors. There, he saw beers exposed to harsh conditions, which also influenced how Cyclers managed their beers. The cans and bottles of each batch are put through different elements; then, they taste them to see how they hold up.
Tina Wicker also joined Clay with her culinary and interior design skills. Together with their skillset, they focus on making Cyclers stand out while offering a wide variety of beers. As for the name, this stemmed from the couple's interest in road cycling, and they believe that craft brews and cycling go well together.
The Future of Cyclers
Cyclers have been growing slowly and steadily as a reliable brewery for all beer-lovers to enjoy. If the brewers wanted to expand, they could easily do so but have decided to stay small and offer a homely experience for their customers.
The brewery also opened a taproom, which means that you can visit their brewpub and enjoy beers with many other enthusiasts when this happens. The purpose was to make it more convenient for beer lovers and increase their popularity. The taproom is also in Montgomery, fitting over 75 people with live music.
Aside from its expansion, the brewery is constantly experimenting with different flavors to add to its tap list. Some of the new beers released include Indian Pale Lagers, Rye Pils, Belgian Tripels, RIS, kettle-sours, and barrel aged beers.
Conclusion
Cyclers is a top Texan brewing establishment and an ideal choice for anyone in the city who is in the mood for something new and refreshing. It features a wide range of beers, a homely space, and friendly brewers to complete your experience.
Cyclers are a Texan brewing company led by Clay and Tina Wicker.
It is a small-scale brewery and taproom with a wide range of beers.
The Domestique Wit, Ryed Hard, and 55-11 Double Red are the top beers from the company.
Children and pets are allowed in the brewery.
It is known for having a cozy setting and very friendly brewers.
If you're planning a beer tour to Houston or Texas, Cyclers should be one of your choices. The brewing company offers you a fantastic experience and delicious beers for anyone to enjoy.