Best Hoptastic Breweries in Wilmington, NC
Known for its intriguing history, picturesque landscapes, and thriving beer scene, Wilmington, North Carolina, is a paradise for beer aficionados. With its wealth of creative and exciting breweries, this coastal city certainly notches up your beer-tasting experience a few levels.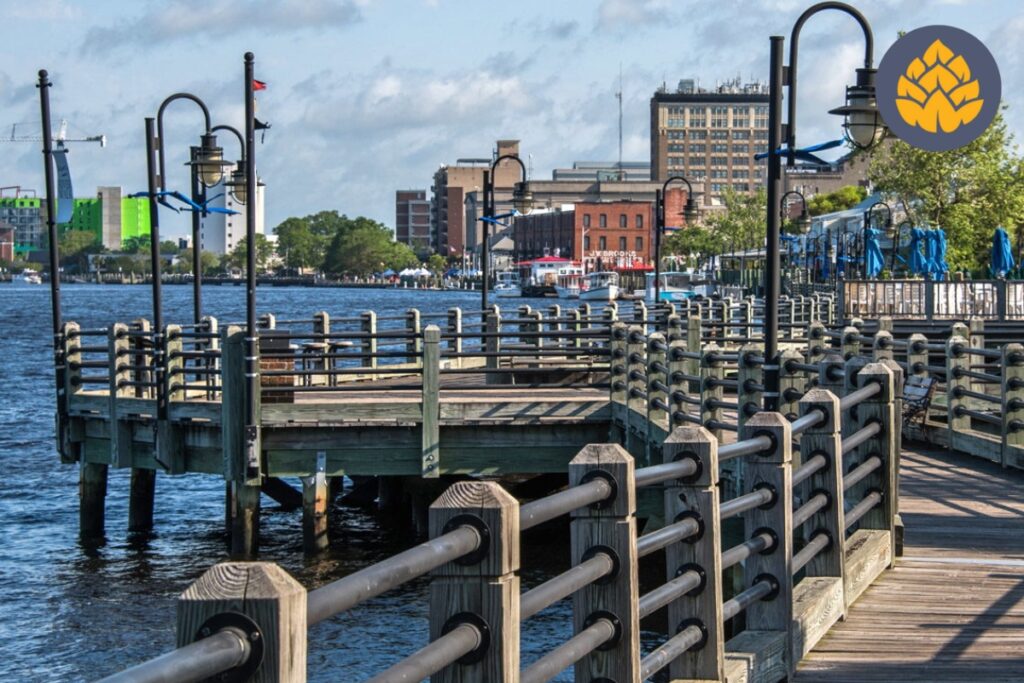 Whether you are a fan of hop-forward beers or prefer experimenting with different brews, our curated list of the best breweries in Wilmington is your ultimate guide. And, if you're new to the world of beer, take a look at our articles on Witbier vs Hefeweizen, Blonde Beer, and Double IPA vs IPA for some mouth-watering brew inspiration.
Why we love Breweries in Wilmington, NC
Wilmington, North Carolina, is a city that offers a rich historical experience, picturesque scenery, and a laid-back beach culture.
However, this coastal destination's charm isn't limited to its lush landscapes and heritage sites. Wilmington's brewing scene has made a remarkable impact over the past few years, earning a reputation as one of America's Beeriest Beach Towns.
The city is recognized as one of the top locations in the U.S. for beer drinkers, making it an ideal location for a brew-cation. Wilmington prides itself on being a prominent name in the North Carolina craft beer scene, with nearly 16 establishments offering brews that can suit every palate.
Each brewery has its own unique personality and a different beer experience to offer, with a mix of small-batch brews, seasonal spins, and signature ales.
Moreover, Wilmington breweries have infused sustainability in their business model, with breweries like Mad Mole Brewing running completely on solar energy, making it the city's first solar craft microbrewery.
It is also noteworthy how beer breweries have become an integral part of the Wilmington community by providing an economic boost and hosting events that bring together residents and visitors alike. So without further ado, here are the top breweries that capture the spirit of Wilmington's vibrant beer scene:
Top Wilmington Breweries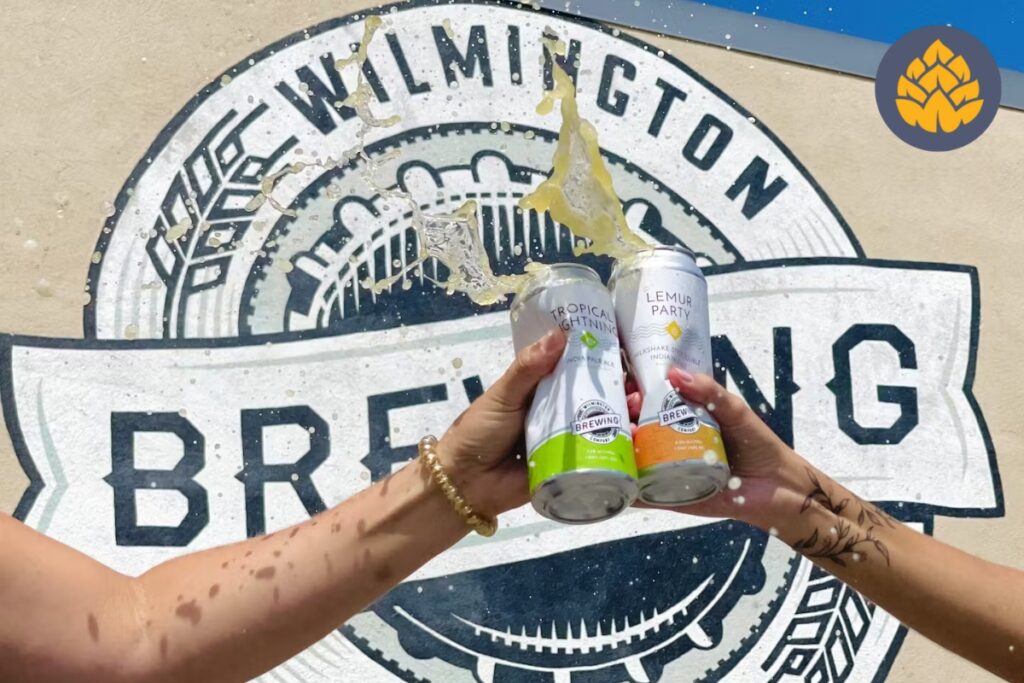 Kicking off our list is Wilmington Brewing Company, an establishment that began as a humble home brew supply store but soon transformed into a leading name in the local craft beer scene.
Most famous for its Tropical Lightning IPA, this brewery offers 15 rotating drafts brewed on the premises and a huge list of cans, bottles, kegs, and growlers to take home from their in-store shop right next door.
They are also known for doing weekly brewing demonstrations for craft beer enthusiasts and run clubs to help the local community get in shape. Their taproom provides a place for families to relax with lots of games, monthly events, and rotating food trucks to grab a bite to eat.
Location details:
Beer Recommendation: Tropical Lightning IPA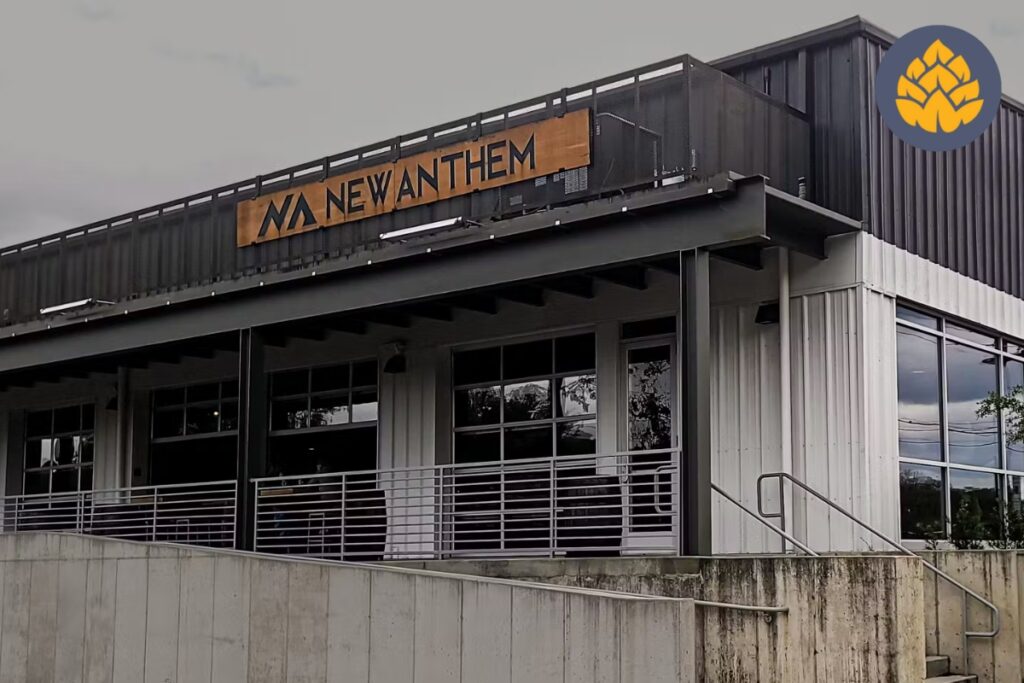 Whether visiting their two breweries on Dock Street and Greenfield Street, Wilmington, or Glenwood Anex, Raleigh, New Anthem Beer Project prides itself on giving back to its community with its wide range of craft ales and lively location atmospheres.
With weekly live music bands, trivia nights, and music bingo to keep guests entertained while making their way through the expansive list of more than 100 delicately crafted ales – it's a beer lovers paradise!
Location details:
Recommended beer: It Loves Me IPA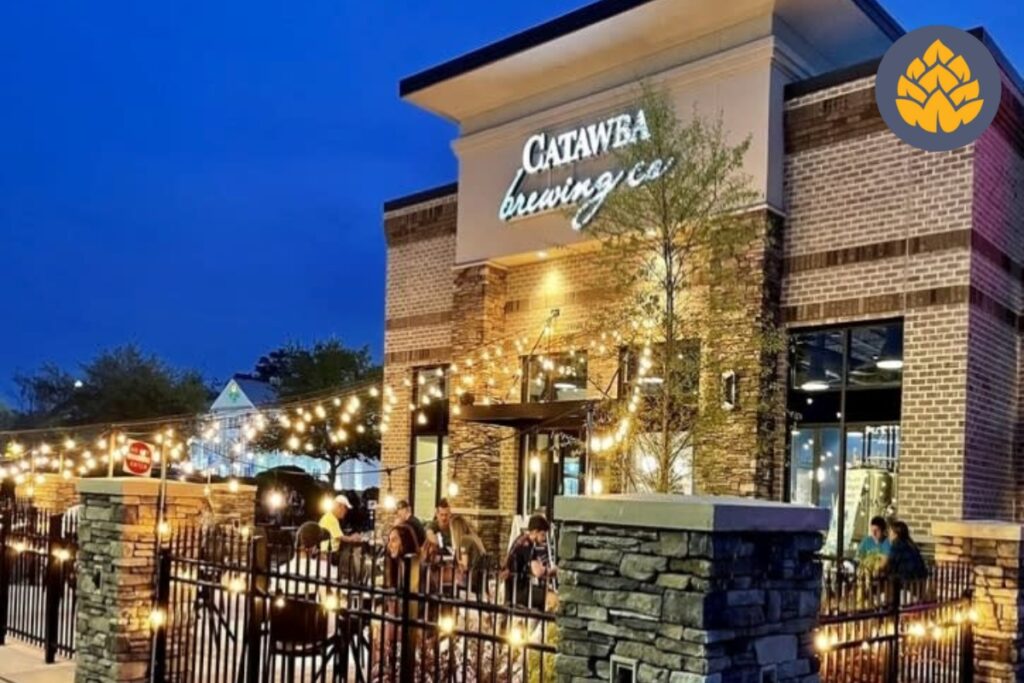 Founded by two brothers, Catawba brewing company started from humble beginnings with a home brewing kit and grew its empire to be a major player in the craft beer industry, now employing over 130 people and selling its delicious ales in bottle shops and brewpubs across 5 different states.
This dog-friendly brewery is one of Wilmington's largest breweries offering delicious beers on tap, including their highly-demanded White Zombie white ale. It's a popular choice for locals and tourists alike with its stylish taproom and sunny beer garden.
Location details:
Recommended beer: Blackberry Zombie White Ale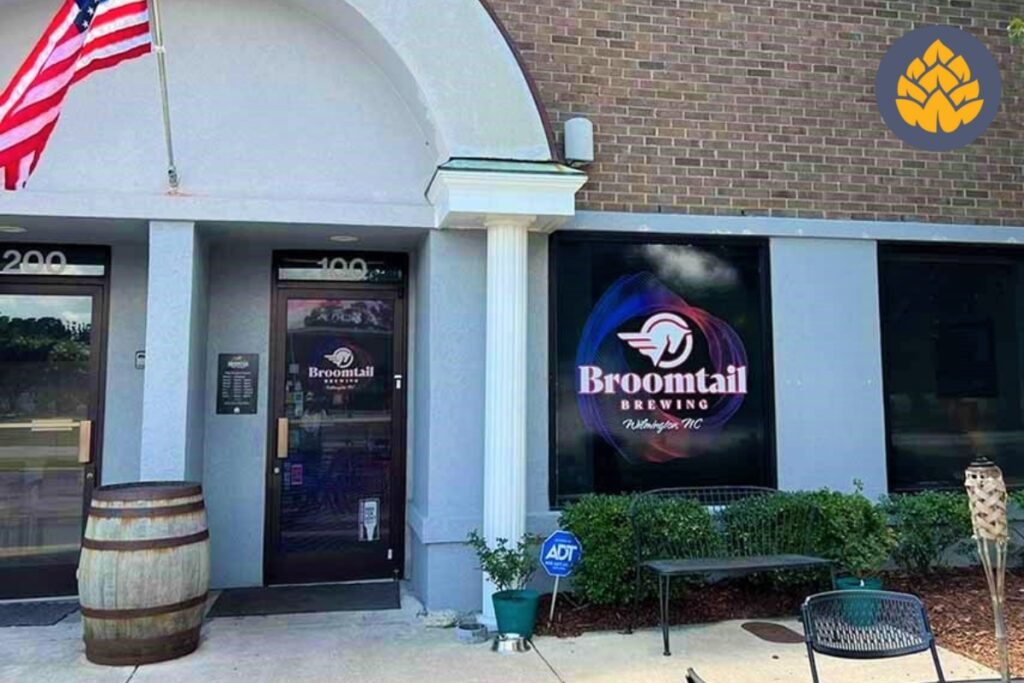 With a creative approach focused on sustainability, Broomtail Craft Brewery brings together scientific methods and artistic flair to craft unique beers. Their Acerbic Ecstasy IPA is a crowd favorite, offering a bold hop-forward taste.
With 3 locations nestled in Wilmington, all offering something different, like their newly revamped pub and arcade down on Market Street that offers guests a full bar of craft beers, wines, sours, and liquors, arcade games, and a beer garden with fire pit and stage for local musicians to play their uplifting music.
It's also kid and pet friendly and has a bottle shop for visitors to take their favorite beers home. Whether you visit their taproom and brewery or pub and arcade, you can guarantee a refreshing cold pint and a chilled atmosphere, perfect for hanging with friends and family.
Location details:
Beer Recommendation: Acerbic Ecstasy IPA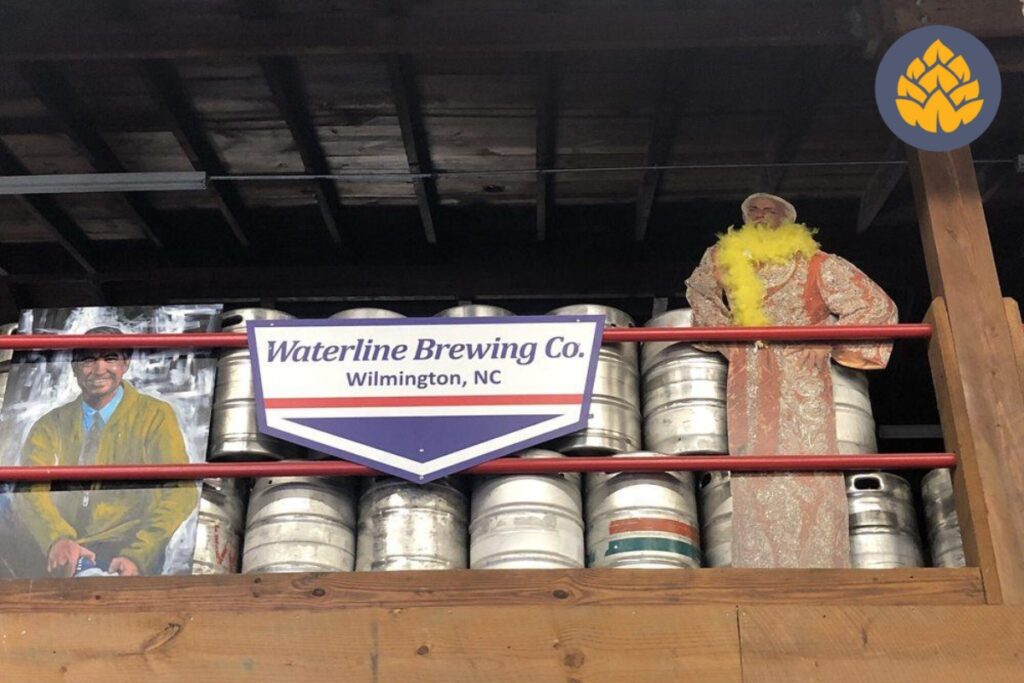 Set within a 1940s warehouse, this family-friendly brewery offers visitors an equally beautiful assortment of craft beers and mesmerizing views of the Cape Fear River and the Cape Fear Memorial Bridge.
Waterline Brewing Company is not just famous for brewing craft beer within the Wilmington community, this local brewery is also widely known for its weekly antiques market, comedy shows, live music, Latin nights, trivia nights, and food trucks, making it one of the best breweries in Wilmington to visit.
Location details:
Beer Recommendation: Kolsch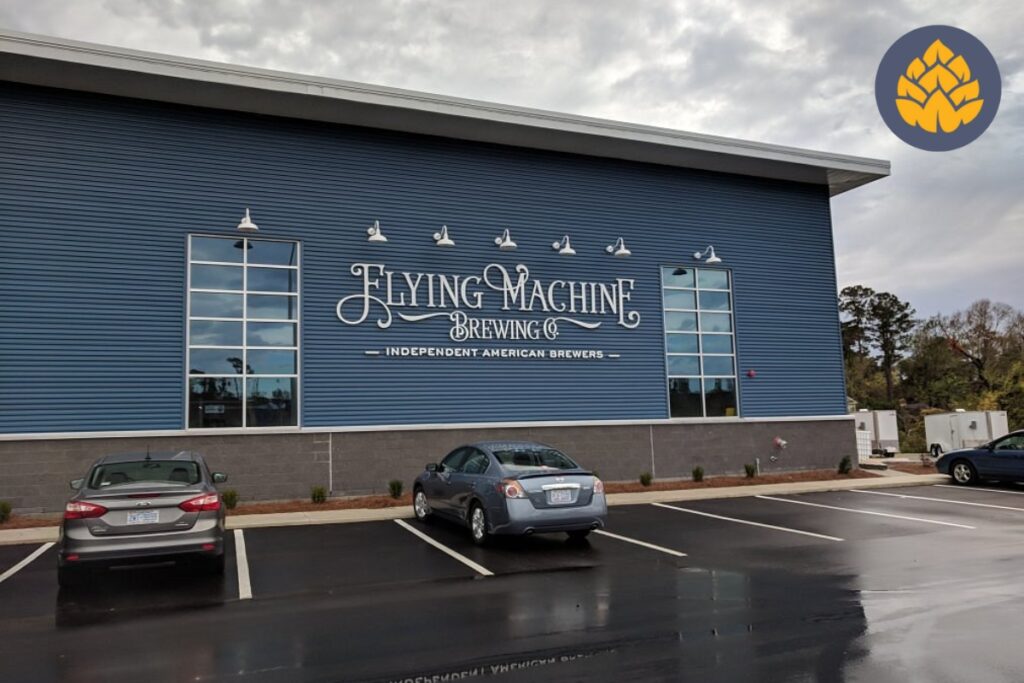 If you love coffee, craft beers, and biking, this new Wilmington Brewery is your go-to destination.
Although Flying Machine Brewing Company is relatively new on the craft beer scene, it's becoming increasingly popular among cycling enthusiasts and beer lovers alike with its location strategically situated on the Cross City Trail.
Upon visiting this unique space, expect some quality craft beers brewed the old-fashioned way with a large taproom featuring over 30 taps of beer, wine, and cider. Plus, rotating food trucks and an indoor bar and outdoor seating and patio to unwind.
And if you're looking for a restaurant-style setting to eat and drink their delicious craft brews, check out their cozy taproom and kitchen Wrightsville Beach Brewery on Causeway Drive.
Location details:
Beer Recommendation: Electronic Fog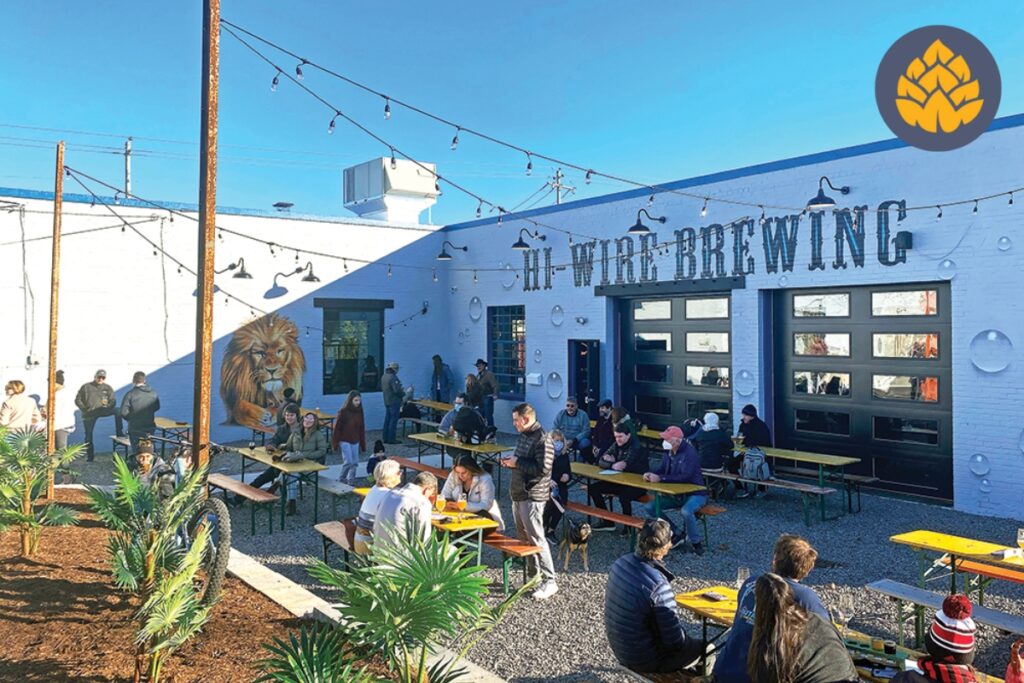 Known for its creative and well-followed barrel-aged beers, Hi-Wire is a fun and inclusive brewery located in Wilmington's Soda Pop District.
Hi-Wire Brewing boasts an expansive indoor and outdoor seating area, offering 21 easy-drinking taps and a select rotational menu.
Their event space is also worth mentioning with open mic nights, Mario Party & Kart Game Night, Ping-Pong tournaments, Run Club, trivia nights, puzzle challenges, and more, making it one of the best Wilmington breweries to go to for fun and games and great beer.
Location details:
Beer Recommendation: Electric Squeeze Hazy IPA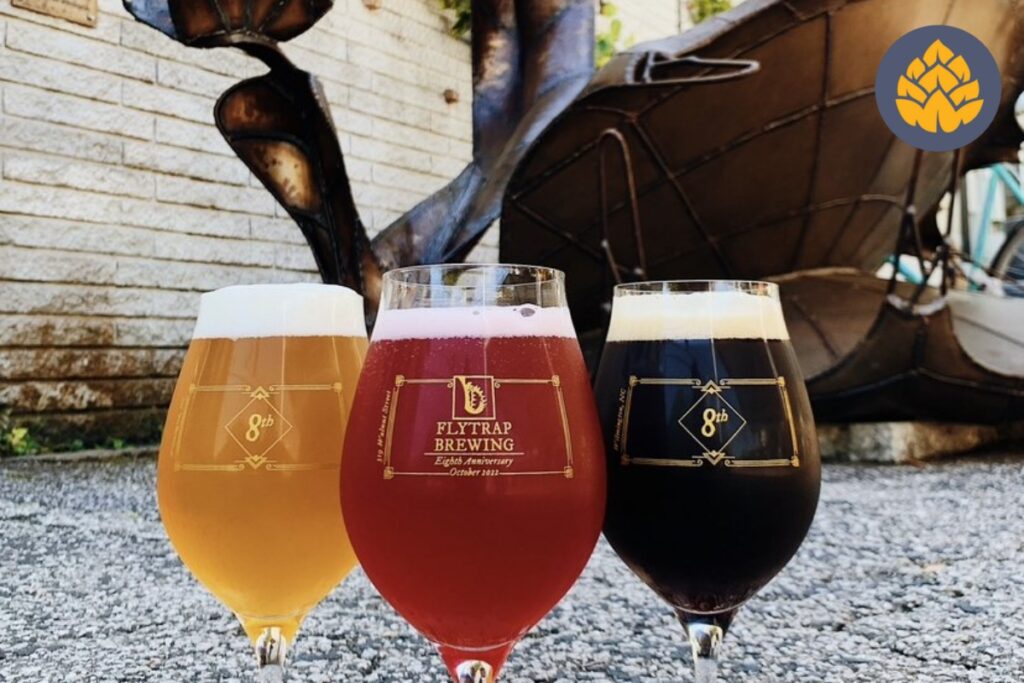 Named after the famous carnivorous plant native to a 60-mile radius around Wilmington, this popular microbrewery is known for its serene beer garden, regular music events, artisan markets, and hoppy Tripel with a clean finish.
The all-American FlyTrap Brewing in downtown Wilmington produces various styles of American and Belgian ales and offers a select list of wines and ciders to satisfy everyone's taste buds.
Location details:
Beer Recommendation: Hoppy Tripel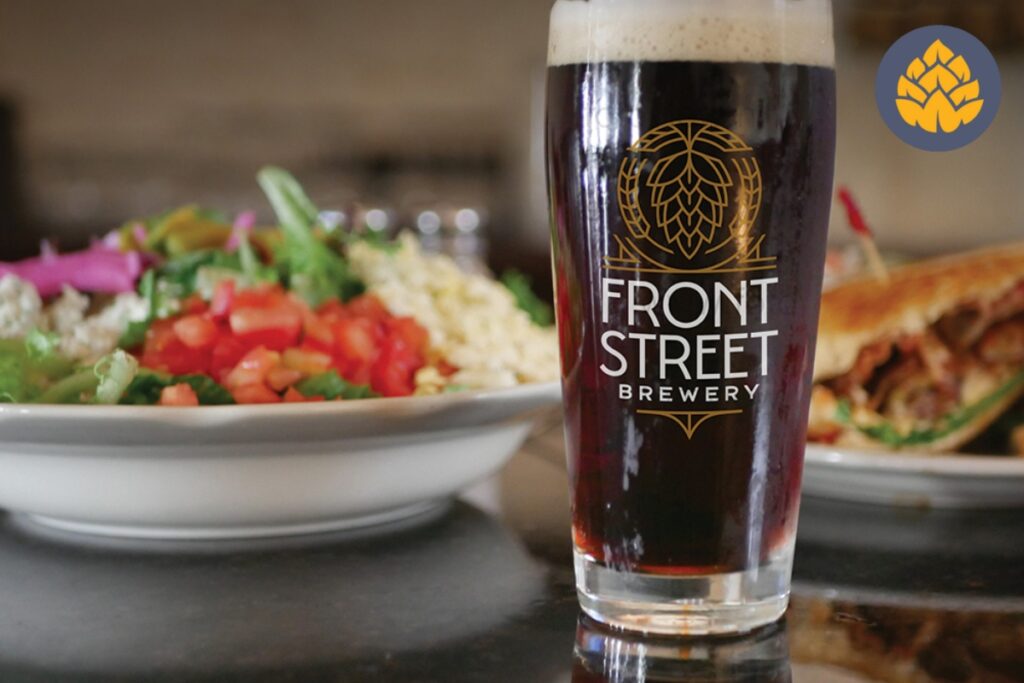 Your Wilmington brewery tour would be incomplete without a quick stop at the city's original craft brewery. This 27-year-old brewery-cum-restaurant is bound to leave you asking for more.
As Wilmington's original craft brewery, Front Street Brewery has long been a staple watering hole that offers house-brewed craft beers alongside a wide array of delicious food. The brewery is perfect for hosting corporate and private events, as well as engagement and birthday parties, with a guest capacity of 80 and 120 for cocktail parties.
Their famous Pulled Chicken Nachos are a must-try!
Location details:
Beer Recommendation: Port City IPA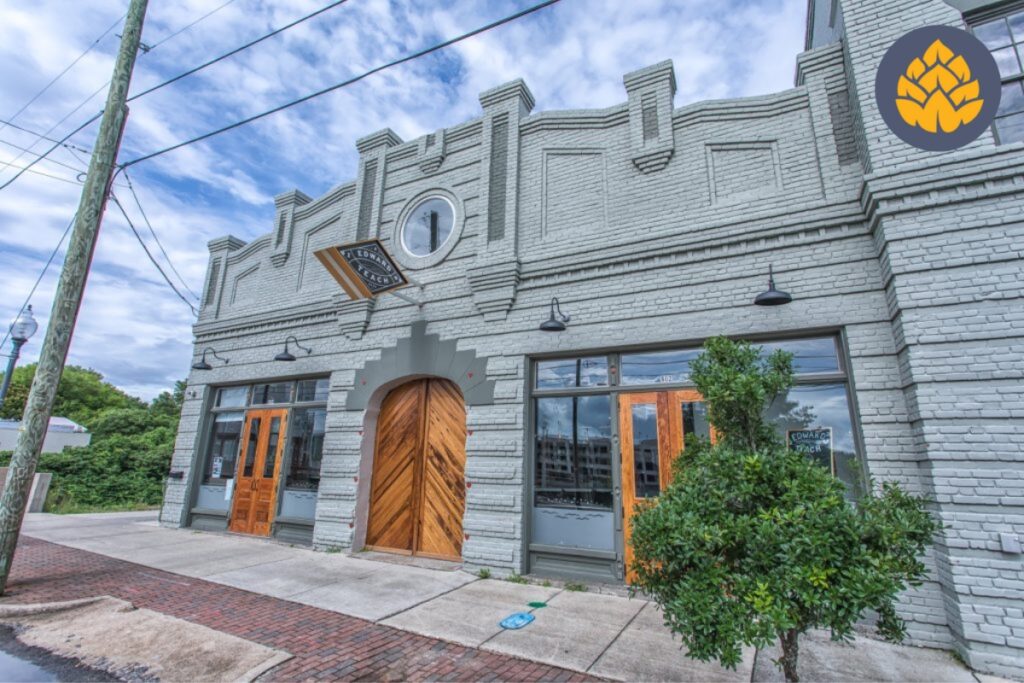 This pirate-themed brewery brings a wave of uniqueness and rich flavors to the Wilmington brewery scene.
Edward Teach Brewery pays homage to the infamous pirate, Blackbeard, also known as Edward Teach. Sip on their refreshing peach-flavored wheat beer and Teach's Peaches as you explore the pirate-themed interiors decorated with hanging lights giving guests the feeling of being at sea, large windows, and a curved bar.
Location details:
Beer Recommendation: Teach's Peaches
Top Tip
While touring the breweries in Wilmington, it is advisable to plan your visits ahead of time. Many of these breweries offer events, live music, and food trucks that can add to your overall experience.
Also, keep in mind that some breweries are pet-friendly and family-friendly, making them ideal for everyone in your travel party. Lastly, don't forget to designate a driver or arrange for a rideshare service to ensure an enjoyable and safe brewery hopping experience.
FAQs
What festivals related to craft beer are held in Wilmington?
Wilmington hosts several beer events and festivals throughout the year. One of the most notable is the Cape Fear Craft Beer Week, which features local breweries showcasing their brews in special events and tastings. The Beer, Bourbon, & BBQ Festival is also a crowd-favorite, offering the perfect combination of drinks and delicious food.
Which brewery offers brewing demonstrations?
Wilmington Brewing Company conducts brewing demonstrations for craft beer enthusiasts to watch the entire brewing process.
Are there any solar-powered breweries in Wilmington?
Yes, Mad Mole Brewing in Wilmington is the city's first solar-powered craft microbrewery. You can visit their brewery at 6309 Boathouse Road, Wilmington, NC 28403, or contact them at 910-859-8115 for any inquiries.
Related Articles
If you're feeling inspired to extend your brewery tour, do check out the brew scene in other North Carolina cities covered in our articles on Best Breweries in Fayetteville, Best Breweries in Cary, and Best Breweries in Greensboro.
Wrapping Up – Best Breweries in Wilmington, NC
To sum it up, Wilmington is a city that has truly embraced its beer culture. The town's unique, innovative, and diverse brewing styles, coupled with its commitment to sustainability and sense of community, offers a memorable experience to all beer enthusiasts.