Cerveza Toña Review: What Makes This Lager Different From Others?
Cerveza toña, also called Tona Cerveza, has been described as having excellent flavors and impeccable taste. The Nicaraguan-brewed lager is a favorite among drinkers due to its smoothness.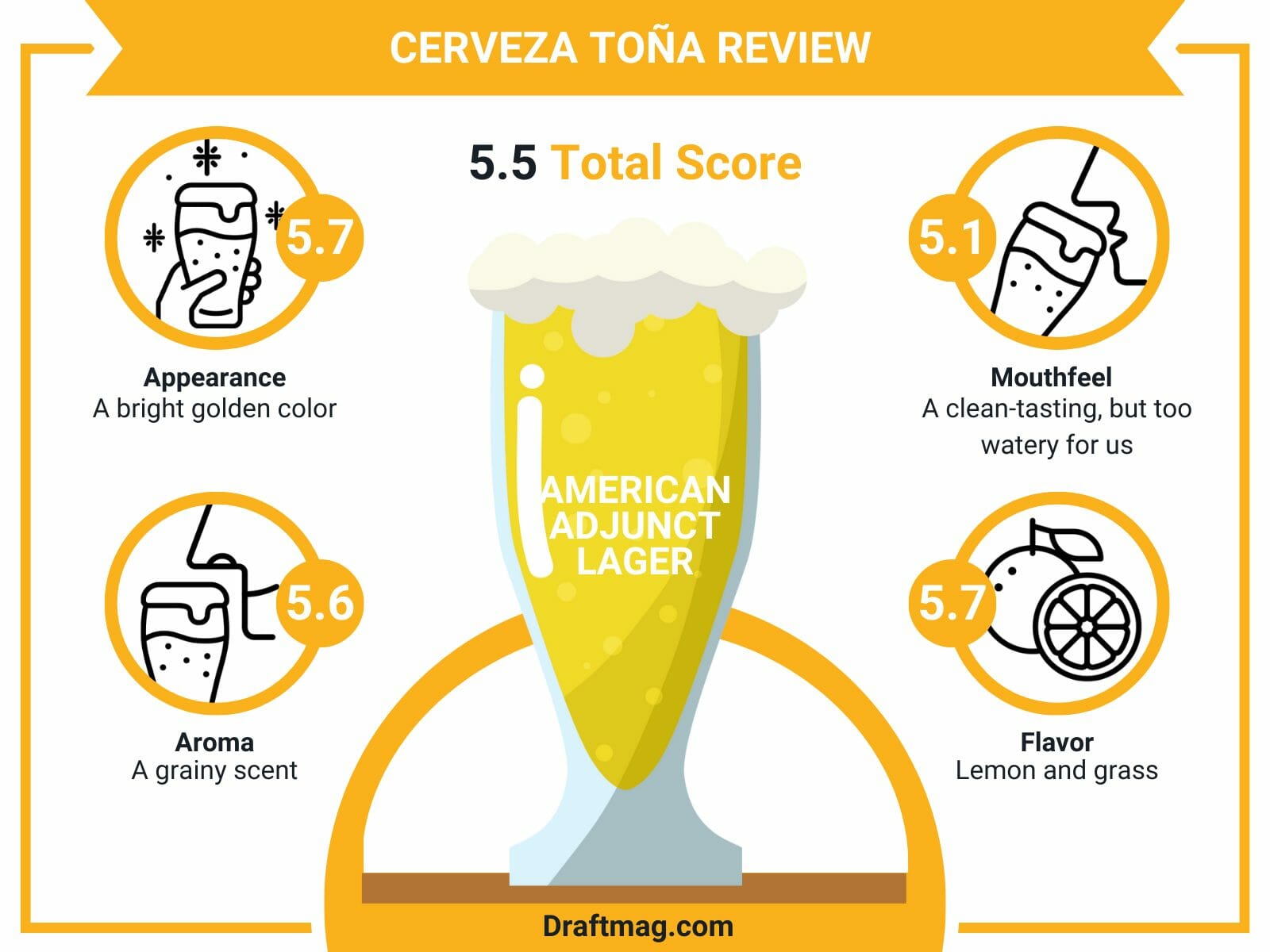 It's easy to find reviews about this beer, but if you need unbiased insight, we've got you. Our beer experts have examined the beer and come up with all the information you need before trying it.
Cerveza Toña Stats
| | |
| --- | --- |
| Country | Nicaragua |
| Brand | Industrial Cervecera S.A. / Compañía Cervecera De Nicaragua |
| Style | American Adjunct Lager |
| Taste | It tastes grainy, sweet, and malty, with some residual bitterness. |
| Body | It's light-bodied with high carbonation, crisp, clean on the palate, and finishes dry. |
| ABV | 4.6 percent |
| Flavor and Aroma | Its flavor and aroma are light malts, hops, grass, lemon, and a cracker-like/bread note. |
| Serving Temperature | 35 – 40 degrees Fahrenheit |
Tasting Notes
Cerveza toña Tasting Profile
Cerveza toña Review
We've compiled a detailed review of this premium lager if you want to try it but need an expert opinion first. Based on the following categories, here's what to expect:
– Appearance
This lager pours a bright golden color and looks light with barely any haze. It bears a startling resemblance to champagne. Like champagne, this beer has a lot of bubbles. A thick white frothy head quickly rises to the top of the glass and stays for a short period before dissipating.
This lager gets points for its good foam head retention. Once the head recedes, a coating of frothy suds hovers atop the beer and scattered lacing sticks to the glass. Although there's nothing extraordinary about this beer's appearance, we like how it appears light-bodied and bubbly.
– Aroma
Once you bring the glass to your nose, you will be hit by a grainy scent. You can immediately tell that, like most lagers, this beer is malty from start to finish. Its malt note is light and somewhat reminiscent of roast malt. There's also a cracker-like note and a hint of corn.
It's hard to miss the light hops in this beer; their scent is almost herbal. A grassy smell mixed with hints of lemon gives this beer a skunky note. Although there isn't much to hold on to, this beer does neatly in terms of smell. It is light and in no way off-putting.
– Mouthfeel
It is light-bodied with a lot of carbonation, so you'd naturally expect it to be crisp. There's also a slick, almost oily effect on the palate. The maltiness of this beer is undeniable; you can feel its graininess all throughout. A sprinkle of hops enhances the mouthfeel through a light bitterness.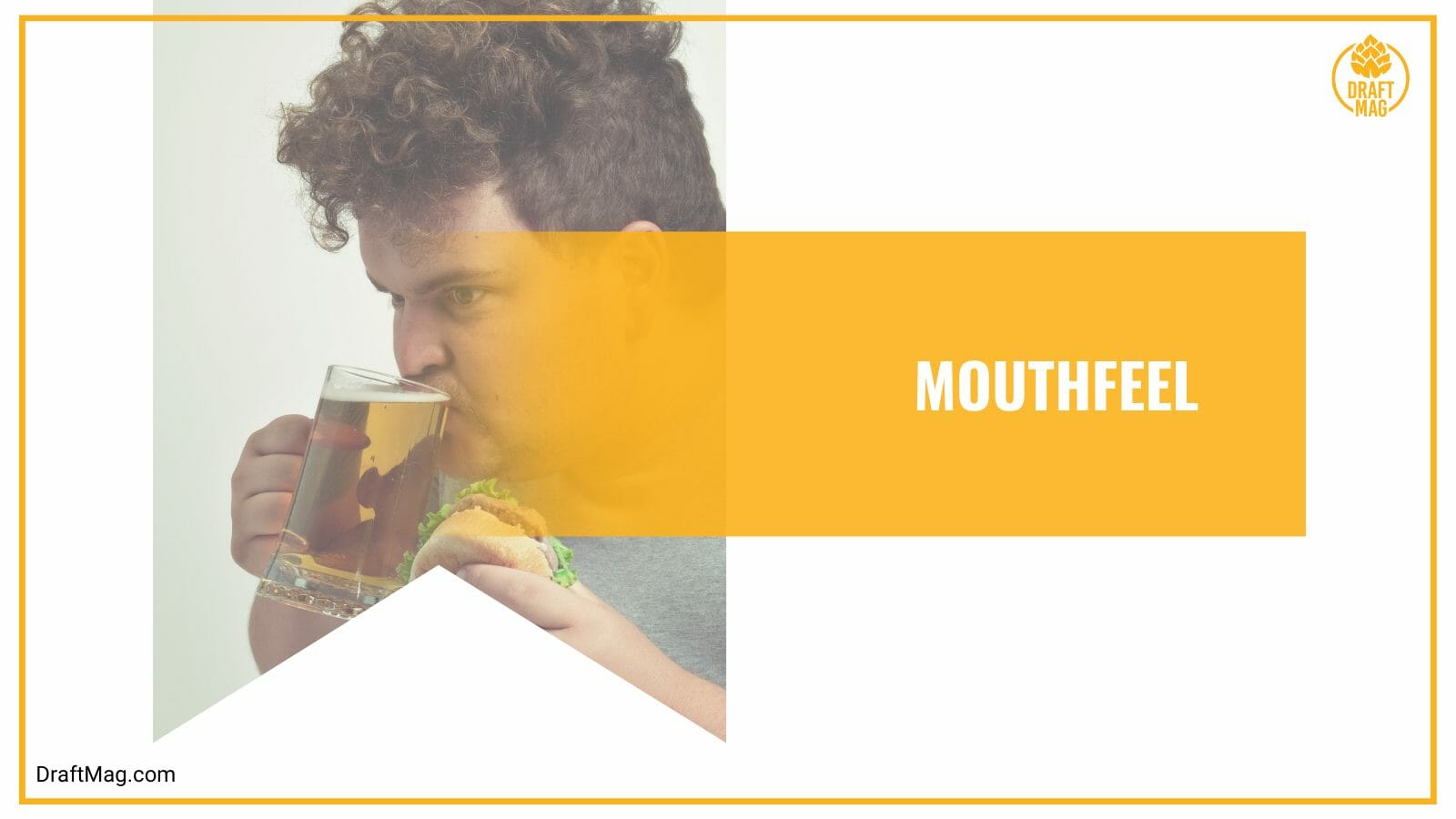 This lager is clean-tasting, although it's too watery for us. Once you get past the watery feel, you'll discover it's easy to drink, mainly because of its lightness and smoothness. The crispness that's a huge part of the mouthfeel eventually gives way to a dry finish.
– Flavor
This beer's flavor is similar to its aroma. You can detect a malt flavor that brings to mind barley malt. However, just like its scent, this flavor is mild. A hop flavor also comes through and adds a tinge of spice to the beer.
A skunky flavor of lemon and grass also makes its way through and settles at the base of the beer flavor profile. Aside from these, there is no other discernible flavor to this beer, but the flavor isn't bad, especially for fans of lagers or mild-flavored beers. If you're not a fan of either, it may be difficult not to be snobbish toward this beer.
Still, this seeming lack of flavors all adds to the essence of this beer, which is a light, clean, and easy-to-drink lager.
– Food Pairings
Lagers go well with any dish, so there's no need to think hard about what to pair this beer with. You can start with traditional Nicaraguan, Asian, Mexican, or Italian dishes if you need a lot of spice. If you're at a regular pub, you can make do with burgers, pizza, French fries, hot fried fish and chips, and spicy chicken wings.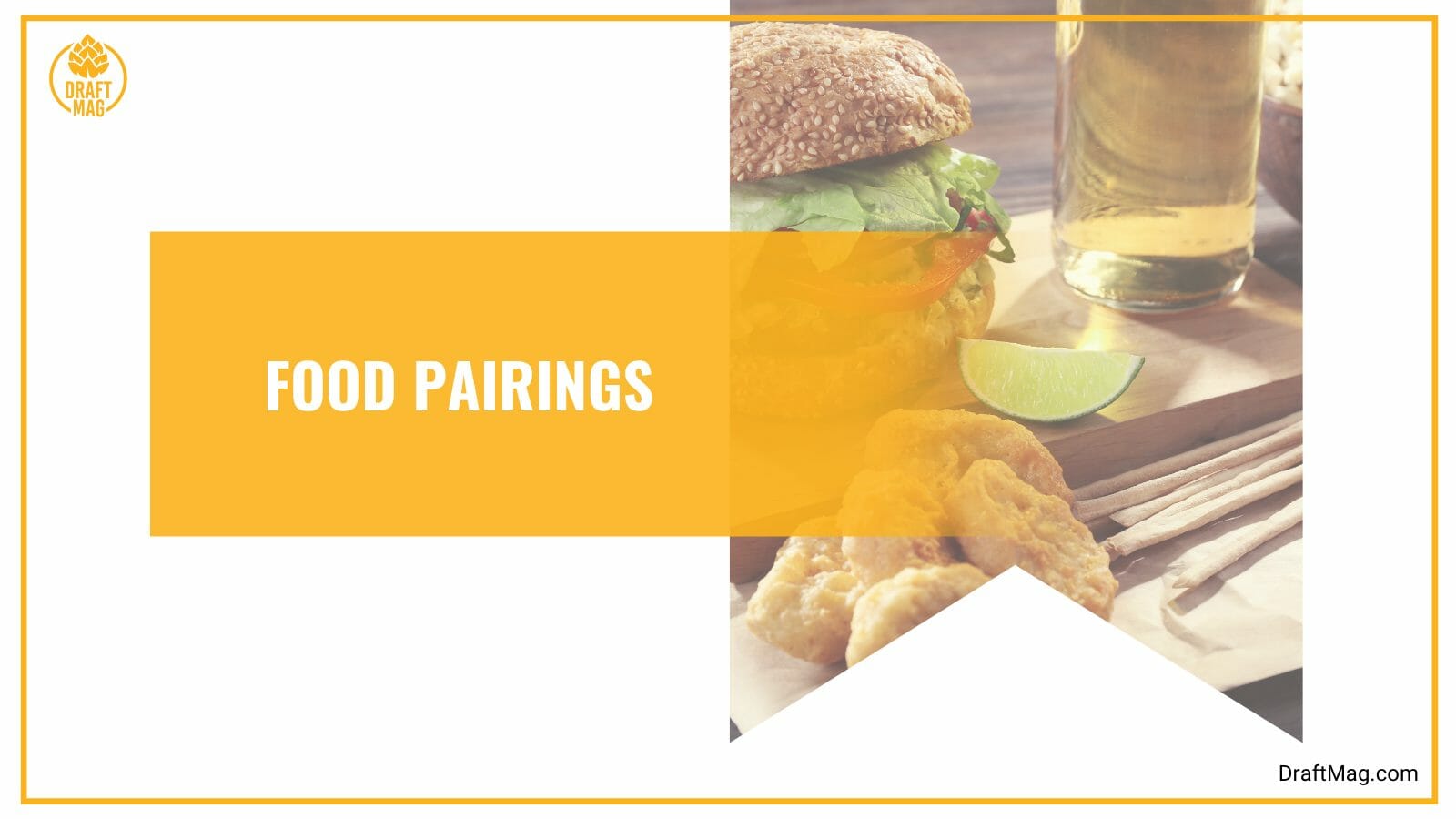 You can never go wrong pairing this beer with grilled beef, salsa, tacos, cheesecakes, pasta with spicy sauce, or even mac and cheese. There's the option of roast lamb, steak, calamari, sushi, pork or chicken sandwich, or simple desserts like salad, salty nuts, soft pretzels, and fruity pies.
Ingredients
This beer is made with simple ingredients including barley malts, hops, and water. There's also an indication of corn sugar, lemon, and citrus notes that hint at apple or pear. Aside from these, this beer has no known additives or preservatives.
Nutrition Facts
This premium lager contains 127 calories, 10 grams of carbohydrates, and zero grams of sugar. It contains zero grams of protein and zero grams of fat. It has a 4.6 percent ABV and may contain gluten unless stated otherwise by the brewing company.
This beer may not be the best choice of alcoholic beverage for those trying to lose weight or practicing keto due to the high amount of calories and fat. Vegetarians can enjoy it as it is made from only plant-based products.
History
This beer was first released in 1977 by the Industrial Cervecera, S.A. (ICSA) but was only limited to its country of origin. In 1996, the company merged with Compania Cervecera De Nicaragua to form the country's biggest brewing company.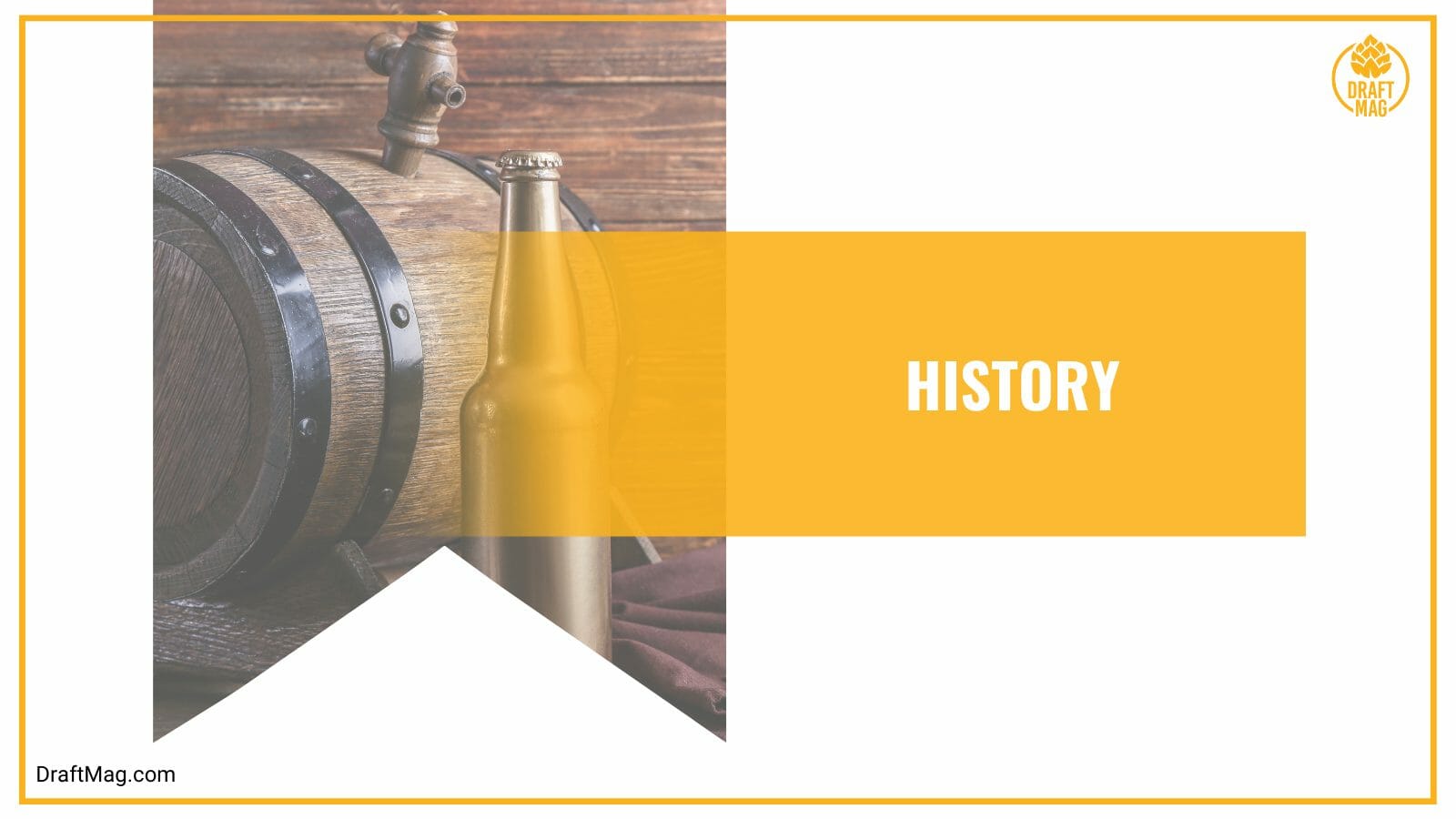 In 2003, the new brewery decided to release the Toña beer into the American beer scene. This traditional Nicaraguan brew is known for its subtle flavors and clean, refreshing taste. It is sold in 350 ml (12 oz) bottles, aluminum cans, and returnable bottles of up to one liter.
Conclusion
This lager is clean and refreshing, but it's unlikely to win any awards. Here's a breakdown of what we discussed in this review:
Cerveza Toña is a Nicaraguan-produced lager with 4.6 percent ABV.
Its aroma and flavor are mostly grainy, with light malt, hops, corn, lemon, and grass.
This beer tastes sweet and very malty, although it is a tad watery.
It's light-bodied, crisp, and grainy, with high carbonation.
You can pair it with burgers, calamari, pizza, and traditional Nicaraguan, Mexican, and Italian dishes.
It is similar to many adjunct lagers in taste, aroma, and mouthfeel. Although it lacks spectacular taste, we recommend drinking it ice cold, especially on sunny days.