Gummy Worms Beer Review: Candied Ale Bursting With Fruits 
Gummy Worms beer is one of the unique ales that you can taste in the craft beer industry, giving you a sweet taste of gummy bears and fruits. It is a fresh, clean, and pleasant ale with decent bitterness and fruity overtones.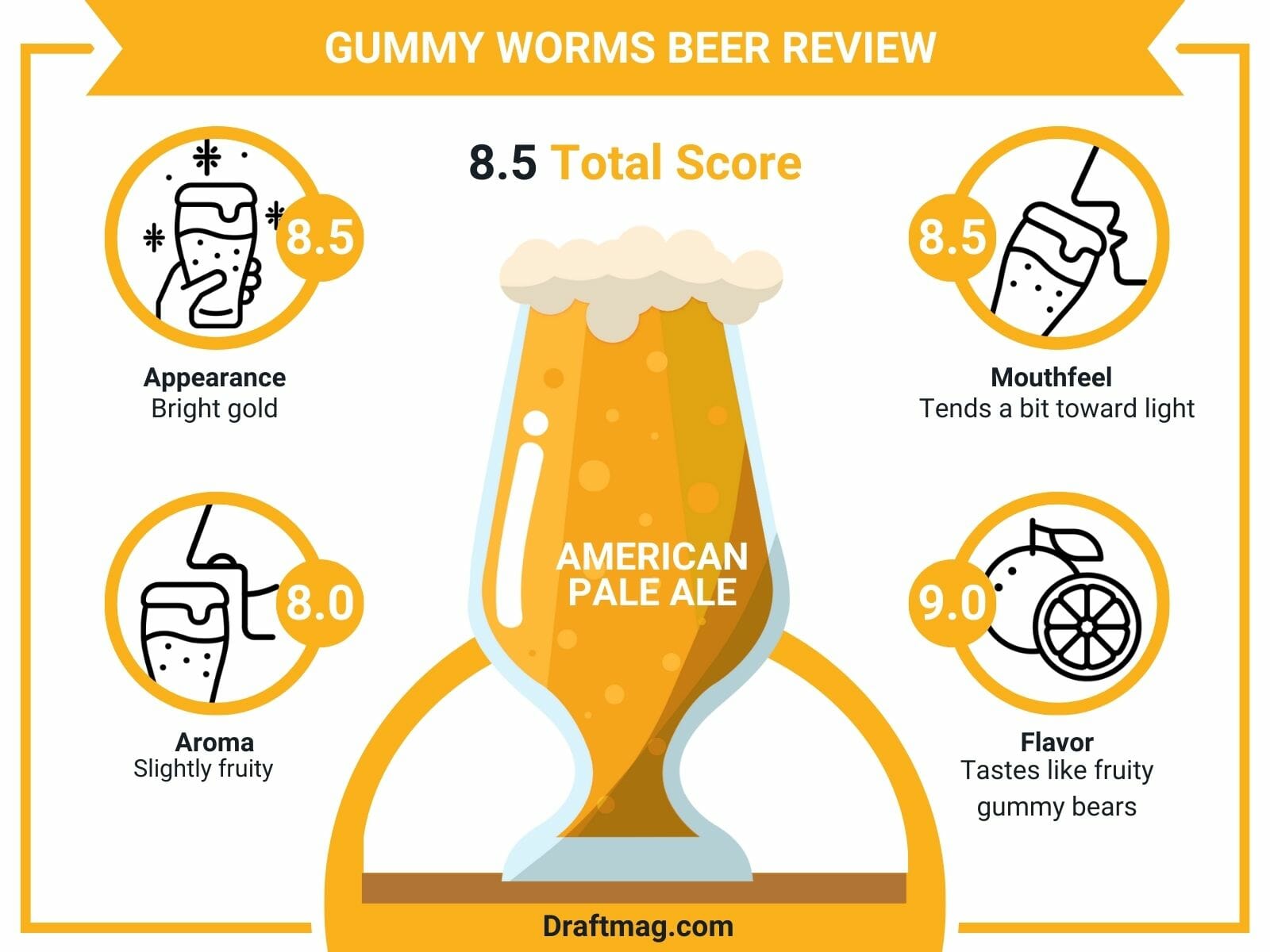 The ale offers easy drinking and a pleasant buzz that will kick in quickly, and the wheat base brings all the flavors together.
If you're curious about the beer, you can read our review below, as it covers the beer's tasting notes and food pairings as well. 
Gummy Worms Beer Stats
Country 

United States

Brand

New

Glory Craft Brewery
Style

American

Pale Ale
Taste 

Pineapple, candy

Body

Medium body

ABV

5.8 percent

Flavors & Aromas

Candy, pineapple, citrus, tropical fruits, wheat malt, floral notes

Serving Temperature

45 – 55 degrees Fahrenheit
Tasting Notes
Gummy Worms Beer Tasting Profile
Gummy Worms is an American pale ale with an alcohol content of 5.8 percent. The beer is made by New Glory Craft Brewery in California and offers a balanced taste of candied gummy bears and fruits, especially pineapple. It is unfined and unfiltered, with a base of chewy malts. 
The ale has flavors and aromas of candy, citrus, pineapple, tropical fruits, floral hops, and wheat malts that form a solid base. It has an unfiltered pale yellow appearance, while the body is creamy and medium. With its fruity and drinkable nature, the ale is ideal for all occasions. 
It is best served in a snifter, chalice, or goblet, as these vessels feature stems and bowl-like bodies. The rounded body traps in the carbonation and aroma, making it last for a long time. You can garnish the beer with a thin slice of lemon to match the citrus notes. 
– Appearance 
The ale has a pale yellow appearance when it pours into your glass, and it tends towards bright gold. It has a bright appearance with a lot of bubbles floating to the top, showing visible carbonation.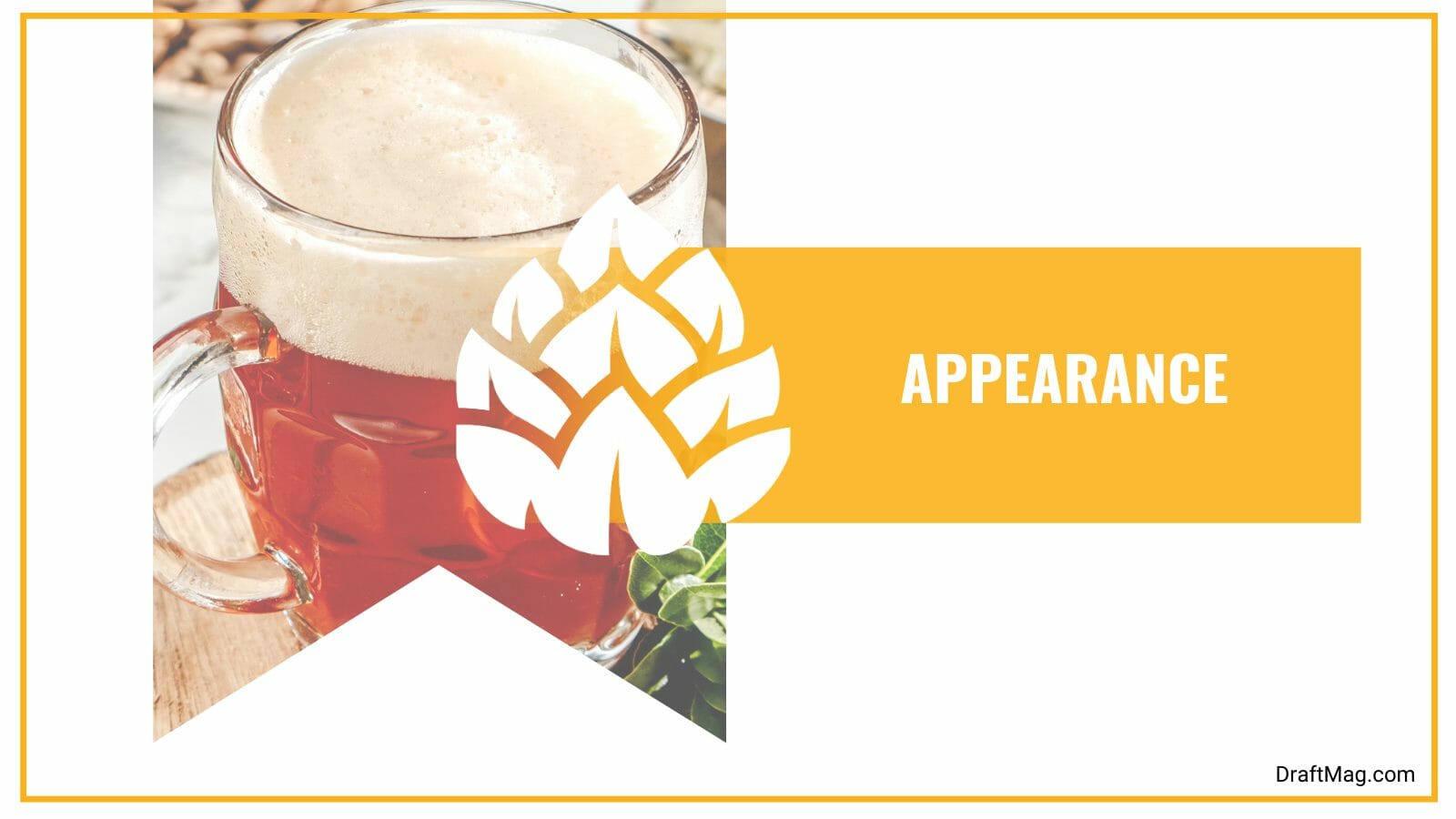 The carbonation clashes with the hazy look of the beer. Atop it is a white foamy head that goes up to two fingers high, and it fades slowly. It leaves behind sticky lacing against the glass. 
– Aroma 
On the nose, the aroma of the ale is slightly fruity, and you get a lot of wheat and malt in the fragrance. However, the sweet candied aroma is what you will smell first, while other notes are in the backbone.
As the beer warms up, you might pick up a bit of tropical fruits and citrus zest with herbal hops. The aroma is also grassy and resinous, and there is a solid base of biscuity malts. 
– Mouthfeel 
The mouthfeel of the ale is on the medium side but tends a bit toward light. The wheat adds to the full body, and it makes it a bit chewy, as the brewers have advertised. There's a mild hop bite on the tongue when you drink. 
With the hazy appearance, you might feel some unfiltered wheat on your tongue along with the very prickly carbonation. It has a clean finish, which is a bit surprising when you consider the wheat and citrus.
– Flavor 
The flavor of the ale will surprise you, as it actually tastes like fruity gummy bears. The sweet gummy bears offer a lot of fruits throughout the taste, and the flavor is sweet and subtle from start to finish. There are bits of melons, pineapple, and star fruit, and there is a solid wheat base that ties all the notes together.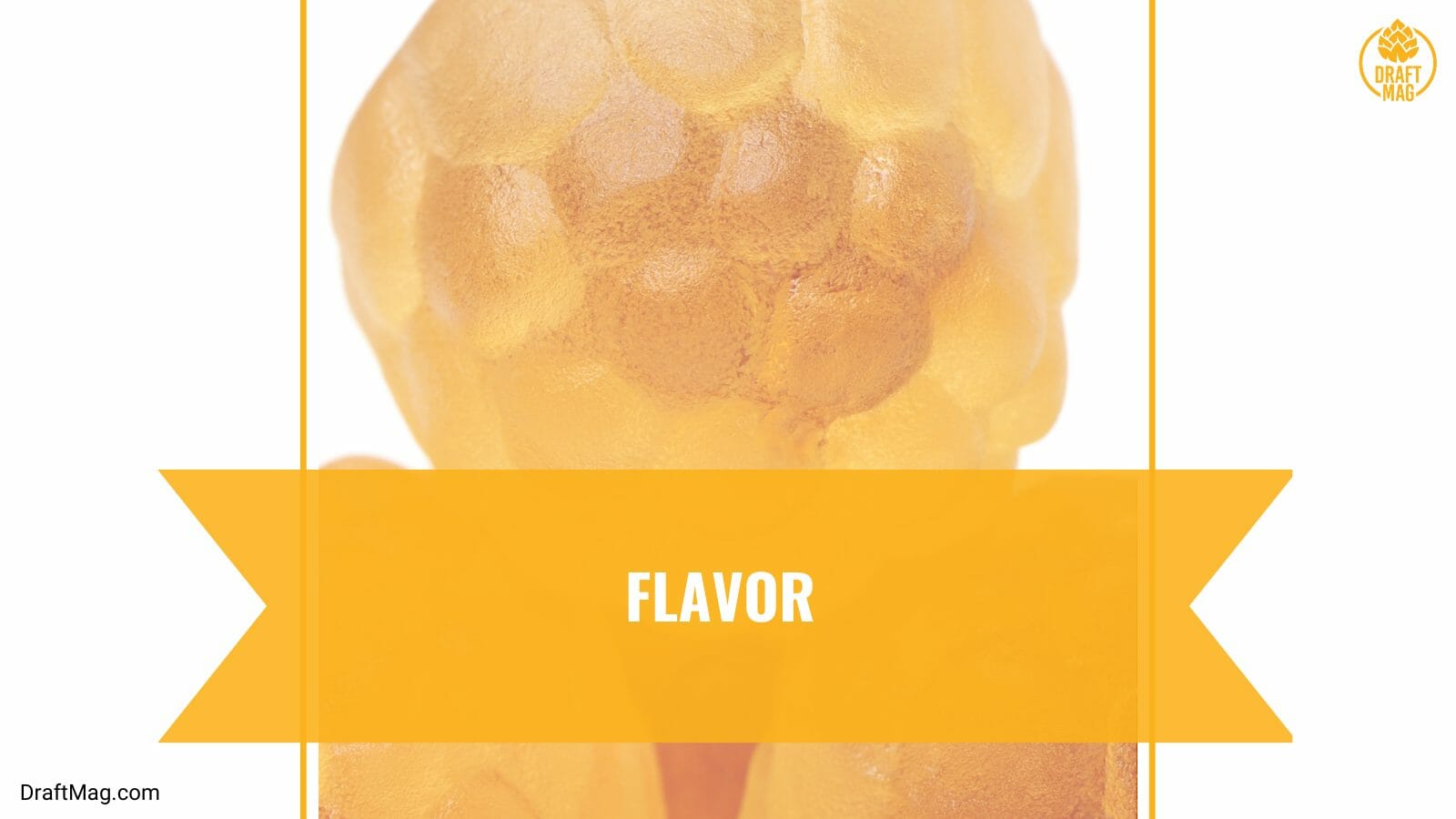 The first thing that you will taste is the mild pine bitterness and fruity notes, along with the base of wheat and malt. There is lingering bitterness in the flavor.
You might also notice bits of juicy citrus and tropical fruits like stone fruit, pineapple, passionfruit, orange, mango, apricot, lemon, and herbal hops. There's a touch of biscuity malt and caramel sweetness. 
– Food Pairings
The ale goes well with American food classics like fried chicken, grilled steak, pizza, and burgers. It will go great with spicy foods, so sit down with a pot of chili, spicy Mexican food, Indian curry, and spicy noodles. Other Asian spicy foods like Indian, Thai, and Vietnamese cuisines go great with beer.
You can try this fruity beer out with grilled, smoked, and barbecued foods. Try out roasted duck or quail, pizza, fish and chips, and other kinds of meats. The sweetness of the chewy pale ale goes well with braised meats, toasted bread and grains, and earthy legumes and vegetables. 
The APA goes great with mild and sweet desserts like a vanilla bread pudding and bananas Foster. For cheese pairing, try out an American cheddar, as the tangy notes go well with the beer. 
Ingredients 
The juicy, candy-like beer is made with malts, hops, yeast, and water. The brewers carefully balanced all the malts to make it highly drinkable and the number of beer malt types is huge! The malts used in brewing include 2-row barley malts made by the brewers, wheat, and oats. 
Aside from adding the hops in the brewing process, it is also aggressively dry-hopped. The hops are made with Citra and Amarillo hops, and these give you notes of sweet candy, pineapple, and fruit notes that remind you of the classic gummy bears. All the fruity and candied notes come together with a wheat base. 
Nutrition Facts 
The ale features an alcohol content of 5.8 percent, which is a decent level. You can barely taste the alcohol when you're drinking the beer because it is a low level. The IBU level is low, as there is barely any bitterness due to the candy notes and fruits. IBU stands for Ultimate Bitterness Unit and it is being used to describe the bitterness of a beer.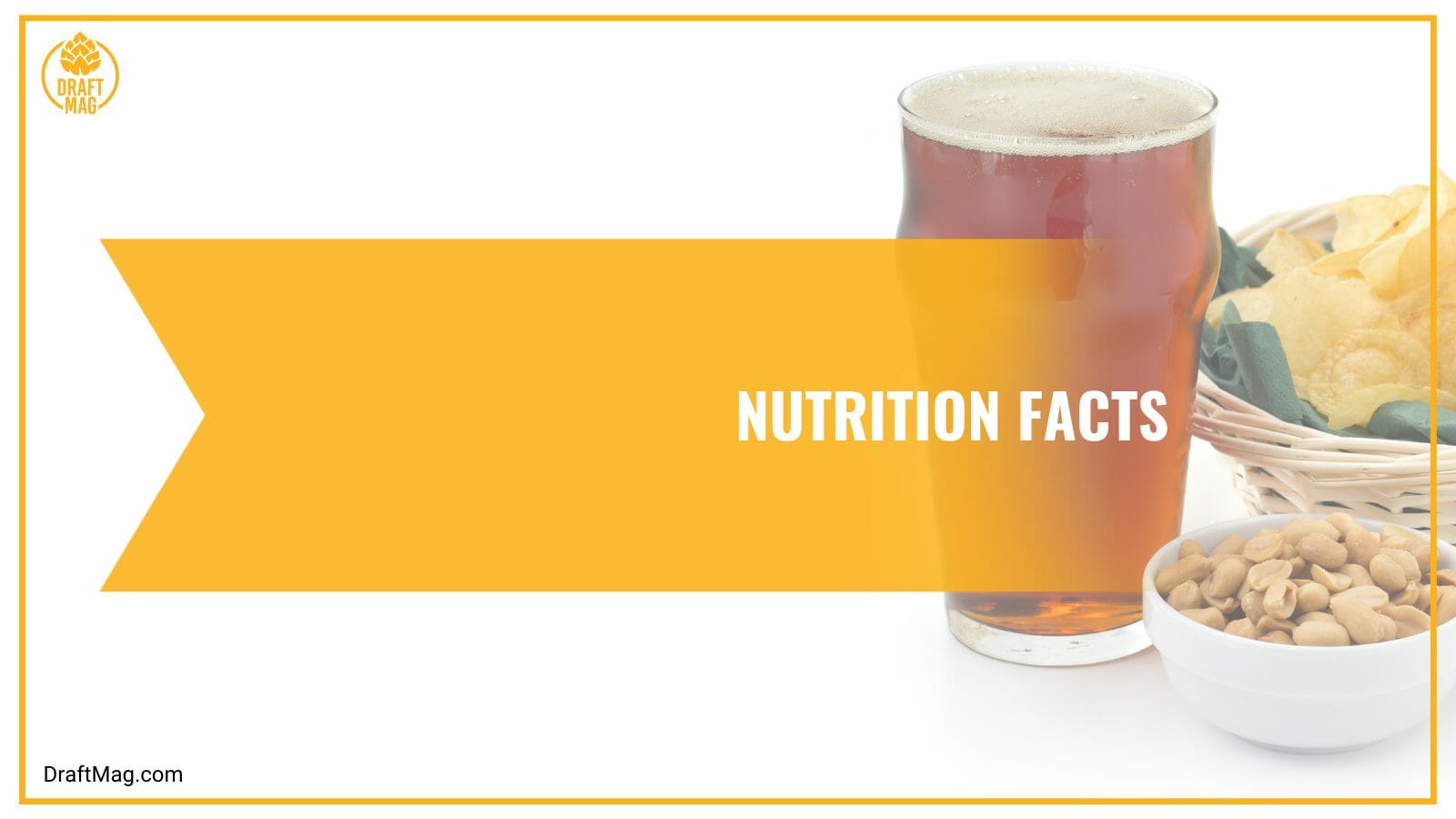 The beer features 240 calories in every 12 ounces and about 13 grams of carbs. The carbs level means that it should be avoided while on a keto diet. It is also not a gluten-free beer. If you're on a diet, you should consider these nutrition facts. 
History 
The ale was released in 2017 by New Glory Craft Brewery and is one of the year-round offerings from the brewery. It was made to remind brewers of their favorite gummy candies. Some of the other year rounds from the brewery include the Ubahdank, Citra Dream, and Do You Even Mosaic Broh?
New Glory Craft Brewery was founded in 2012 and is known for its unique beer can designs and beer names. The brewery rebranded its year-round beers in 2021, as there are only four in the series. It has also won different awards.
Conclusion
Whenever you're in the mood for a beer that will appeal to your taste buds, especially if you have a sweet tooth, try this ale.
Here's what you need to know:
This is an American ale with an ABV of 5.8 percent.
It features flavors and aromas of candy, tropical fruits, pineapple, citrus, wheat, malts, and floral notes.
The beer is made with malts, Citra and Amarillo hops, yeast, and water.
Serve it in a goblet, snifter, or chalice at temperatures from 45 to 50 degrees Fahrenheit.
You can pair the beer with spicy foods, grilled, roasted, barbecued, and braised dishes, toasted bread and legumes, sweet desserts, and American cheddar cheese.
You can check out this beer by drinking it directly from the tap at the brewery. You can also purchase it in 12-oz cans at liquor stores or online.