Half Acre Bodem Review: A Fresh Perspective on Traditional IPAs
If you're a fan of IPAs, Half Acre Bodem should be one of the options on your list. The tropical IPA lets its hop flavors win, with a soft round body, lingering flavors, and malty characters.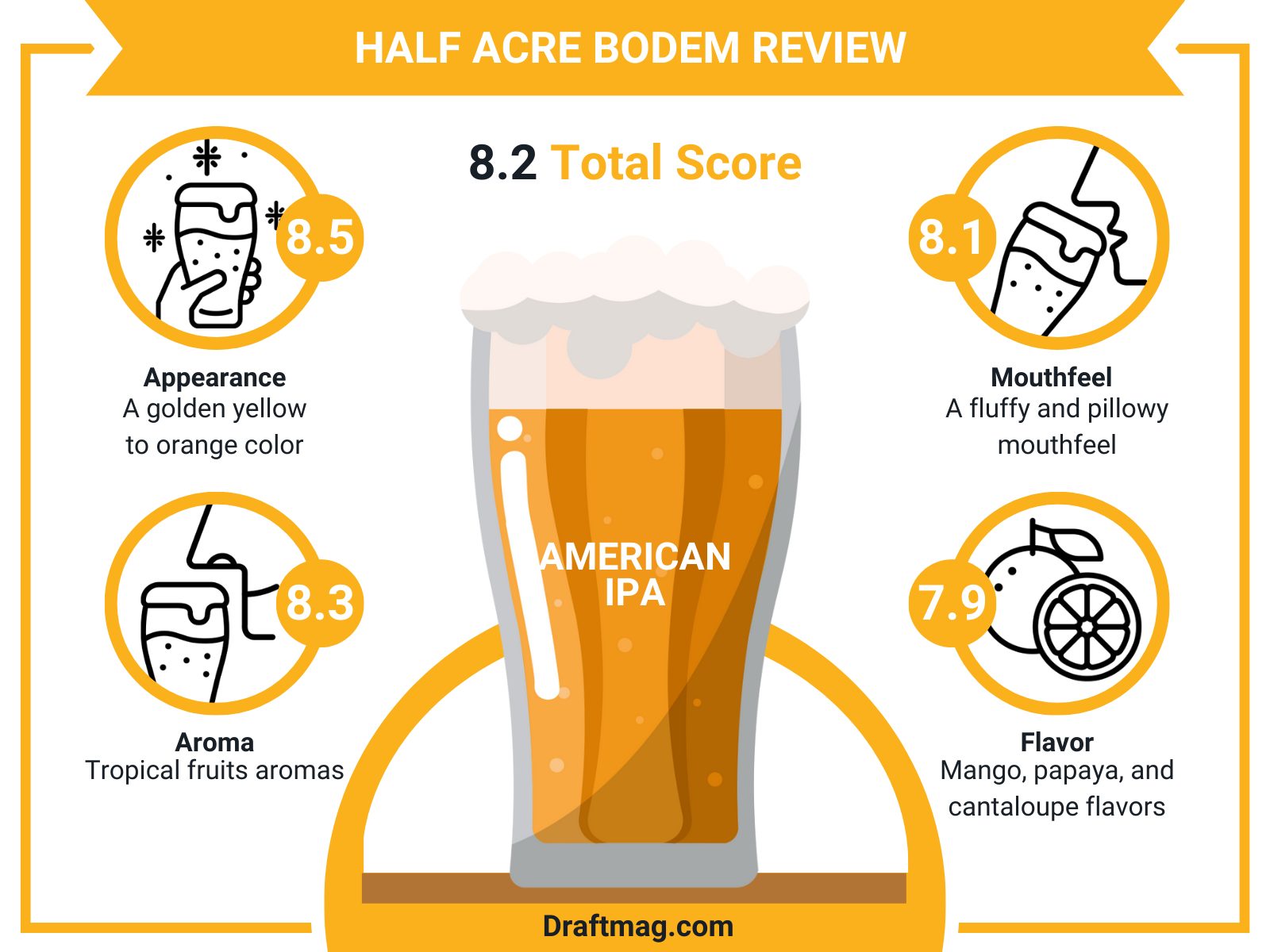 The beer's style leans towards NEIPAs due to its hops profile and gives you a delicious perspective of India Pale Ales. This review will cover all you need to know about Bodem, from its taste to the best food pairings.
Half Acre Bodem Stats
| | |
| --- | --- |
| Country  | United States |
| Brand | Half Acre Beer Company |
| Style | American IPA |
| Taste  | Tropical fruits, malty |
| Body | Light body |
| ABV | 6.7 percent |
| Flavors & Aromas | Citrus, malts, tropical fruits, earthy |
| Serving Temperature | 45-50 degrees Fahrenheit |
Tasting Notes
Half Acre Bodem Tasting Profile
Half Acre Bodem Review
The Half Acre Bodem is an American India Pale Ale and a year-round beer from Half Acre Beer Company. The beer is described as a bedrock IPA representing how the brewery feels about today's IPAs. With vibrant tropical flavors, the Bodem is a clear example of an IPA letting its hop flavors shine.
It is a delicious, fruit-forward IPA with other surprises as you drink, but also incredibly satisfying. The beer is best served in a snifter, chalice, or goblet at temperatures between 45 and 50 degrees Fahrenheit. You can also garnish it with a citrus slice.
Whether you need a delicious craft beer when hanging out with your friends or something to go well with dinner, Bodem is the ideal choice. The beer has an above-average RTP that will make you drunk in no time.
– Appearance
The Bodem IPA pours a golden yellow to orange color that reminds you of the sunset and a mostly hazy appearance. It also appears a bit translucent, with nice carbonation in tiny bubbles. On top of the beer is a creamy white head with good retention and visible lacing against your glass.
– Aroma
On the nose, the Bodem IPA will hit you first with the aromas of tropical fruits. These include overripe mango, cantaloupe, melon, blueberry, papaya, and bitter grapefruit, all combined to smell like a tropical IPA. You will also notice hints of biscuit and malt in the aroma and a dank scent. There are also hints of pineapple in the aroma.
– Mouthfeel
The Bodem IPA has a fluffy and pillowy mouthfeel that caresses your tongue. Its soft mouthfeel is followed by slight stickiness in your mouth after swallowing it. The IPA is light-bodied with decent carbonation that makes it clean and crisp. It is a drinkable beer that anyone can take down with only a slight alcohol burning.
– Flavor
The taste of the Bodem IPA follows the tongue, with a flavor that sits between a West Coast-style IPA and a NEIPA. Its tropical fruit-forward taste hits you first with overripe mango, papaya, and cantaloupe. The beer is not overly hazy or juicy but has a nice flavor that will transition into clean, dry bitterness as you swallow.
There's a lot of hop character in the beer, with hints of melon, blueberry, and pineapple. There are also dank earth notes from the malt list with a malty, biscuity backbone. The beer finishes with a taste of caramel and bread and feels equally dry and sweet as you swallow. As a clean beer, it doesn't leave much of an aftertaste.
– Food Pairings
You should try pairing your Half Acre Bodem with salty foods like lightly curried chicken or ham in a salad. The beer is paired with juicy and grilled chicken, pork, fish, and meaty foods. The juicy mango flavor will also go well with a syllabus.
The Bodem IPA also goes well with crisp and bright vegetables like English peas, asparagus, spring onions, and green onions, which complement the soft mouthfeel. It also goes well with different fruits like mango and citrus.
If you're interested in simpler foods, the beer will go well with fish tacos, burgers, pizza, and steak. You can have the IPA with a brownie, chocolate cake, or sherbet if you want to appease your sweet tooth; fruity pies and cobblers also work. As for the cheese pairing, the Bodem goes well with high-fat content cheeses and spicy pepper cheeses.
Ingredients
The main ingredients of the Bodem IPA are water, malt, hops, and yeast. The malts in the beer add the biscuit flavor, malty backbone, and creamy caramel finish. It is brewed with Mosaic Cryo, Idaho 7, and Cashmere, which give it its tropical fruitiness, vibrant flavor, and soft mouthfeel.
Nutrition Facts
The Half Acre Bodem features a 6.7 percent alcohol content, with an estimated 205 calories in every 12-ounce can. The calories in the can are a bit high, so beer drinkers on a diet should consider this when calculating their nutrition intake.
The Bodem IPA is not ideal for those on a keto diet because of its high level of carbs, 14 grams per 12 ounces. The beer is also not gluten-free, as it was made with wheat and flaked oats to boost the body.
If you're allergic to wheat or barley, check the beer's packaging before drinking it.
History
Bodem is one of the latest IPAs from Half Acre Brewing and is their first year-round IPA. Before this, the brewery only rotated two IPAs six months at a time and has won many awards for its delicious beers. Bodem is one of the most popular beers from the brewery.
The head brewer stated that the year-round IPA was released to make things simple for the customers. After learning new things from their Vallejo and GoneAway beers, they used that to boost the hop intensity of the beer while giving you a drinkable beer.
It took about nine months for the brewery to realize the concept.
Conclusion
Bodem is a delicious, tropical IPA that gives you a soft mouthfeel, a malty backbone, and a balanced, drinkable brew. Here are some points we covered in this review:
Bodem is an American IPA made by Half Acre Brewing, with a 6.7 percent alcohol content.
The beer's flavors and aromas are dominated by mango and tropical fruits, biscuity malts, and hops.
It is best served in a chalice or snifter at 45 degrees Fahrenheit.
It is brewed with malts, water, yeast, Idaho 7, Mosaic Cryo, and Cashmere hops.
The beer is best paired with salty foods, juicy and grilled foods, and sweet desserts.
You can try out the Bodem IPA directly from the Illinois-based brewery or purchase it at liquor stores near you.