Sam Adams 76 Review: The Brew Where Ale Encounters Lager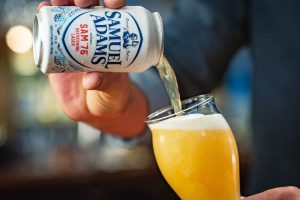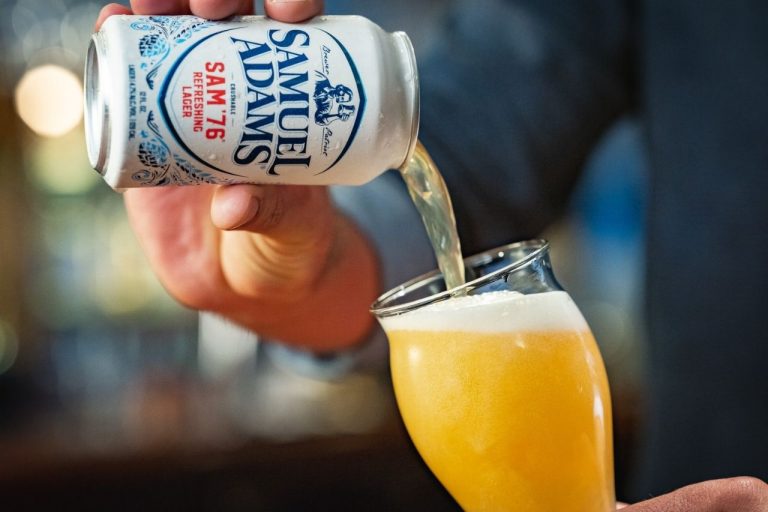 This Sam Adams 76 review follows the Boston Beer Company's unveiling of its new beer. If you are a beer go-getter and you have thought about trying this beer or have one in your refrigerator while reading this review, you would want to pull that beer out and bring it to lower than just room temperature to unravel the beer's full potential.
Meanwhile, we will get into the details so that you know what you are drinking, starting from its unique blend of Ale and Lager to the list of ingredients, taste and nutritional values.
Sam Adams 76 Characteristics
Brewery

Boston Beer Company

Location

Boston, MA

Style

Hybrid of Ale and Lager

IPU

12

ABV

4.7%

Flavors & Aromas

Citrus, lightly floral, stone fruit

Hops

Cascade

,

Citra

,

Mosaic

,

Simcoe

Shelf life

4 – 6 months

Serving temperature

48 – 50 F

Food pairings

Jalapeño poppers, Strawberry shortcake, pings in a blanket, Steak beef burger
The Samuel Adams 76 beer, also known as Sam Adams 76 Lager or "the beer of the people," was created with an experimental approach in their Boston nano-brewery. It is a blend of an Ale and a Lager. With a 4.7 percent ABV, this beer is an easy drink with a clean aromatic finish. Sam 76 Lager simply reminds of a match between Sam Summer and Cold Snap, their seasonal springtime beer.
If you love the concept of a hybrid beer, you are in the right place. But how did they come up with the idea? You should know that The Boston Brewing company has had a tough couple of years. They make a variety of craft beers all year long, but only a handful sell their way out. In hopes of uplifting their core brand, Samuel Adams came up with this iconic, uniquely flavored beer. Let's see what this hybrid has to offer.
Sam Adams 76: A Unique Combination
Bringing revolution in the beer industry, the Sam Adams 76 was created in an experimental nano brewery in Boston. With a testing time of over one year and 60 different brews later, the brewers found the exact balance for Sam 76. It is a refreshing yet crisp hybrid beer, with qualities of both an Ale and a Lager.
It is a perfect blend, almost making it feel like a Cream Ale. However, there are some differences in the blending process of the Sam 76. For starters, both the beers are fermented in separate fermentation vessels, one with an Ale yeast, and the other with a Lager yeast. These are then co-fermented to produce the iconic Sam Adams 76 beer.
Before this, no one had ever tried a combination like this. According to an interview with the boss himself, Sam Adams, the Sam 76 was made with a completely experimental method. This is certainly in character for Samuel Adams, as the Boston Brewery indulges in testing and trying multiple types of beers all year round.
With most of their beers having a lingering bitterness alongside their crisp and flavorsome finish, Sam Adams 76 was made with the idea of a beer with up-front flavors, a lingering bitterness, and a heavy body. The idea behind developing Sam 76 was to make a beer everyone is going to sit down and enjoy its light, crisp and hoppy flavor.
Sam Adams 76 Ingredients: Hops, Yeast Strains And More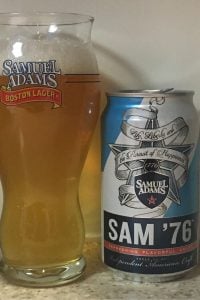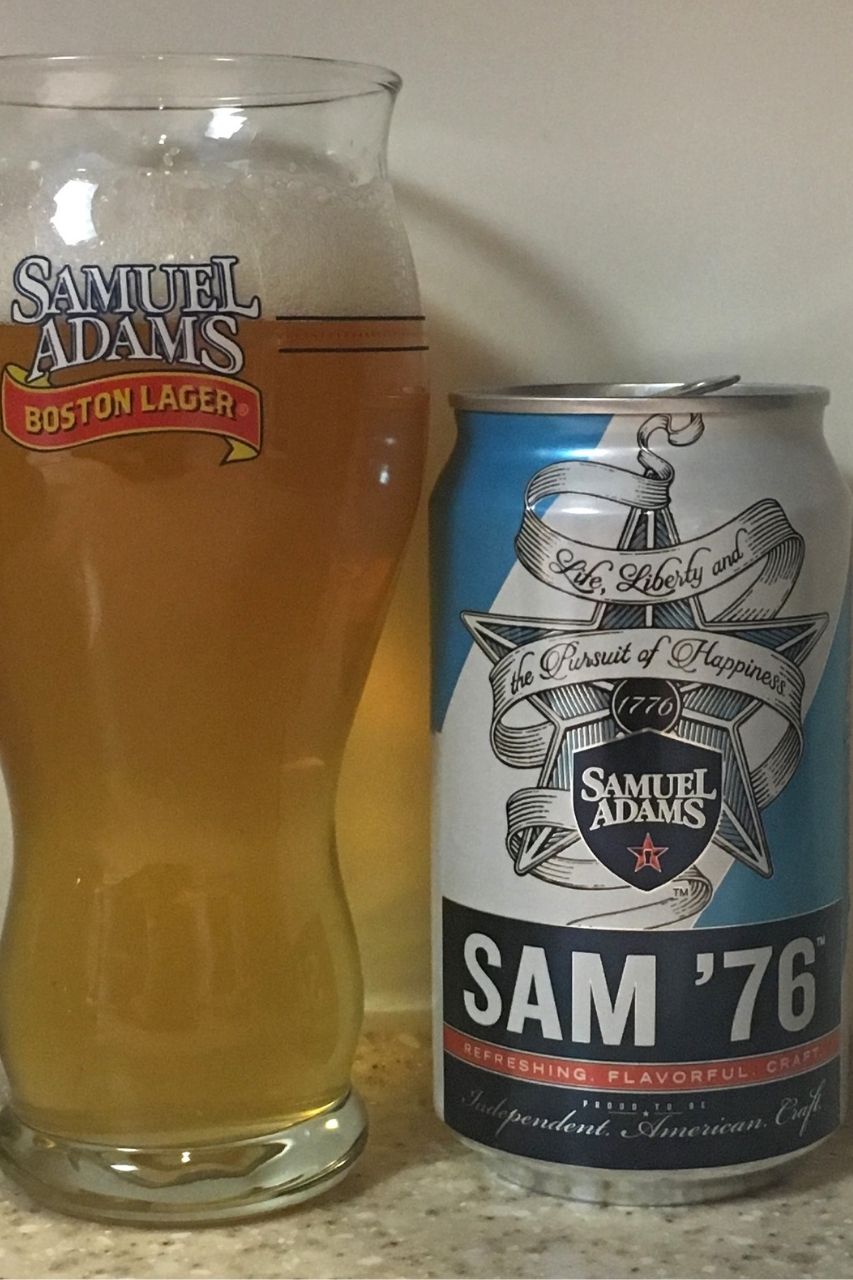 The Sam Adams 76 is a unique union of a Lager and an Ale, with the best attributes from both types. Both these base beers were brewed and then combined and co-fermented as a final step. As such, the ingredients used are varied.
The four main hops used in the brewing process for this particular beer are Cascade, Citra, Mosaic and Simcoe. These hops are high in essential oils content. These oils interact differently with different yeast strains, therefore producing a platter of flavors at the consumers' disposal.
The hops are put in a hot kettle, which deconstructs the bitterness and enables softer flavors to take over, thereby creating a blend of aromas and tastes. This particular beer involves the process of dry hopping. When you directly put in the hops at the right time and temperature, the yeast pulls very interesting, quite novel aromas from the hops.
The use of multiple strains and dry-hopping gives the beer its unique array of flavors, one that is a combination of the citrusy yet clean and crisp finish of a Lager. The brewers deconstructed the hop character to bring some emphasis on the non-bitter side of the beer, particularly, the juicy, fruity aromas and lemon zest-like tastes. By putting in drinkable and desired characteristics, the brewers reduced the IBUs leading to the revolutionary Sam 76 flavor.
Sam Adams 76 Taste
Beer fanatics will be surprised at the first sip of this beer. At first, you would feel a rich hop flavor taking over your taste buds which then slowly shifts into a clean and crisp ultimate touch of a Lager, thereby leaving a refreshing aftertaste.
The perfect blend of American Cascade, Mosaic, Citra and Simcoe hops in the Sam Adams 76 imparts a bright lemonish flavor without overpowering the palate with bitterness. At first, you taste the Ale-like properties of the beer, followed by the Lager-rich flavors and aftertaste.
– The Aroma
In an interview with Chicago Now, Jim Koch, founder and chairman of the Boston Brewing Company said: "You know I was just smelling the beer as we began the call and I wrote down 'peach, guava, apricot, mango.' So, they're juicy, going towards orange fruit rather than piney or resiny, which are characteristic of IPAs."
This perfectly blended beer brings in the fruity, hoppy and citrusy flavors and aromas of an Ale along with the smoothness of a Lager. It pours an orange-golden color with good clarity and a bright white head. The aromas remain citrusy, kind of like sweet orange with hints of lemon zest, pleasantly scrubbing your senses. There are soft undertones of mango and peach alongside some mild floral notes.
– The Overall Feel
With Sam 76, the brewers have deconstructed the hoppiness. Hopping runs parallel with bitterness in the craft beer business. So, when you take the hoppiness apart, other, more unique characters start to shine on.
Sam Adams 76 has an ABV of 4.7 percent and an IBU value of 12. Jim Koch said earlier in a statement: "We wanted to offer drinkers a craft beer they can enjoy during any drinking occasion, from a tailgate to an afternoon with friends and that is exactly what Sam Adams 76 delivers. It took many iterations to get it right, but with one sip, you'll understand why the beer is so unique."
The overall feel of the beer is round and smooth. The hops display light lemony flavors with hints of stone fruit along the way. Bittering is low, ending on a smooth, crisp, and clean aftertaste. The low IBU and ABV seem quite in line with the taste of the beer. Rest assured, a few of these wouldn't leave you intoxicated.
Sam Adams 76 Calories: Count Before Diving In
The serving size of 12 oz has about 130 calories. This is relatively less than other 12oz beers, which start from 150 calories or above. Beers with a higher alcohol content or traditional craft beers usually have over 170 calories. In comparison to the rest, Sam Adams 76 stays a tad bit lower on the calorie meter. A couple of these servings won't burn a hole in your diet chart.
Do People Appreciate Sam Adams 76?
Initially, people didn't think much of this hybrid beer, but many craft beer fans have moved to Sam 76 as their go-to beer option when they want something light and breezy.
In fact, even the founders admit that this beer is for craft beer drinkers and not for commercial beer consumers. You name the occasion, and this beer fits it all — as long as you have a taste for craft beers, that is.
The Sam Adams 76 is also one of the first of the Boston Brewing company to come in a can. You would enjoy this beer if you as it is easy to drink and doesn't leave a very high or rough aftertaste nor does it leave you feeling heavy by the end of the day.
Sam Adams 76 is available nationwide in six-pack cans for $8.99 – $9.99, 12 pack cans for $15.99 – $17.99, and single-serve cans for $1.99 onwards. The prices for each package vary by the market.
FAQ
Is Sam 76 a light beer?
Yes, Sam 76 is considered a light beer as it has a lower calorie and alcohol content compared to other beers.
Best Sam 76 food pairings?
Sam 76 pairs well with a variety of foods including grilled meats, seafood, spicy dishes, and pizza. Its light body and hoppy flavor make it a versatile choice for pairing with many different cuisines.
Is Sam 76 a hazy beer?
No, Sam 76 is not a hazy beer. It is a hybrid beer that combines the crispness of a lager with the hoppiness of an IPA.
Final Thoughts
Now that you know more about Sam Adams, let's try to assess its main assets and shortcomings:
Will this beer change customer preferences? Not really.
Is this the kind of beer you would want on a hot, sunny day? Yes, absolutely.
Will the taste burn out your taste buds? No, thanks to the mellowed Lager feel to the beer.
If you enjoy a smooth taste on your palette and are not a big fan of extremely bold tasting beverages, Sam Adams 76 is one beer that will perfectly fit your taste buds. Whether you're taking a day hike, or camping or enjoying a bonfire, or simply strolling across the park, this beer could easily be your friend for the day.