Valuable German Beer Stein Markings Review: Pro Tips To Identify Them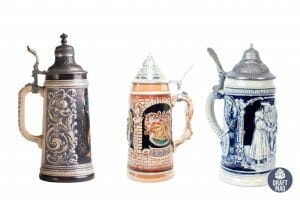 Valuable German beer stein markings are easy to recognize if you know the right clues. Lack of knowledge is why many tourists get cheated while buying German beer steins. Unlike cheap and fake German steins, traditional German beer stein is made of metal, crystal, glass, or ceramic.
Fortunately, experts know how to differentiate authentic beer steins from cheap copies and we have compiled some of the most useful tips and tricks for you in this guide.
What Is a Valuable German Beer Stein Marking?
German beer stein markings are specific valuable signs and symbols on authentic or traditionally made German beer steins; the markings can tell the country of origin, capacity, or manufacturer name. It requires a keen eye to identify German steins as they come in different sizes, shapes, and materials.
Identifying Valuable German Beer Stein Markings
Most authentic German beer steins are made of metal, earthenware, ceramic, porcelain, silver, or glass. They have a hinged lid, handles, and hand-crafted body. Here are some valuable German beer stein markings that separate authentic ones from commercially produced ones.
– Markings at the Bottom
Markings at the bottom of the German beer stein tell a lot about the origin, manufacturer, capacity, and edition of the stein, but to identify these markings, you have to have a keen eye. Here are some important markings you will find on a traditional German Stein.
Made in Label
The first thing you have to notice is where it was made. If the label says "Gemacht in Deutschland," it means the stein is made in Germany. Similarly, labels such as "handarbeit," which means "handmade" in German, point at its local origins. A valuable German beer stein will always have such markings at the bottom.
In contrast, avoid steins that do not have any mark at all or have a "Made in China" or another country's label.
Company Logos or Brand Names
The next marking you will notice will be the company logo or brand name. Sometimes, you will see numbers, but chances are that they don't have any meaning.
At times, a model or a form number can be seen on the stein markings, which are helpful for manufacturing purposes only. Other steins will have capacity or volume measurements written on the bottoms as well. Often, artists who designed or painted the stein also put their initials on the stein.
Limited Edition Markings
Sometimes with a collector or limited edition stein, you will see the maximum number of such steins made in total for that specific model. For instance, the limited edition markings mostly number in a couple of thousands. However, it can be smaller amounts as well, especially for the fine collector beer steins.
These are only a couple of hundreds in total or made on special events such as 212 years Oktoberfest, which has only 212 pieces of steins. So to conclude, the lower the stein number, the higher the chances of it being among the first ones made. Similarly, the lower the number, the rarer the steins, which makes them the most valuable steins of all time.
– Interior
In the next stage, look in the interior for the hand-painted lithophane at the bottom. These unique, raised, and imperfect markings are present on nearly all German steins. However, its presence doesn't mean it is an old beer stein.
You can look at the bottom of the beer stein while holding it facing the sunlight. If you see nude or provocative pictures, it is a fake stein. No German steins, new or old, contain nudity and provocative pictures as they prefer painting modest scenes. Also, as the lithophane is hand-painted using very long brushes, it turns out not so perfect.
The raised scenes on the interior of the German steins are often of angels to give the drinker the stein luck.
– Exterior
A close examination of the stein's exterior reveals a lot more about it. Mostly, old German steins have hand-painted pictures on their exteriors. And as these scenes are hand-painted or hand-crafted, they are often raised and are not perfect. Sometimes, some steins have raised edges, which reveals the stein is valuable.
Additionally, if the exterior contains one of the following depictions, the chances of it being vintage increases:
Historical scenes
The rank and last name of soldiers on old regimental steins (new regimental steins, on the other hand, have first names too)
Patriotic schemes
Hand-carved pictures of angels and fairies
– Lid
The valuable German stein comes with a metal lid. It is often decorated to complement the painting scenes on the main body. Often, the inside of stein lids is lighter compared to the outside; as the exterior is exposed, it oxidizes at a faster rate than the interior.
Moreover, the lid's design should be in accordance with stein's overall design to ensure the stein is intact and valuable.
– Handle
While the old German steins don't have a bump in the handle, the new German steins do have it. But the handle missing a bump isn't a guarantee for it being an old stein. Around 10-20 percent of new steins do not have a bump in the handle.
– Stein Condition
German steins were originally developed for regular use, so if you come across faded colors, chipping, or any other minute imperfections, it is entirely normal with antiques.
However, the stein's overall condition does affect its value. Your piece will be more valuable if it meets some or most of these conditions:
Clear original decorations
No unattractive discolorations
Little or no damage to the front
Working hinge on lid
Intact original pieces
Few chips, dents/cracks
No repair work
German Beer Stein Types
Various differently painted beautiful german beer steins include:
– Carved Steins
Intricate designs featuring folk tales and battle scenes carved on the wood are something truly unique. These steins showcase the spirit of Germanic tribes and craftsmanship at best. Some carved steins fetch more value than porcelain, glass, or metal ones.
– Ivory Steins
Depiction of patriotic heroes and animals on pure ivory white looks unparalleled, especially when it is on a beer mug. Ivory beer steins are very liable and sought after. However, be cautious about the source of ivory. It should not violate any law or harm animals at risk.
– Regimental Steins
These steins were personalized to commemorate the war heroes of Germany. Regimental beer steins have rank, names, and status of soldiers embossed on them. Like medals, these steins become meaningful for families and even passed down to generations.
– Mettlach Steins
Mettlach steins are akin to quality and value. From 1880 to 1910, manufacturers Villeroy and Boch Co. Mettlach are credited with producing some of the finest steins in German history. Every stein has an original design and well-defined markings for easy identification. To date, there is a ready market for Mettlach steins due to their excellent quality. Moreover, it comes in all designs, sizes, and shapes.
– Glass-Blown
This is one of the oldest versions of steins. Glass-blown steins come in various colors, including cobalt, brown, green, and red. Different colors were a result of using corresponding salts. Today, you can still find some pieces in the market.
– Character Steins
As the name suggests, character steins are made in the shape of any structure, animal, or even person. Handcrafted steins in this category are most unique, personalized, and creative.
History
In the aftermath of the bubonic plague (black death), which eradicated almost half of Europe's population, strict sanitary measures were taken. One such law mandated that food and beverages be covered to protect them from flies or other types of contamination. In pursuit of this, the steins with hinged lids evolved.
According to another theory, earlier folks used to drink beverages from mugs made of earthenware or wood, but both were porous, difficult to clean, and with regular use, grew rancid. So, to replace these mugs, steins or stoneware mugs were produced by firing earthenware mugs at higher temperatures. They were stronger, non-porous, easy to clean, and resistant to breakage.
Here is the timeline of German Steins:
The first ever steins developed were simple mugs with a hinged lid along with an attachment for a thumb lift.
Early German Beer steins from the 14th to 17th century had hand-made paintings and clear salt or cobalt oxide blue glaze.
In the mid-17th century, the demand for steins increased among elite members. To satisfy the demand, beer steins made of faience were introduced.
Along with faience, German Porcelain Antique Beer Steins became famous in the 18th century.
The 19th to early 20th century steins were more vibrant in material, design, and art. The majority adopted renaissance period art and patriotic themes.
Value
The broader price range for Antique German steins ranges from $50-$5,000. However, many traditional hand-made steins sell between $100 to $500. Any precise information regarding a specific piece alone can make a difference of thousands of dollars.
For instance, a 17th-century American tankard belonging to a family for generations got sold at $140,000, whereas a Marzi and Remy stein (the 1850s) which lacked proof of origin, managed just $150.
So, to determine the correct value of German beer stains, you must look for markings to ascertain how old the stein is as well as its origin. It is vital to know how to differentiate authentic German stein from counterfeits. It not only helps in the correct valuation but may help you pick up the authentic piece of your choice.
Endnote
This complete guide laid down a few expert tips on how to identify valuable German beer stein markings. So let's sum up to make sure you shop or discuss German Beer Steins like a pro: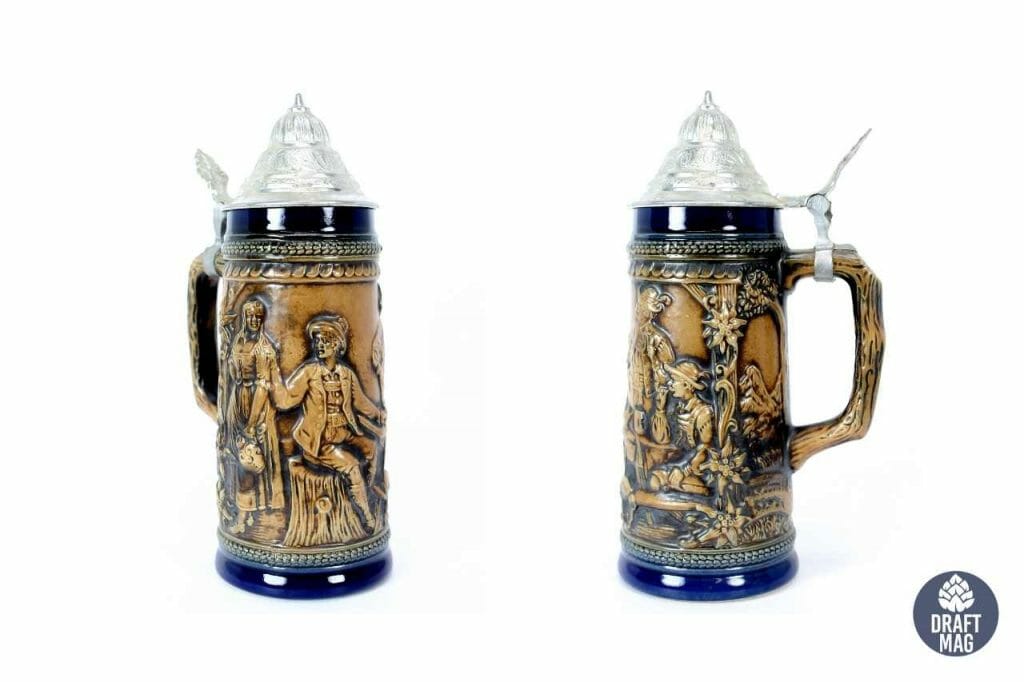 If the bottom of a valuable German Beer stein has a Made in Germany label, Limited Edition marking, initial of manufacture, or name of the company, then it might be authentic.
Hand-painted steins have minor imperfections and the surface is slightly irregular.
Hand-carved designs with patriotic schemes or historical designs are more valuable.
The design on the lid should complement or correspond with the design on the stein.
Look out for any precise information or evidence before shelling out large money on any Vintage German beer stein.
For some, a German beer stein may only be another piece of porcelain mug, but those who know its long and rich history realize its true value. The intricate designs and hand-made paintings on every German stein tell a different story.