Adios Pantalones Beer Review: Great Session Beer With Citrus
Adios Pantalones beer is a vibrant American lager with a sessionable flavor and a blend of delicious notes. The beer is light and has a thirst-quenching character that makes it great for drinking on your porch as the sun sets or when mowing your lawn.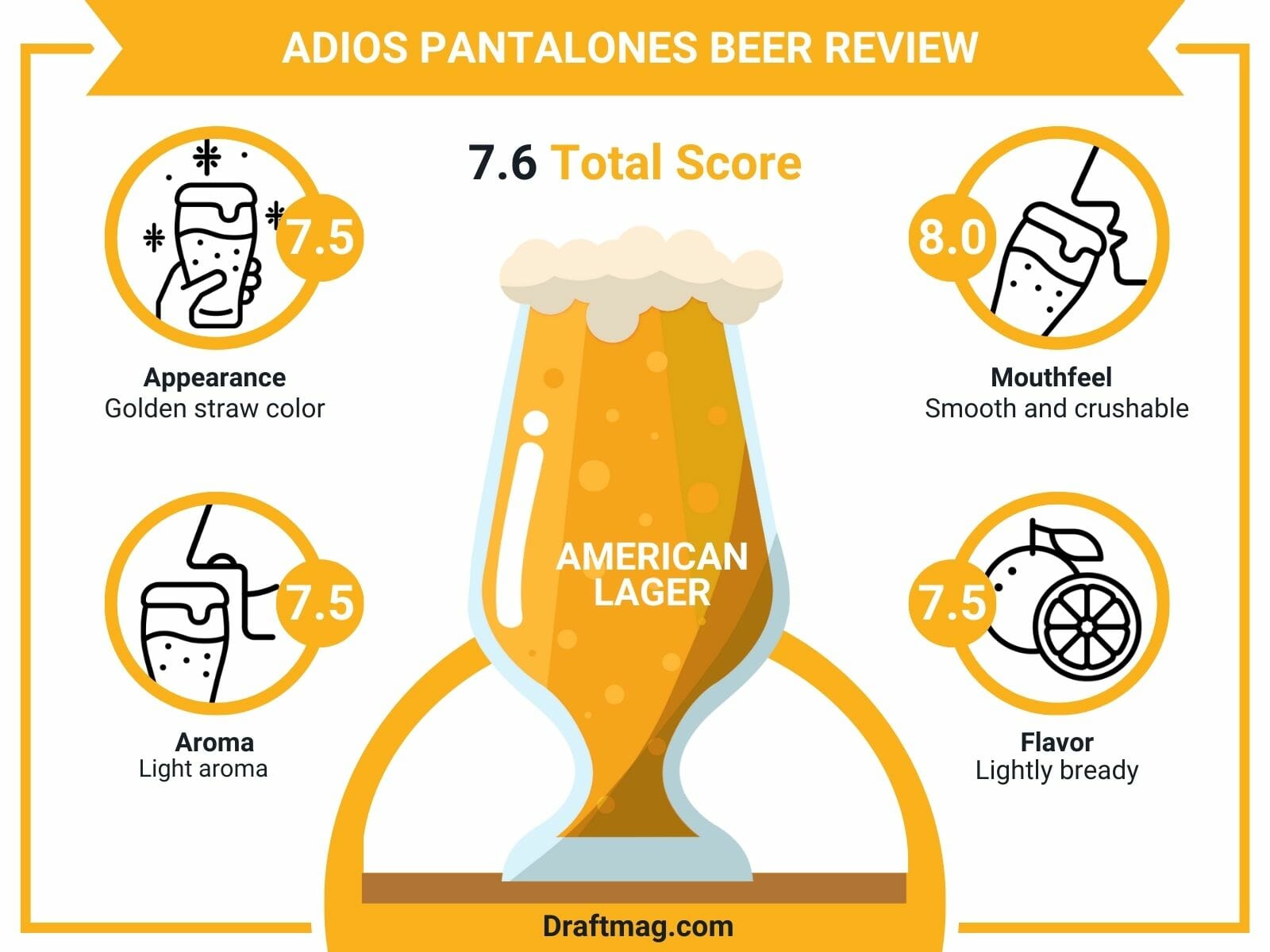 The session beer has a great citrus taste and is not over-hopped, with sweet lemon and lime notes and a bready base. Our review below covers all you need to know about this beer, from the tasting notes to what food you can pair with it.
Adios Pantalones Beer Stats
Country 

United States

Brand

Rahr &

Sons Brewing

Company

Style

American Lager

Taste 

Corn, lemon

Body

Light body

ABV

4.5 percent

Flavors & Aromas

Corn, bread, lime, lemon, hay, wheat

Serving Temperature

35 – 40 degrees Fahrenheit
Tasting Notes
Adios Pantalones Beer Tasting Profile
Adios Pantalones Beer Review 
Adiós Pantalones is an American lager with an alcohol content of 4.5 percent and will surprise your tastebuds with the notes of corn and lemon. The beer was made by Rahr & Sons Brewing Company and gave you a sessionable character without being too intense.
The lager smells and tastes like corn, bread, wheat, hay, lime, and lemon and is not over-hopped. It features a golden straw yellow appearance and pours a light body. The mouthfeel is a bit dry too. You can enjoy this refreshing beer on any occasion since it is drinkable and citrusy. 
The beer should be served in a pint glass, as it is designed with a narrow bottom and a wide opening to hold the head in place. It also shows off the bright color of the beer. It should be served at a very cold temperature, from 35 to 40 degrees Fahrenheit. This temperature is ideal for the Adios Pantalones beer since other beers should be stored and served at different temperatures.
– Appearance 
The lager pours a golden straw color into your glass, and it is mostly see-through. Aside from the clarity, you might notice a slightly hazy appearance with some particles. It will remind you of a wheat ale when you pour it into your glass.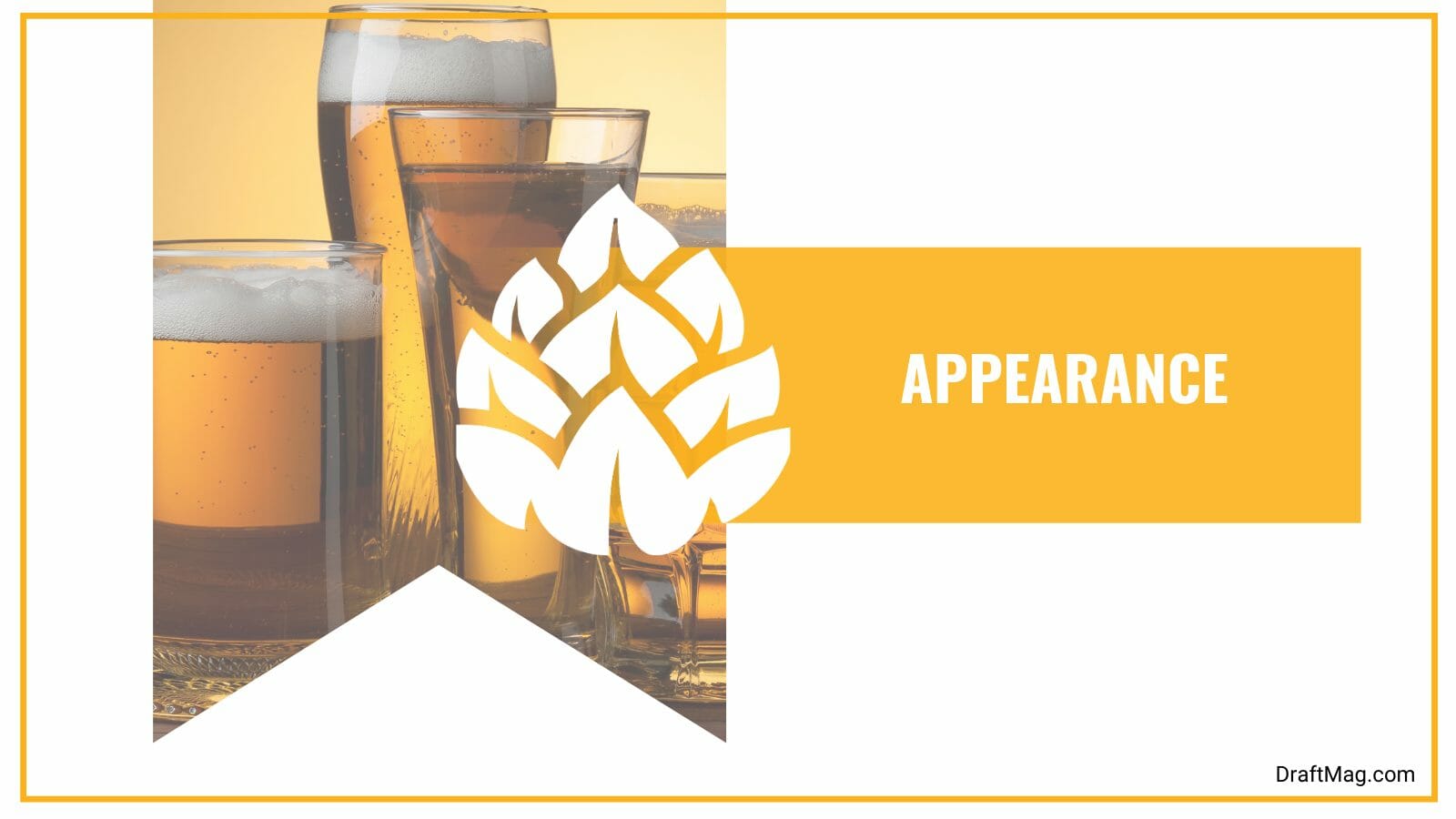 The beer has a white foamy head that stays for a long time. It will dissipate slowly and become a thin film on your beer. It also leaves thick lines of lacing against the glass. 
– Aroma 
On the nose, the beer features a light aroma that does not overshadow the taste. The aroma is faint but still noticeable and will give you a balance of malts and lemon. The beer gives a simple scent of light cereal grains and lemon notes.
There's also a bit of wheat on the nose as you drink the beer. As the beer warms up, you will notice a bit of stale corn and bread in the aroma. The lemon is also accompanied by a bit of musty lime. 
– Mouthfeel 
The mouthfeel of the lager is light and crisp, although it's a bit heavier than you'd expect for a beer with a 4.5 percent alcohol content. The light body leans towards medium, and in the finish, you get a bit of salty lime. The beer is smooth and crushable, making it a great summer beer.
The beer has a slightly dry mouthfeel, and you won't get a strong hop bite as you drink. It has a great citrus taste, and there is medium carbonation with a kick at the back. Dry beers have some basic and unique characteristics and Adios Pantalones falls under this category.
– Flavor 
When you drink the Adiós Pantalones lager, you will notice that the nose gives you a slight hint. The beer tastes lightly bready when you first drink it, and there are wheat grains at the base. There is also an equal split of lemon and lime peel citrus, especially in the finish.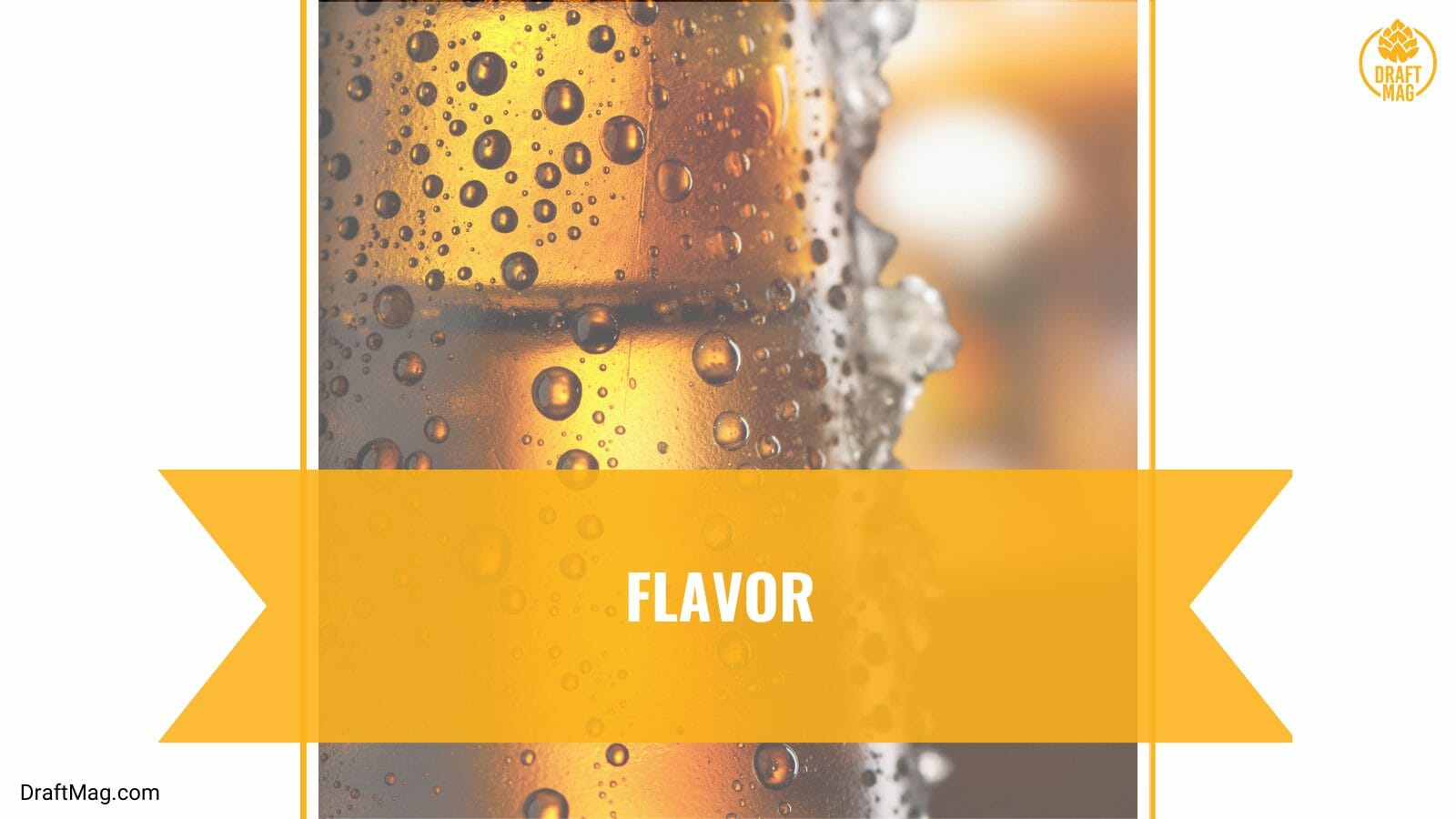 There is a balance of wheat and citrus in the flavor, and a bit of grassy hops, especially towards the end. The taste of the beer is basic, like a simple lager, but it is also thin and refreshing. You will also notice corn and bread in the base, and it balances well with the citrus.
– Food Pairings
The American lager goes great with mostly light foods and creamy dishes, making it an ideal pairing for your everyday American foods. Have it with a juicy burger, pizza, tacos, pretzels, fish and chips, chicken, and more. 
The beer also goes great with seafood, so you can enjoy it with sushi, shellfish, and other light fish dishes. It also pairs well with grilled pork and chicken and pasta dishes that don't have heavy sauces. Spicy food and Southeast Asian, Mexican and Latin cuisines will also pair great with the beer. 
For your cheese pairing, you should have the American lager with Havarti and mild Cheddar cheese. You can also have the beer with a delicious cheese spread. Lemon-based desserts will pair great with the beer, so try out banana lemon crepes and panna cotta with lemon. These desserts will highlight the citrus notes in the lager. 
Ingredients 
The session ale is described as a cereza de sesion by the brewery, and it offers citrus notes from the hops. It is brewed with malts, hops, yeast, and water. Aside from this, the beer is made with real lemon and lime, which gives it a strong flavor of citrus.
The malts used to make the beer give it a strong base of wheat, hay, corn and bread, which round up the flavor and lend to its light body. As for the hops, they give the beer grassy notes, especially towards the end.  
Nutrition Facts 
The lager features an alcohol content of 4.5 percent, which is a decent level for a lager. When drinking the beer, you won't taste the alcohol since it is low. As for the IBU, the level is 20 as there is low bitterness. This is because you get more fruitiness and maltiness from the beer than hoppy bitterness.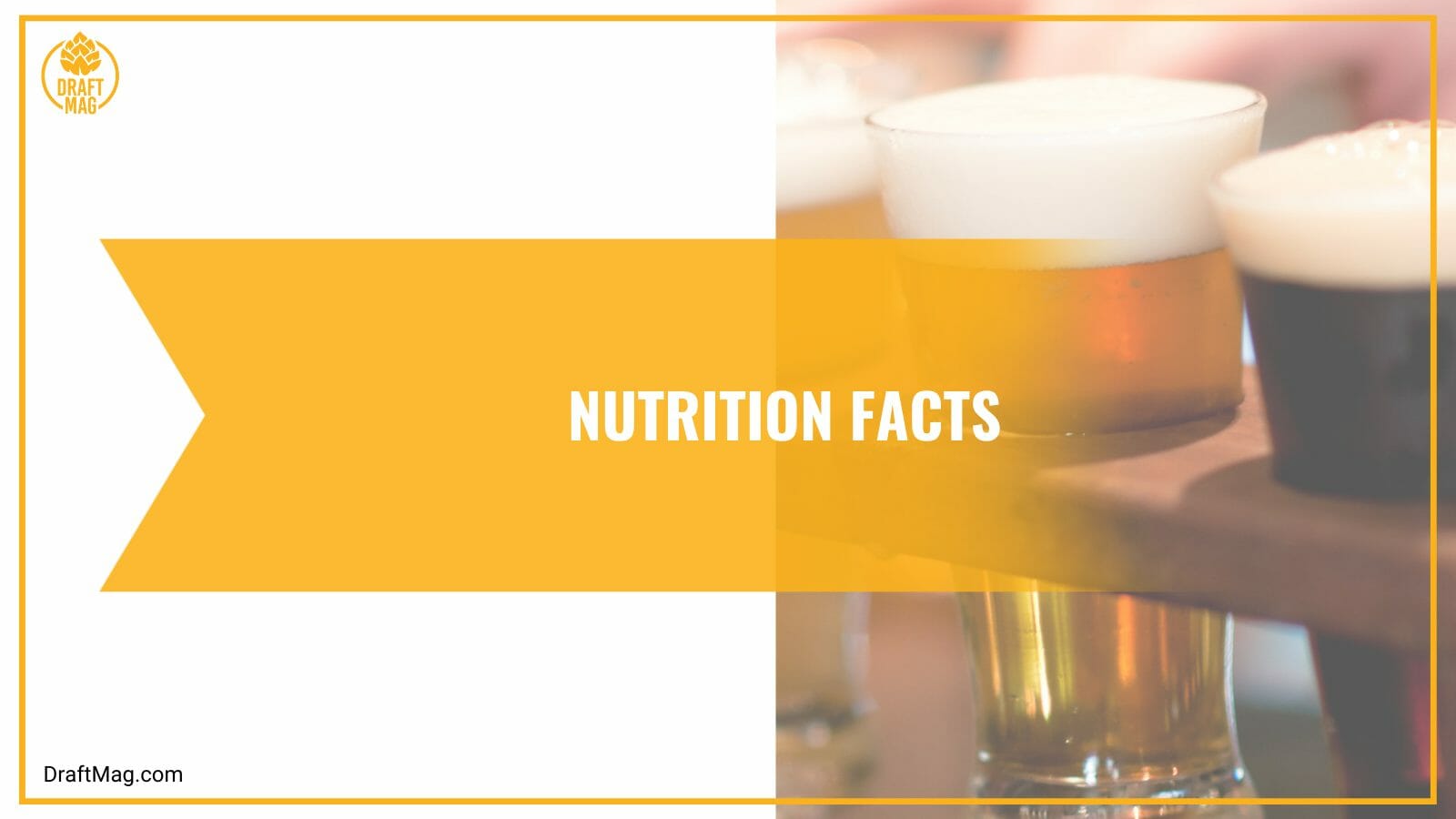 The lager has 120 calories in every 12-ounce serving. It also has 8 grams of carbs, 1.8 grams of protein, and 12 mg of sodium. You can enjoy the beer whenever you want, even if you're on a keto diet, because it has a low level of carbs. 
History 
The lager was released in 2018 by Rahr & Sons Brewing Company. The American lager is one of the most popular year-round beers from the brewery. The brewery also has another barrel aged version of this that is aged in tequila barrels, so it has a higher ABV. 
Rahr & Sons was founded in 2004 and are based in Fort Worth, Texas. Since then, the brewery has had a capacity of over 2,000 barrels of beer and a lot of fans. It is owned by Fritz and Erin Rahr. The beer lineup features a wide range, from IPAs to chile beers. 
Conclusion
You can enjoy a refreshing and sessionable character when you drink this lager, and it tingles your tastebuds with the citrus notes.
Here's a rundown of our beer review:
Adios Pantalones is an American lager with an ABV of 4.5 percent.
The beer has flavors and aromas of citrus with lemon and lime, corn, bread, hay, and wheat.
It is made with malts, hops, yeast and water.
The lager is best served at cold temperatures from 35 to 40 degrees Fahrenheit in a pint glass.
You can enjoy the lager by pairing it with American foods, seafood, chicken, pasta dishes, spicy cuisines, Cheddar cheese, and lemon-based desserts.
If you're curious about this beer, you can purchase it online or in person at a liquor store. You can also try the lager out by visiting the brewery.