The Best Aldi Beer Brands Available at U.S. Aldi Grocery Stores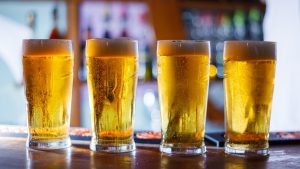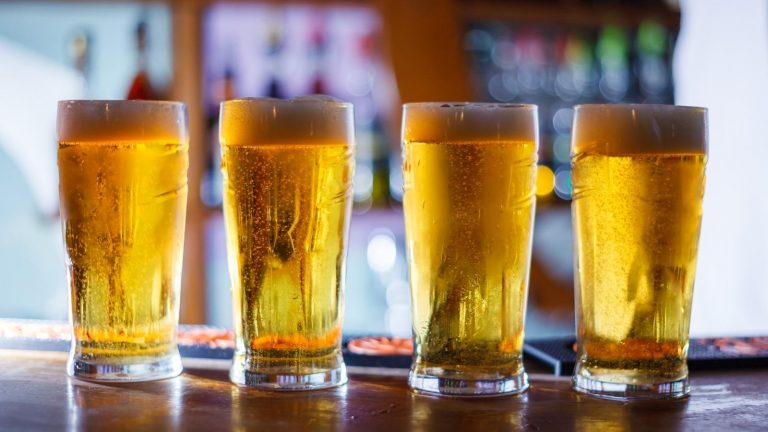 The best Aldi beer is cheap as well as robust, so you don't have to sacrifice the beer flavor when you're making this more affordable choice. Aldi beer selection is wide and that's why we curated this list of the 12 best beers you can find in this grocery store all across the U.S.
We'll give you all the details for each of the beers, including their alcohol percentage, their flavor, their aroma, and even some of their food pairings. Keep reading our article to find all those Aldi beers ranked.
12 Best Aldi Beers You Need to Know
Aldi stocks multiple beers in its various grocery stores worldwide to suit the unique needs of its consumers. With varied aromas, textures, flavors, and even colors, the best Aldi beers for every kind of drinker, in descending order, are as follows:
12. Folded Mountains
Pale Ale – 5.3 percent
Folded Mountains is a type of Aldi beer produced by an American beer brewer in Rochester, New York, contracted to brew the beverage. Moreover, the pale ale balances malt and weak hops. However, many Aldi beer reviews rank it at the bottom of the list for its one-note, weird balancing of weak hops and malt.
11. Boot Tread Belgian Amber Ale
Belgian Amber Ale – 5 percent
This Belgian Aldi beer is produced by Brouwerij Martens. Its general taste of syrup, both cough and sugar kinds, makes it a perfect surprise alcoholic beverage for satisfying beer nerds who have a more intense sweet tooth.
10. Independence Harbor
Amber Ale – 5.5 percent
Independence Harbor is a slightly hoppy amber with honey, giving it a sweet taste. Depending on your preference for a beer's saccharine content level, the sweetness of this Aldi beer can be a blessing or a curse.
9. Monterrey Cerveza
Mexican Lager – 4.5 percent
This Aldi beer resembles standard Vienna-style lager, but isn't a superb drink. It's also close to Corona and Modelo. The beer has little to no aftertaste, making it a go-to Aldi beer for many beer lovers.
Its tolerable nature makes it an ideal "lawnmower beer" or one you can easily enjoy at the beach. The Mexican lager also works well as an all-day beer you can enjoy when doing light chores at home over the weekend.
Although it's a Mexican lager, this beer is produced in Guatemala. The beer is popular for its thin and bold taste with hints of sulfur and skunk. However, drinkers detest its grainy, cloying finish.
8. Holland 1839
Lager – 5 percent
Holland 1839 reminds many drinkers of Heineken but without its aftertaste and thus "skunkiness." The Aldi Heineken equivalent is clean, crisp, and highly drinkable actually!
This Aldi beer was first produced in 1839, hence its name. Clearly, most Aldi brewery products distributed to U.S. palates are older than Heineken. Although this beer is fine, Aldi has better lagers and choices across its Aldi beer selection so keep reading to find them out.
7. Broegel
Bock – 5 percent
Belgian brewery Martens produced Broegel as a rebound to the shortcomings of Boot Tread. Hence, this Aldi beer has a relatively similar taste and color to the German-style bock. Although it isn't as roasty-tasting as other Aldi beers, it has a classic malt flavor.
Broegel lacks the vivid alcohol blast of more frisky bock beers. Likened to a great Shiner Bock, many drinkers enjoy this Aldi beer each time they drink it.
Most Aldi beer reviews rank it high for cooking and low for drinking. Therefore, rich in flavors and low in bitterness, avid beer drinkers suggest Broegel those who like to integrate beers into their cuisine. Actually, it's ranked the best Aldi beer for cooking despite its high alcohol content.
6. Wild Range
IPA – 6.9 percent
Rochester's Tap Brews is behind the Wild Range Aldi beer. Unlike Independence Harbor and Folded Mountains, Wild Range is more of a regular pale ale. It takes you back in time to when high IBU was critical to an IPA.
The "Wild" beer is heroic with complex attributes, such as aroma taste, making it perfect for lovers of an average beer.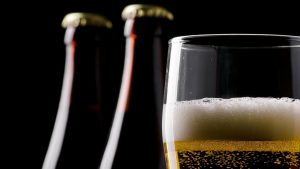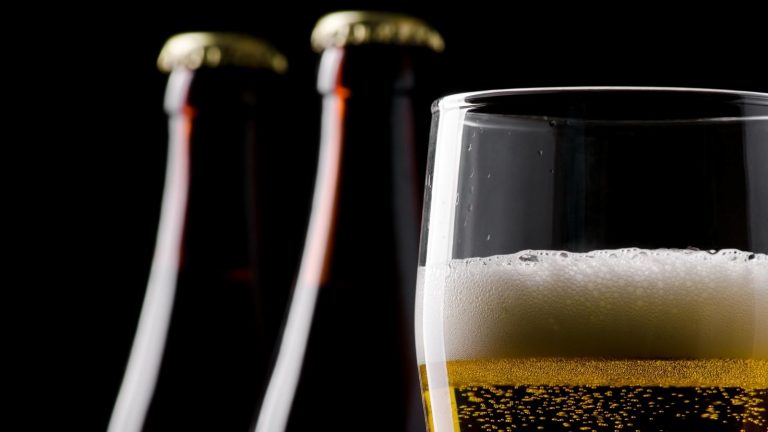 This Aldi beer isn't a multi-hopped drink for nerds, but it's the perfect IPA for light drinkers slowly transitioning to more sophisticated beers. So, the gateway Aldi beer is a great way to transition from mild beers for beginners to more complex alcoholic beverages for seasoned consumers.
5. Imperium
Lager – 5 percent
The German-style lager is produced in Belgium, and it's a clean drink in a golden color that is crushable, but not memorable.
Although it adds to your beer contribution or Aldi beer selection at stores and parties, there's nothing memorable about it. Imperium is neither offensive nor enlightening, negative nor positive.
If you need an Aldi beer to add to your selection without the need to make an impact, you won't go wrong with Imperium.
4. Bacher
Lager – 5 percent
Just like Imperium beer, Bacher is crisp, clean, refreshing, and biscuity, but with a slight difference that draws a clear line between the two Aldi beers. This beer is more of a "nuance" than its counterpart Imperium.
You can pair Bacher beer with cheese and lobster rolls (or charcuterie), or serve the alcoholic drink on its own. The German-style lager is produced in Belgium, a drink that many beer lovers find impressive.
3. Third Street Brewhouse Hop Lift IPA
IPA – 6.2 percent
Third Street is an appealing Aldi beer brand produced in Minnesota and sold in a pack of four. It's not the same as Santa Rosa, a Third Street Ale House in California.
With a good IPA like Third Street Brewhouse Hop Lift, you can pair your favorite Aldi drink with carrot cake or Thai food for memorable moments shared with friends or loved ones.
This Aldi beer has the taste and color of a session beer and exceeds the Wild Range IPA beer. When drinking this beverage at your favorite bar, you can never go overboard.
2. Kinroo Blue
Belgian White Ale – 5 percent
Kinroo Blue is a favorite Aldi beer style of many drinkers. It has a bold citrus essence from coriander and orange peel, giving the beer a nice aroma. The Aldi light beer oozes well-mixed spice notes, making it versatile for pairing with all kinds of cuisines.
The beverage is dessert-like with a Belgian wit. It has a silky and rich texture, with notes of orange peel and overtones of sherbet. The alternative to Blue Moon is well-executed and popular for its deeper, richer aroma.
If you're looking to take your drinking habit and love for beer a notch higher, you won't go wrong with this bridge beer. Kinroo Blue's unique taste and aroma makes it possible to hold onto its flavor notes longer.
Aldi beer reviews rank this interesting beer to the level of Hoegaarden and Blue Moon, so this is among the best beers at Aldi grocery stores worldwide. Drink it to relax and refresh your mind.
1. Wernesgruner
Pilsner – 4.9 percent
The German company, Aldi, also stocks store-exclusive beer made with Pilsner malt. This beer was first produced in 1436 in the Saxony of Germany, before the German purity law was enacted. Saying that, the Aldi beer claims to follow this law during its production.
Wernesgruner is cheaper than Stella and Heineken and is imported from Germany to the U.S. The beer is impressive and competes with international pilsners from Germany that have flooded the alcoholic beverage market.
This Aldi German beer comes in brown bottles and unique packaging made from cardboard to prevent light contamination. The German lager is full-bodied and boasts a nice, crisp muscular taste with bitter tones.
Wernesgruner perfectly balances hops and malt, and gives a deep flavor with an excellent long finish. Also, the beer's aroma is reflected in its flavor. You can pair this light beer with raw cuisine or light-bodied cured cuisine.
Alternatively, you can enjoy a bottle of this Aldi beer on its own after work or with your friends on the weekend.
Other Great Aldi Beers
Stockyard Oatmeal Aldi stout beer and Kirkland Signature IPA are other great beers you'll find in Aldi beer selection isles in the grocery stores. These Aldi beers present distinct aromas, flavors, and textures. Hence, they are great choices too if you are an avid beer drinker looking for a more approachable and affordable beer.
Conclusion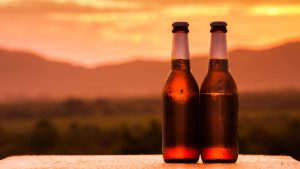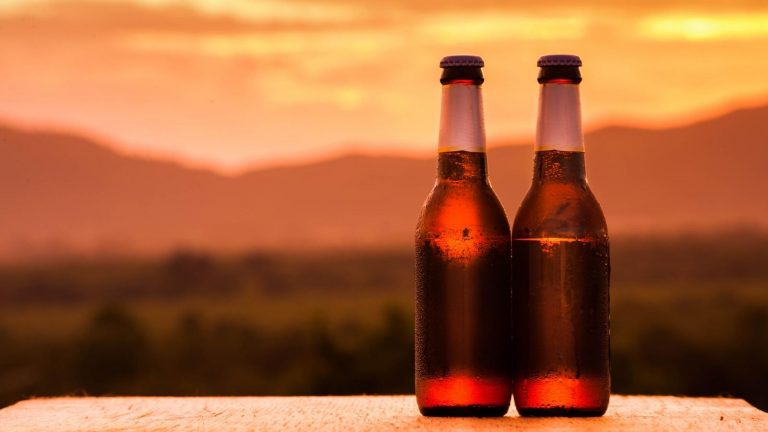 The Aldi beer selection that we presented to you in our article is diverse enough to meet various needs. You can definitely go back into our article to read the details on each beer, but if you want a snapshot of the best beer at Aldi, then this is a recap of the 12 best Aldi beers in the descending order that we presented them to you:
Folded Mountains
Boot Tread Belgian Amber Ale
Independence Harbor
Monterrey Cerveza
Holland 1839
Broegel
Wild Range
Imperium
Bacher
Third Street Brewhouse Hop Lift IPA
Kinroo Blue
Wernesgruner
If you're at Aldi right now looking for what beer to buy, then don't forget to consult our list!