Blichmann Fermenator: The Ultimate Blichmann G4 Fermenator Review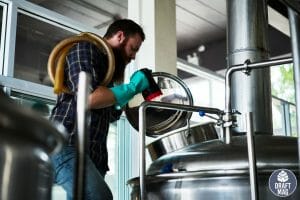 The Blichmann fermenator G4 is buzzing the market today because of its features and high quality. If you are planning to buy it for yourself, you need to know its highlights. Thanks to this article, you will get a complete review of this fermentor so that you can understand why it is important for every brewer to have one. Let's start by looking at the fermentor's pros and cons.
Pros and Cons Table
| | |
| --- | --- |
| PROS | CONS |
| Made from high-quality material (stainless steel) thus, it is durable. | Highly priced. |
| You can ferment beer and still keg in the same tank. | It could be complex and hard to use for certain users, for example, a new home brewer. |
| It is pressure rated for carbonation. | |
Product Highlights
The heavy-gauge stainless steel isn't the only valuable feature ‌the fermentor has. Below are listed other great highlights and benefits that the fermentor offers:
 Welded tri-clamp fitting
 Pressure capable uni tank
 Aseptic racking valve
 Integral PRV
Brushed exterior, polished interior
A positive seal racking arm
Dial thermometer
Cooling system
Carb stone
Blichmann Fermenator Review
Before going into details, you need to know the specifications of Blichmann fermentor, that include:
Tank height- 32.28"
Foot height- 1.5"
Depth (front to back)- 17.25"
Width- 13.5"
The size of the fermenter varies. They are manufactured from Blichmann fermenator seven gallons to 42 gallons.
Because it is a 2-in-1 fermenter, you can carbonate your beer in the same container, store, and serve too.
Blichmann developed an optional tri-clamp sanitary fitting design whose function is to maintain all the operational features of the standard fitting.
This fermentor is pressure rated up to 50 PSI, which makes it the best equipment for fermentation, let alone carbonation. The fermentation process requires a lot of pressure for it to take place.
It has a large open top that is wide enough to make its inside's scrubbing and sanitization very easy for you.
It is a must have because, unlike carboy and glass materials, this one cannot break, and unlike plastic materials, this one can't corrode. The type of stainless steel used will not interfere with your beer's taste causing it to have a metallic aftertaste. It also does not discolor even after using it for weeks or months.
Blichmann manufacturers have made it available in a variety of sizes to suit different people's needs.
Besides all above-mentioned, it is the only weld-free interior fermenter on the market. It also carries a special design that prevents it from leaking.
– How Has the Product Developed Over the Years?
Blichmann fermenter emerges as the first-ever pressure-capable homebrew conical. They manufactured the first fermenters in the Blichmann series in 2004, which have been developing gradually over the years. Blichmann fermenator g4 is the latest version of the series. All its features make it a piece of unique equipment used to ferment and brew beer.
Product Features Breakdown
You already have learned why you need to give a try to this fermenator, but read further to find out more about the features that make this product unique.
– Welded Tri-clamp Fitting
All the tri-clamp fittings are 1.5″ and are welded into the heaviest gauge tank and lid available on the market. The advantage it offers is that you cannot dismantle it. The fermentor will have all its features in one wholesome unit, enabling you to carry out fermentation and carbonation easily.
– The Conical Bottom Shape
It easily manages yeast that is used during the fermentation process. The yeast settles at the bottom of the cylinder, where there is a conical shape. It settles at the bottom, separating from the beer, therefore can be easily removed and stored to be used for another round. This saves you a lot of time and, of course, some money.
The conical shape of the fermenter comes in handy. It will help you control and reduce the amount of trub in your beer. Trub is the mixture of yeast and proteins that settles at the bottom of the fermenter.
– Pressure Capable Uni-Tank
This feature will enable you to ferment your beer under pressure. 15 PSI is the ideal pressure for fermentation. The pressure capable uni-tank is used together with the IPR valve. The high pressure transfers the beer into kegs or carbonates it when used as a serving container. As you can see, it offers two benefits to a home brewer.
– Aseptic Racking Valve
It plays a vital role because you fill it with sanitizer between uses so that all used surfaces remain sanitized. This reduces the risk of having microorganisms reproducing and spreading, settling down your hygiene worries and the risk of contamination.
It also saves you the time and energy you would need to spray the fermenter. It's safe equipment to use for both large-scale and home fermentation.
– Brushed Exterior, Polished Interior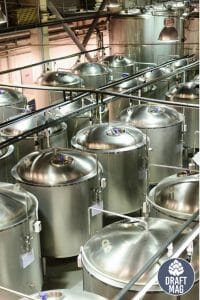 The smooth finishing is quite appealing to the eye. You can showcase it to your friends and family.
The brushed exterior and polished interior guarantee no form of stains, including simple fingerprints and handprints.
It has a mirror polish on the interior to improve the cleaning process and yeast sedimentation. Owning this equipment surely portrays a high standard and class to other people.
– Seal Racking Arm
This is a protective seal. It prevents the beer from leaking from the joint. Despite that, it is advisable to place the fermenter in one immobile place at all times to prevent the risk of leaking.
– Integral Pressure Relief Valve (PVR)
It contributes to the smooth operation by controlling the Blichmann fermenator pressure. Blichmann includes the PVR as a vital part of the lid, so you never accidentally forget to install it.
In case you buy the whole thing without it, ‌consider factoring in an extra fee to buy them separately. It is the control center of all operations in the fermenter; hence always check if they are present while buying the fermenter.
– Dial Thermometer
It is a tri-clamp thermometer, and it shows the temperature of both Fahrenheit and Celsius. Furthermore, it shows the right scale for fermentation temperatures.
You'll never go wrong with the fermentation process because this thermometer will offer you accurate temperature predictions.
– Leg Extensions
They come with an optional bolt option. These three long metal rods raise your fermentor slightly above the ground, making your life easier. You won't have to lift the fermenter while you are draining your beer into a keg or any other container.
They prevent you from straining because lifting the weight of the fermentor and the beer inside is not quite an easy task.
– Lifetime Warranty
Blichmann offers you a lifetime warranty because they understand that this equipment is a lifetime investment. Therefore, worry less because in case any damage befalls it, your fermentor is insured for life.
FAQs
– What is a Conical Fermentor?
A conical fermentor is a cone-shaped fermentor that significantly improves the home brewing process. It allows the yeast to settle down and be removed using the bottom dump tap while the top tap clears the beer.
– What Are Some Tips for Buying a Conical Fermentor?
A good fermenter is one that addresses all your requirements. It should have many features that will assist you in the beer fermentation process. A good fermenter also should have the adjustable capacity and should be customizable.
It should be flexible so that you can subject it to other uses, not only fermentation.
– Why Does My Fermenator Lack Airlock Activity?
It could be because of several reasons:
The lid might not be tightened enough hence pressure escapes easily, especially if you did not fill your airlock
The more empty spaces are in your fermentor, the longer it may take to show airlock activity.
It is a sign that the yeast has been denatured or is simply dead. Check on your yeast and ensure that they are in a proper working condition before beginning the fermentation process.
– What Other Series Are There for the Blichmann Fermenator?
The Blichmann fermenator f3 series is the one that occurs in 7,14.5, 27, and 42 gallons. Other series that you may find are Blichmann 1bbl fermenter and Blichmann 2 bbl fermenter. They are incomparable to the G4 series because they are not as powerful (they don't have many features).
Conclusion
Blichmann fermentors are the best fermentors to use for all your fermentation and carbonation processes. The g4 series is the superior of them all as it contains Blichmann engineering and high technology with high-value features. If you are thinking of having it, ‌its performance and capabilities will not disappoint you. Also, remember that for the equipment to serve its purpose and serve you well for the longest time, you need to ‌take good care of it.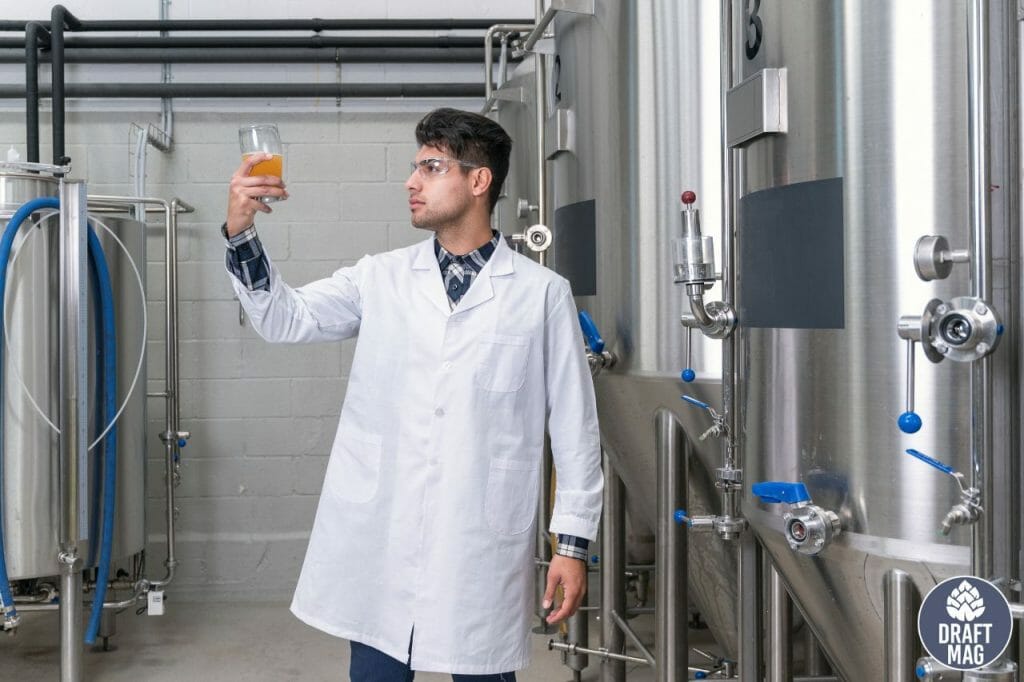 We would 100% recommend this fermentor to any brewer because of the UV light, which causes skunking in beers and doesn't affect its weldless interior. It can withstand up to 2000F of heat! So, rest assured you will never go wrong with this fermenator.