Best Malty Beers: The Sweetest and Most Delicious Beers To Try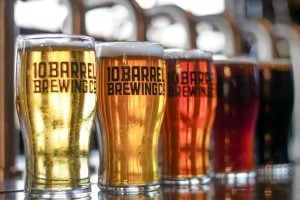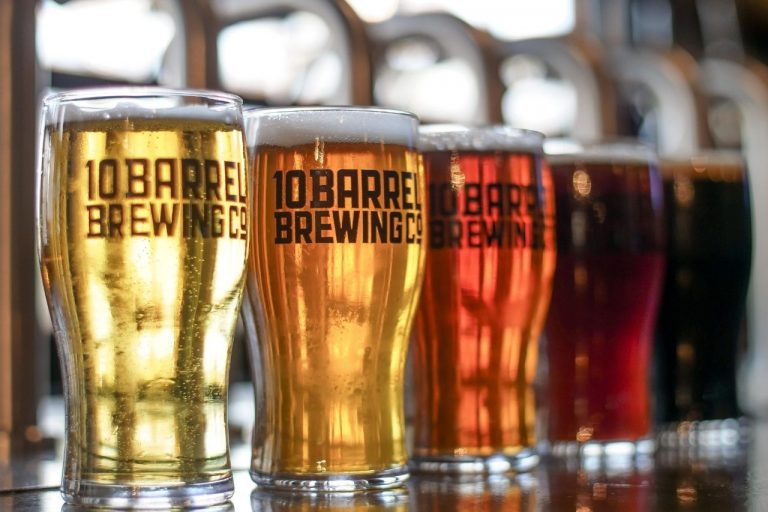 Some of the best malty beers are the Maduro Brown Ale and the Smoke & Dagger beer, yet there are a few more that we could name. If you are interested to know what your option is when it comes to malt beers, this best malty beer guide is for you.
We will be analyzing the malt profile, the malt beer characteristics, and will also give you recommendations as to the best malty beers that you can try. Keep on reading to find out which malty beer you are going to taste next!
Malt Profile
Believe it or not, we can consider all the beers to be malty because one of the essential ingredients you need is some variety of malt (usual barley). It is vital since it is where you can find the fermentable sugars that are responsible for producing carbonation and alcohol.
Some of the flavors that may come into your mind when thinking of malt profiles are bread-like, toasty, grainy, nutty, chocolaty, smoky, and with honey and coffee notes. Each malty beer is unique from the other because of the combinations that these profiles have. To give you examples of some brews that might have these malty flavors, we have amber lagers/ales, brown ales, barley wines, dark lagers, dunkelweizen, hefeweizen, stouts, porters, and dubbels.
The Best Malt Beers to Try in 2021
Malty beer is famous for being earthy and complex. People are mesmerized by its number of beer flavors and the characteristics of the grains used to make it. You can choose this type of beer if you want your drink to be sweet with caramel, chocolate, or some coffee notes where they can be nutty, fruity, and bready. You can choose the dark ales, lagers, porters, and stouts if you want a more malt-forward.
Are you looking for a malty beer that you and your friends can enjoy but don't have any idea what to buy?
Here are 10 great malty beers to try in 2021:
1. Samuel Adams Boston Lager
Brand: Samuel Adams
ABV: 5 percent
Samuel Adams Boston Brewing offers a drink made from two-row barley and German Noble hops. They are proud of its slightly sweet, roasted notes of caramel and honey, with a smooth and dry finish and citrusy bitterness.
2. Robert the Bruce
Brand: 3 Floyds Brewing
ABV: 7.5 percent
This brand of beer is fully-bodied roasted, something that is elevating its taste even more because of its nutty flavors, with a kick of caramel and balanced bitterness at the end. You can buy 3 Floyds in 18 states across New England, Midwest, and East Coast. You may also go straight to their website and fill up your zip code to see the availability of their beers in your area.
3. Maduro Brown Ale
Brand: Cigar City
ABV: 5.5 percent
Cigar City Brewing offers a deep brown ale with rich and silky chocolate and espresso notes. You may also notice the toffee and light woody hop presence in their drink. It is one of the personal favorites of many people.
4. Ayinger Bavarian Dark Lager
Brand: Ayinger
ABV: 5.0 percent
This alcohol drink has a remarkable sweet taste with a bready, nutty, and toasty character. It also has a moderate hoppy bitterness finish that will become apparent once you taste it. The aesthetics of the beer are also pleasing as it looks fantastic when you pour it into a glass because of its deep brown amber color. Clearly, the crisp taste of this malty lager beer can is very refreshing and satisfying.
5. Black Butte Porter
Brand: Deschutes
ABV: 5.5 percent
The Deschutes Brewery has a dark drink with a hint of molasses, dark chocolate, and coffee that leaves a bitter finish. Moreover, this is ideal for dark chocolate lovers, as it pairs very well with it.
6. Smoke & Dagger
Brand: Jack's Abby
ABV: 5.8 percent
This particular beer has a rich and smokey taste. It also comes with bitter chocolate and smoked tobacco flavor that makes it more remarkable. It is a deep opaque brown beer that fills you up with sweetness at the beginning of savoring it.
7. Samuel Smith's Oatmeal Stout
Brand: Samuel Smith
ABV: 5.0 percent
The manufacturers brewed this beer with water and made it sweet and complex with toffee, caramel, dark chocolate, and oats. It's quite unique, with its grain flavor peeking through, and is more suitable for those favoring a sweet taste in beer.
8. Gulden Draak
Brand: Brouwerji Van Steenberge
ABV: 10.5 percent
The Brouwerji Van Steenberge brand from Belgium has created a drink with caramel malt and refermented wine yeast that you may see in a deep mahogany color. Drinking it will make you taste dark fruits with a kick of cherry, brown sugar, and clove. You may also look for the nearby stores if they are offering imported beer selections.
8. Salvator
Brand: Doppelbock
ABV: 7.9 percent
Believe it or not, this drink has a specific recipe and has undergone an unfiltered bottom-fermented process of 375 years. You can feel and taste its smooth and dark caramel flavor while you savor it, along with a fruity maltiness.
9. Dirty Bastard
Brand: Founders
ABV: 8.5 percent
The Dirty Bastard drink is brewed together with seven varieties and imported malts that give you hints of smoke and peat with a pop of hops as a finishing touch.
Malt Beers: Characteristics
Popular malt beers are known for having one prominent taste that you will always look forward to drinking. This beer has a darker color and sweeter taste compared to other alcoholic beverages. One distinct characteristic of malty beers is their subdued hop flavor that can balance the sweetness from the malt. It makes the beer sweeter, heavier, and complex compared to hoppy beers.
The most used grain in brewing is the malted barley, unlike the others that use rye, wheat, oats, and sorghum. Brewers of malty beers do what is called "malting" – the process of soaking and draining the grain that helps to induce the germination of the seeds.
The germination is responsible for activating the enzymes that break down the starches in the grain and convert them to sugars. The germinated grain will now undergo the kilning or dried process to detach the water and stop the germination process.
– What Do Malty Beers Taste Like?
In essence, they all have a sweeter undertone in flavor. Moreover, if you are used to availing of the mass-produced Pilsners and trendy IPAs, maybe you think that beers are all hoppy or less complimentary. However, malty beers are best for cooler months as they double the strength and heaviness of the drink during those times, due to their sweetness and smokiness.
– Are Malty Beers Sweet?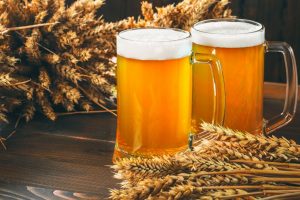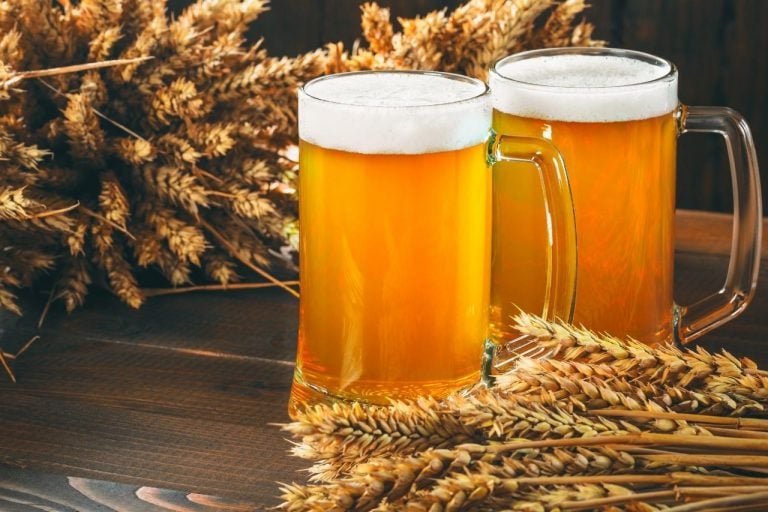 Indeed they are! Malting the grains means producing the fermentable sugars that the yeast will consume during the fermentation procedure. Hence, producing those sweet malt beers is quite difficult due to the time one needs to wait for the success of the fermentation process.
However, there are some sweeter than others. Usually, sweet dark beer is made with crystal malt that produces a solid and sweet caramel flavor. For example, chocolate malt's brown ales, stouts, and porters have a low sweetness flavor but a coffee-like taste.
– Which Beer Styles Are the Maltiest?
If you are looking for dark malty beer styles, they are earthier and have complex flavors than their hoppier counterparts. Here are different types of beer malt:
1. Brown Ales:
American
Belgian Dark
English
English Dark – Mild
2. Dark Ales:
Dubbel
Rye Beer
Scottish Ale
3. Strong Ales:
Barleywine, American, and English
Belgian Quadrupel
Belgian Dark Ale
Belgian Pale Ale
American Strong Ale
English Strong Ale
Red Ale – Imperial
Scotch Ale / Wee Heavy
Wheat Beer
4. Dark Lagers:
American Amber/Red
Marzen/Oktoberfest
Dunkel
Rauchbier
Schwarzbier
Vienna
5. Bocks:
Traditional Bock
Doppelbock
Eisbock
Maibock
Weizenbock
6. Porters:
American
Imperial
Baltic
English
Robust
Smoked
7. Stouts:
Sweet/Milk
American
American Imperial
English-Style
Oatmeal
Irish Dry
Food Pairing with Malty Beers
Throwing a party and thinking of the best food to pair with malty beers is not a difficult task to do. The perfect menu is foods with bold cheese, root crops, anything with tomato flavor, pork, and cured meats. The best party tandem is a malt beer and Hawaiian-styled pizza with lots of cheese on top.
Moreover, here are things to remember when it comes to pairing malt with your favorite foods:
Malty beers are not dessert-oriented. Therefore, you may choose food that is roast, smoked, and toasty. Also, it is best to try foods that linger on the palate, such as beets, mushrooms, legumes, baked beans, and toasted grains.
You may choose foods that complement its sweetness and do not contrast the flavor.
Malt beers work best with umami flavors and buttery foods.
Malty vs Hoppy
Malt is an essential ingredient of beer as it can produce fermentable sugars that later become alcohol and carbonation. On the other hand, hops are also necessary for malty flavor beer because of their ability to balance the bitterness.
Beers on the market can sometimes be malt or hop-forward based on their flavor profiles.
Malt-forwards traits are known as:
Bread or biscuit-like
Coffee, toffee, caramel
Chocolatey, nutty
Smokey
Meanwhile, hop-forward beers have numerous aromas and flavors. They can be:
Spicy
Floral
Citrusy
Piney
Tropical
Woody or earthy
FAQ
What is considered a malty beer?
Malty beer is a type of beer that has a dominant taste of malted grains, usually barley, which can give the beer a slightly sweet or caramel-like flavor. Examples of malty beer styles include amber ale, bock, and scotch ale.
Is malt beer healthier?
Malt beer is not necessarily healthier than other types of beer as it still contains alcohol and calories. However, malted barley used in beer contains vitamins, minerals, and antioxidants, which can provide some health benefits. Overall, moderation is key to enjoying beer as part of a healthy and balanced lifestyle.
Are lagers malty?
Lagers can be malty, but they are typically less so than ales due to differences in the brewing process.
Final Thoughts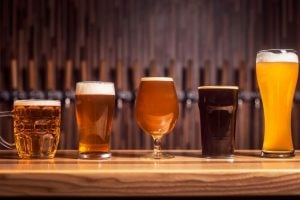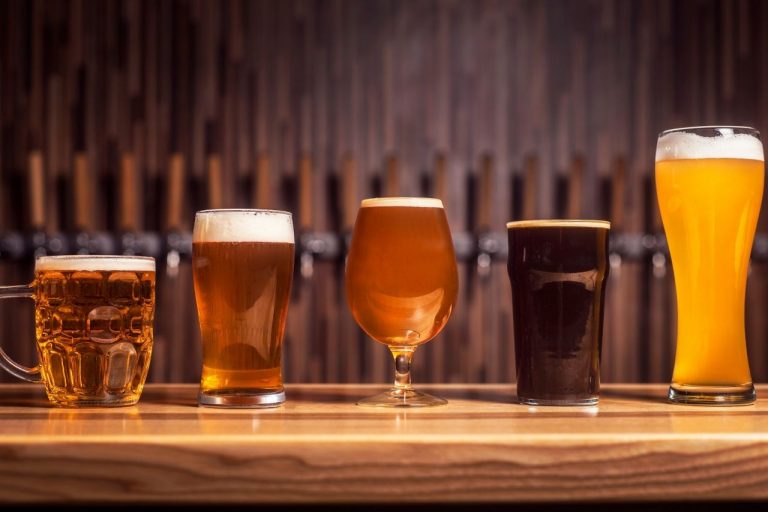 It is not hard to distinguish the best malty beers in town because all you need to do is to smell and taste them. Moreover, here are the key points that we discussed in this article and that may aid you when choosing the next malty beer to try:
The best malt beers are the ones with five to eight percent alcohol by volume, sweet, earthy, and chocolate flavor, and toasty and smoky aroma
Some of the best malty beers that we recommend you try are: Samuel Adams Boston Lager, Robert the Bruce, Maduro Brown Ale, Ayinger Bavarian Dark lager, Black Butte Porter, Smoke & Dagger, Samuel Smith's Oatmeal Stout, Gulden Draak, Salvator, and Dirty Bastard
Indeed, most malty beers have a sweet and smoky undertone that many people enjoy
The best food to pair with malty beers is savory treats, umami flavors, and other delicious nibbles that complement its flavor
Through our article, now you know what makes a malty beer and you must surely have decided which one you are going to savor next!