Best Stout Glass: The Top-rated Glasses for Every Brew Lover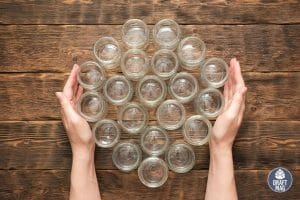 Selecting the best stout glass can maximize the drinking experience of stout — a dark and rich beer style. As stout beers have unique organoleptic characteristics, avid stout drinkers are very particular with the choice of glassware.
Irrespective of the beer style, there is always a proper way to enjoy the most loved alcoholic beverage in the world, which is beer. This guide introduces you to the best stout glasses and their features, along with how to enjoy them best.
Best Stout Glasses
When you plan for a dine-out, you look forward not only to the food but also to the experience. Similarly, drinking a beer is exclusively about the experience. Apart from drinking the beer directly from the beer bottle, pouring it into glassware and sipping it onto it is an entirely wholesome experience. Just like IPA glasses and wine glasses, there are a range of stout glasses as well.
In line with this, we have curated a list of the best stout glasses that will multiply your stout drinking experience tenfold.
The Rastal Teku Stemmed beer glass has a unique curve around the lips, enhancing the beer's flavors and aroma. This makes the beer drinking experience very holistic and helps bring out the true flavors of the stout or an IPA beer. It is shaped like a wine-tasting glass, which is why it enhances the flavors and brings out the many subtle layers. With every sip, you get to experience the different smells; every sip comes with a hit of aroma on your nose.
This beer glass has enough room to hold the foam of stout beers and since the glass is durable, it lasts a long time on your shelves. This glass has a long stem, so if you are a slow beer drinker, then it is a good fit for you. This is because you can hold on to the stem rather than the body of the glass and avoid your body temperature from tampering with the actual temperature of the beer for a longer time.
Pros
Excellent for beer/stout tasting
Specifically designed to bring out the aroma of beers
Thick and durable glass
Curve over the lip of the glass helps in pouring
Glass has good clarity
Reasonably priced
Cons
The clarity of the glass reduces with time
Can not put in a dishwasher; the neck might break
The intense smell of stouts might hit hard due to shape of the glass
Reason To Buy Rastal Teku Stemmed Beer Glass
This glass is specifically designed to enhance the flavors and aroma of beer, so it is a great glass for stout tasting. It is also a great buy for slow beer drinkers to help maintain the temperature of the beer with the exclusive long stem of the glass, which is a rare find for other conventional beer glasses.

This is an exclusively designed snifter glass explicitly designed for strong and dark beers like stouts. It is made with beautiful and transparent Crystalline glass, which helps beer lovers admire the color of the beer while enjoying its taste and aroma. This glass is very durable and can be put in the dishwasher but never loses its original clarity.
It has a cracked shape, an upwards curve, and a smaller mouth than the body. This allows the beer to retain its authentic flavors for a longer time and even enhances and supports the development of tastes of alcohol with time. It also has a short leg, making the glass easy to hold and drink from. The almost wine glass-like shape helps you twirl the beer inside the glass to let some air pass and uplift the beer taste even further.
The availability is on the lower side because it has to be imported from the UK, but it is worth it if you want to have a holistic stout drinking experience.
Pros
Specifically designed for stout beers
Dishwasher safe
Perfect for homes, bars and parties
Budget-friendly
Made with transparent Crystalline glass, which enhances the colors of the dark beer
Large capacity, leaves room for foam
Sturdy and durable
Cons
Has to be imported from the UK
Not readily available across the world
Reason To Buy KROSNO Dark Ale Stout Beer Glasses
It is sturdy and the exclusive glass used is best suited for stout beers because the glass enhances the dark and shiny color of the stout and helps beer lovers admire it. It is durable and even dishwashers can not tamper with the clarity of the glass, making it last for a long time.

Spiegelau stout glasses are often considered the best stout glass globally. This expertly crafted beer is a result of years of experimentation and is approved by master stout brewers. Apart from the beautiful design, the glass does its job.
The stout beer flows smoothly from stem to bowl. With every sip, the agitation maintains the head consistently. As a result, you can enjoy more aroma and flavor of a stout beer from this glass.
The glass shape is specifically engineered to amp roasted malt, rich coffee, and aromatic chocolate notes of stout beers. Spiegelau 21 oz. Stout Beer Glass (set of 2 or 4) is readily available on leading e-commerce websites.
Pros:
One-of-kind stout beer glass approved by industry professionals
Lead-free
Modern Design
Dishwasher safe
Quality crystal glass
Cons:
Costly
The glass is very thin, making it prone to damage.
Reason To Buy Spiegelau Stout Beer Glass
Undoubtedly, it is the best stout beer glass explicitly designed for this complex beer style. If you are passionate about stouts, look no further than Spiegelau Stout Glass. The smart engineering, strategic curves, and high-end glass make Spiegelaus stout glass a number one choice for stout.

Belgian-style tulip glass from Ecodesing aids in head retention and makes aromas and flavor brighter. Its stem not only protects the heat transfer from your fingers to the beer but also makes swirling easy. Due to the stem, the beer remains cold for a long duration and swirling brings the complexity of rich stouts beautifully.
Each glass in this 4-pack set comes with a 16 oz capacity. Additionally, this set comes with four laser-engraved cork coasters.
Pros:
Stylish look, convenient design
Thick glass and sturdy stem
Dishwasher and freezer- safe
Durable, crystal clear glass
Comes with cork coasters
Cons:
Relatively short stem
The packaging is not good
Some minor defects were reported
Reason To Buy Ecodesing Beer glass
This set of 4 tulip glasses from Ecodesign US is attractive and reasonably priced. The glass is thick, sturdy, and perfect for stout beer or any beer.

The design of this glass is similar to English pub glasses. The set of four glasses from Libbey is perfect for enjoying dark beers. Each glass holds 20 oz beer, which keeps the guests happy for a longer duration during any event. This glass maximizes the stout-tasting experience because of its shape.
Compared to pint glasses, these sturdy glasses represent porters and stouts better.
Pros:
Thick and durable glass
Generous capacity
Lead-free and Dishwasher-safe
Reasonably priced
Cons:
Reason To Buy Libbey Stout Beer Glasses
If you are looking for a durable porter or stout beer glass, Libbey set is a perfect choice. Moreover, the price is very reasonable for four quality glasses.

These Birrateque glasses are designed and crafted in Italy specifically for stouts. It supports a thick foamy head, enhances creaminess, and brightens up the aroma and flavor. The shape is almost similar to a standard stout glass with a hollow stem and conical bowl.
The design helps to maintain a smooth flow of stream from bottom to top, which replenishes the foamy head and releases the roasted malt and scent profiles. Overall, it is also a good choice for stouts and porter beers.
Pros
Explicitly designed for stouts
Lead-Free Crystal Glass
Dishwasher safe
Glass design enhances the color, aroma, and the taste of beer
Ultra-durable
Cons:
The glass is thin, so you have to be extra careful while handling
Due to the capacity, some may find the glass overly sized
Reason To Buy Birrateque Stout Glass
It is a practical and attractive stout glass from a reputed glassware brand that maximizes the sensory experience while drinking stouts.

Holmegaard has been in the business of glassmaking since the 1820s. It is one of Denmark's royal glassmakers. This set of four stout glasses is produced from Mouth-blown lead-free glass, fire cut, and polished by hand.
It has a large round-shaped bowl with a short stem. The bowl helps to amp up the stout's rich aromas, whereas the stem aids in swirling, which further develops the complexity. Stout and porters go very well with the stocky design of this glass.
Pros
Short and stocky design
Lead-free and dishwasher safe
Hand-crafted
Enhances the aroma and flavor profile
Cons
Not widely available
A bit expensive
Reason To Buy Holmegaard Humle Stout Beer Glass
This stout glass not only brightens up the complexity of a beer but looks very attractive. The short and stocky design is perfect for rick dark stouts.

This set of crystal glass snifters is a result of numerous studies, research, and tests. The shape allows the beer to flow slowly and the stem avoids heat transfer from your hands. Luigi Bormioli Snifter beer glasses are crafted to enhance beer's color, aroma, and taste.
You can thoroughly enjoy the smell and complexity of the rich dark beers in this glass. Additionally, a laser-etched circle at the bottom maintains the stream of bubbles and replenishes the foamy head continuously.
Pros
Solid, durable, and practical stout glass
Foam-control system
Dishwasher safe and lead-free
Break-resistant
Tested and certified by Centro Studi Assaggiatori Italiano
Cons
A bit expensive
Thin glass
Reason To Buy Luigi Bormioli Birrateque Snifter Beer Glass
It is a specifically designed beer glass from a trusted and reputed glassware brand. It is an aesthetically pleasing and practical glass. Altogether, it does enhance the color, aroma, and taste of the beer.

It is another fine glassware from the house of Spiegelau that is perfect for wood-seasoned beers like barley wines and stouts. This glass has been developed with the help of brew masters who specialize in brewing barrel-aged beers.
This sleek and beautiful crafted tulip glass has a wide mouth to let aromatics reach your nose. Altogether, it is a very modern and elegant glass that significantly enhances the drinking experience of stout beers.
Pros
German-made lead-free crystal glass
Specifically designed for premium barrel-aged beers
Dishwasher safe
The thin and elegant design makes it perfect for gifting
Cons
Thin and fragile
Specific to one style of beer
Reason To Buy Spiegelau Beer Barrel Aged Tulip Glass
This is a specifically crafted glass for premium barrel-aged beers from the house of a reputed glass manufacturer. Both the design and functionality of this glass enhance the complexity of stout beers.

This Belgian-style beer glass is made in Germany. The design resembles a cross between tulip and snifter glass. It has a short stem to let you swirl and release the fragrance. Furthermore, the round bowl with a tapered rim aids in foam retention typical to stouts.
The sleek and modern design enhances the look of dark beers with a thick foamy head.
 Pros
Lead-free crystal glass
Scratch-resistant
Top-rack dishwasher-safe
Cons
Limited availability
Similar designs available at low costs
Reason To Buy Bruges Beer Glass
It is a compact, elegant, and practical glass to enjoy stout beers. Both the stem and body of this glass aid in enhancing the creaminess and richness of stout.

It is made from titanium crystal and resembles the design of specifically crafted stout glasses. It also features a hollow, deep stem and a bowl to enable a stout beer to showcase its complexity. A flared rim supports the head retention and allows the stout to breathe.
Compared to other glasses, this glass significantly enhances the nutty aroma, creamy texture, and complexity of stout.
Pros
Barium and lead-free
Scratch, chip, and break-resistant
Sturdy design
Perfect for both outdoor and indoor use
Cons
Some may find it overpriced
Reason To Buy Schott Zwiesel Classico Beer Glass
It is a modern take on typical stout glasses. Its hollow stem and bowl help develop additional flavors and convey the special characteristics of stout beers. Moreover, this glass is made and enforced with titanium crystal, making it scratch and break-resistant.

To enjoy the stout on the go, carry around these plastic stout cups from B cups. Its shape and design are similar to stout glass. Moreover, this cup is BPA-free and dishwasher friendly. Such features make this cup the number one choice to enjoy stouts on camping trips, picnics, fishing trips, or other outdoor events.
The cup features a hollow stem and a large bowl. This shape supports a thick foamy head and retains the volatile aromatics for a long period.
Pros
Shatterproof
BPA and BPS free
Cup design amps stout beer aroma and flavor
Reasonably priced
Lightweight and handy
Cons
Reason To Buy Bcups Stout Cups
Do not settle for the widely-used red plastic cups to enjoy your stouts during outdoor events. Instead, use this specifically designed stout cup by Bcups to maximize the stout drinking experience on the go.

The Restaurantware Imperial Nonic Pint Glass is particularly great for dark stout beers because the thick glass makes the dark stout shine. This is an everyday beer glass with a heavy base, making it very durable.
A secure bump below the lip of the glass eases the beer pouring experience. They are perfect party glasses due to their thick glass, which is very hard to break. This is an excellent buy if you want to chug your stouts or other dark beers.
Pros
Huge capacity
Glass is a great fit for stouts but can be used for other beers too
Durable quality and stackable on the shelf
Easy to store
Good glass clarity
Bulge in the glass protects it from breaking even after a fall
Cons
Not very cheap — price is on the higher side
The glass is quite thick
Reason To Buy Restaurantware Imperial Nonic Pint Glass
It is sturdy with a thick glass making. This is a perfect party glass that can be stacked up and does not break easily, even if it falls. They make the stout beers shine and enhance the beer drinking and tasting experience even further.

Endnote
We hope that you now have a comprehensive idea about the features and types of stout beer glasses. The design of stout glass matters significantly in enhancing the aroma, flavor, and complexity of the stout beer, so let us sum it all up: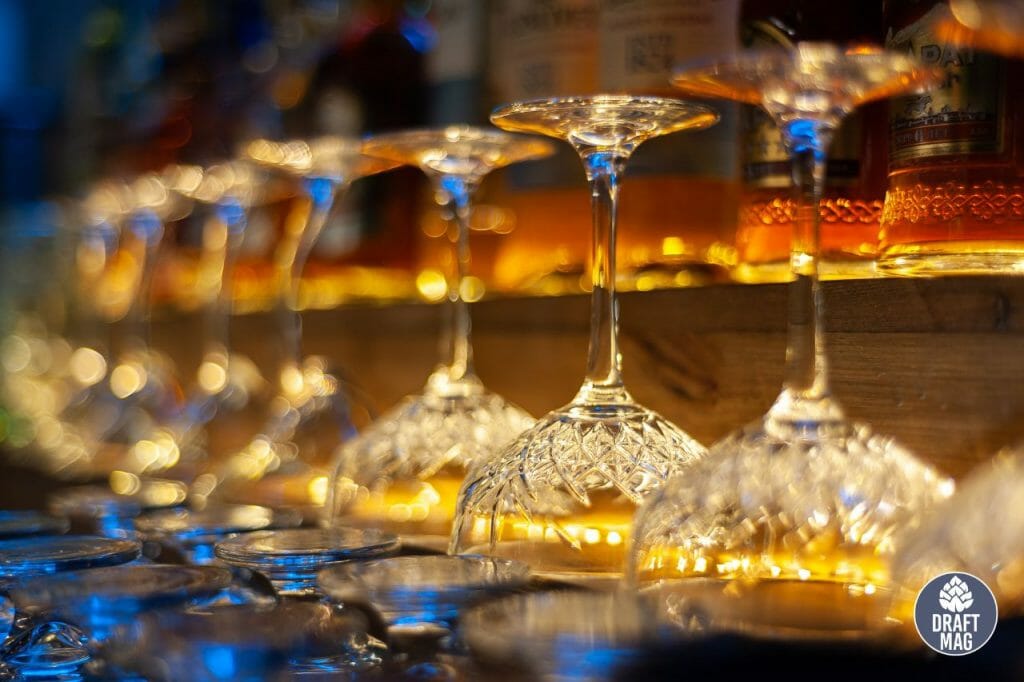 The best stout glass features a hollow stem with a conical bowl to support a steady flow of beer from stem to top. This action replenishes the foam and amps up the flavor and aroma of beer.
Spiegelau, a world-renowned glass producer, has specifically designed a stout glass in partnership with leading master brewers in the US.
Other glasses like Snifter or Tulip, having a large conical bowl and sturdy stem, are ideal for enjoying a stout beer.
Holmegaard, Libbey, and Luigi Bormioli Stout Beer Glasses are some of the best stout glasses.
Stout is a dark, rich, and malt-centric beer style. Consuming it chilled masks the complexity of the beer.
Beer is the most popular drink on the globe due to many reasons, and aromatic sensory experiences offered by beers are one of them. True beer lovers, specifically stout lovers, know that the choice of glassware enhances this experience, so choose the best stout beer glass from this guide as per your taste, preference, and budget.