Best Wisconsin Beer: A Complete Review List of Top Wisconsin Brews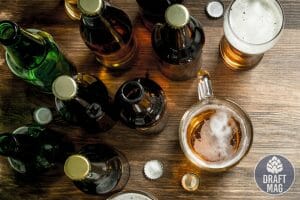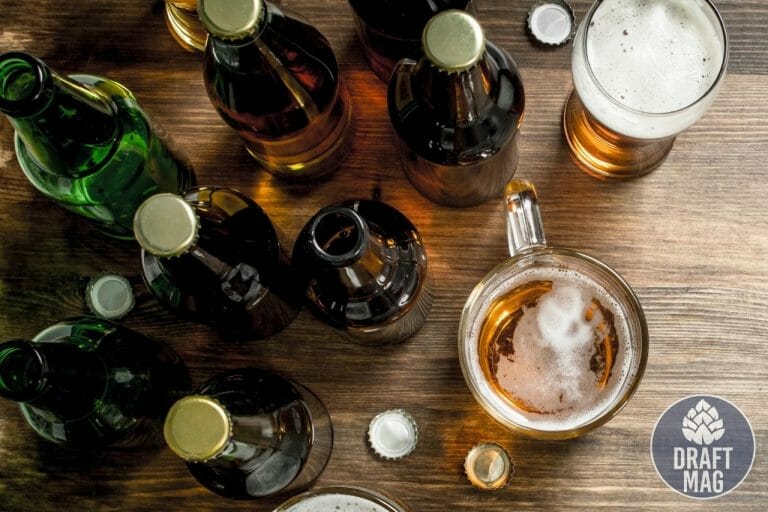 The best Wisconsin beers are quite tricky to pinpoint as there are a lot of beers coming from this state.
Beer lovers know how vital brewing is in this area, as it is one of the top 15 states with the most breweries in the United States.
Although industry giants and mass breweries are present in Wisconsin, there are also a lot of craft breweries in the state. Check out our complete list of beers made in Wisconsin, including the leading craft brewers, in this guide.
Best Beers in Wisconsin
Here are some of the best brews made in Wisconsin.
Louie's Resurrection by Milwaukee Brewing Company
The most popular beer in Wisconsin on our list is an American amber ale from Milwaukee Brewing Company, a leading brewer. The Resurrection beer features a pretty high ABV set at 10.2 percent with 30 bitterness units.
The unique flavor of this red ale comes from the fact that it is aged in fresh bourbon barrels for two months, which contributes to its style profile.
Grateful Red by Capital Brewery
Next on our list is the Grateful Red made by Capital Brewery. The delicious IPA will shock you with its 65 bitterness units, obtained from the hoppy character.
This is combined with the toasty malt flavors and resin and a fiery red appearance. The alcohol by volume is 5.3 percent.
Raspberry Tart by New Glarus Brewing Co.
If you're interested in a fruity beer, the Raspberry Tart will give you a rich flavor of mouth-watering berries. Once you open the bottle, this 4 percent ABV features a fragrant raspberry aroma.
It is aged in large oak vats and made with year-old Hallertau hops during the brewing process. The light-bodied beer looks great in a champagne flute.
Mudpuppy Porter by Central Waters Brewing Company
Another best Wisconsin beer on our list is the Mudpuppy Porter, which features 50 IBUs and 5.6 percent alcohol content. The American porter has a robust and refreshing character, especially to those who like dark beers.
It combines a malty base with a hoppy character and a chocolate aroma. A thick, foamy head sits on the dark beer that enhances its aroma.
Fuel Café Organic Coffee Stout by Lakefront Brewery
Stout lovers can check out the Fuel Café Organic Coffee Stout from Lakefront Brewery. This delicious coffee-flavored brew features 6.4 percent alcohol, while the organic roasted malts shine through the style profile.
You get a balance of coffee and roasted malts on the nose, and it pours a deep brown with a tan head. As you sip the beer, you can expect a combination of hops, roasted malt barley and coffee.
My Turn: Junk by Lakefront Brewery
Another beer from Lakefront Brewery, My Turn: Junk, is a delicious American sour ale with 4.5 percent alcohol. It pours transparent and cherry red in your glass, with a subtle bitterness as its IBU is 14.
You can also expect the hints of cherry in the aroma and flavor combined with the malt base. The wild ale also features a tart character with bread and biscuit aromas.
Wisconsin Breakfast Brown by Water Street Brewery
Brown ales are also popularly made in Wisconsin breweries, and you can go for the Wisconsin Breakfast Brown if you want a strong one. The ale features 8.2 percent alcohol in each bottle, while the IBU is 30.
Made with lactose oats, coffee and maple syrup, it gives you that feeling of breakfast in a glass. Plus, the caramel malt beer is aged in brandy barrels for a while, giving it a complex character.
Booyah Apricot Saison by Milwaukee Brewing Company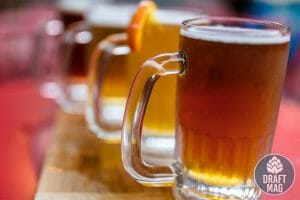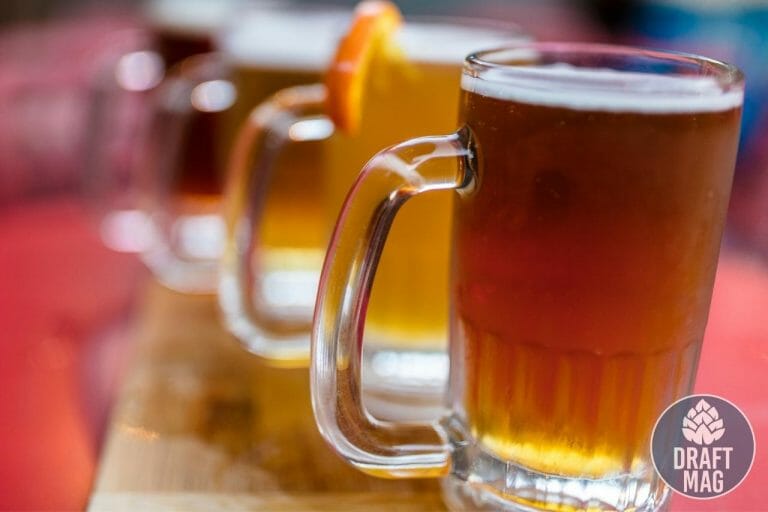 You can also expect a couple of Saison and farmhouse beers brewed in Wisconsin, and one of the best ones is the Booyah Apricot Saison. The famous Milwaukee Brewing Company makes this delicious beer that offers a complex layer of aromas and flavors from diverse sources.
These include barley malt, wheat, malted rye, oats and Czech Saaz Hops. The Saison features a 6.5 percent ABV and 20 IBUs.
Film Fest Lager by Good City Brewing
If you're in the mood for an Oktoberfest beer, the Film Fest Lager is an ideal choice from Wisconsin. Made by Good City Brewing in collaboration with the Milwaukee Film Festival, this delicious lager has 5.6 percent alcohol and is quite impressive.
It's a pretty drinkable beer, full of flavors and a light amber appearance. As for the flavor and aroma, you can expect a slightly sweet and spicy character with biscuit and German hops.
Lakefront Pils by Lakefront Brewery
It's almost impossible to go wrong with a German pilsner, and Lakefront Brewery does a brilliant job making this beer. Their Pilsner offers 5 percent alcohol with a clear and straightforward character that doesn't keep you guessing the layers of flavors.
As you enjoy the light-bodied beer, you can expect pepper, grass, grains and honeyed malt with a dry and hoppy finish. Since it's a versatile beer, you can enjoy this with a wide range of food.
Gin Barrel Aged O-Gii by Milwaukee Brewing Company
This witbier is a rare treat as another top beer from Milwaukee Brewing Company. The delicious beer features 10 percent of alcohol and offers a unique taste infused with ginger and organic green tea.
The beer is also aged in Rehorst Reserve Gin barrels, which add hints of chamomile, juniper and orange to the layered flavor of this witbier. It finishes smooth, with hints of wood and vanilla.
Pumpkinataur by Capital Brewery
The Pumpkinataur is another one of the best beers from Wisconsin we were impressed by. This pumpkin ale features an above-average ABV of 7.5 percent and an easy-to-drink character.
With a complex combination of sweet flavors, the ale offers pumpkin, nutmeg and cinnamon hints on the nose. Plus, the mouthfeel is quite creamy and dominated by the pumpkin flavor, and it features a dark copper color.
North Tower Stout by Earth Rider Brewery
When you see the design of this beer can, this will probably be the first thing that would pull you in to purchase the delicious oatmeal stout. Made by Earth Rider Brewery, it offers 6 percent alcohol and advertises itself as the best brew for hardworking laborers.
The North Tower Stout has a restrained hop presence, resulting in 28 IBUs. You can also expect notes of chocolate, dark fruit and coffee, all coming from the malt.
Double Dry Hopped Demon Haze by Eagle Park Brewing Company.
Enjoy your IPA with an extra punch as you drink the Double Dry Hopped Demon Haze. The double IPA is a cloudy pale ale made with diverse hops like El Dorado, Mosaic and Idaho 7.
The hops contribute significantly to the beer's character, giving you a strong aroma and taste of citrus, pineapple and pine. It has an underlying tone of bitterness that seeps into the aftertaste and finishes cleanly.
Winds of Change by O'so Brewing Company
Last on our list is this Belgian pale ale made by the O'so Brewing Company in Wisconsin. The Winds of Change brew is made with Brettanomyces yeast combined with intense dry hopping to give you a genuine pale ale experience.
Offering 6.2 percent alcohol, this Belgian-style beer offers a hoppy character and continues to age while in the bottle. If you like well-fermented beers, you can store this bottle for a while before drinking it and check out its complex taste.
History of Beers in Wisconsin
The concept of Wisconsin beers has been around since the 1800s, and it remains one of the top places to visit for an authentic brewing experience. There are over 190 craft breweries in the state, and it's named number 14 for the highest number of breweries in the USA.
Throughout the Years
The earliest breweries in the state were recorded in 1830. An increase in German immigrants and settlers in the state led to the growth of breweries in the state and led to a lot of German-style beers. Thus, German-style lagers were popular at that time.
From the mid to the late 19th century, the number of breweries increased significantly, and by the 1890s, there were more than 300 breweries in the state. Although the growth of breweries became stagnant with the Prohibition, large-scale beer production became even better after this was repealed.
If you're taking a beer tour, you can't go wrong with visiting Wisconsin.
Top Beer Brands in Wisconsin
From our list of the best beers above, it is evident that one of the top Wisconsin beer brands is Milwaukee Brewing Company. A large chunk of the beers made in this state come from this leading brewing company, and they are known for using only local ingredients in their beer craft.
They released their first beers in 1997 and currently offer seasonal and all-year releases for a wide range of enthusiasts. If you want to start trying out Wisconsin beers, this brewery is a good place to start.
Besides Milwaukee Brewing Company, here are some other top beer brands in Wisconsin.
– Lakefront Brewing Company
We also mentioned a lot of beers from Lakefront Brewing Company on our list, which was founded back in 1987 by the Kilsch brothers. It is known as one of the first breweries in the U.S. to bottle fruit beers since the prohibition was lifted. Now you can purchase a variety of year-round, limited-release and seasonal beers from Lakefront.
– Capital Brewing
Founded in 1984, Capital Brewing is home to a wide range of award-winning beers in Wisconsin. It is a microbrewery with a wide range of beers, primarily known for its amber brews. You can also visit this brewery for a tour costing less than three dollars and get to experience what happens behind every bottle of their famous brew.
– New Glarus Brewing Co.
New Glarus Brewing is another top Wisconsin beer brand located on the outskirts of the New Glarus village in the state. The company produces six year-round beers annually and some seasonal offers during the holidays.
Besides purchasing their beers, you can also visit the brewing company for a tour and check out their restaurant. There, you can learn more about the beers they offer as well as their perfect food pairings.
– Craft Breweries in Wisconsin
Craft brewing is another huge part of Wisconsin, so much so that even big names like Capital Brewing and Lakefront Brewing have taken an interest in making craft beers. But aside from the massive breweries, you can also check out some authentic craft beers made in Wisconsin.
To guide you, here are some top craft breweries in the state.
– 3 Sheeps Brewing Company
If you're looking for a craft beer made in Wisconsin, the 3 Sheeps Brewing Company is an ideal place to visit. It was founded in 2011 and won an award soon after its first release. Some of their popular beers include the Really Cool Waterslides, an Indian Pale Ale with an herbal character, and Baaad Boy, a chocolate black wheat ale.
– Ale Asylum
This is a pretty artisanal craft brewery in Wisconsin, also named as one of the first in the state. Their beers are packaged in unique bottles, and they offer a diverse range of releases each year. From their Hopalicious APA to the Contorter Porter, there's a beer for everyone here. They also have a vibrant range of seasonal beers.
Check Out Our Best Wisconsin Brews Today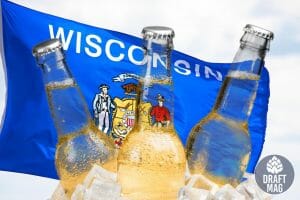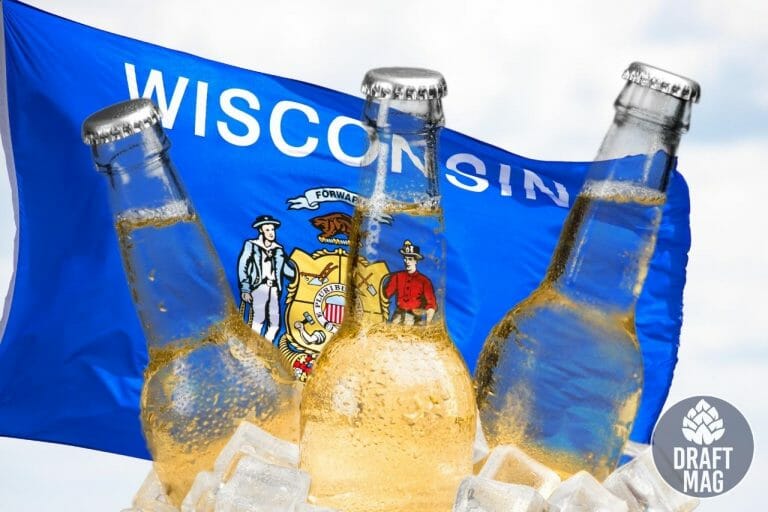 Although you can get the whole experience from visiting top Wisconsin breweries, you can also purchase beers from this state anywhere in the United States.
The top Wisconsin beer on our list is Louie's Resurrection by Milwaukee Brewing Company.
Beers have been brewed in Wisconsin since the 1800s.
The state has over 190 craft breweries and some large mass breweries too.
Leading beer brands in the state include Milwaukee Brewing Company, Lakefront Brewing and Capital Brewing.
As a large scene for craft beers, you can check out brews from Ale Asylum and 3 Sheeps Brewing in Wisconsin.
Mass breweries in the state also take an interest in craft brewing.
Try out the top beers made in Wisconsin from our list, or visit the exciting beer state to enjoy even more!