Founders Velvet Rush Review: What You Should Expect From This Beer
Founders Velvet Rush beer is one of the unique brown ales on the beer scene. It is brewed by Founders Brewing Company and features a splendid mix of coffee, chocolate, bourbon, vanilla extract, and sweet malt that makes for a tremendous bourbon-barrel-aged beer.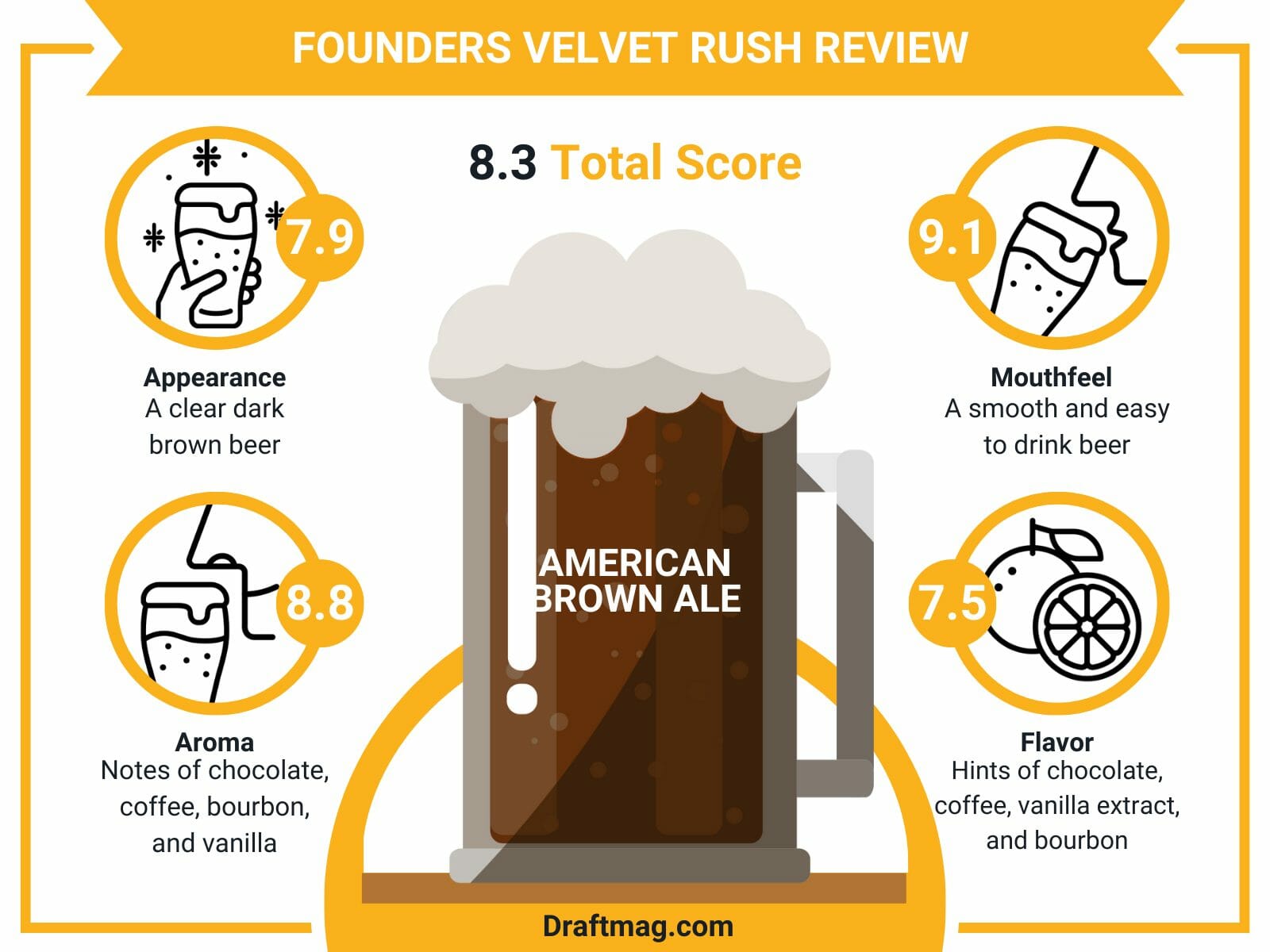 With this blend of intricate flavors, it isn't hard to see why this beer is winning the hearts of beer lovers across the country. In this review, we'll explore everything you need to know about this beer and if it is truly worth having.
Founders Velvet Rush Stats
| | |
| --- | --- |
| Country | United States (Michigan) |
| Brand | Founders Brewing Co. |
| Style | American Brown Ale |
| Taste | The beer tastes slightly sweet with a potent blend of chocolate, coffee, vanilla extract, roast nuts, toffee, and even sweet malt. It is pretty crisp and leaves a dry finish, with a slight burn from the bourbon. |
| Body | It has a light/medium body with a lingering chocolatey sweetness and bourbon feel. It also has a rich creaminess and champagne-like carbonation. |
| ABV | 11.1 percent |
| Flavor and Aroma | Its flavors and aroma are quite the same. You can perceive strong notes of coffee, toffee, roast nuts, chocolate, bourbon, vanilla extra, brown sugar, sweet malts, and even a slight bourbon-like scent. |
| Serving Temperature | 45 degrees Fahrenheit |
Tasting Notes
Founders Velvet Rush Tasting Profile
Founders Velvet Rush Review
From the appearance to the best food to pair with this beer, here's a breakdown of our review. With this, you can be sure of what to expect when you decide to try it out.
– Appearance
When poured from its 12 oz. bottle into a glass, the beer is clear dark brown, although it looks reddish-brown if you pay closer attention. It has a reasonably dense foam head that's off-white.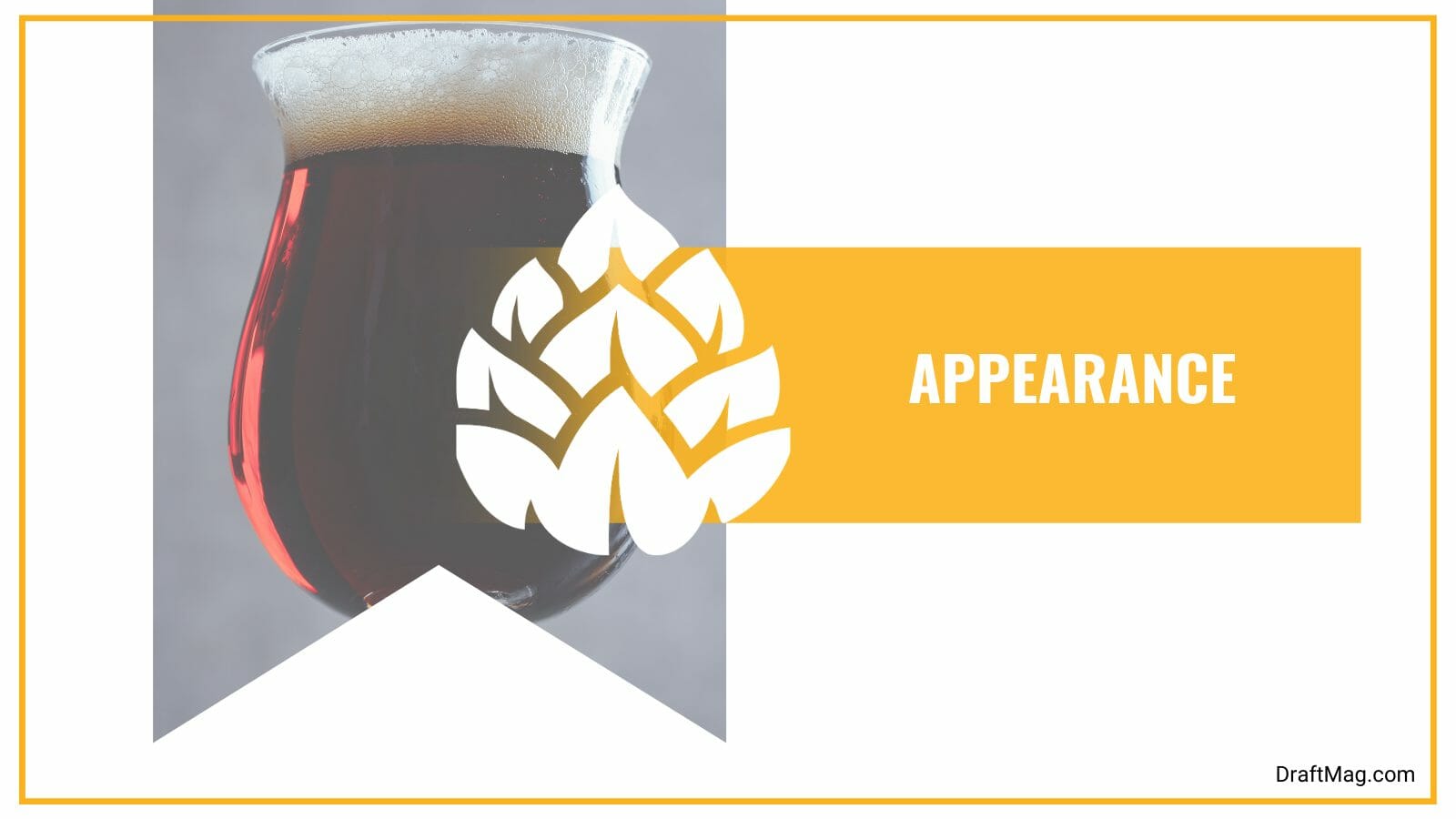 Also, it has excellent retention, and as the foam dissipates, it leaves a thin head that lingers for a while. The beer leaves lacing around the glass that we describe as quite impressive because it lasts throughout the drinking period.
– Aroma
Once you bring the glass up close for a gulp, you're immediately hit with solid notes of chocolate, coffee, bourbon, and vanilla. There's no denying that this is one of the beer's most incredible attributes that has made it a favorite among beer drinkers.
Aside from these, you can also catch a whiff of sweet malts, roasted notes, and very subdued hints of grains. Surprisingly, there is little or no indication of the whooping 11.1 percent alcohol this beer packs, which we'd say is quite impressive.
– Mouthfeel
If you need a rich, unfiltered beer with an excellent mouthfeel, opt for a glass of this beer. We like that this beer is smooth and easy to drink. Although it seems medium-bodied, we believe it leans more to the light side. For a bourbon-barrel-aged beer, this beer does reasonably well as its rich, pleasant mouthfeel is highly commendable.
Its creaminess and smoothness also make it great, especially for beer beginners or those who aren't huge fans. Another excellent quality of this beer is the active carbonation that leaves a champagne-like feel on the palate.
– Flavor
This beer shares similar attributes with its aroma. There are predominant hints of chocolate, coffee, vanilla extract, malted grains, and of course, bourbon. This follows through on the taste, where you can ideally experience the richness of these flavors. Each of these flavors is well-balanced and has no extra cloying/overwhelming flavors.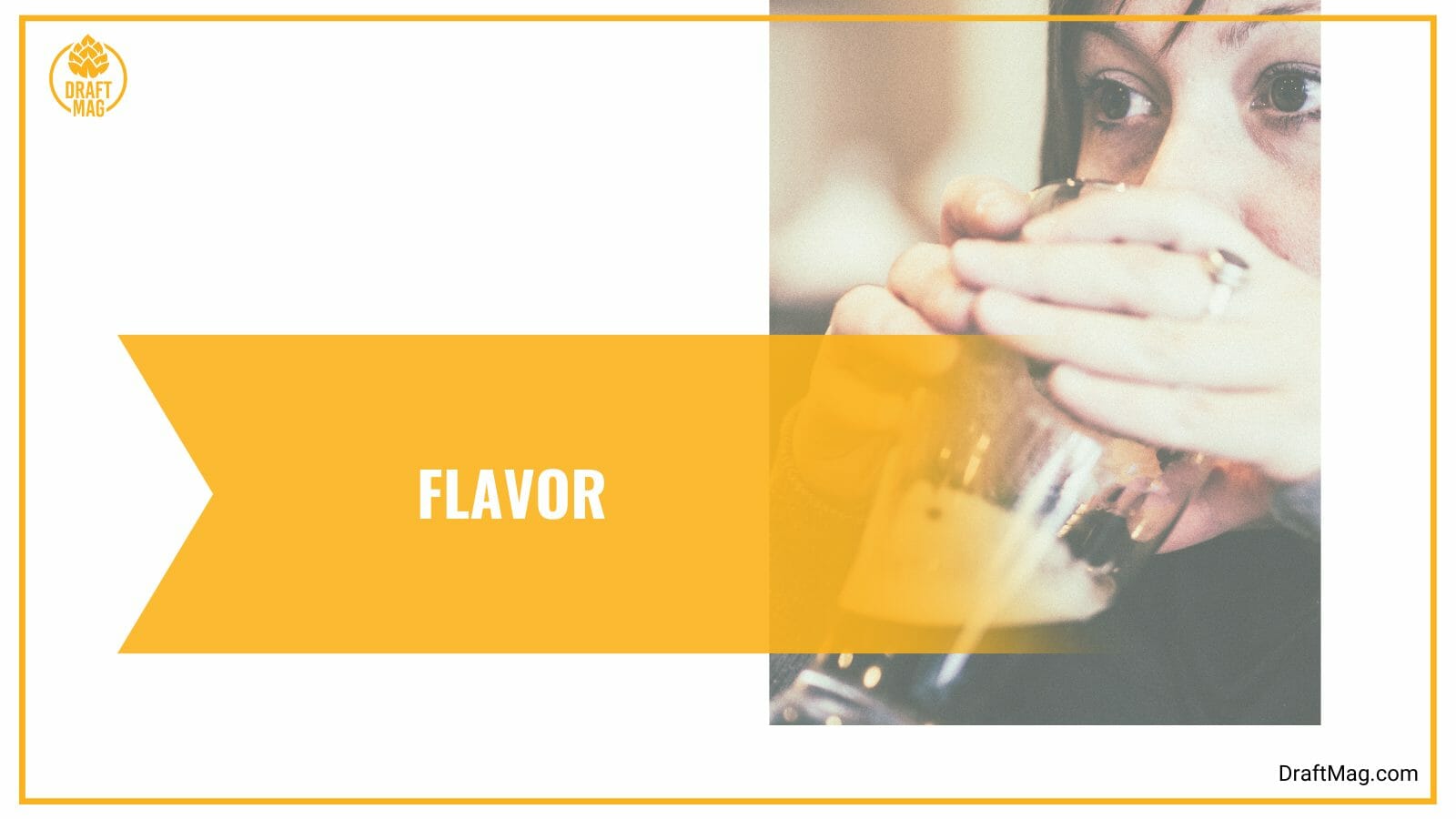 When you pay closer attention, you may discover some woodsy notes that seem slightly muted. You can also make out the bourbon/whiskey notes, although these are well-balanced so that they aren't noticeable.
– Food Pairings
The best meals to pair this ale with are those with chocolate and any form of dessert. You can enjoy a cold glass of this brew alongside a chocolate cake, truffles, and cheese. Grilled meat like pork or steak is also a great option alongside apple pie, vanilla custard, and even salted nuts. Although this beer can pair with most foods, you will experience its full taste when it isn't paired with spicy meals.
Ingredients
The beer is made from water, yeast, malted barley, and hops. For its more complex flavor and aroma, vanilla extract, coffee, chocolate, and milk sugar are added to the mix. This mix is then aged to produce a great-tasting, bourbon-barrel-aged American brown ale.
Nutrition Facts
Surprisingly, this beer packs a high amount of calories. A 12 oz. glass of this brew contains 310 calories and 21.8 grams of carbs. It has zero grams of fats and zero grams of proteins as well. However, it isn't gluten-free, nor is it peanut-free for those who have nut allergies.
History
Founders Brewing Co. introduced the beer in September 2021. The beer joins the company's impressive list of beers as an outstanding American brown ale that is true to form.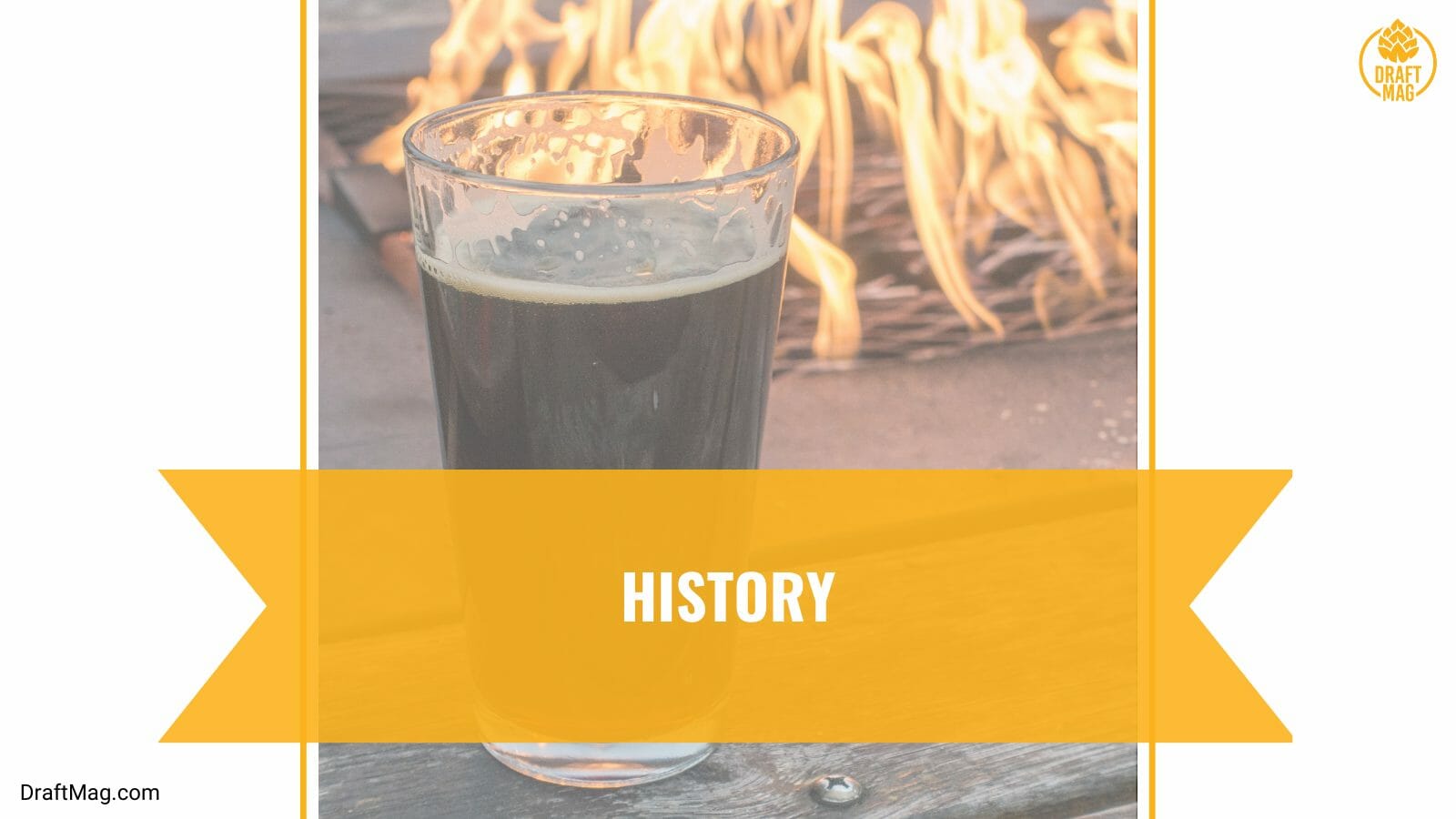 It is sold in 4 packs of 12 oz. bottles and is available on draft at the brewery's taproom. It is also available in pubs, retail beer sites, and liquor stores in Michigan City.
Frequently Asked Questions
– How Many Calories Is Founders Velvet Rush?
Founders Velvet Rush beer contains 310 calories, making it a high-calorie beer.
– Is Founders CBS Discontinued?
Yes, Founders no longer produces CBS but you can still get some of their other beers in stores all year-round, including Solid Gold and Unraveled IPA.
– What Does Founders Porter Taste Like?
Porter has cold-brew espresso overtones and nutty, chocolatey undertones. There's also herbal notes that leave a sweet mocha taste on your mouth reminiscent of cocoa.
Conclusion
If you're a fan of slightly sweet, bourbon-barrel-aged beer, then you'd enjoy the Velvet Rush beer. Here's a quick recap of what we discussed in this review:
Founders Velvet Rush beer is an American brown ale that has been barrel-aged to produce a complex flavor and taste of chocolate, coffee, vanilla, and bourbon.
It is a medium-bodied beer with a rich, creamy taste. It leaves a crisp, dry finish alongside champagne-like carbonation that adds to its uniqueness.
The beer has flavors and aromas that are chocolatey and have hints of milk sugar, vanilla extracts, roast nuts, and malts.
You can pair this ale with desserts of any form, especially chocolate cakes.
Other options from the same company include Founders All Day IPA, Founders KBS (Kentucky Breakfast Stout), Founders Porter, and so on.
If we're being honest, this beer solidifies Founders Brewing Co's authority as a producer of top-notch beers. Nothing is stopping you from trying out this beer, although you'll have to go easy because the high ABV content is a total knock-out.