German Pilsner Recipe: How To Make All-grain and Extract Recipes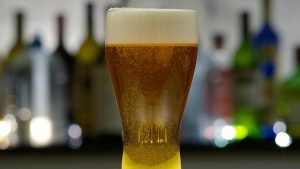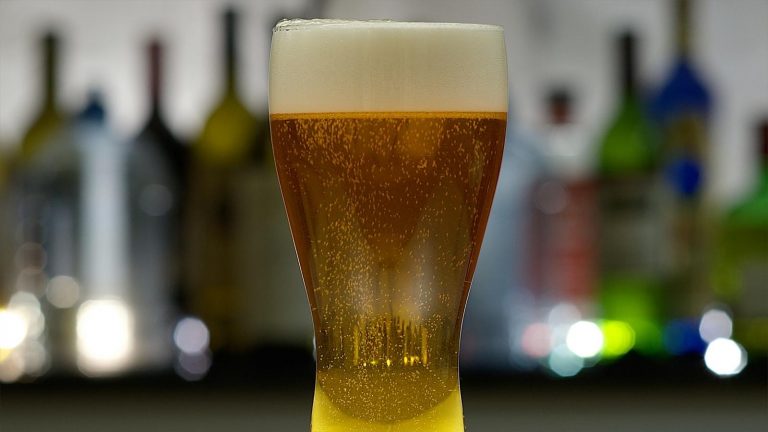 An excellent German pilsner recipe is a fantastic way for any homebrewer to try something new. These golden lagers have been around since the 1800s and are still pretty popular today among beer enthusiasts.
These beers are pretty easy to make whether you're an extract or all-grain brewer, and there's a lot to enjoy in terms of pairing and diverse tastes. You can get all of this info and more in our complete guide below, so keep reading.
How To Make German Pilsner
If you want to brew German pilsner, you can use either the extract or the all-grain method. Both methods are straightforward to understand, and you can choose one based on the type of brewing you're familiar with.
It would be best to have the right pilsner fermentation temp regardless of the method, so make a temperature-controlled fermentation space. The standard fermentation temperature is between 40 and 50 degrees Fahrenheit, while the second time can go as low as freezing.
When brewing a German pilsner, you will need enough patience as it can take up to a month for it to be ready. But if you do it right, it'll be worth the wait, as you get a light and hoppy beer to enjoy during the summer.
The recipes below will include a grain list that outlines the malts and grains you need, a hops schedule that shows what time you need to put specific hops, and the yeast requirements.
Extract Recipe
Follow the detailed recipe below for 5 gallons if you're an extract brewer. It should take up to ten weeks for the beer to be completely ready.
Malt/Grain List
5.5 pounds of light dry malt extract
Hops Schedule
2.5 ounces of Saaz hops at 60 minutes boil
2.5 ounces of Saaz hops at 15 minutes boil
1 ounce of Saaz hops at flameout
Yeast
Directions
Mix the dry malt extract with three gallons of hot water.
Bring it to a boil for 60 minutes and follow the hops schedule.
Whirlpool and chill the wort.
Sanitize the fermenter and add the wort to it.
Add pre-boiled and chilled water to the wort to make it five gallons.
Mix it and pitch the yeast.
Leave for 10 to 14 days to ferment at 50 degrees Fahrenheit.
Transfer to a secondary fermenter for lagering. Leave it at 35 to 40 degrees Fahrenheit for six to eight weeks.
Bottle or keg the beer.
Stats
Original Gravity: 1.046
Final Gravity: 1.012
IBU: 40
ABV: 4.4 percent
All-Grain Recipe
All-grain brewers can use the recipe below, which also yields a five-gallon batch of German pilsner. It will also take up to ten weeks to be ready.
Malt/Grain List
10 pounds of Pilsner malt
6.4 ounces of Carapils malt
Hops Schedule
1.04 ounces of Hallertauer hops at 60 minutes boil
1 ounce of Hallertauer hops at 15 minutes boil
0.5 ounces of Hallertauer hops at flameout
Yeast
Directions
The pilsner mash temp for the all-grain recipe is 149 degrees Fahrenheit. Mash the grains for 90 minutes before bringing them to a boil.
Boil for 90 minutes and follow the hops schedule.
Whirlpool the wort and chill it.
Sanitize the fermenter and place the wort in.
Let it ferment at 50 degrees Fahrenheit for 10 to 14 days and increase the temperature to 60 degrees towards the end.
Transfer to the fermenter for secondary fermentation. Let it lager at 35 to 40 degrees Fahrenheit for six to eight weeks.
Bottle or keg the beer, and it's ready to drink.
Stats
Original gravity: 1.050
Final gravity: 1.009
IBU: 30
ABV: 5.4 percent
What Is a German Pilsner?
German pilsner is a thin, light-bodied lager made from a hundred percent barley malt. It is commonly called pils and is easily recognizable by the golden color and excellent head with good retention. It has a bitter taste and floral aromas from the hops.
Although the beer originated from Czech Bohemia, immigrants brought it into America. There are now American beer variants, but it's still similar to the German version.
Today, it is estimated that all beers with pils, pilsner or pilsener on the label are part of two-thirds the total amount of beer sold in Germany. With this data, it's safe to say that German pils are pretty popular.
There are also American pilsners, which are offshoots of the German style, but the latter remains prevalent in the United States and worldwide. If you're homebrewing your German pilsner, you can expect it to take a very long time because of the cold conditioning process that lagers go through for at least six weeks.
History and Origin
German pilsner originates from the initial Czech pilsner, the Plzen town in Czech Bohemia. Now, German pilsner has become the origin of many other beers in the current scene, including Budweiser, Corona, Heineken and Peroni.
To suit the brewing conditions in Germany, the Czech pilsner became the German pilsner. Changes were made in the water's mineral content and hop variety used in making the beer. It was first brewed in the 1870s.
German-style pilsner increased in popularity after World War II as modern brewing techniques became widespread, along with the Czech pilsner. The IBU of this beer used to go as high as 50 but has dropped to an average of 26. The hoppy character of the beer has eroded over time, so if you don't like bitter beers, you'll do fine with brewing German pilsner at home.
Czech vs. German Pilsner
Czech-style and German-style pilsners are usually compared, which is not surprising as one came from the other. The Czech pilsner came first, so the original is the Czech while pilsners are globally famous.
Czech Pilsner
The Czech pilsner is usually pale gold with very high clarity. They feature a low to medium hop character, and it's only made right when used with the native Czech Saaz hops, which gives it spice.
They are also malt-forward with hints of cracker, biscuit and bread in the taste. As for the mouthfeel, it feels full and rounded, with less carbonation and a crisp finish.
German Pilsner
On the other hand, the German pilsner is pale yellow and appears hazy, unlike the clear picture of the Czech-style. They are usually made with German hops like Hallertau or Tettnang, offering pronounced bitterness.
You will also taste hints of honey and lemon. The mouthfeel is lighter and drier, with more carbonation and a crisp finish with a bitter aftertaste.
After tasting both beers, you might be able to point out their differences, especially with the different hops used in the brewing, but both pilsners undergo a similar brewing process. They undergo cool fermentation and a cold maturation period, giving you clean and crisp pilsners. Both beers are also meant to be stored just above freezing and go through 60 days of storage before they can be bottled and consumed.
American Pilsner: Another Popular Variant
American pilsner originated from a German pilsner, as the immigrants brought their brewing styles into the country in the mid-19th century. American pilsners are pretty close to the German-style but with a few differences, and they are becoming more popular today. However, American-style lagers don't count as a pilsner in Germany.
American pilsner usually features about a quarter of rice or corn in the mash, typical American nature. You can also expect a low to medium sweet malt taste, and the American hops are also noticeable in the taste and aroma. American-style pilsners feature fewer hops, flavor and bitterness than their German counterparts.
Many American brewers nowadays are going the extra mile to add bold hops to their brews. You can enjoy American pilsners from Victory Brewing, Firestone Walker and Oskar Blues.
Style Profile of German Pilsner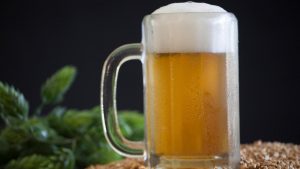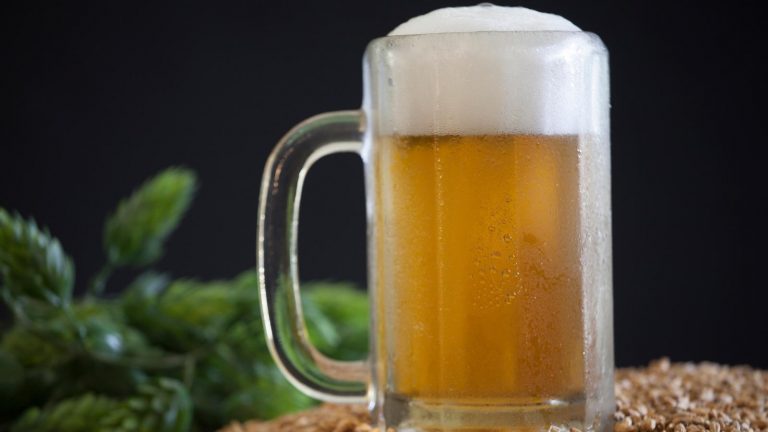 The German pilsner malt, hops and ingredients give you a light-bodied, thin, yellow to gold, and bottom-fermented bitter beer. It offers excellent head retention, a crisp finish, and floral hops in the aroma and taste. As long as you make the pilsner right, you should get a similar style profile to what is explored below.
Appearance
German pilsner beers feature a straw yellow to light gold color and can appear transparent or hazy if unfiltered. It also features a large, creamy head and good retention that stays on for a while as you drink.
Scent
The aromas balance the rich malt character, which can feel grainy or sweet, with a flowery, herbal or spicy scent acquired from the hops. You can also smell hints of honey and a toasted cracker from the malts.
The fermentation does not affect the scent, although you might detect a light sulfur scent. The hops don't overshadow the malt scent but should be moderate.
Mouthfeel
The German pilsner features a medium-light body that feels thin on the palate. It is also averagely carbonated, so don't expect any spritz or fizzy character.
Flavor
The hop bitterness dominates the taste, which also seeps into the aftertaste. Depending on how you make it, you will also taste the sweet, grainy malt backbone that supports the hops and hints of spice, herbs or floral flavor.
Fermentation does not affect the taste. The beer features a dry and crisp finish, with the bitter hops and malts in the aftertaste. While some versions finish soft with more malt, the bitterness is still present.
Food Pairings
German pilsner can be paired well with a wide range of food depending on your preferences. The beer's bitterness will go well with the sweetness of seafood and shellfish. You can also enjoy the flowery aromas of the hops as it pairs well with spicy fish. You can pair this beer with seared scallops, fish tacos, grilled shrimp flatbread and the like.
You can also enjoy the German pilsner with tangy cheeses, which complement its hop flavors and bitterness. You can drink it with aged White Cheddar and similar cheeses.
Because of the hop-forward nature of German pilsner, you should pair it with food made with pure ingredients, although they also work with acidic and fatty foods. You can enjoy it with fried, salty and savory dishes that are cooked with onions or garlic.
This beer also pairs well with fruits, so you can put together a fruit bowl as you drink this beer. Well-paired fruits and vegetables include apples, fennel, limes, cucumbers and lemons.
They also pair well with starchy foods like potatoes and many spices and ingredients such as sesame and coriander. Whatever food you're preparing, ensure that it goes well with the beer's flavor profile.
Serving and Storage
After you homebrew German pilsner, it's essential to serve and store the beer properly. It would be best if you served a German pilsner in a pilsner glass, which is narrow at the base but becomes wider at the top. It should be served at between 42 and 43 degrees Fahrenheit.
As for the storage, you should keep it at cellar temperature in a cool and dry place. German pilsners can last for four to six months before the flavor is drastically affected. You can either store it in a keg or bottle, depending on what you have.
FAQ
1. What are the tasting notes of German Pilsner?
German Pilsners are known for their crisp, clean taste with a bitter finish. They often have herbal, floral, or spicy notes with a light malt flavor.
2. What was the first German Pilsner beer?
The first German Pilsner beer is believed to be Pilsner Urquell, which was first brewed in the city of Plzen, Czech Republic, in 1842.
3. What is the difference between a Czech Pilsner and a German Pilsner?
Czech Pilsners tend to be more hop-forward with a slightly sweeter malt profile, while German Pilsners have a more pronounced bitterness and a drier finish.
Final Thoughts: The Pils Beer for Everyone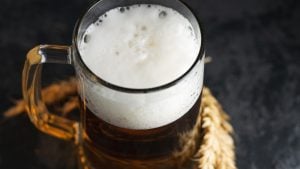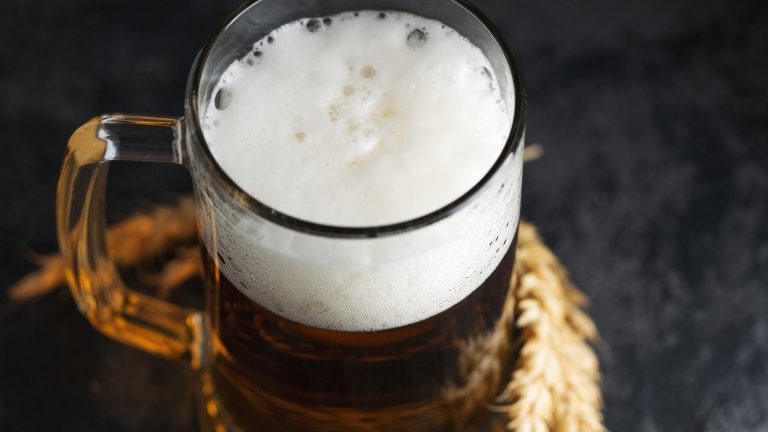 There aren't a lot of beer enthusiasts that don't enjoy drinking German pils, so if you try it out, you'll be surprised at how much you'll enjoy it.
German pilsner is a thin and light-bodied lager with a yellow to gold color, bitter taste and flowery hops.
The beer originates from the Czech pilsner, the original type of pilsner.
There is also the American pilsner that was invented when German brewers immigrated to the United States.
German pilsner is a light beer with dominating bitterness from the hops and floral aromas.
After brewing with extract or all-grain, it goes through primary and secondary fermentation.
The secondary fermentation is under a colder temperature and lasts for eight weeks.
The beer goes well with seafood, shellfish, tangy cheeses, spicy foods, fruits, vegetables and starchy food.
Serve the beer between 42 and 43 degrees Fahrenheit in a pilsner glass.
German pilsner can only be stored for up to six months.
Follow our extract or all-grain recipe now and make a delicious batch of German pilsner for the upcoming months!