Portland Beer Bars: Places To Check Out for the Finest Brews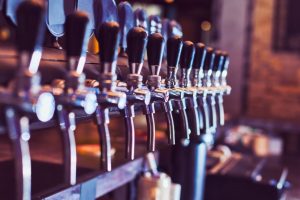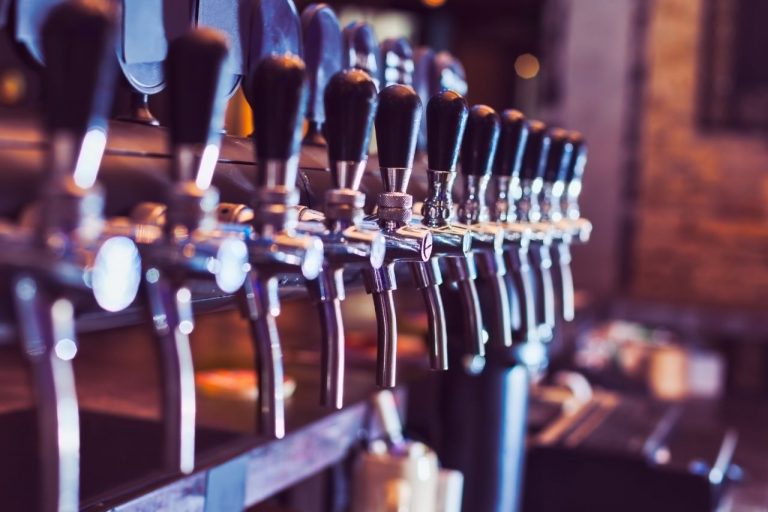 Portland beer bars are unmissable. Whether you're on a trip to Portland or have recently moved to the city of roses, you certainly cannot miss out on the wide variety of brews that Portland is popular for.
This city is home to the best brews in the world, be it a global brand or a small brewery selling craft beers. Here, we share a list of the best beer bars and pubs in Portland that you must visit.
The 12 Best Beer Bars in Portland
We have handpicked the best bars in the city that serve exotic beers and delicacies. Here they are:
1. Belmont Station
The list of best beer bars in Portland had to start with Belmont Station. If you're a true fan of Portland craft beer bars, this one's for you.
Belmont station specializes in providing a humongous range of beer in different styles–you can choose from over 1200 bottles.
In addition to regular bar service, they also have over 35 free-flowing taps, each serving a different style of brew or flavor. Starting from the town's best local brews to the very popular West Coast craft beer, you'll find everything at Belmont Station.
2. The Beer Mongers
If you're looking for a laid-back ambiance with exceptional quality and a variety of beers, then The Beer Mongers is for you. The bar offers more than 550 bottles of beers and ciders so that you never run short of options.
They also offer up to eight rotating taps, each filled with the best-in-class brews of Oregon. The place is usually packed with locals enjoying their daily pint of beer.
This is the place to be if you want both a glimpse of the Portland local life and a taste of the best local beers.
3. Loyal Legion
When it comes to beer style and brew varieties, there's almost none that can beat Loyal Legion. The bar offers more than 99 styles of beer on its taps alone!
Loyal Legion has the perfect menu for people that want to taste multiple brewing styles and the famous craft beers of Portland.
Their beer samples are considered to be their best feature. After all, who wouldn't appreciate getting tiny samples of their extensive beer collection that'll help them zero in on what works best for them!
Pro Tip: If you want to try something unique, go for a Molé Chili Stout or Chocolate Porter.
4. Saraveza
Saraveza started their beer journey in North Portland way back in 2008, and they have been serving the locals and tourists with one the best craft beers and American-style beer brews ever since. In fact, they have been voted "America's Best Beer Bar" by the Draft Magazine for the last six years.
Saraveza's tap range is decent, but it's undoubtedly amongst the top contenders when it comes to the collection of bottled beers. You can either sit down and drink at their tastefully designed patios or take a six-pack home.
Pro Tip: If you do have the time, do not miss out on their mouth-watering range of Midwest dishes.
5. Broken Top
Broken Top is the perfect spot for you if you want to pair your pint of beer with some delicious, vegetarian, or gluten-free dishes. The bar was established in 2012 and boasts of a broad variety of beers along with a sunny patio to enjoy the sips of cold brews.
What really sets it apart from other bars is its extensive food menu that comprises fresh sandwiches, smoked wings and a lip-smacking range of dishes for both vegans and vegetarians.
Broken Top specializes in both local brews and international brands. You can get your hands on multiple rounds of a local beer from a tap on a lazy afternoon or chug a fine bottle of international beer on a special evening.
6. Prost
If you're bored of the usual American-style beer, try something new at Prost. This local bar offers expertly brewed German and Austrian-style beers in a variety of flavors and recipes. Note that their fairly broad range of beers consists of both ales and lagers.
You will also find freshly cooked sausages, pate, and pretzels to munch on while you sip on their quality beers. The bar also offers a cozy interior seating arrangement along with a sunny patio with food carts.
Keep in mind that Prost isn't the best choice for IPA drinkers. If you're looking for beers with a heavy alcohol content that quickly gets to your head, you should probably look elsewhere.
7. The Bier Stein
The Bier Stein is considered one of the Godfathers of beer in Portland. It was the first establishment in Oregon that offered a combination of bottleshop and taproom. It has also been instrumental in introducing the locals to the best of craft beers.
It began serving in 2005 in a small cafe-style building. Did you know that it offered a rotating tap menu along with soups, salads, and paninis when it first started?
In 2013, the bar moved to its present establishment that boasts of a much larger area with a separate dining space, pool tables, and a fireplace to keep you warm.
If you're looking for a taste of real Portland along with quality beer, The Bier Stein is for you. Currently, it offers more than 1000 bottles of beer along with 30 rotating taps!
8. Horse Brass
Horse Brass is not just one of the oldest bars in Portland, but it also played a huge role in introducing Portland to the culture of craft beer and micro-brewing.
This British-style pub was established 42 years ago. In addition to offering expertly brewed beer with a thriving pub life, Horse Brass has also helped several small-scale breweries in their early days.
Currently, the bar offers a huge tap list with more than 50 draft lines and 20 ounces of Imperial pints. It serves an exciting range of British food such as scotch eggs, fish, and chips that act as the perfect sidekicks to your beer.
At Horse Brass, you can either take a table to enjoy your beer or play darts for free. All in all, this bar's unbeatable beer range and fascinating ambiance are truly unmissable.
9. MayFly Taproom & Bottle Shop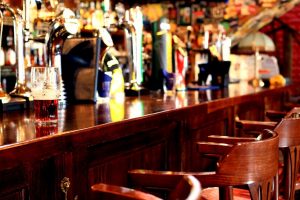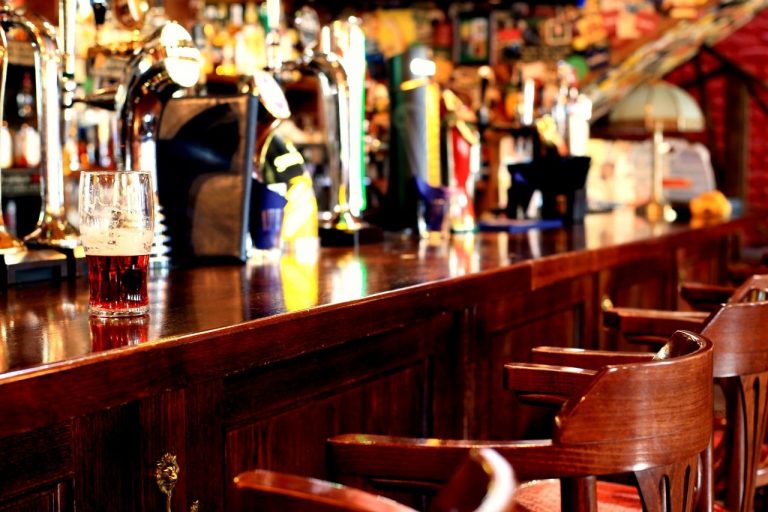 MayFly Taproom & Bottle Shop is yet another iconic Portland bar famous for its wide variety of beer. The bar has 16 draft lines, out of which only two or three are reserved for ciders while the rest serves beer.
The bar has assigned a different style of beer for each of these draft lines. At least one tap is rotational, and the rest consists of IPA, Double IPAs, Lagers, and Ales. The diversity in their bottled collection is equally remarkable.
In totality, the bar serves over 140 types of beer along with 32 types of wine and 40 to 50 types of cider.
Their spacious interior with bright green potted plants overlooks the thriving neighborhood of Kenton. They also offer a decent range of quick snacks such as pickles, cheese, and crafted popcorn to go with your drink.
The only downside to stepping in MayFly is that it's not kid-friendly. This, in a way, can also be a plus point for people looking to get drunk and have a good time.
10. Stammtisch
If you love the experience and ambiance Prost offers, then you will definitely love Stammtisch. Founded by the owners of Prost, Stammtisch offers a similar variety of beer.
With a select rotating handle, this German-style pub prides itself in serving the best-in-class German beers.
The only difference is, unlike Prost, Stammtisch gives equal attention to their food menu as well. They offer an extensive seating area that has a restaurant-like appeal.
Thankfully, their focus on food hasn't compromised the quality of beer they serve.
11. Concordia Ale House
If you're looking for an all-in-one package including quality beer, great food, and a pleasant ambiance, then this one's for you. Concordia Ale House offers a rather extensive food menu for lunch, dinner, and even weekend breakfasts.
They have a mind-blowing collection of bottled beers along with a decent taproom filled with the best local brews.
But if we had to pick one thing that sets it apart from other bars, it would be its ambiance–the big TVs run sports events all the time. You can also enjoy your beer while playing poker, video games, pool, pinball, etc., and that too, for free!
12. The Beer Bunkers
If you want to enjoy your beer sitting on a nice patio on a bright, sunny day, then The Beer Bunkers is where you should be. They offer a decent range of beers for both draught and bottles. Also, they regularly update their menu online to keep things interesting.
The best part is, instead of serving their beers in regular glasses or beer mugs, they have their own unique beer vessels. They also have 24 taps and well-managed beer coolers to keep the drinks fresh and chilled throughout the day.
Why Is Portland Famous for Beers?
As a tourist, you might wonder why Portland is famed for beers. One of the biggest reasons is that this city has more than 200 breweries. In fact, it's often referred to as one of the best beer cities in the world! Moreover, it has countless bars and pubs.
Here are six reasons why almost no other city or place can beat Portland's expertise and love for beers:
1. Craft Beers Sales
Portland is famous for its craft beers. Supermarket surveys and records have revealed that the city makes up for the highest sale of craft beer in the entire USA. At least 40 percent of all the beers purchased are craft beers.
2. Outdoor Beer Parties
Portland doesn't believe in drinking alone–the city believes in celebrating. Every July, it hosts one of the biggest outdoor beer parties in the entire continent, known as the Oregon Brewers Festival.
For five days straight, the festival entertains more than 85,000 beer enthusiasts, including international tourists with the best brews in the city.
3. Invented a Brand New Category of Beer
Although Portland is popular for its knowledge and expertise in craft beer, it created a whole new category of beer known as fresh-hop beers. These beers are made of recipes unheard of by the common ear!
The brewers in the city only select hops that have been just picked. However, only a few local markets offer freshly-picked hops.
4. Beer Is a Part of Wedding Practices
One of the most bizarre wedding practices of Portland is for couples to brew their own beer. This is usually done at Portland U-Brew & Pub under the guidance of expert brewer Jay Webb.
5. Gluten-free Beers
Malt is one of the basic beer ingredients. However, it's gluten-laden, which might not be suitable for everyone. Since Portland believes in curating beers for everyone's taste and needs, they had to come up with a solution.
Founded in 2011, Ground Breaker brewery offers 100 percent gluten-free and vegan brews all skyward round. Instead of using regular malt and barley, they use lentils, chestnuts, and gluten-free oats in their recipe.
6. One of the Most Thriving Industries of the City
What if we tell you that the beer industry in Portland generated $2.38 billion in revenue in 2014!
Portland has over 200 breweries and 70 bars and pubs. While these numbers alone are impressive enough, what's even more impressive is that this industry creates more than 30,000 jobs with both direct and indirect association to brewing.
FAQ
Is Portland's craft beer on the decline?
It's difficult to say for certain, but the craft beer industry in Portland may be experiencing changes due to various factors such as competition and shifting consumer preferences.
Is Portland the brewery capital of the world?
While Portland has a thriving craft beer industry, it's difficult to declare any city the "brewery capital of the world". Other regions such as Belgium, Germany, and the United Kingdom also have strong brewing traditions and notable breweries.
Can you drink on the streets in Portland?
No, it is illegal to drink alcohol in public places in Portland, Oregon.
Final Thoughts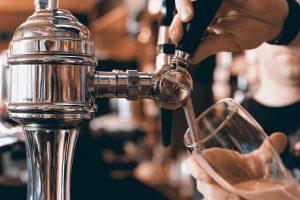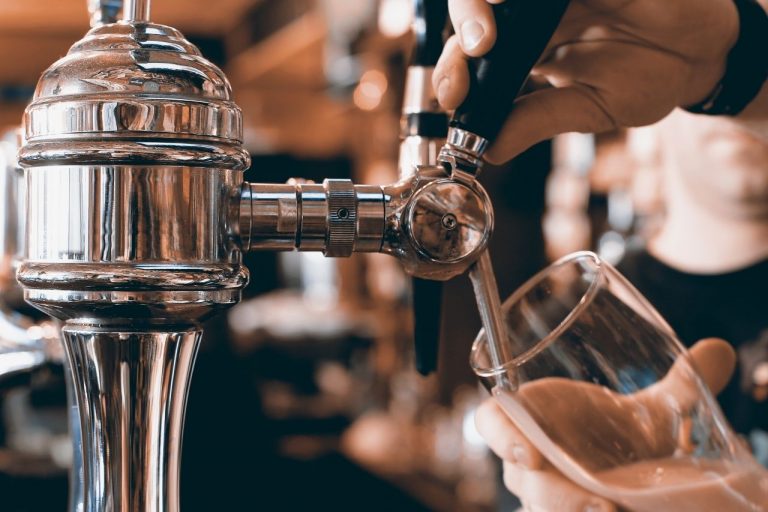 You cannot visit Portland and not experience the best thing this city has to offer–beer! Whether you're an avid beer fan or an occasional drinker, the old breweries of Portland will melt your heart with their unbeatable brewing quality and tasteful beers.
The city also offers enough bars and pubs to enjoy your drink amidst the fascinating local culture. All that you need to do is pick your favorites and brace yourself for an evening of freshly cooked meals, lively ambiance, and delicious beers.